ExpressVPN: A Premier Choice for Omegle Members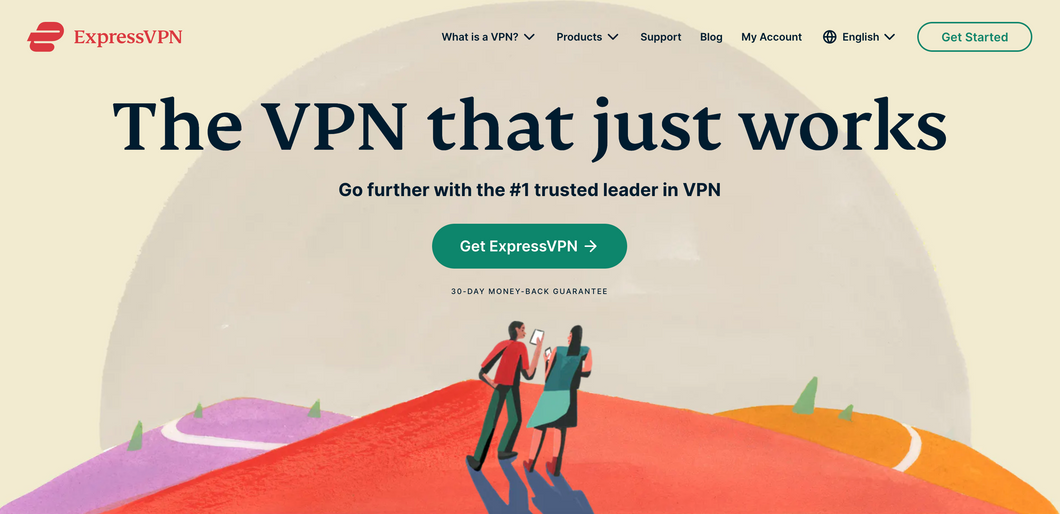 As someone who spends a good deal of time navigating the digital landscape, I've found ExpressVPN to be a dependable tool. Let's dive deeper into why it's a top choice for Omegle users.
Blazing Fast Speeds
One of the key pros of ExpressVPN is its incredibly fast VPN server speeds. During my testing, even servers located in countries far from my location provided quick and reliable connections.
This is crucial for Omegle users as it ensures smooth, lag-free video chats. No more worrying about buffering issues mid-conversation.
Robust Security
ExpressVPN also shines when it comes to security. Equipped with robust 256-bit encryption, it ensures that your data remains securely hidden from prying eyes.
It also includes a reliable kill switch feature that automatically disconnects you from the internet if your VPN connection drops, further safeguarding your privacy.
These advanced security measures make ExpressVPN a great fit for Omegle, as it keeps your personal information and your chat data secure.
User-Friendly Interface
For those less tech-savvy, ExpressVPN's user-friendly interface is another big plus. Navigating through the application is quite straightforward, with clear instructions and prompts.
You can easily connect to the best available VPN server or choose from a list of global servers, making it simple to bypass any geo-restrictions Omegle might have.
Bypassing Omegle's Geo-Restrictions
ExpressVPN excels at bypassing geo-restrictions, a capability that's particularly relevant for Omegle users.
With its extensive network of over 3000 servers spread across 94 countries, you can virtually access Omegle from anywhere in the world.
This means if you're in a country where Omegle is blocked, ExpressVPN has got your back.
Cons: A Pricier Option
While ExpressVPN offers a suite of powerful features, it comes with a slightly higher price tag compared to other VPN services.
However, from my personal experience, the fast VPN server speeds, reliable security measures, and ease of use make it worth the extra investment for a hassle-free Omegle experience.
In sum, ExpressVPN's fast servers, strong encryption, and user-friendly interface make it an excellent VPN choice for Omegle users.
Despite being more expensive than other options, the quality of service and peace of mind it provides justify the cost.
Based on my personal experience, it's a top-tier choice for anyone seeking a reliable, secure, and fast VPN for Omegle.
For the above reasons, ExpressVPN is the #1 best VPN for Omegle.
Private Internet Access: Offering Versatility for Omegle Users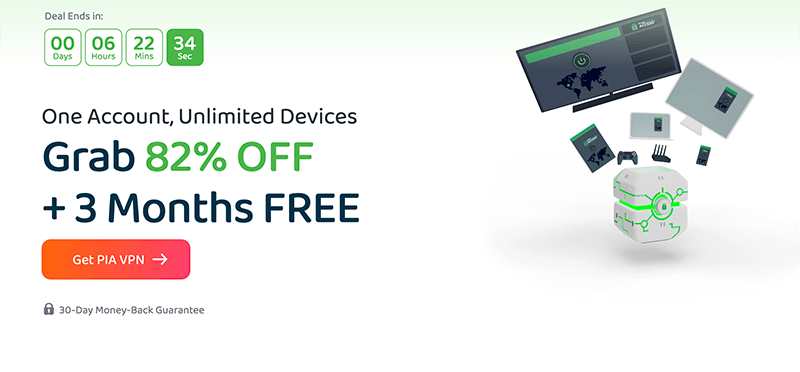 When it comes to versatile Omegle VPN services, Private Internet Access (PIA) certainly catches my attention.
Its extensive server network, customizable security, and ad-blocking features make it a commendable choice for Omegle users. Let's delve a little deeper.
Extensive Server Network
Private Internet Access boasts an impressive network of more than 29,000 servers spread across 77 countries.
For me, this is one of its main selling points. With such an extensive network, users are able to bypass geo-restrictions and maintain steady connections on Omegle, regardless of their location.
Customizable Security
Another aspect I appreciate about Private Internet Access is its customizable security settings.
Unlike many other VPNs that come with fixed security configurations, PIA allows you to tailor its security features to your specific needs.
You can adjust the encryption strength and choose which security protocol best suits your browsing habits.
This level of customization gives you the flexibility to strike the perfect balance between speed and security when using Omegle.
Ad-Blocking Feature
Let's not overlook PIA's built-in ad-blocking feature, known as MACE.
During my usage, I found that this feature significantly enhanced my browsing experience by blocking annoying ads, trackers, and even malware.
For Omegle users, this means a cleaner and safer chatting environment.
Con: Occasionally Inconsistent Speeds
While there's a lot to appreciate about Private Internet Access, it isn't without its drawbacks. In my experience, the most notable downside has been inconsistent server speeds.
Although generally satisfactory, I noticed a considerable variation in connection speeds depending on the server chosen.
However, the overall performance remained reliable for a smooth Omegle experience.
CyberGhost: A User-Friendly VPN for Omegle Users
pros
Dedicated profile for different activities

Strong security protocols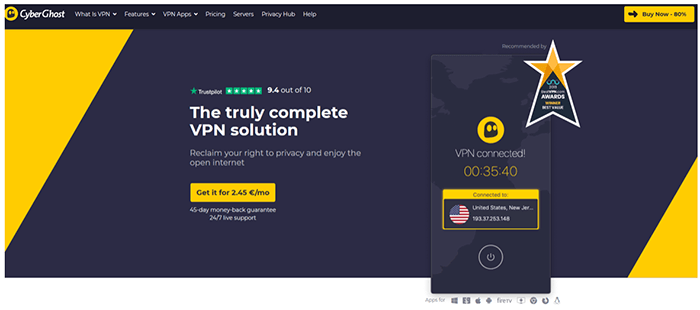 When it comes to Omegle VPN services that blend ease of use with robust security, CyberGhost comes to mind.
As someone who values simplicity alongside robust functionality, I've found it to be an ideal Omegle VPN for newcomers. Let's unpack the specifics.
Ease of Use
CyberGhost shines with its user-friendly interface, which I found particularly helpful for VPN beginners.
The application is straightforward to navigate, with well-designed menus and intuitive controls.
For Omegle users, this means you can quickly connect to a server and start chatting without having to navigate complex settings.
Dedicated Profiles for Different Activities
A unique feature of CyberGhost that I personally love is its dedicated profiles for various online activities.
It offers pre-configured settings for tasks like anonymous browsing, unblocking streaming sites, or, in this case, helping you to unblock Omegle.
These profiles optimize your VPN settings to suit your activity, making it even simpler to get started.
Strong Security Protocols
The importance of security can't be overstated when using a platform like Omegle, and CyberGhost delivers in this aspect.
It uses AES-256 encryption and supports OpenVPN, IKEv2, and WireGuard protocols, ensuring your chat sessions remain private and secure.
Cons: Slower Speeds on Long-Distance Servers
Every VPN service has its quirks, and for CyberGhost, it's slower speeds on long-distance servers.
During my testing, I noticed that while local server speeds were quite impressive, the speeds dropped significantly when connecting to servers farther away.
This might affect the quality of your Omegle chats if you're connecting to a distant server.
Surfshark: A Budget-Friendly VPN for Omegle Users
pros
Unlimited devices

Competitive pricing

Highly secure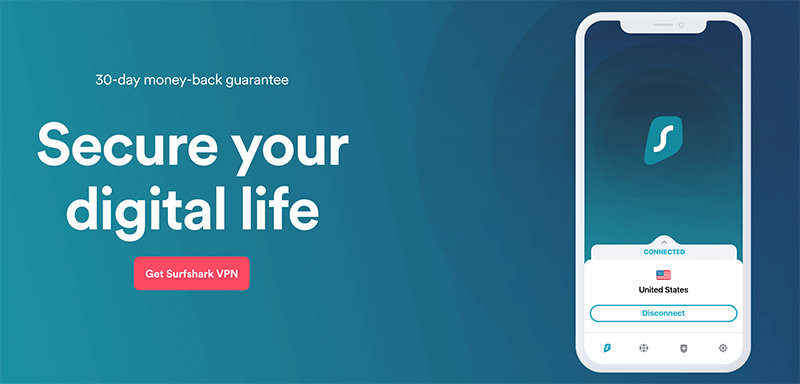 As an avid user of VPNs, I find Surfshark a compelling choice for many reasons.
Its standout features include unlimited device connections, competitive pricing, and reliable security, all of which make it an excellent choice for Omegle fans. Let's get into the details.
Unlimited Simultaneous Connections
One of the standout features of Surfshark is its support for unlimited device connections. This is a rare offering in the VPN world, and it's something I find incredibly useful.
With this feature, you can connect all your devices (and perhaps your family's too) under one account.
So whether you're using Omegle on your laptop, tablet, or smartphone, Surfshark's got you covered.
Surfshark now also offers a dedicated IP address since June 2023. With this feature, you can get several dedicated IP addresses that only you will be able to use.
This option allows you to bypass the Omegle VPN ban, as Omegle will not be able to tell that the IP address you use belongs to a VPN (as only you will be using it alone).
This will guarantee you will be able to unblock Omegle every single time.
Perhaps for this reason alone, Surfshark should be considered as the best VPN for Omegle available.
Competitive Pricing
If you're on a budget but still want a reliable VPN for Omegle, Surfshark might be your perfect match.
It offers some of the most competitive pricing plans in the market without compromising on essential features.
Based on my testing, it provides a strong balance of cost and performance.
Reliable Security
Just like the other VPNs I've mentioned, Surfshark doesn't skimp on security.
It uses robust AES-256 encryption and supports secure protocols like OpenVPN and IKEv2.
This means that while you're chatting away on Omegle, you can rest assured that your personal information is well-protected.
Cons: Relatively Smaller Server Network
While there's much to praise about Surfshark, it does have a relatively smaller server network compared to some other VPNs.
However, despite the smaller network, I found that it still provides a reliable connection and successfully bypasses geo-restrictions, which is crucial for Omegle fans.
How I Selected These Omegle VPNs
pros
Unlimited devices

Competitive pricing

Highly secure
When it comes to choosing a VPN for Omegle, not all services are created equal. A handful of critical features can separate the best from the rest.
I took a comprehensive approach in my selection, paying attention to privacy, servers, security, speed, price, and compatibility, among other things.
Privacy
Privacy is a top priority when it comes to selecting an Omegle VPN.
For this reason, I sought out VPNs that adhere to a strict no-logs policy, meaning they do not store user activity or connection logs.
I also took into consideration the jurisdiction of the Omegle VPN provider.
Preferably, it's good to have a VPN service that is based outside of the Fourteen Eyes alliance, a group of countries known for their invasive intelligence-sharing practices.
Servers
Omegle occasionally blocks certain IP addresses, so it's important to have a VPN with a wide range of servers.
The more servers a VPN has, the higher your chances of bypassing Omegle's IP address bans and geo-restrictions and enabling you to access Omegle.
In my selection, I favored VPNs with numerous servers spread across multiple countries.
Security
Security is another crucial aspect I considered. A robust Omegle VPN must be equipped with top-tier security features to prevent any potential data leaks that could expose your identity on Omegle.
Key security features I looked for included AES-256 encryption, a kill switch to protect data in case of VPN connection drops, and IP address & DNS leak protection.
Speed
As Omegle is a real-time chat platform, you'll want a VPN that doesn't compromise on speed.
A slow connection can lead to lags or stuttering, disrupting your chats. I selected VPNs that utilize the latest tunneling protocols, such as WireGuard, to ensure fast and stable connections.
Price
While a high price tag doesn't always equate to high quality, a good VPN service doesn't have to break the bank.
I selected VPNs that offer excellent value for their price, providing top-notch features at reasonable costs.
I also took into account any free trials or money-back guarantees that could allow you to test the service risk-free.
Compatibility
Omegle is a versatile platform that can be used on virtually any device, and your VPN should match this flexibility.
I selected VPNs that offer wide compatibility across various operating systems and devices.
I also considered other use cases, like streaming and torrenting, ensuring the chosen VPNs are adaptable to these needs as well.
By taking all these factors into account, I was able to sift through the numerous VPN services available and narrow down the ones that are best-suited for Omegle use.
Why Do You Need a VPN for Omegle?
Omegle is a fantastic platform for making new connections and having interesting conversations with people from around the world.
However, using it without a VPN could leave you vulnerable to a variety of issues. Here's why a VPN is a necessity when using Omegle.
Access from Restricted Areas
One of the primary reasons to use VPNs for Omegle is to bypass restrictions. Many schools, workplaces, and even some countries restrict access to Omegle.
For instance, nations like China, Saudi Arabia, and Pakistan have outright blocked Omegle due to political or religious reasons.
By using a reliable VPN, you can get around these restrictions and enjoy open and anonymous conversations on Omegle from anywhere in the world.
Avoiding Unjustified Bans
Omegle has certain policies in place to maintain a safe and respectful environment. Violations like cyberbullying, nudity, and spamming could get you banned.
However, there are times when users are IP-banned without a clear reason. When you use a VPN, you can easily switch your IP address, circumventing these bans.
Choosing a VPN with a wide network of servers across the globe can help avoid such issues.
A VPN is the most efficient method to overcome the dreaded Omegle ban.
Enhanced Security and Privacy
The most crucial reason for using a VPN with Omegle is to improve your online security and privacy. Omegle, unfortunately, does not offer end-to-end encryption.
This means your chats and any personal information shared over the platform could be susceptible to interception or hacking.
Without proper precautions, you're exposed to potential cyberattacks and privacy breaches.
Using a VPN provides a crucial layer of security. It encrypts your data, making it almost impossible for anyone to snoop on your chats or personal information.
Not only does this protect you from hackers, but it also prevents Omegle and your Internet Service Provider (ISP) from monitoring your activities.
In a nutshell, a VPN is a must-have tool for Omegle fans who want unrestricted access, the ability to bypass unjustified bans, and enhanced privacy and security while enjoying their chats.
How to Use Omegle with a VPN?
Using Omegle with a VPN is a straightforward process. Here's a step-by-step guide on how you can enjoy your Omegle chats securely and privately with a VPN:
1. Select and Subscribe to a VPN Service
The first step is to choose a reliable VPN service. As I've discussed earlier, you should look for one with a wide range of servers around the world, strong security features, and a strict no-logs policy.
Once you've made your choice, subscribe to the VPN app and service. Some of my top recommendations are ExpressVPN, Private Internet Access, CyberGhost, and Surfshark.
2. Download and Install the VPN Client
After you've subscribed, you'll need to download the VPN client. Most VPN services offer clients for a variety of platforms including Windows, Mac, iOS, Android, and even Linux. Install the VPN client on your device.
3. Connect to a Server
Next, you'll need to connect to one of the VPN's servers. If you're aiming for the best connectivity and speed, consider choosing a server that is closest to your actual location.
However, if you're looking to access Omegle from a region where it's blocked, you'll need to select a server in a country where Omegle is accessible.
4. Check for IP Address and Offers DNS Leak Protection
Even the best VPNs can occasionally leak your IP address or DNS requests. This could expose your actual location and online activities.
So, before you start using Omegle, it's a good idea to check for any potential leaks. You can do this using online tools such as ipleak.net or dnsleaktest.com.
5. Enjoy Omegle
With your VPN active and no leaks detected, you're all set!
You can now open Omegle and start chatting with people from all around the world, while enjoying the enhanced security and privacy provided by your VPN.
Remember, a reliable VPN is an essential tool for ensuring a secure, private, and unrestricted Omegle experience.
VPN Not Working with Omegle: Solutions
If you're having trouble getting your VPN to work with Omegle, don't fret! There are several potential solutions to get you back up and chatting in no time.
Here's a closer look at some of the steps you can take:
1. Switch VPN Servers
One of the most common issues you might encounter when using a VPN with Omegle is being unable to connect to the site.
This can often be resolved by simply switching to a different server. Some VPN servers might be blocked by Omegle, while others aren't.
Experiment with different server locations to see if you can find one that works.
2. Check Your Internet Connection
Before blaming the VPN, it's always worth checking your internet connection first. Sometimes, a slow or unstable internet connection can be the cause of your troubles.
Try disconnecting from the VPN and see if your internet speed improves.
If it doesn't, the problem might be with your internet service provider, and you might need to reset your router or contact your ISP.
3. Clear Your Browser Cache and Cookies
If you're still having trouble accessing Omegle, clearing your browser's cache and cookies can often help. This action removes any stored data that might be causing connection issues.
4. Update Your VPN
Ensure that you're using the most recent version of your VPN software. Developers continually release updates to improve performance and patch any issues.
If your VPN client is outdated, it could be the reason why it's not working with Omegle.
5. Contact Your VPN's Customer Support
If all else fails, reach out to your VPN's customer support. Most reputable VPN services offer 24/7 customer support to help troubleshoot any issues you may be having.
Describe the issue in detail, and they should be able to provide a solution.
6. Try a Different VPN
Finally, if none of the above solutions work, it might be time to try a different VPN.
Some VPN services are simply better at bypassing restrictions and maintaining consistent connections than others. Refer back to my recommendations if you're in the market for a new VPN.
Remember, occasional issues are normal when using a VPN with Omegle, but with these solutions at your fingertips, you should be able to tackle most problems you encounter.
Can I Use a Free VPN With Omegle?
On paper, you can use a free VPN with Omegle. However, I typically caution against this, and there are several reasons why.
Limited Security
One of the main reasons you'd want to use a VPN with Omegle is to protect your online security and privacy.
Unfortunately, many free VPNs can't offer the same level of protection as their paid counterparts. Some don't use strong encryption protocols, leaving your data exposed.
Others may even log your activity and sell it to third parties, which completely defeats the purpose of using a VPN for privacy.
Unreliable Connections and Speeds
Many free VPNs offer unreliable connections that drop frequently, which can be frustrating when you're in the middle of a chat.
Speed is another major concern with free VPNs. Most free services have limited servers, which can become overcrowded, resulting in slow connections.
Since Omegle is a real-time chat platform, a slow connection can lead to lagging and a poor overall experience.
Data Restrictions
Most free VPNs impose data restrictions. Depending on how much you plan to use Omegle, you might find that you quickly use up your data allowance.
This could leave you without VPN protection partway through the month unless you upgrade to a paid plan.
Limited Server Selection
A free VPN often offers a limited selection of servers, which may not help if you need to bypass geographical restrictions or if Omegle has blocked some of the VPN's servers.
Potential for Ads
Many free VPNs support themselves through advertising, which can be invasive and annoying. You might find yourself bombarded with unwanted ads every time you connect.
While it might be tempting to save some money by using a free VPN, remember the saying: "If you're not paying for the product, you are the product."
The limitations and potential risks associated with free VPNs make them a less-than-ideal choice to access Omegle with.
For a secure, reliable, and hassle-free experience, investing in a quality paid VPN service is well worth it.
Countries where Omegle is blocked
Omegle is blocked in certain countries, including China, the UAE, and Qatar. However, a reliable VPN can help bypass these restrictions.
Conclusion
In conclusion, a reliable VPN like ExpressVPN, Private Internet Access, Cyberghost, or Surfshark is essential for a safe and unrestricted Omegle experience. They enable to you to access Omegle from any country.
With this guide, you're well-equipped to choose the best VPN for your needs and know how to effectively navigate common VPN-related challenges.