If you are looking for a top-notch VPN that is simple and easy to use with excellent pricing plans, satisfactory speed, or a no-logging policy, I assure you, VPN Jantit should never be your choice. It is probably a VPN you might have never heard of or you will never consider buying.
VPN Jantit has been operating since 2016 and offers free and premium VPN and SSH accounts. Apart from its official website, Facebook page, Youtube videos, and a couple of websites, you cannot find any useful information about this VPN. There are no good reviews, forums, or blog posts about its usage.
Let's dig deeper into this VPN and find out why you should avoid using it.
Summary
If you are on the hunt for a good VPN, It is nothing more frustrating than not having enough user reviews or information about a VPN you come across, as it will be a crucial deciding factor. Jantit is the best example of this phenomenon. It lacks must-have features of a robust VPN: guaranteed privacy, faster speed, dedicated applications, and ease of use. Because of these limitations, we cannot recommend this VPN to anyone.
It is neither easy to connect to their VPN servers or easy to use it. In other words, the biggest downside of this VPN is the lack of simplicity that most VPN users seek. Creating a Jantit VPN account seems to be taking ages. Its free version implies being entirely free but, it is a different way of providing you a free trial version. You have to keep creating new VPN accounts once the activation period expires. Why would you want to use such a low-level VPN when there are many other good VPNs out there?
Jantit VPN service indeed has a considerable amount of servers located across countries in Asia, Europe, America, Australia, and Africa. Nonetheless, if you try to search for a good server in those locations, you do not have many choices, and most of them are overloaded. Besides, if you use this VPN, your internet speed becomes drastically slow.
Despite all the negativeness, on a positive note, its support staff is highly responsive. For your queries, they will reply to you within a short period.
We will find out more information about this VPN from the following review and understand why we reject it.
VPN Jantit boasts about providing unlimited bandwidth. However, their terms and conditions section states that some servers do not provide that.

Let's see its performance by doing a speed test connecting to its two VPN servers using free accounts: one in Australia and one in Romania from different locations including, UK, USA, Australia, JAPAN, Netherlands, and India. We used speedtest.net to carry out the speed tests.
Let's first check our internet connection speeds before connecting to Jantit.
Download Speed – 79.89 Mbps
Upload Speed – 43.59 Mbps
Ping – 4 ms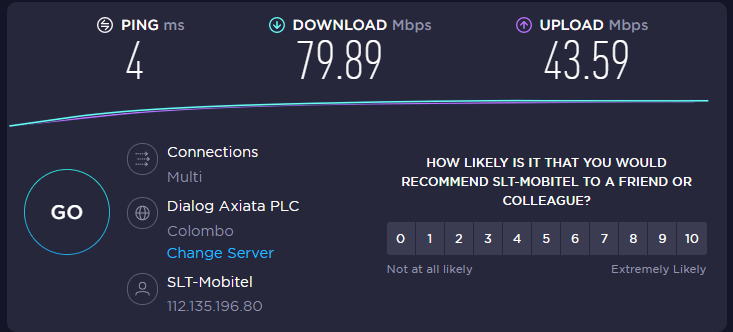 Speed Test after connecting to Australia server
The following images show you our internet speeds before connecting to Jantit. As you can see, in the servers we tested, upload and download speeds are significantly lower.
Let's connect to another VPN server and see its performance from different locations.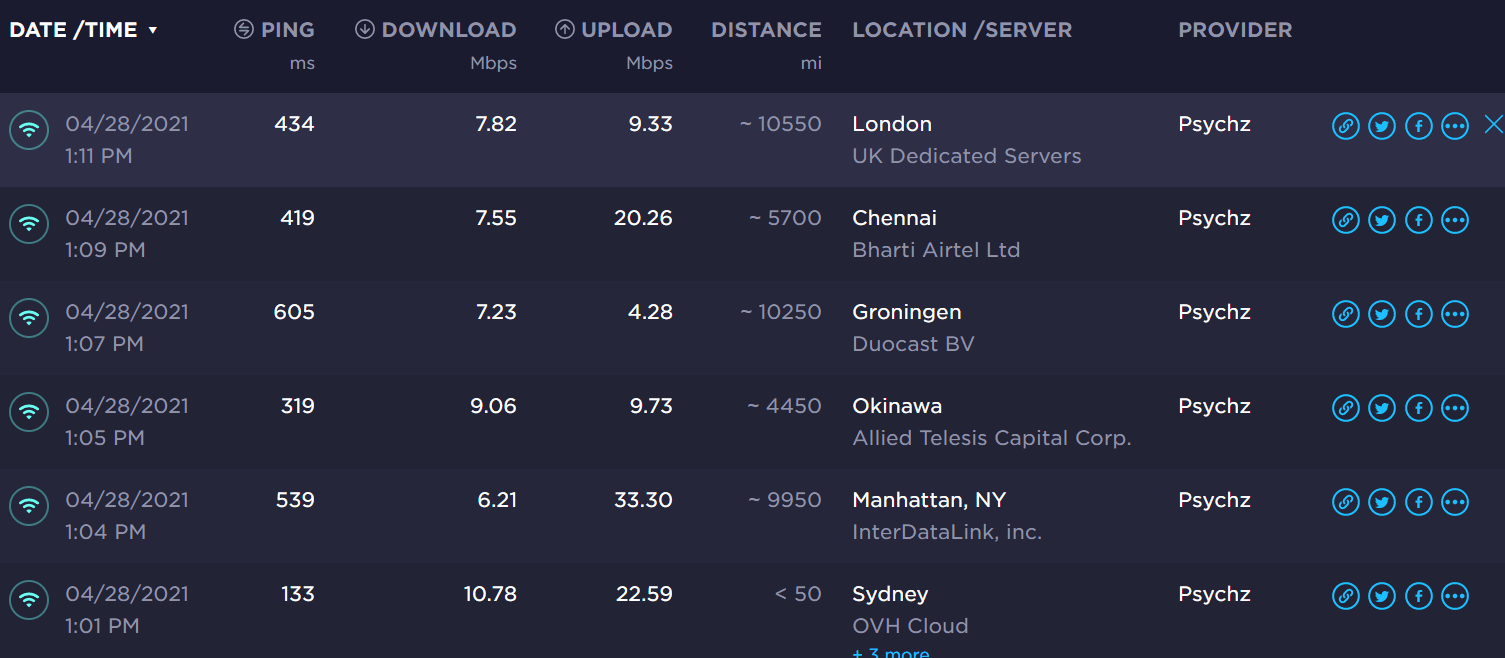 Speed Test after connecting to Romania server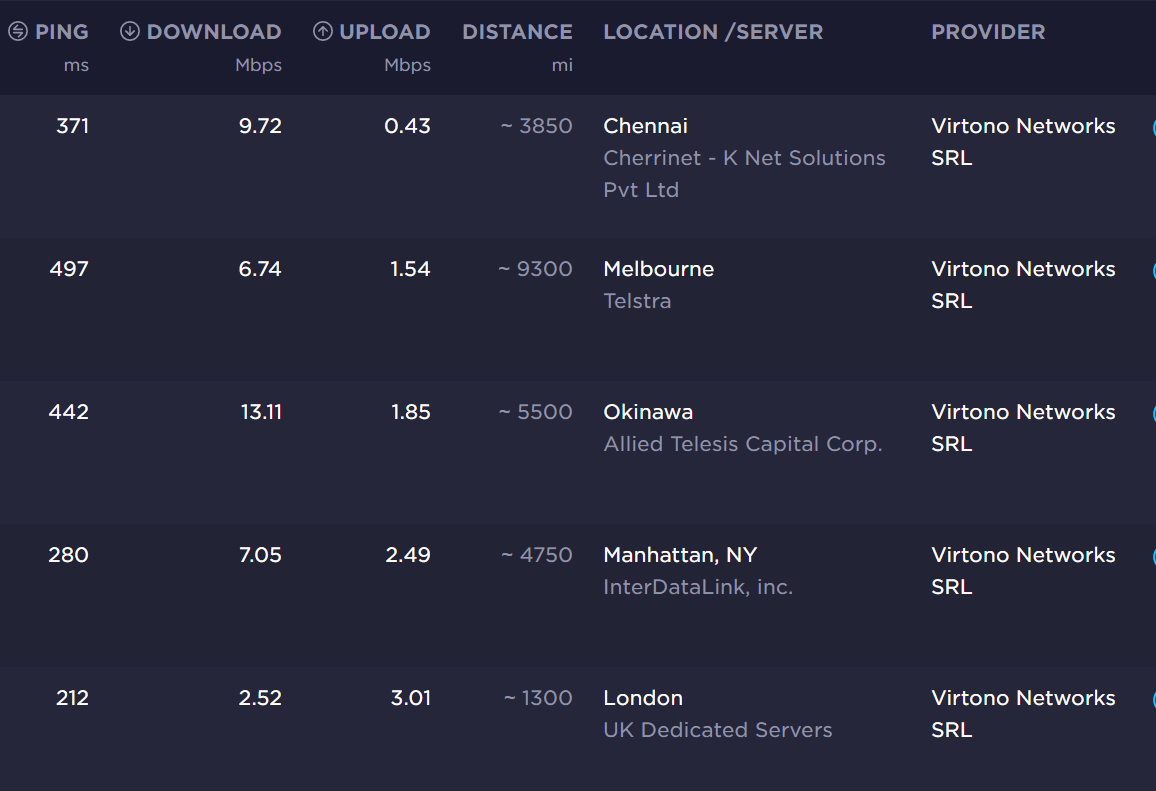 Speed when using this VPN is not even closer to half of the original speed. If you use this VPN, it will lower your internet connection speed drastically. This is another major disadvantage of using this VPN.
By now, VPN Jantit has a total of 79 servers which covers a larger area. Following is the list of countries they span in each of the major areas of the world.
Asia
India
Hong Kong
Indonesia
Japan
Thailand
Singapore
Philippines
Vietnam
Turkey
South Korea
Europe
The Czech Republic
Bulgaria
Netherlands
Spain
UK
France
Germany
Romania
Italy
Russia
America
You also can see how many accounts each server can create per day. Almost all the servers support only a limited number of accounts per day. For instance, the India3 server supports only 10 accounts per day. On one side, this could mean that they do not want these servers to be congested. On the other hand, this leaves a doubt if they can cater to the growing number of user accounts.
Not only that, you can check the status of each server by clicking on the 'check status' button. Its column 'Account status' shows what percentage of users created on that server. If the server is 100% full, then you cannot use that server to create an account until a user account expires. If you check them, you will see that only a very low percentage is available for the majority of servers.
Most VPNs automatically select you to the best server available. But in this VPN, if you want to choose the best server closer to your area, deciding it is not straightforward.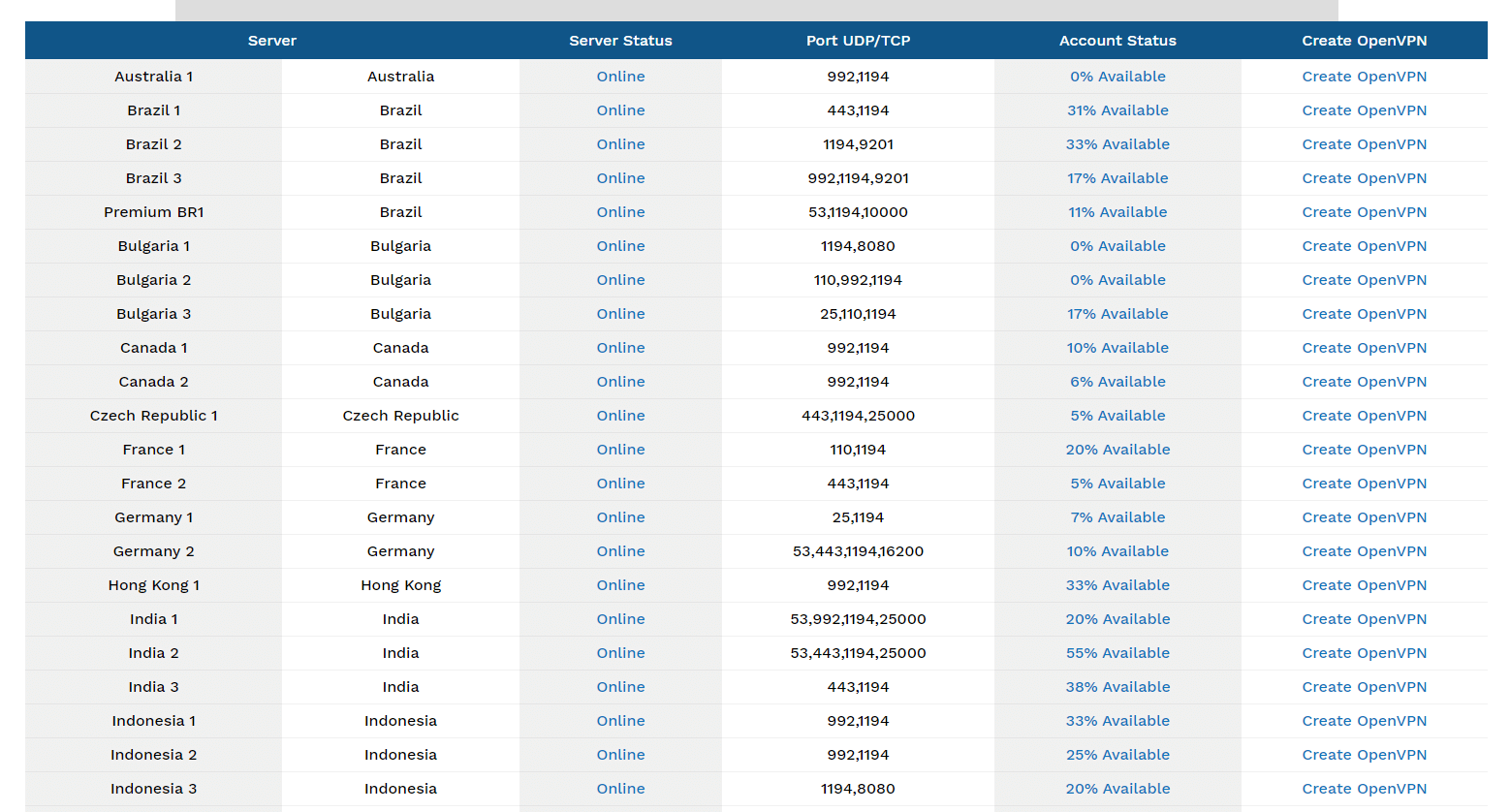 Even if there is a wider server coverage, if you want to do torrenting, then there will be very few servers available for you to choose from. For example, when we selected OpenVPN for torrenting, 6 servers were available and 4 were located in Europe.

Literally, Jantit VPNs' privacy policy is non-existent. So you can't get an idea what type of information they would be keeping about your account. Their "Terms of Service" section lists down a collection of service terms where they say, 'We always make users data privacy secured'.
However, there are no details as to how they specifically protect the users' privacy. As you may know, if the VPN is good enough, it will have a strict no-logging policy and if not, at least they will clearly say what information they are tracking.
Encryption and Protocols
VPN Jantit guarantees 100% security because they use 256-bit and 128-bit encryption techniques to secure traffic which is an exaggerated statement. No VPN can guarantee 100% security. It is true that out of the 4 protocols they provide, OpenVPN is known as one of the safest protocols which use 256-bit encryption.
However, if you had to use the PPTP protocol, then this statement is not true because PPTP is identified as having serious security issues. PPTP uses MS-CHAP-v1/v2 which is highly insecure and has been cracked before. SoftEther and L2P2 protocols are known to be best for PCs. Another protocol they have is V2ray protocol which is based on shadowsocks and used with Vmess protocol which is used for Windows and Android devices.
In terms of ease of use, VPN Jantit may be the worst VPN ever because it has many issues in account creation and connection.
First of all, like many other VPNs, you have to create an account through their website. You will be lucky if you could create an account in one go because most of the users are not able to create an account because of a problem with their website. The website keeps expiring its captcha and asks you to check the checkbox again forever.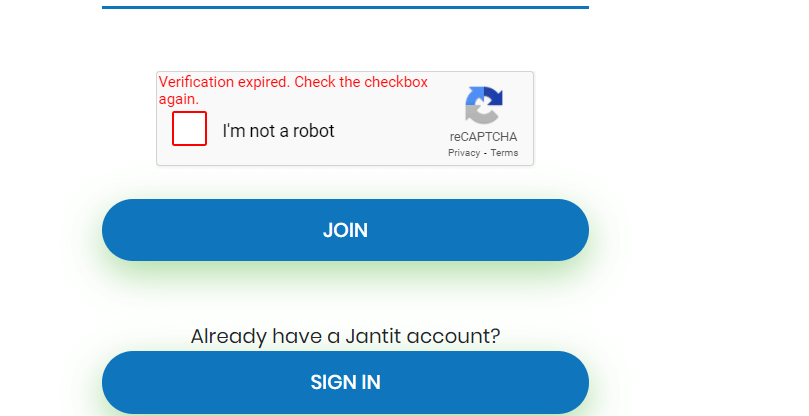 If you successfully created an account, then you can log in to the particular server you choose and create an account there. After successful login, it will show all the connection details for you to access the server.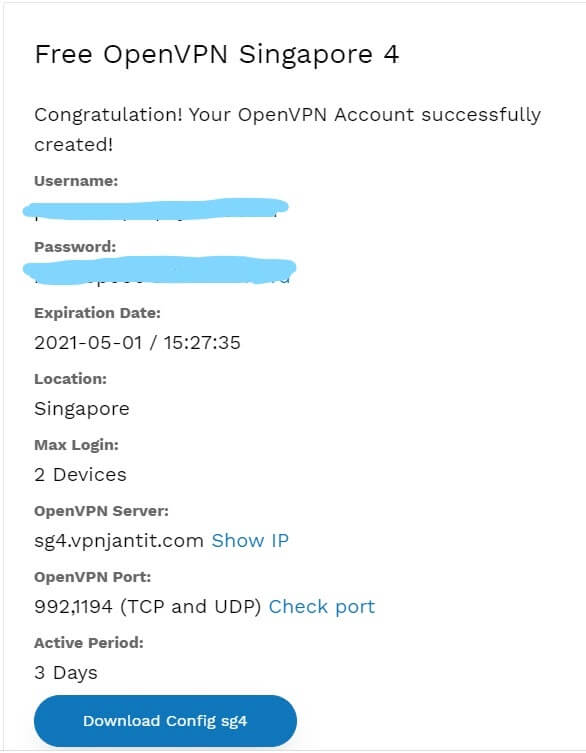 Another downside of VPN Jantit is that it doesn't provide any applications on its own. So you have to use a VPN client like OpenVPN or Softether to connect. For instance, If you choose OpenVPN, you need to first download and install that client on your device. Next, you have to log in to your chosen server and download the particular config files from the website. After that, you need to follow a series of steps to connect to that VPN server for the first time. You can refer to their tutorials to learn what exactly those steps are.
You will be lucky if you successfully connect to the server. But if you forgot to add the configs, then you will have to keep looking at the connection for a long time until you realize your mistake. Therefore, every time you connect to a different server, you need to download and add them to the OpenVPN config path.
Not only to connect to OpenVPN but also, it takes considerable time to connect to other protocols in other devices like android smartphones. If you are a novice user, you may find following these steps and connecting to the VPN server are tedious tasks.
Features and Allowances
This is just a basic VPN with only the essentials. So they do not provide you additional useful security features like split tunneling, kill switches, Dynamic IPs, etc.
Support may be the most satisfactory part of Jantit. You can connect to their support staff using the SMS or WhatsApp contact number they have provided on their official website. If not, you can directly email them for any queries.
Once you send an email to them asking any question, surprisingly, they will reply to you in minutes even if you have a free account with them. This indicates that they have a good support staff. But do not expect more than that like 24/7 live chat support, etc from this VPN. But certainly, their support service is better than most completely free VPNs.
In addition to this, there are a lot of tutorials on their website about how to create accounts with different protocols. Also, you can find related youtube videos done by them. Their Facebook account and official websites also seem to be very active and they constantly keep you informed about new updates like new servers and protocols they have added.

VPN Jantit provides free accounts for both VPN and SSH every day with unlimited bandwidth. Basically, they have Free and Premium VPN plans. You can connect to the following VPN protocols.
OpenVPN
PPTP
SOFTETHER L2P2
V2RAY VMESS
Unlike many free VPNs on the market, these accounts have something unusual. That is, they have an active period. For example, OpenVPN free account is active for only seven days while PPTP and L2TP will be active for 2-7 days, and V2RAY VMESS is active for only three days.
Especially if you are a beginner in the VPN world, this part may be confusing to you. This means that the VPN account you created becomes inactive after the specified days, and you have to create a new one from scratch. For sure, this is not something you expect from a good VPN service if it is mentioned on their website as a 'free version. Therefore, this is a bit misleading.
On the other hand, their premium versions would cost you $1 per month, which is a significantly lower price when compared with other cheap VPN providers. But most of them will be active for up to 60 days and some for 90 days only. That means there are no continuously activated plans like 6-months or 12-months, which would have been very useful for the majority of active VPN users. Moreover, you can only have a maximum of two accounts.
Something noteworthy about their premium plan is that you have the option to buy points. In addition, one user can earn a maximum of 60 free points and a free point is available every 12 hours. But if you want a refund, do not expect you will get your money back, as they will not refund to money.
Conclusion
Based on our experience and analysis of using this VPN can we recommend it? The answer is a big NO. Jantit VPN is a bit complex and very basic VPN with a lot of disadvantages in its hand. Despite having a wider server coverage, there is nothing to praise about its speed or unlimited bandwidth.
Although we can appreciate their quick support and stronger encryptions, Its lack of information about privacy and logging policy let it further down. In conclusion, this is not worth your money. So go for a good VPN like ExpressVPN or NordVPN that offers many more reliable features.