The Alpha Black Cat Team, also known as ALPHV, has just announced on their Telegram account that they've added Execuzen Ltd to their victim list.
The ransomware group claims to have stolen personal data, photos, and sensitive corporate info from Execuzen
They've threatened to go public with the information if Execuzen does not negotiate with them
Execuzen Ltd is a global search and consultancy firm with an estimated net worth of £6,858,494 or $8,533,537 USD in 2021
ALPHV is a ransomware-as-a-service business that appeared in 2021 and has worked with other ransomware families like REvil, Conti, and Lockit, and gained notoriety after attacking MGM Resorts International and Caesars Entertainment
ALPHV made this announcement on their official Telegram account, where they threatened Execuzen with publishing all the stolen data unless they negotiated with them.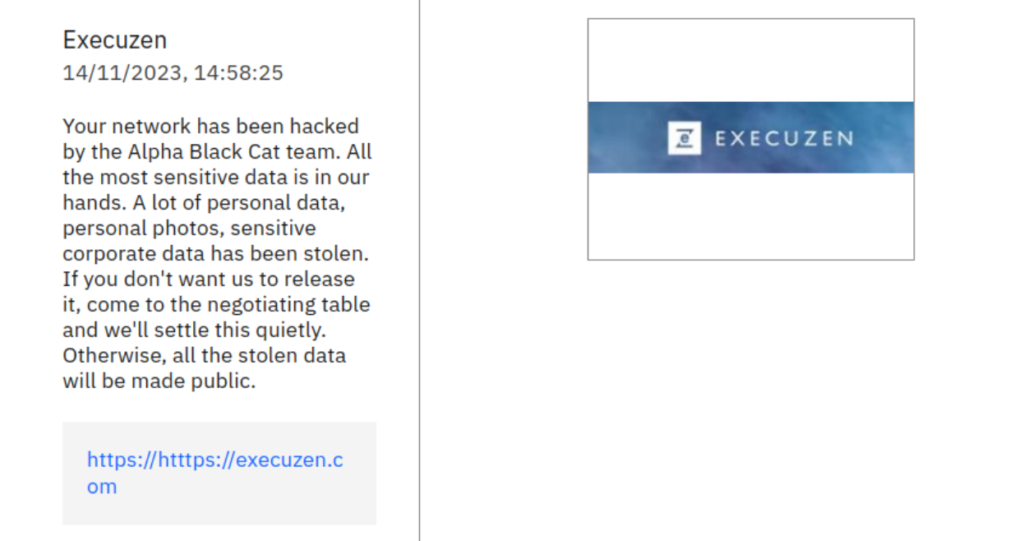 The FBI claims that ALPHV has ties with the Darkside and Blackmatter ransomware cartels, which would indicate that ALPHV is well-respected in the RaaS business industry.
According to a Ransomlooker analysis, ALPHV was one of the most active ransomware gangs in the last 12 months, attacking a total of 317 organizations in the world.
Their collaboration with other known ransomware families like REvil, Contin, and LockBit is another worrying factor that adds to the infamy of ALPHV.
Execuzen Ltd, the newest victim, hasn't made any statements yet, so we don't know if they'll pay a ransom or not.