A hacker alleges to have acquired the entire database of an Australian online store, potentially impacting tens of thousands of customers. The authenticity of the leak has yet to be confirmed.
Highlights:
Hacker asserts possession of a database from the Australian online store, http://peconline.com.au
Purported data consists of email, name, gender, and password, impacting approximately 69,724 records
Potential consequences for users encompass identity theft, phishing, and various cybercrimes
Users are advised to implement measures to strengthen their online security
A participant on a hacker's forum contends that they have procured a comprehensive database from an Australian online store, http://peconline.com.au. The claimed data encompasses sensitive details such as email, name, gender, and password, possibly affecting around 69,724 customers.
Should the leak prove genuine, users may be vulnerable to identity theft, phishing schemes, and other types of cybercrime.
The alleged data leak was announced on a popular cybercrime-related forum, where the user claimed to possess the entire database of the Australian online store.
It is unclear at this moment how the database was obtained or the time of the alleged data breach.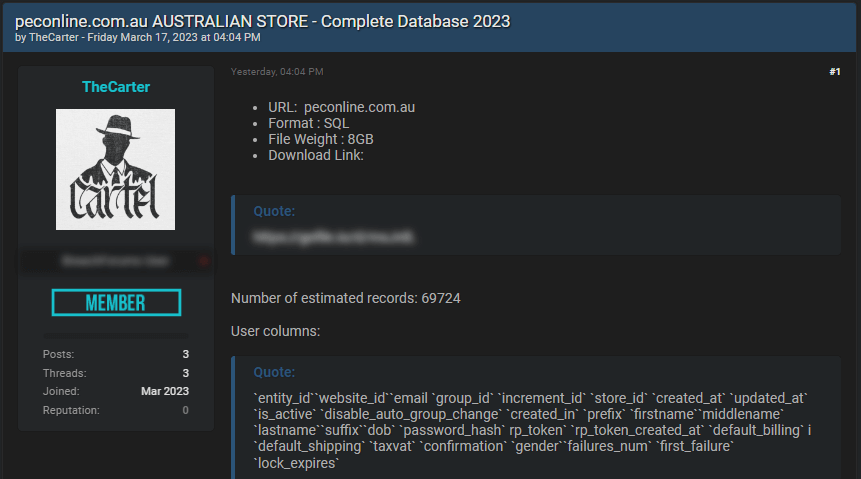 Authenticity of the leak cannot be determined
Samples of the alleged data were provided by the hacker, but the authenticity of the information cannot be determined.
The forum post was created by a user who has been involved in confirmed data breaches and the sale of illegally obtained databases in the past.
Implications for users
If the data leak is authentic, affected users could face various cybersecurity risks. The stolen information could be used for identity theft, phishing attacks, or even to access other online accounts if users have reused the same password.
In addition, cybercriminals could impersonate victims and attempt to extort money from them or their contacts.