Are dark-web hitmen services just a scam?
We decided to investigate a few of the sites offering such services to learn a bit about what they promise, and for how much they are potentially scamming would-be customers of murder services.
Of course hitmen do exist and there are reports of dark-web related murders, it's just that these murder-for-hire eCommerce style sites smell so much like scams.
We found that a lot of the sites just don't feel trustworthy to begin with. There's a level of desperation to look legit that gives it away. Each site is decorated with stock photos of hooded men pointing guns, and we believe that every offering we found is likely a scam.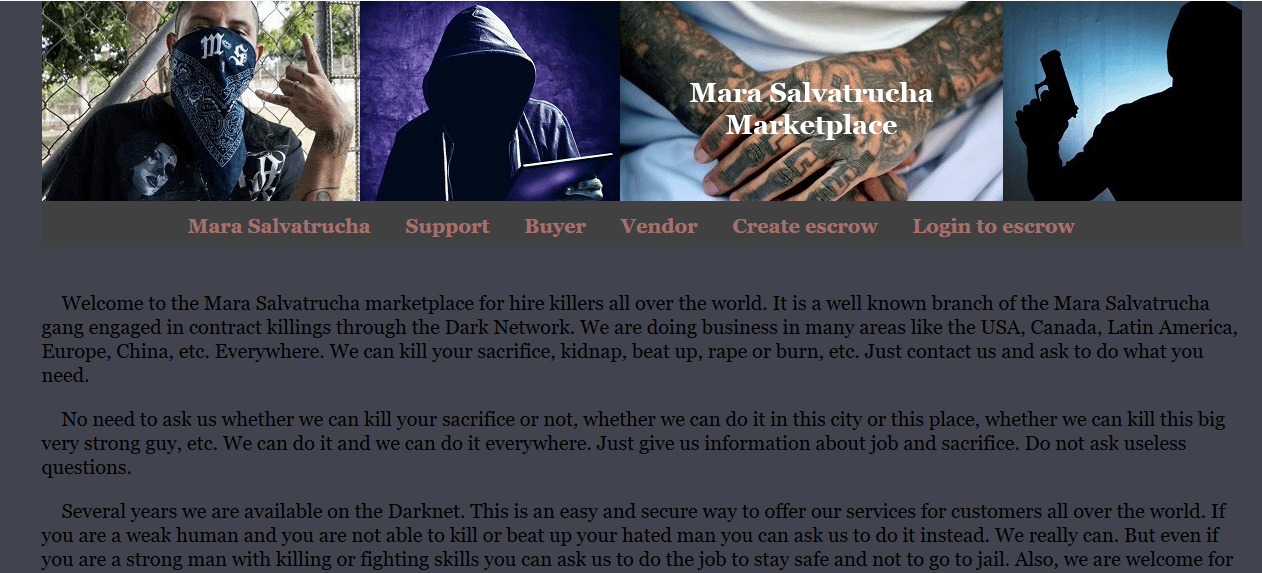 Some sites mention they will not accept a hit on a minor, whereas others will but won't carry out terror acts such as using explosives in a public place.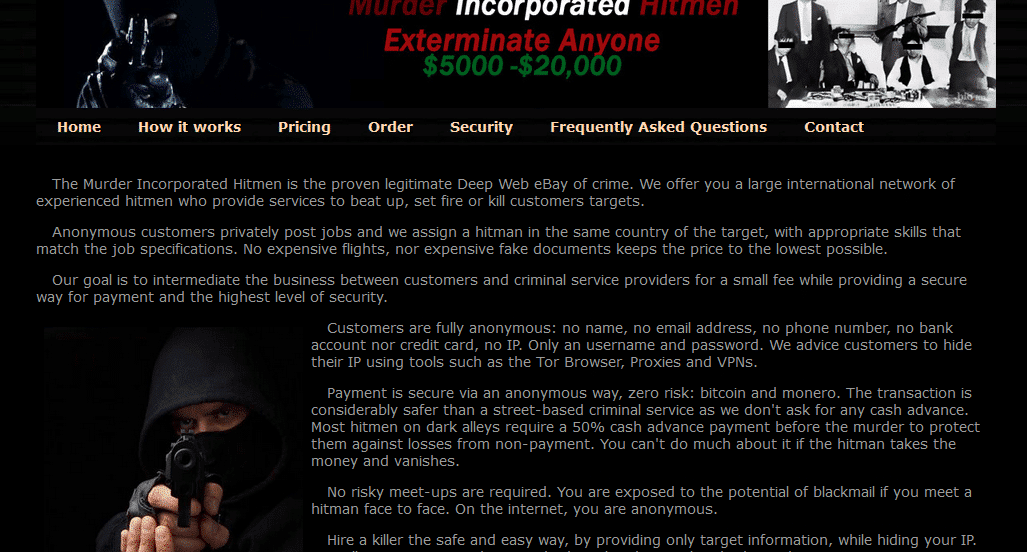 Where fees are mentioned, they are generally between $5k and $100k, but some are as much as $200k for political/ high profile assassinations – which then seems absurdly low considering the enormous risk involved for anyone executing the contract.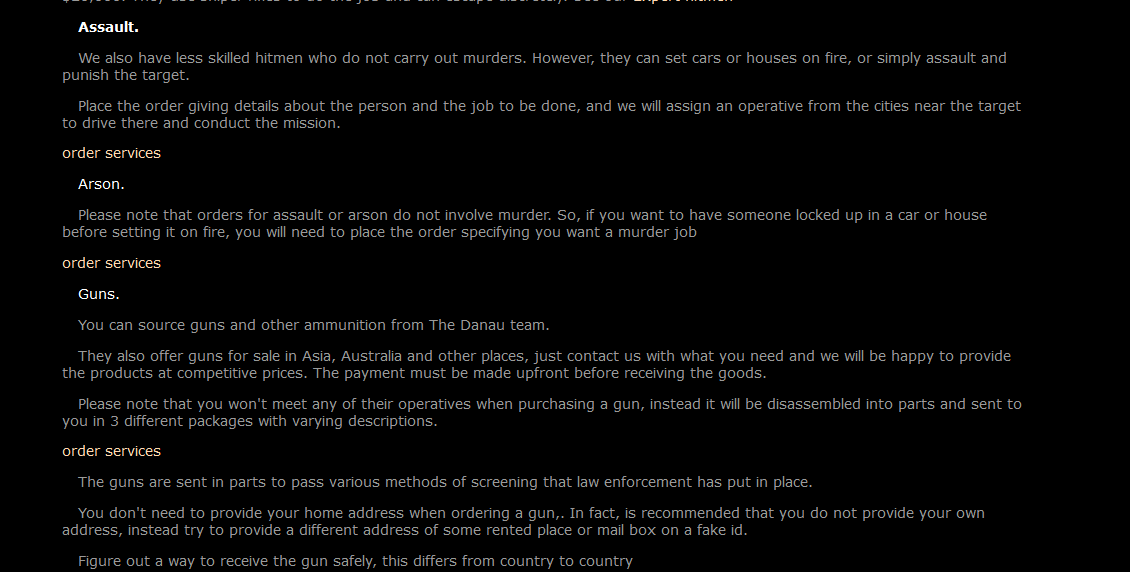 Other violent "services" are also available.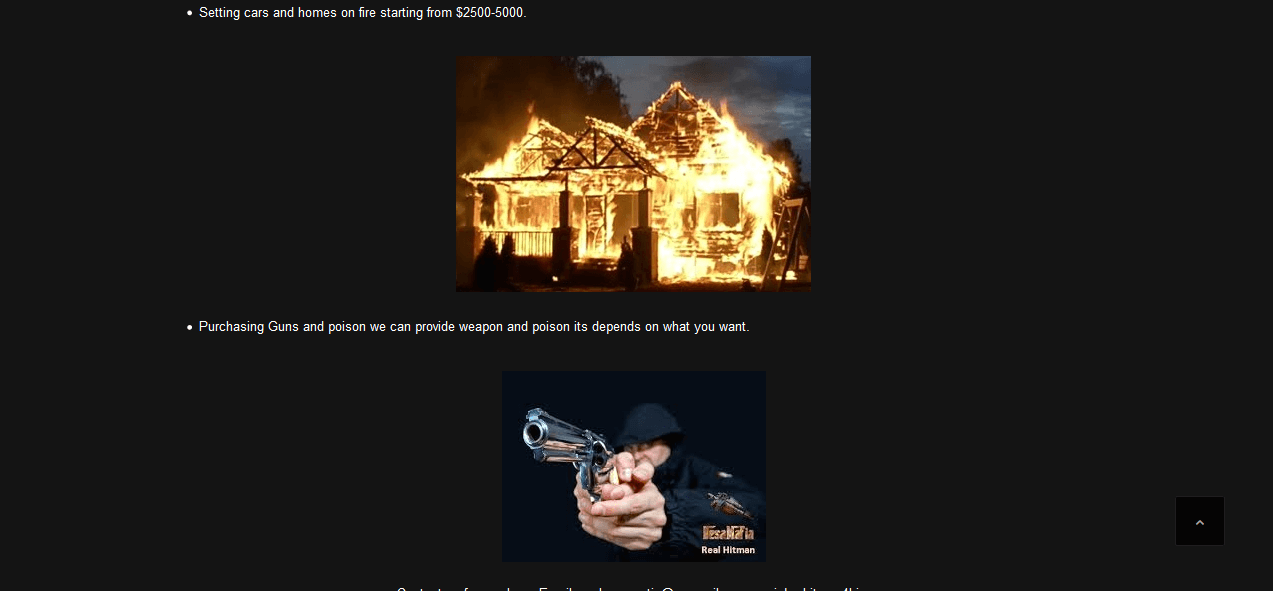 Beatings, broken bones, arson, robbery etc. can all be ordered for less than $10k.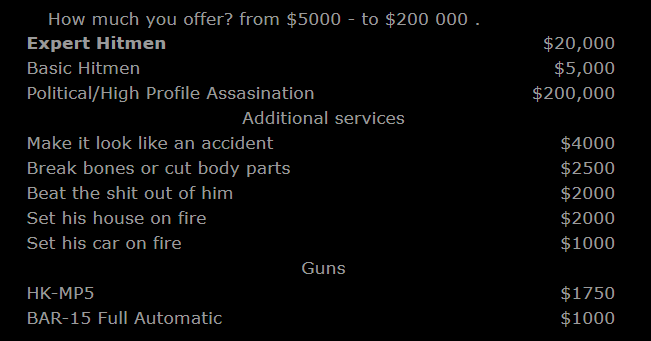 There are a lot of guarantees that the organizations are legit and have been operating for years, although most are written in pretty poor English and the style is like a teenager talking tough in a 90's chatroom.
The sites are full of "trust signals" that are designed to make visitors feel like they are dealing with a legit website.
All the sites we investigated claim to use a third-party escrow, with a money-back guarantee for any failed contracts. Of course, due to the nature of unenforceable contracts, such guarantees are worthless.
Once the BitCoin is transferred to the site it's gone.
We even found "testimonials" pages that were just links to murders covered in the news. We were able to find follow-up articles on these cases in which local gang-members were arrested.
Many of the sites mention an initial consultation – this could be to make the visitor feel like they're dealing with professionals, it's normal for consultants or service providers to set up a call before starting a new business arrangement, and many potential murder accomplices may find this familiar and comforting.
Taking part in a consultation call with a hitman, however, would almost certainly be grounds for an attempted murder charge, or conspiracy at the very least.
In a final effort to seem legit, each of the sites we found have a section of the website where ex-military personnel can sign up to join as a hitman. The prominent positioning of the link looks like another confidence trick.
There has never been a murder definitively attributed to dark-web hitmen.
Of course, that could be down to the care of professional killers to not getting caught. Whilst there are many illegal activities occurring on the dark web, we believe hitmen-for-hire sites are mostly scams.
Hired killers on the dark-web
Ross Ulbrich, founder of the dark web's most famous marketplace, The Silk Road, allegedly paid contract killers $730k worth of BitCoin to murder six people, according to transcripts of his conversations with organized crime bosses.
Ulbrich will spend the rest of his life in prison for money laundering, computer hacking, and conspiracy to traffic narcotics. Whilst charges of murder-for-hire were not made, evidence implicating Ulbrich – aka DreadPirateRoberts – in a series of murders was considered by the judge when sentencing him to double life imprisonment plus forty years without the possibility of parole.
Ulbrich is by no means the only person to have been caught trying to order killings on the dark-web. In fact there have been several arrests as a result of an investigation carried out into scam sites operating as contract-killer organizations.
The investigation discovered that one person was running multiple dark-web sites, and had a team of programmers and online marketers to create the perception that the organizations were genuine, trustworthy, and efficient.