A premium VPN created by the team behind AVG, the world-renowned Internet security company that become popular as of late. They're very proud and talk about their product like it was some kind of warp technology.
By itself, the company is generally trustworthy because it has built that reputation on professionalism and quality services. Let's see if they continue the tradition with the addition of a VPN to their repertoire of security tools.
Pros:
30-day trial
30-day money-back guarantee
A simple and intuitive user interface
Has a very low impact on download speed
Provides access to the US Netflix
Public Wi-Fi protection
Cons:
Few server locations
The privacy policy is suspicious and worth analyzing
Mediocre customer support
Only one connection per license available
To use the VPN on another platform, you need another license
Lack of security features
Moving on, let's take a look at the main features that AVG Secure VPN should possess in order to qualify as a good online security provider.
7.0

Speed
In terms of server velocity and performance, AVG Secure VPN is more than decent, in the sense that it certainly doesn't significantly slow down your benchmark speed. While there are drops, they don't make the service completely unusable as we've seen in other cases.
The encryption protocols and all the security gizmos that AVG Secure VPN comes with are more than enough to make up for these losses.
As such, here are the results of multiple tests that were made:
No VPN basis line: Ping – 11, Download speed – 36 Mbps, Upload speed – 5 Mbps

Australia: Ping – 390, Download speed – 8.63 Mbps, Upload speed – 1.72 Mbps

USA: Ping – 172, Download speed – 17.34 Mbps, Upload speed – 2.70 Mbps
Germany: Ping – 26, Download speed – 31.63 Mbps, Upload speed – 4.40 Mbps
Russia: Ping – 54, Download speed – 24.49 Mbps, Upload speed – 4.24 Mbps
Brazil: Ping – 250, Download speed – 11 Mbps, Upload speed – 2.12 Mbps
The UK: Ping – 44, Download speed – 21.10 Mbps, Upload speed – 4.33 Mbps
On another test, with the benchmark download speed of 54 Mbps, the Miami server registered 47.90 Mbps in download, with the upload speed hitting 6.71 Mbps from a default of 7.52 Mbps.
It seems as though AVG Secure VPN is not as bad as you might think, certainly better than many other free online security providers or even lackluster premium ones.
Of course, some servers are better than others, and some registered speed fluctuations. It depends, really, on how flooded it is, how many users are asking for access at the same time, and the routing differences.
In general, you will likely encounter no problems if you want to surf the internet, do some research, or even watch some movies in HD.
Moreover, this VPN is also good at accessing geo-blocked content by making your network connection appear to be coming from a different location than your real one.
Netflix works pretty well with it but BBC iPlayer does not.
4.0

Locations
Here's a list with all the locations that AVG Secure VPN currently supports:
North America – Canada, Montreal; Canada, Toronto; Mexico, Mexico City USA, Chicago, Dallas, Miami, New York, Salt Lake City, San Francisco, Seattle
South America – Brazil, Sao Paolo
Africa – South Africa, Johannesburg
Asia/Oceania – Australia, Melbourne; China, Hong Kong; Japan, Tokyo; Republic of Singapore, Singapore; Turkey, Istanbul
Europe – Czech Republic, Prague; Finland, Helsinki; France, Paris; Germany, Frankfurt; Italy, Milan; Netherlands, Amsterdam; Poland, Warsaw; Russia, Moscow; Saint Petersburg; Spain, Madrid; Sweden, Stockholm; the UK, London
These are 29 cities in 21 countries, which makes the number of server locations extremely low. It's a very poor list of servers, to be honest. If you ever choose to travel to any other country than these ones, tough luck, AVG Secure VPN will become as useful as peas-based slingshots in a gun-fight.
There are multiple servers in Eastern and Western Europe, Asia, and the US, all in order to increase the overall performance speed of their VPN. This is because these areas are generally more populated, there is a lot more traffic going on, and there is a lot of streaming content available.
AVG Secure VPN also allows P2P torrenting on the following servers:
London
Amsterdam
New York
Seattle
Miami
Prague
Paris
Germany
These locations are marked in the client software for quicker identification.
Also, most of the servers support YouTube, Netflix, Hulu, HBO GO, Amazon Prime, Google, and Facebook.
While AVG Secure VPN has a pretty decent overall coverage on 6 continents, the number of servers is far from satisfying all of its customers. It's a sub-par situation that shouldn't be seen in a premium VPN.
2.0

Privacy
First of all, they're using the OpenVPN protocol to secure all their data which is a good thing. To date, this encryption protocol has been found to be the very best out of all others. With countless specialists reviewing and analyzing it for inconsistencies, it's definitely worth its reputation.
It's widely used by only the best VPN services so, from this point of view, AVG Secure VPN can be said to have made a good impression for now.
As for the advanced security features, they're using the AES-256 bit protocol to encrypt their traffic. Short for Advanced Encryption Standard, this feature is being used to safeguard all the secret materials in the US.
There are multiple variants of it because it can be used with 128-, 192-, and 256-bit keys. Obviously, the latter is the most secure out of the three, and it's said that there are as many combinations needed to break it as there are stars in the sky.
Of course, all this extra security will impact your performance. This is to say that your speed will plummet bit by bit, and it can even be cut in half on some of the problematic servers.
For process verification and control, AVG Secure VPN makes use of the OpenSSL libraries and certificate verification. They're doing this to create the initial "tunnel", to check and verify the device before the key exchange.
Banks use a similar method in the form of their HTTPS protocol, just to put things into perspective. Ideally, the key exchanges should make use of the perfect forward secrecy protocol as well. This means that the old keys are periodically replaced with new ones, to prevent any misusage of the old data.
Now, to talk about the privacy policy, AVG Secure VPN specifically says that they do not track your activities on the web or share any data with any third-parties. The standard policy for all products, however, hits the nail in the coffin.
Apparently, they're retaining a lot of data on their users, regarding email, phone, number, SIM card number, location, IP Address, and many other pieces of information through which they can identify you immediately.
What's more, they may even share your data with third parties if they are told to do so by the authorities or when they have to comply with the law. In other words, they are storing logs which are all related to you.
There are no DNS or WebRTC leaks but the client itself does not have a kill-switch. This is far from ideal because any random VPN blackout means that your IP and data are revealed to the public.
Your anonymity and privacy are put at risk just because of that single security features that they didn't implement, and it's a fuck-up on their part. Until this is remedied, AVG Secure VPN is certainly not safe to use.
All in all, it's clear that they know who you are, they keep information that could make or break your privacy, and even their VPN has some security chinks that can be exploited by hackers.
All the security protocols in the world can't make up for the lack of a kill-switch. When the VPN abruptly stops, all those encryptions magically disappear, leaving your network to run butt-naked through the proverbial woods of the internet.
8.0

Ease of Use
The general interface of the AVG Secure VPN looks very similar to the Avast Antivirus one, with the only difference being that the AVG is a stand-alone application.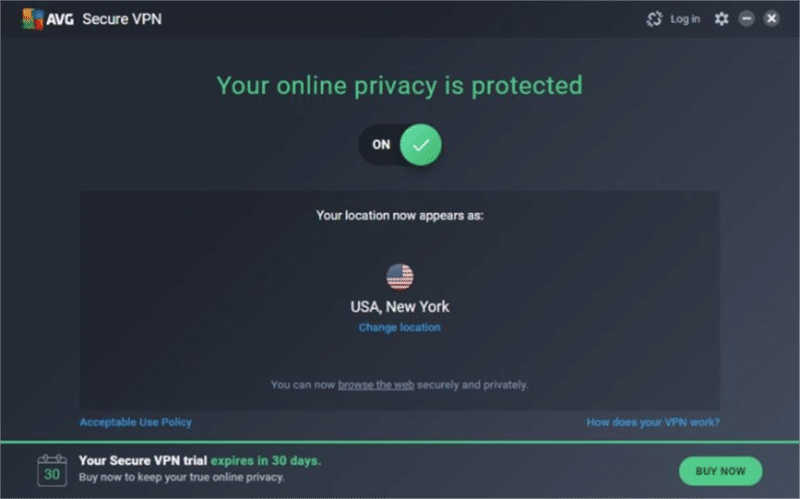 There is an ON/OFF switch, the server location section a privacy policy, and a browser button.
There is a clear and clean interface that welcomes you when you first start-up the VPN, and this is a good thing.
Opening the settings menu through the cogwheel icon on the top right hand of the screen, you'll find out that there are actually not that many settings that you can change.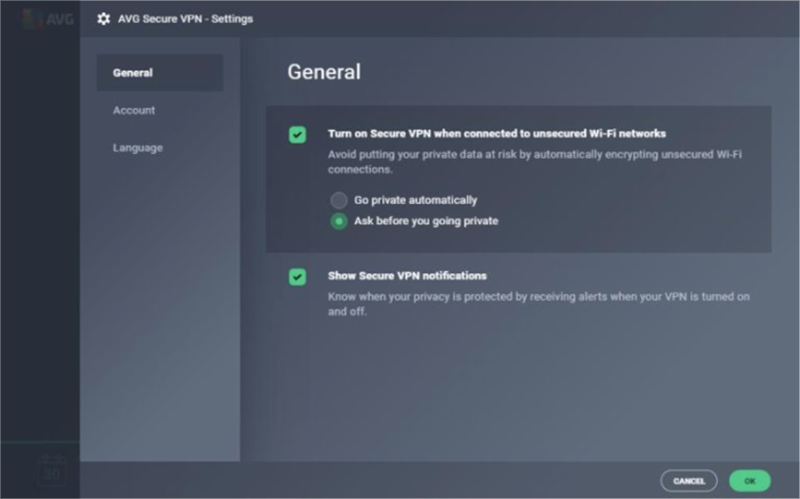 You can choose to enable or disable the auto-connect feature when you connect to unsecured Wi-Fi or enable/disable the VPN notifications.
The client is compatible with the following platforms:
Windows
MacOS
iOS
Android
Downloading and installing the VPN app for them is extremely easy and can be done in a few minutes. There are only a few toggle-able buttons that will make all the work for you.
In order to connect to the VPN, you just need to press a button. After selecting a location, you will be automatically connected to that server. If you want to change locations, you don't have to manually disconnect from the old one and connect to a new one.
Simply by choosing a new location, the system will automatically disconnect you from the old one and connect you to the new VPN server.
1.0

Support
The only thing coming close to the concept of customer support is the website's FAQ articles where you will have to spend a great period of your time scrolling through the 4 categories: general, settings, troubleshooting, and setup and licensing.
Oh, and you can also contact the staff team through the mail-ticketing system. But we all know how those things work. You send an email, asking a fairly important question, the staff members see it after a few days, and the answer will probably be a 3-line sentence filled with general information.
They also have a blog and media pages where you can try to get some form of support.
There is no live chat in place, that's the main idea here. The next best thing is a telephone conversation with them which costs around $79 per session.
This is more than the value of a 2-year subscription.
Yeah, you have to pay in order to get some quality customer support, and it's more expensive than the overall VPN service as a whole for a period of 2 years. If this isn't a money-grabbing/whoring tactic, then I don't know what is.
Compared to NordVPN who has a multifunctional 24/7 live support chat that replies immediately with very detailed answers, AVG Secure VPN's own customer support seems like a retarded one-legged drunkard in comparison.
4.0

Pricing
AVG Secure VPN comes with a few peculiarities in terms of plans and packages. They sell their services separately for different platforms. Once you buy a package, you can install the client on as many devices of that particular platform as you want.
However, you can only use one at a time.
These are the overall plans:
For Windows and Mac OS X, the 1-year subscription is $59.99, the 2-year plan is $109, and the 3-year plan is $159.99
For the iOS, you have to pay $2.99 per month for a monthly subscription, and the 1-year package is $35.99
For android – $1.49 per month or $19.99 per year
As you can see, you can't buy a monthly subscription on Windows and Mac OS X, and the yearly ones are pretty damn expensive.
However, all plans come with a 30-day money-back guarantee that will surely make things easier.
As for the payment methods, they are:
Visa
MasterCard
Discovery
American Express
PayPal
Bitcoin is not supported, unfortunately.
What's more, they will even give you a full 30 days period in which you can try out their services for free. In other words, this is a free trial that they just give out like that. They are quite sure that you'll immediately subscribe once you see how the system works.
However, the fact remains that these prices are certainly not accessible for anyone, and they aren't even motivated for such mediocre services. They don't have a kill-switch, yet they demand so much.
Conclusion
Do I recommend AVG Secure VPN?
No, I do not, and the reasons are quite simple:
Not nearly enough locations and servers
The lack of a kill-switch
No simultaneous connections at all
Sky-high prices
The subscription plan doesn't have a 1-month package for Windows
No Bitcoin support
No alternate secure protocols for those who need them (PPTP, IKEv2, L2TP/IPSec)
If you really want high-quality services, plenty of servers to choose from, extraordinary speeds, excellent customer support, and more, have a look at these three VPNs:
NordVPN
IPVanish
CyberGhost
In that order, these three online security providers are Hulks of the digital privacy department. You won't be disappointed with their services, that's a guarantee.
As always, the choice is yours!
Our Rating

4.3
AVG Secure VPNis extremely fast, simple and private: a truly standout VPN
Go to NordVPN Instead