AVG Technologies is one of the well-known security providers in the antivirus software industry. However, unlike its antivirus software, its AVG Secure VPN is lesser known as it is not as competitive as most of the best VPNs in the market.
Owned by Avast software based in the Czech Republic, this company is generally trustworthy because of its reputation and professionalism in providing quality services. However, while there are many positive features of their VPN, there are also negative features that prevent us from recommending it.
Let's review AVG secure VPN and find out where it stands among its peer VPNs.
Pros:
30-day trial
30-day money-back guarantee
A simple and intuitive user interface
Has a very low impact on download speed
Provides access to the US Netflix
Public Wi-Fi protection
Cons:
Few server locations
The privacy policy is suspicious and worth analyzing
Mediocre customer support
Only one connection per license available
To use the VPN on another platform, you need another license
Lack of security features
Summary
Despite its good reputation for antivirus software, AVG Secure VPN doesn't seem to be on par with most well-recommended VPNs. Because of its lack of servers, average speed, questionable and suspicious privacy policy, and ineffective customer support, we do not recommend this VPN because you can find a better VPN than this that is worth your money.
The most frustrating point of this VPN is the lack of servers. As of now, it only has 58 server locations covering only 36 countries which is very low compared with more robust VPNs like ExpressVPN or NordVPN. Also, a majority of the servers are located in Europe. Another downside is the speed. Although they provide optimized servers for streaming and P2P, the drop of download and upload speeds are very high when connected to those servers.
Besides, this VPN lacks a strict no-logging policy. They state in their privacy policy that they keep user's connection logs, and the information they log is highly questionable. Not only that, there is no direct customer support where you can reach them with one click of a button.
Having robust encryption and protocols, ease of use, kill-switch and access to blocked streaming content, and torrenting support are the advantages of AVG secure VPN.
Follow the following review to find how this VPN performs in different areas and find out why we do not recommend it.
Speed is one of the deciding factors when choosing a VPN. We conducted a speed test for this VPN using a speed test by Oakla, connecting to different servers in different locations. From the results, we can say that AVG Secure VPN is a below average VPN in terms of speed.
First, the following shows our upload and download speeds before connecting to the VPN.
Download Speed – 80.62 Mbps
Upload Speed – 46.56 Mbps
Pings – 4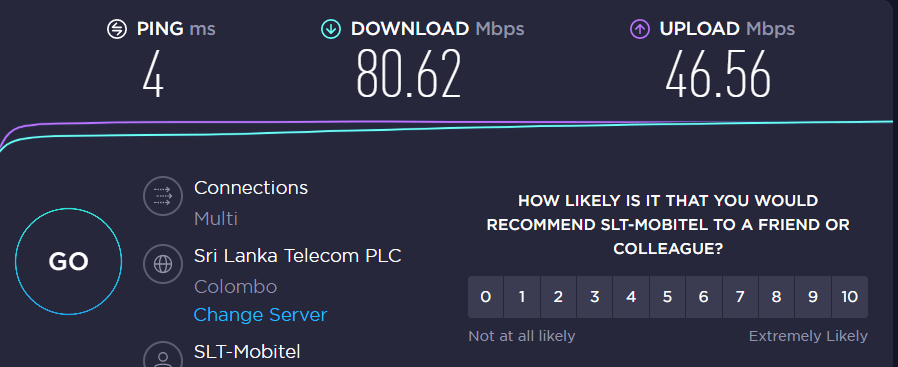 AVG Secure VPNs application automatically selects the optimal server location when you open the application. For us, it chosed the Malaysia server as the optimal server for our location. after connecting to the optimal server, it didn't show a drastic reduction in speed as it reached 53.33Mbps. Hence, the download speed achieved almost 66.66% of the original speed, and the upload speed was closer to the original speed. From this, we can say that this facility is very much helpful for the user in choosing the best location.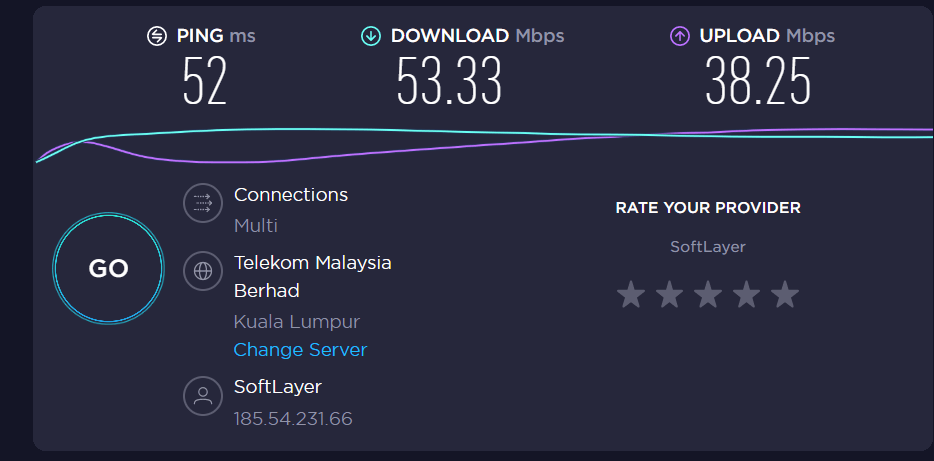 Speed Test for Optimized Streaming and P2P Server locations
Next, we did a speed test by connecting to their optimized streaming and P2P server locations. We did the speed test several times, and the below figures show the best results among the overall tests. Out of all the places, Frankfurt showed the best download speed which achieved only about 50% of the original speed and London was the worst.
All other locations' download and upload speeds ranged between 15% to 43% of the original speed, and the number of pings was considerably high. Thus, overall, from the results, you can see that upload and download speeds of their optimized streaming and P2P servers are very low.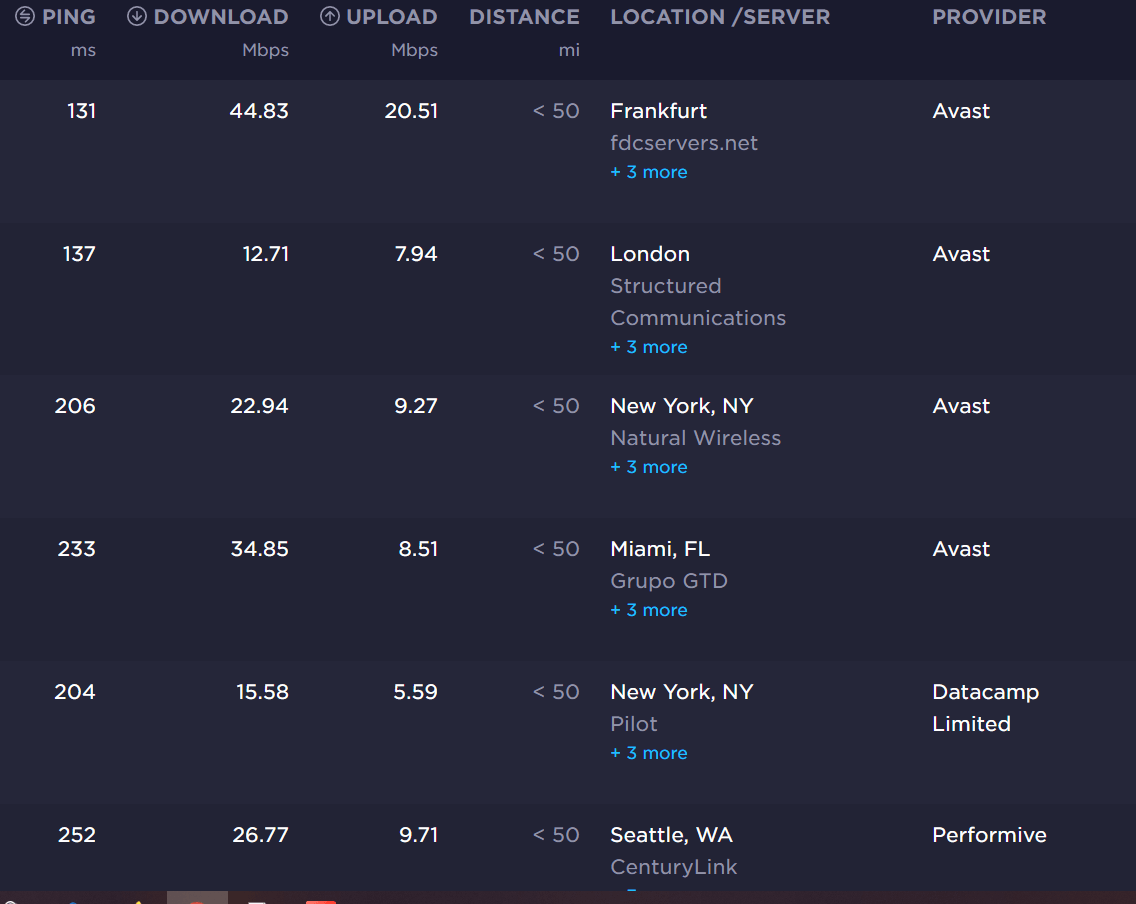 One drawback of this VPN is its lack of server coverage. Because AVG Secure VPN only has servers in 58 locations in 36 countries. Here is the full list of countries they have servers in each major area of the world.
North America
Canada – Montreal, Toronto, Vancouver; Mexico – Mexico City; USA – Atlanta, Boston, Chicago, Dallas, Gotham City, Honolulu, Jacksonville, Las Vegas, Log Angeles, Miami, New York, Phoenix, Salt Lake City, San Francisco, Seattle, Washington DC
South America
Brazil – São Paulo
Africa
South Africa- Johannesburg
Asia Pacific
Australia – Melbourne, Perth; Japan – Tokyo; Malaysia – Johor Bahru; New Zealand – Auckland; Republic of Singapore – Singapore; South Korea – Seol; Taiwan – Taipei
Middle East
Israel – Tel Aviv; Turkey – Istanbul
Europe
Austria – Vienna; Belgium – Brussels; Czech Republic – Prague; Denmark – Copenhagen; Finland – Helsinki; France – Paris; Germany – Berlin, Frankfurt; Hungary – Budapest; Iceland – Reykjavik; Ireland – Dublin; Italy – Milan; Luxemburg – Luxemburg; Netherlands- Amsterdam; Norway-Oslo; Poland – Warsaw; Portugal – Leiria; Russia- Moscow, Saint Petersburg; Spain, Madrid, Barcelona; Sweden, Stockholm; Switzerland – Zurich; UK – London, Glasgow, Wonderland; Ukraine – Kyiv
As you can see from this list, the majority of servers are in Europe. This may not be the only VPN that has a smaller number of servers. Still, this server coverage is not as good as most good VPNs like ExpressVPN or NordVPN which have more than 100 server locations in more than 50 countries. Having more servers minimize the risk of overloading servers with the increase of demand and helps to maintain stable upload and download speeds.
AVG Secure VPN also provides servers optimized for streaming in Gotham City, Miami, New York, Seattle, Frankfurt, and UK Wonderland. In addition, they have optimized P2P servers in Czech Republic, France, Germany, Netherlands, UK, and the USA. They have marked these server locations separately in client applications to locate them easily.
As you can see from this list, there are still a handful of servers optimized for accessing blocked content and most of them are in the USA or UK only. Thus, there is a possibility that these dedicated servers may be completely unreachable with the increasing demand.
Most secure VPNs do not collect user information or have a strict no-logging policy. According to its privacy policy, AVG Secure VPN also does keep any usage logs. But they do keep VPN service data which they claim to be a minimum amount of information retained for only 30 days.
However, they also say that "These retention periods may be longer where it is necessary for us to comply with our legal obligations or legal orders, resolve disputes, and enforce our agreements, including in the court of law". Following are the service data they will keep.
Timestamps of your connections
The subnet of your originating IP address
The IP address of the VPN server you are using.
The amount of data transferred

While the privacy policy gives the reasons for keeping each type of data, this is still a lot of information. Hence, their privacy policy is subjected to suspicion of anyone who uses this VPN.

Also, they say that these personal data are not stored outside the Czech Republic, they also say that there can be instances that need to transfer them outside. Also in their 'Disclosure of information' section reveals that these personal data are not disclosed to other commercial parties except for parties and processes like the AVAST group, service provisioning, and legal matters.

This information may be shared with members of the AVAST group for various purposes including direct marketing. Therefore, using this VPN, there is a risk of sharing your personal information they collect with third parties.

Encryption and Protocols

This VPN uses AES-256 encryption which is a strong and well-known 'bank grade' or 'military-grade' encryption. In addition to that, it uses Open SSL and certificate authentication. Therefore, having robust encryption is a plus point of this VPN.

In terms of protocol support, AVG VPN supports different protocols for different platforms. For Windows, they support OpenVPN and UDP and for MacOs they support IPSec. OpenVPN is considered one of the highly secured open-source VPNs which has a great performance.
AVG Secure VPN has dedicated applications for many of the devices. Currently, it only supports four operating systems: Windows, macOS, Android, and IOS devices. But unfortunately, it does not support Linux platforms or cannot be used in routers. So this can be a limiting factor if you specifically use a device with Linux Operating System and you may need to look for other alternatives.
Download and installation of a PC windows application were quite straightforward. It took only a couple of minutes for us to install both windows and ios applications. You can get their 3-0-day free trial once when you install it. Once you open the application, it automatically chooses the best server location, and also you can manually connect to any server. Using the on/off switch button in its clear interface you can connect and disconnect the VPN.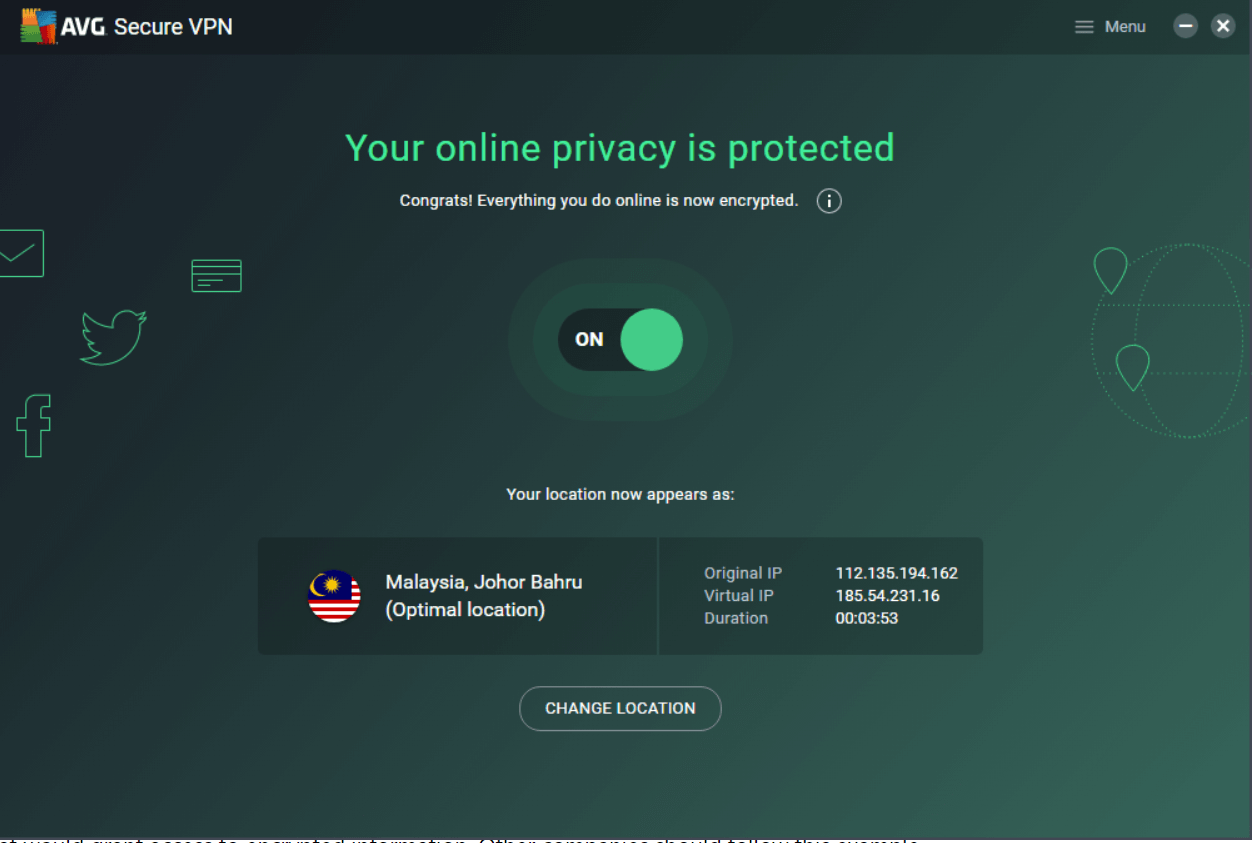 And: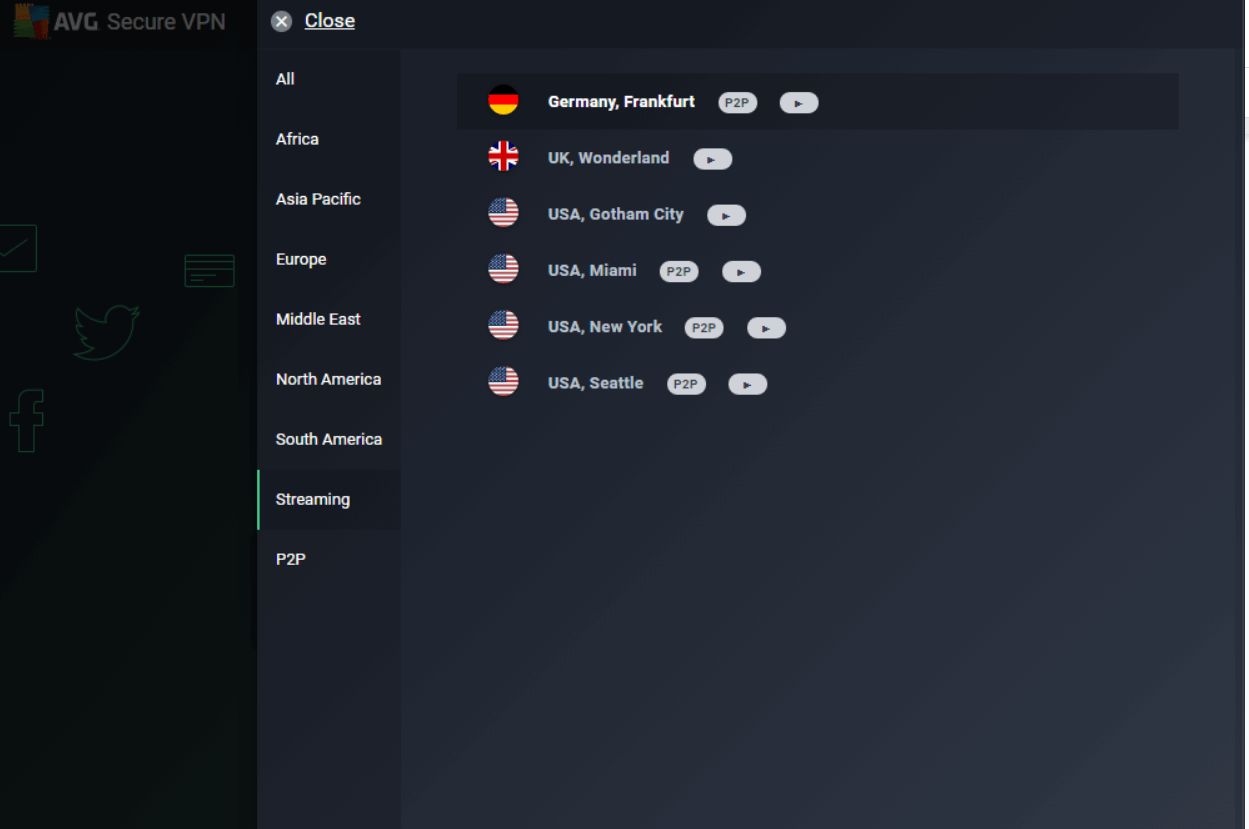 When you click on the 'change location' button, it shows all the server location categories under different regions. It also shows streaming and P2P locations separately which makes it easier to choose. From its settings, you have the option to activate the kill switch and can enable/disable the auto connect feature. Certainly, thanks to these features, AVG Secure VPN is easy to use and user-friendly.
There is no direct way to access their support service and you have to go through several steps to reach the technical support. One must login to their AVG account and go to their support page. There you will be given an open to select the VPN product and your operating system. Then you will be directed to another page where you have an option to get more help. Once you click on it, after some considerable time you will be directed to the following form. To be honest, I have never went through so many steps to talk to a support assistant before.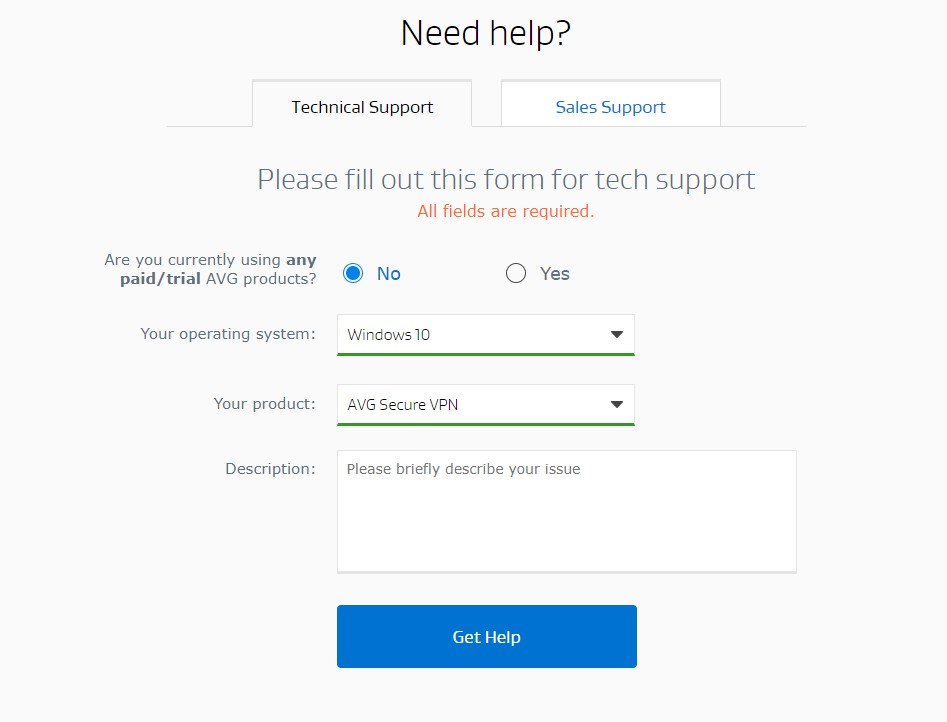 Unfortunately we couldn't go further as we received a JavaScript error.

There is also no 24/7 live chat support which many responsive VPN services provide even for their free versions. Also, there is no direct contact number or email address for you to reach out for any quick help. But if you look on to their sales support, they have provided direct contact numbers. So in our opinion, their technical support has a lot to improve.
There are a considerable amount of FAQs available on their official website for you to find out general information. They have categorized these FAQs according to the type of OS or Platform you use. We think this facility makes it easier for the user to narrow down the search.
Features and Allowances
Apart from its basic features, AVG Secure VPN provides a kill switch as a security feature. This is a very useful feature if you suddenly lose the connection. You can read more about kill switches here. But that is all. They do not provide any other advanced security features like split tunneling, Dynamic IPs, Multihop, etc.
In terms of prices and packages, AVG secure VPNs' prices seem more reasonable when compared with most VPNs. Although it is not a completely free VPN, you can use its free trial for 7 days. As shown in the below figure, they have three paid VPN plans. All these plans are yearly plans and they do not have monthly plans which would have been much easier for most VPN users. Their 1-year plan costs you $4.99 per month, and 2-year and 3-year plans cost you $3.99 per month.
In addition, those three subscription types support 10 devices that include windows, mac, android, and ios devices. If you are not satisfied, then they offer you a 30-day money-back guarantee. However, if you look closely at their VPN plans, these prices are only for the first 1,2, or 3 years depending on the subscription. So if you purchased a one year plan, the price could go higher after one year
You can pay for the subscription-only using your credit card or through PayPal. Unfortunately, bitcoin or any other payment type is not supported. Thus, they have limited payment methods.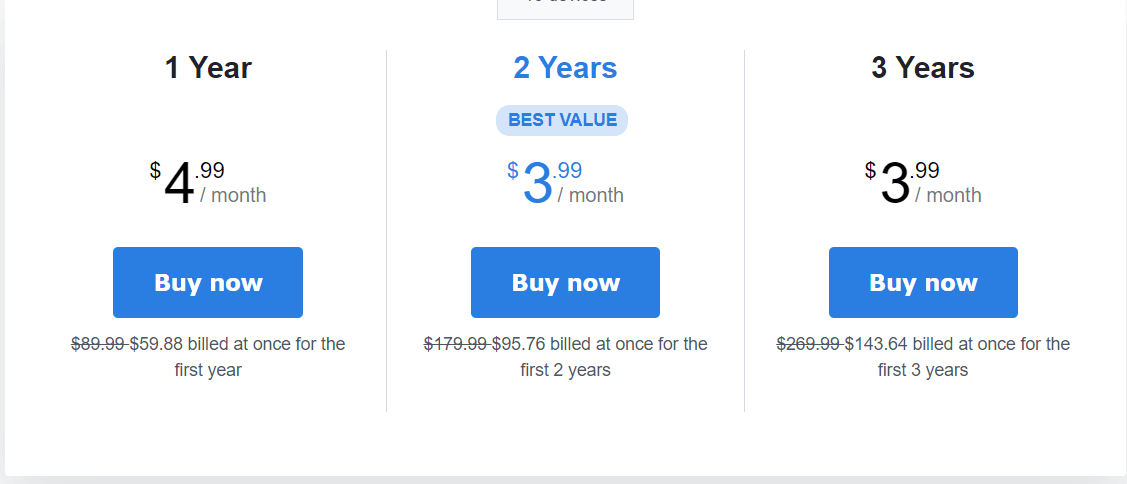 Conclusion
So based on this review, can we recommend this VPN? Certainly No. Despite the reputation of AVG, its VPN lacks most of the must-have features like wider server coverage, reliable speed, good customer support options, and a strict no-logging policy. If you are keen on these matters, you must go for a better VPN option than this very ordinary VPN.