Private and sensitive information of more than one million members of Argentina's various military services was leaked on the dark web and various hacking forums.
On 26 September 2021, a user on a popular hacking-related forum claimed to possess sensitive information of more than 1 million members of various military branches and institutions of Argentina.
Update – 13 October: The same hacker claims to sell sensitive ID card data on millions of Argentinians as well as access to internal government communications network.
The user in question claimed to have obtained data from unidentified dark web hackers. The data in question is being distributed on various dark websites and hacking forums, apparently free of charge.
It is unclear how the hackers have obtained this data but based on previous similar incidents; it likely involves the penetration of one or more Argentine government-run websites and databases.
Update 30 September 2021: Based on the initial report published by Privacy Affairs, the Argentinian publication La Nación managed to receive confirmation from IOSFA (Institute of Social Work of the Armed Forces) that the database leak did indeed take place.
However, the government agency points out that the leak did not happen due to a cyber attack. It was further pointed out that the leaked data is outdated and incomplete. An investigation is underway, according to the IOSFA.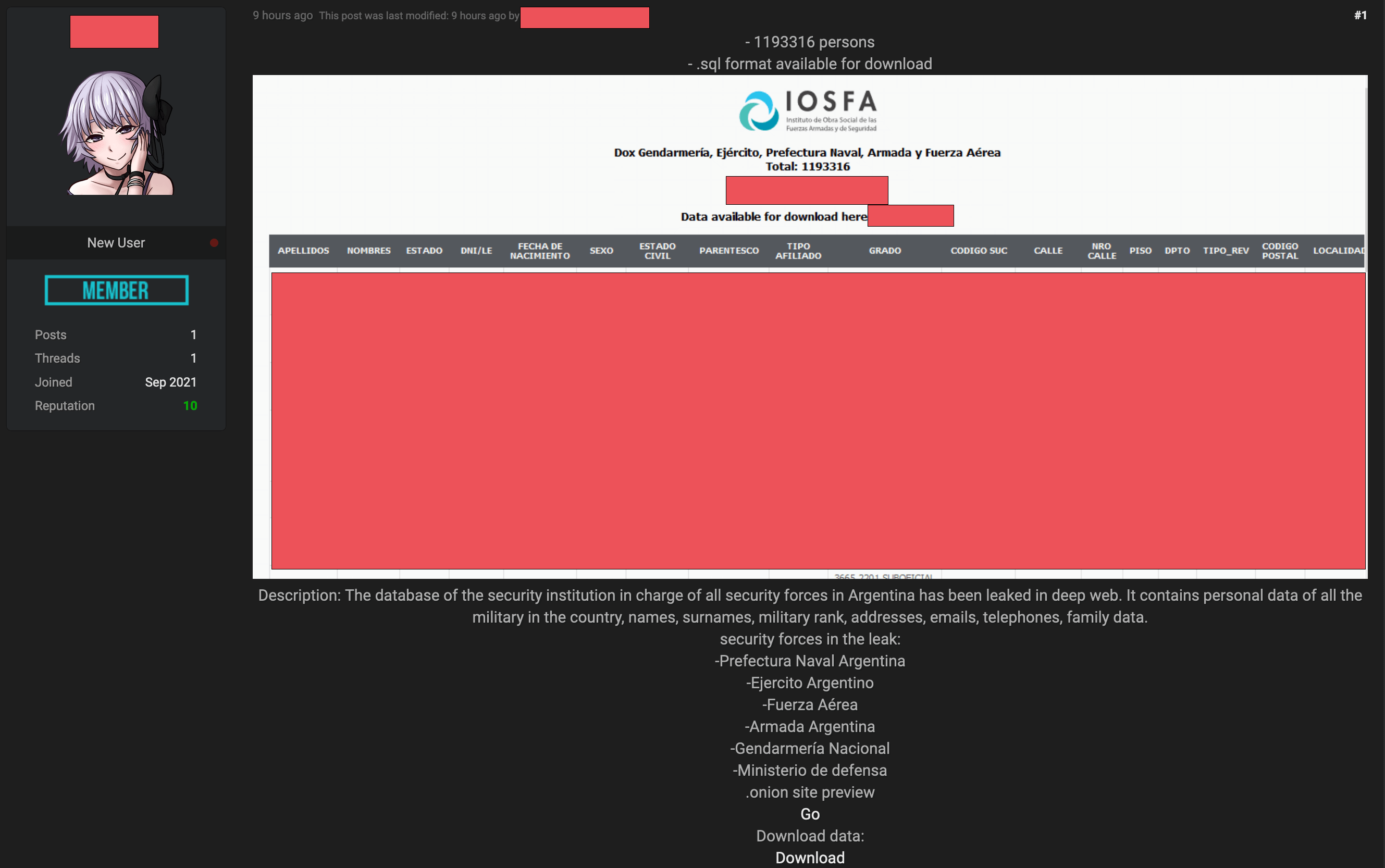 This is how the forum posting looked like (sensitive information was redacted to protect the privacy of affected individuals):
The available data claims to contain information on 1,193,316 Argentine military service members and employees of various national defense agencies.
The data purports to contain the full names, civil status, gender, precise address, telephone numbers, email, and rank of the affected individuals. The leak – if genuine – may be affecting the privacy of more than one million individuals.
The following Argentine institutions seem to be affected:
Argentine Naval Prefecture (Spanish: Prefectura Naval Argentina)
Argentine Army (Spanish: Ejército Argentino)
Argentine Air Force (Spanish: Fuerza Aérea Argentina)
Argentine Navy (ARA; Spanish: Armada de la República Argentina)
Argentine National Gendarmerie (Spanish: Gendarmería Nacional Argentina)
Ministry of Defense (Spanish: Ministerio de Defensa)