ExpressVPN: The Speed Demon for Netflix Streaming
pros
Unrivalled streaming speeds

Exceptional unblocking capabilities

User-friendly interface

Large server network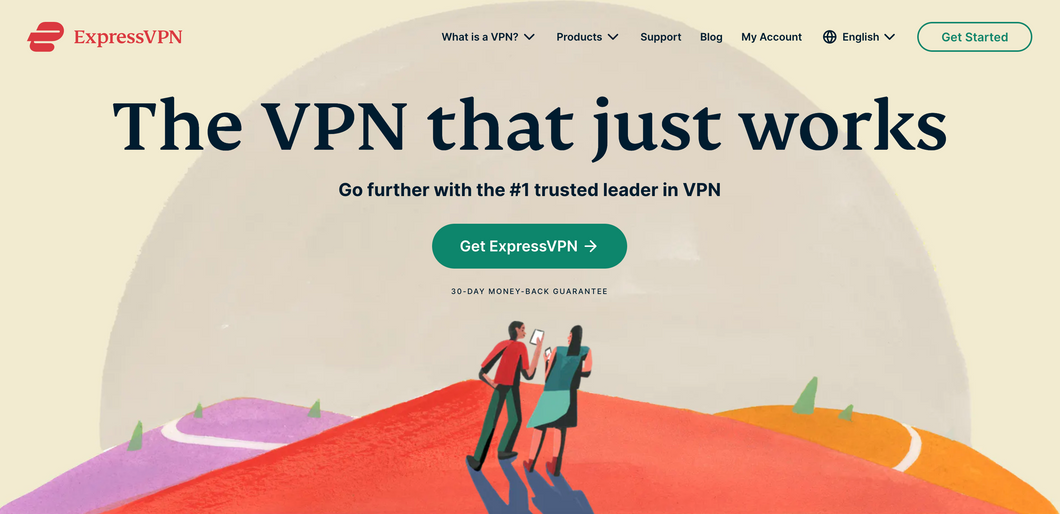 From my firsthand experience using ExpressVPN, I can confidently say that it is a top-tier VPN for Netflix streaming.
It not only unblocks multiple Netflix libraries from different countries but also provides a hassle-free and smooth streaming experience.
ExpressVPN's Lightning-Fast Speeds: A Game-Changer
One of the key highlights of ExpressVPN is its lightning-fast speed. As I put it to the test, I was amazed at how quickly the content loaded, with virtually no buffering or lag.
This speed comes from its extensive server network that spans 94 countries, ensuring optimal performance regardless of your location.
Ease of use is another strong point for ExpressVPN. Its user-friendly interface makes connecting to the desired server a breeze, even for beginners.
Prioritizing Security and Privacy: The ExpressVPN Way
Moreover, ExpressVPN places a strong emphasis on security and privacy, incorporating features such as 256-bit AES encryption, a kill switch, and a strict no-logs policy.
These measures ensure your online activities remain protected while streaming your favorite content.
While ExpressVPN is slightly more expensive than some other VPN options, I found that the exceptional performance and reliability justify the higher price tag.
ExpressVPN: A Premium Option for Uncompromised Streaming
For those seeking a premium streaming experience without any compromises, ExpressVPN is undoubtedly worth considering.
In summary, ExpressVPN is a fantastic choice for Netflix streaming, thanks to its impressive unblocking capabilities, ultra-fast speeds, vast server network, user-friendly interface, and strong security features.
NordVPN: Dedicated Servers for a Binge-worthy Netflix Marathon
pros
Impressive streaming speeds

Dedicated streaming servers

Large server network

Strong security features
When testing NordVPN as a Netflix VPN, the outcomes were truly impressive. The VPN consistently managed to circumvent Netflix's geo-restrictions, thanks to its network of dedicated streaming servers.
NordVPN's Dedicated Streaming Servers: A Seamless Netflix Experience
These servers are specifically optimized to deliver a seamless, uninterrupted Netflix streaming experience, making NordVPN an optimal VPN for Netflix enthusiasts.
Speed is a pivotal element when it comes to streaming, and in this regard, NordVPN certainly shines.
With an extensive network of servers scattered worldwide, it delivers sufficient bandwidth to manage high-definition streams with zero buffering or lag, enabling a top-tier US Netflix viewing experience.
NordVPN's Robust Security Profile: Safe Streaming Across Netflix Regions
In all my tests, the streams were fluid, and I was able to indulge in my favorite shows without any disruptions. Among NordVPN's highlights is its sturdy security profile.
The VPN employs cutting-edge encryption protocols to safeguard your data, ensuring your streaming activities on different Netflix regions remain private and secure.
Overcoming Hurdles: NordVPN's Exceptional Performance and Features
This means you can stream your preferred Netflix content without fretting over potential data leaks or privacy intrusions. It's a trait I truly valued, knowing my online streaming activities were protected.
However, the journey isn't always smooth. In my experience, the NordVPN desktop application can be somewhat challenging to maneuver, particularly for beginners.
The user interface lacks the intuitive design found in some other VPNs, but with some patience, it becomes manageable. Despite this minor hiccup, NordVPN's exceptional performance and features overshadow it.
In Conclusion: NordVPN as a Leading Choice for Netflix Marathons
Specifically for streaming Netflix, NordVPN more than meets the standards. It offers dependable unblocking capabilities, remarkable speeds, and elite security, even against the notorious Netflix VPN ban.
Despite a slightly cumbersome desktop application, it stands out as one of the leading VPNs for a satisfying Netflix marathon, based on my firsthand experience.
Surfshark: Affordable and Reliable Netflix VPN
pros
Budget-friendly optio

Unlimited device connections

Consistent Netflix unblocking

Decent streaming speeds
When our team tested Surfshark, a popular Netflix VPN, we found that it was a superb budget-friendly option for Netflix devotees.
Quality on a Budget: Surfshark's Value Proposition
Despite being a more wallet-friendly choice, it doesn't skimp on quality, making it a significant value for money.
Its allowance for unlimited device connections lets us stream on multiple devices simultaneously without any hiccups, perfect for households with various streaming platform users.
Not only did it perform remarkably as a VPN for Netflix, but it also worked flawlessly with other platforms like Amazon Prime Video.
Unlocking Global Content: Surfshark's Unblocking Capabilities
In our evaluations, Surfshark unfailingly managed to bypass the Netflix VPN ban, granting us access to different Netflix regions.
This feature broadened our access to a vast array of movies and TV shows from all over the globe.
Its user-friendly interface paired with its solid performance provides a seamless and enjoyable streaming experience.
Privacy and Security: The Surfshark Commitment
Best of all, this best VPN for Netflix upholds a staunch commitment to privacy and security, ensuring that your online activities stay protected while you binge your favorite shows.
Though Surfshark's server network is smaller than some of its competitors, it still delivered respectable streaming speeds during our tests, particularly for US Netflix.
We could watch high-definition content without any buffering or lag, endorsing it as a reliable choice for Netflix streaming.
Further enhancing its credibility as one of the best VPN options, Surfshark also offers features such as a kill switch and DNS leak protection.
Plus, it has a money-back guarantee, allowing you to test its capabilities without any risk.
Final Verdict: Is Surfshark a Reliable VPN for Netflix Streaming?
In conclusion, Surfshark is an affordable and reliable VPN option for Netflix streaming.
While it might not boast the largest server network, it effectively accomplishes its purpose, providing a seamless, global viewing experience.
ProtonVPN: Secure and Steady Netflix Streaming
When I put ProtonVPN to the test, I discovered it's a highly suitable Netflix VPN, especially for those who place a high premium on security while streaming Netflix.
Its emphasis on robust security features ensures your online activities stay private, and its steadfast ability to overcome the Netflix VPN ban broadens access to various Netflix regions.
ProtonVPN's server network might be more limited than some competitors, yet it does not compromise on streaming speeds, offering decent performance even when accessing US Netflix.
Furthermore, its user-friendly interface simplifies the process of connecting, making it an easy-to-use VPN for Netflix.
However, ProtonVPN's effectiveness can sometimes be hit-or-miss.
While it tends to perform well most of the time, it doesn't always provide the level of consistency you might find with other top contenders for the best VPN for Netflix.
Notably, ProtonVPN isn't just about Netflix; it also offers commendable compatibility with other streaming platforms, including Amazon Prime Video and HBO Max.
This feature allows you to enjoy a wide range of movies and TV shows across various platforms, all while maintaining your online privacy.
One drawback, though, is the potential risk of account suspension from Netflix due to VPN usage, as copyright holders often restrict the distribution of their content to specific regions.
However, such instances are rare and are typically more likely to occur with less reputable VPN providers.
Interestingly, ProtonVPN works well even in regions like New Zealand, allowing you and your family members to enjoy a global catalogue of entertainment, regardless of your location.
The streaming experience is maintained in HD quality, ensuring that you get the most out of your viewing sessions.
Moreover, ProtonVPN offers a transparent refund policy, adding to its reliability. This policy, akin to a money-back guarantee, lets users try out the VPN's capabilities risk-free.
If you're unsatisfied, you can request a refund, ensuring you're not locked into a service that doesn't meet your needs.
In summary, ProtonVPN may not be the absolute best VPN for Netflix, but it offers a balanced mix of security, performance, and affordability, making it a noteworthy consideration for streaming enthusiasts.
CyberGhost: Best VPN for Netflix with Dedicated Servers
pros
User-friendly interface

Dedicated streaming servers

Large server network

Reliable Netflix unblocking
During my comprehensive review of CyberGhost, I found it to be an exemplary Netflix VPN, particularly well-suited for those who prioritize ease-of-use in their VPN services.
One of the standout features of CyberGhost is its dedicated streaming servers.
These specialized servers are designed to overcome the Netflix VPN ban, consistently unblocking Netflix libraries from different regions, including the extensive US Netflix content library.
This functionality ensures that users have a seamless and uninterrupted streaming experience, solidifying CyberGhost's position as one of the best Netflix VPN choices.
Moreover, CyberGhost boasts a large server network, offering a plethora of options for connecting to different regions.
This widespread server distribution is beneficial in multiple ways.
Not only does it allow users to switch between server locations to unblock Netflix content from various countries, but it also helps them bypass region locks on other streaming platforms, like BBC iPlayer.
It essentially provides a global passport to various content libraries without ever leaving your couch.
However, there are a few minor drawbacks to CyberGhost. Based on my firsthand experience, the connection speeds can be inconsistent across some servers.
This variability might affect the streaming quality or result in buffering during peak hours. Yet, even considering this factor, CyberGhost overall delivers a reliable Netflix streaming experience.
One additional point worth noting is the privacy and anonymity offered by CyberGhost. When connected to its VPN server, your IP address is masked, protecting your online identity and activities.
It ensures that your browsing and streaming habits remain private and secure.
To summarize, CyberGhost is an excellent choice for those seeking a user-friendly best VPN to watch Netflix.
Despite the occasional inconsistencies in connection speeds, its ability to reliably unblock Netflix and its expansive server locations make it a worthy contender among the top VPN services.
Exploring Private Internet Access: A Solid Entry Among the Best VPNs for Netflix
Drawing from my firsthand experience with Private Internet Access (PIA), I can assertively vouch for its inclusion among the best VPNs for Netflix.
PIA stands its ground by not only successfully unblocking various Netflix libraries from multiple countries but also offering a seamless and enjoyable streaming experience.
Private Internet Access's Unbeatable Speeds: Shaping the Streaming Experience
One of the defining features of Private Internet Access is its remarkable speed. When I put it to the test, the content loaded rapidly with minimal buffering or lag, much to my delight.
Such speed stems from PIA's comprehensive server network, which spreads across numerous countries, promising peak performance irrespective of your location.
PIA also impresses with its ease of use. Its intuitive interface makes connecting to the desired server a simple task, even for those new to VPN providers.
Security and Privacy: At the Heart of Private Internet Access
Furthermore, Private Internet Access emphasizes its commitment to security and privacy, integrating features such as robust encryption, a kill switch, and a stringent no-logs policy.
These measures are put in place to make sure your internet traffic remains private and secure while you stream your favorite Netflix library.
While PIA might be more costly than some other VPN options, I found that its extraordinary performance and reliability justify the cost.
Private Internet Access: A Top Choice for Seamless Netflix Streaming
For those who desire a premium, uncompromised Netflix streaming experience, Private Internet Access is unquestionably a worthy consideration.
In essence, Private Internet Access makes a strong case as one of the best Netflix VPNs, thanks to its remarkable unblocking capabilities, high-speed performance, extensive server network, user-friendly interface, and robust security measures.
Plus, with its capacity for simultaneous connections across multiple devices, including Android and iOS, and its own DNS service, it successfully maneuvers around any VPN block, ensuring continuous access to Netflix.
The added split tunneling feature further enhances its appeal, making it one of the best VPNs available today.
The Ranking Process: How We Chose the Best Netflix VPNs
After conducting experiments with various VPNs, our team narrowed down the best options for Netflix streaming based on several key factors:
Unblocking capabilities: The VPNs on our list consistently bypass Netflix's geo-restrictions, providing access to different regional libraries.
Speed: Fast streaming speeds are essential for a buffer-free experience. We tested the speeds of each VPN to ensure they met the necessary criteria.
Security and privacy: A reliable VPN should offer strong encryption and privacy features to protect users while streaming.
Server network: A large server network with a global presence increases the likelihood of successfully unblocking Netflix content from different regions.
Ease of use: We prioritized VPNs with user-friendly interfaces and apps, making it easy for users to connect to the desired servers.
Customer support: Responsive customer support is essential for troubleshooting any issues that may arise while using the VPN with Netflix.
Why Netflix Prevents VPN Use: Delving into Licensing Agreements and Compliance
Netflix's primary reason for implementing VPN restrictions is to adhere to the licensing agreements they have in place with content creators and distributors.
These agreements often stipulate which shows and movies can be made available in certain regions, depending on a variety of factors such as the target audience, local regulations, and revenue-sharing arrangements.
When I investigated the matter, I found that by blocking VPNs, Netflix aims to prevent users from circumventing these regional restrictions and accessing content not licensed for their specific region.
By doing so, Netflix ensures that they stay compliant with their contractual obligations to content creators and distributors.
Another aspect to consider is the competition between streaming services. Content providers may sign exclusive deals with different platforms in various regions.
To respect these arrangements, Netflix needs to maintain control over the geographical distribution of their content. Blocking VPNs helps them achieve this goal.
In summary, the main reason behind Netflix's VPN restrictions is to uphold the licensing agreements they have with content creators and distributors.
Do Free VPNs Work with Netflix? Weighing the Pros and Cons
When I trialed various free VPNs, I discovered that they generally don't work well with Netflix.
The primary reason is that free VPNs lack the advanced unblocking capabilities found in premium VPN services.
Netflix has become increasingly adept at detecting and blocking VPN connections, and free VPNs often fail to bypass these restrictions.
Furthermore, free VPNs typically have limited server networks, which can result in slow streaming speeds and frequent buffering.
This is particularly problematic when watching high-quality content, as you may find the viewing experience frustrating and not up to par with your expectations.
Another important consideration is privacy and security. My findings show that free VPNs often provide weak security features or even sell users' data to third parties for additional revenue.
This puts your privacy and personal information at risk, which is something you should avoid, especially when streaming content online.
Moreover, free VPNs often impose data caps, bandwidth limitations, or even interrupt your streaming experience with ads.
These factors can detract from an enjoyable Netflix viewing experience and leave you wishing for a more reliable solution.
Based on my firsthand experience, it's better to invest in a reliable, paid VPN service to ensure a secure, smooth, and uninterrupted Netflix streaming experience.
By opting for a premium VPN, you'll benefit from advanced unblocking capabilities, faster streaming speeds, and robust security features that keep your privacy intact.
In the long run, it's a worthwhile investment to guarantee a top-notch Netflix viewing experience.
VPNs That Do Not Work with Netflix: Beware of Ineffective Services
As I mentioned earlier, not all VPNs can successfully bypass Netflix's geo-restrictions.
Some VPNs struggle to stay ahead of the streaming giant's efforts to block VPN connections, and their users may face issues when trying to access Netflix content from different regions.
Here are a few VPNs that have been reported to have problems unblocking Netflix:
Hola VPN: This free VPN service gained notoriety for its security and privacy issues, and it has proven to be largely ineffective in unblocking Netflix. Additionally, its peer-to-peer (P2P) model has raised concerns among users, as it shares your bandwidth with other users.
TunnelBear: While TunnelBear is a reputable VPN service with strong security features, it has been inconsistent in unblocking Netflix. Some users have reported success in accessing Netflix, while others have encountered issues.
PureVPN: Although PureVPN has a large server network, it has faced difficulties in unblocking Netflix consistently. Users have reported mixed results when trying to access different Netflix libraries.
ZenMate: ZenMate has been known to struggle with unblocking Netflix, and users have reported frequent issues with accessing the streaming service. It might work for some users, but its performance has been inconsistent.
VyprVPN: While VyprVPN offers strong security features and a user-friendly interface, it has had mixed results when it comes to unblocking Netflix. Some users have reported success, while others have experienced difficulties accessing different Netflix libraries.
IPVanish: IPVanish is a popular VPN service with a solid reputation, but its ability to unblock Netflix has been inconsistent. Users have reported varied experiences, with some managing to access Netflix content and others encountering issues.
Hotspot Shield: Hotspot Shield is known for its fast speeds and easy-to-use interface, but it has struggled to bypass Netflix's geo-restrictions consistently. Users have reported intermittent success in accessing Netflix content from different regions.
CactusVPN: CactusVPN is a smaller VPN service with a limited server network, and users have reported challenges when trying to access Netflix content from different regions. Its inconsistency in unblocking Netflix makes it a less desirable option for streaming enthusiasts.
Please note that the effectiveness of these VPNs with Netflix can change over time as both Netflix and the VPN providers continually adapt their techniques.
Exploring Netflix's Global Content Libraries with a VPN
Our team has been tirelessly testing numerous Netflix VPNs for over seven years, and only a select group consistently excels, making it to our top recommendations.
These top-tier VPNs repeatedly unblock a vast assortment of Netflix regions, proving their reliability.
One of the prime benefits of using a VPN that works with Netflix is the expansive access it provides to a colossal library of content.
Alongside your Netflix account, the best Netflix VPN can unblock a broad spectrum of content from every corner of the globe.
Take NordVPN, for instance, touted as one of the best Netflix VPNs. NordVPN's extensive VPN server network gives users the ability to delve into over 15 different Netflix regional libraries, including the sought-after American Netflix.
The streaming possibilities become virtually boundless, especially when you consider the potential of unblocking other streaming platforms like Amazon Prime Video, Disney Plus, or BBC iPlayer through your VPN.
For VPN users eager to switch Netflix regions effortlessly, investing in a reliable VPN is a must.
It allows you to bypass the Netflix VPN ban, mask your IP addresses, and ensure high-speed streaming to relish movies and TV shows in HD quality.
And for those who fancy streaming on Apple TV, a robust VPN is your ticket to a global viewing experience.
Let your binge-watching know no borders with the power of an effective VPN that unblocks Netflix and other popular streaming sites.
How to Stream Netflix Libraries with a VPN While Abroad
Frequent travelers and those working overseas often encounter the frustrating Netflix block. This obstacle can be easily overcome with a reliable Netflix VPN and a sufficient internet connection for streaming.
To watch Netflix libraries with your VPN when you're abroad, follow these simple steps:
Step 1: Select a High-Quality Netflix VPN
Firstly, you need to pick the best Netflix VPN that works smoothly with the streaming service. Here are a few options to consider:
ExpressVPN
NordVPN
ProtonVPN
Cyberghost
Private Internet Access
These VPNs have proven their ability to bypass the Netflix block efficiently.
Step 2: Install the VPN Application on Your Streaming Devices
After selecting your VPN for streaming Netflix, find and install its software on your desired streaming device(s). For instance, if you choose NordVPN, they offer a vast range of apps for various devices and operating systems, including Smart TVs, Amazon FireTV Stick, TV boxes, as well as computers, routers, tablets, and phones.
Step 3: Establish a VPN Connection to a Suitable Server
Once the VPN app is installed on your device, launch it and establish a connection to a VPN server location where Netflix is accessible. This could be in the US for US Netflix or any other region where Netflix is available. To ensure optimal performance, try to connect to the nearest server location possible.
Remember: Consult your VPN provider for advice on which servers work best for Netflix.
Step 4: Begin Streaming Netflix from Abroad
Now, all that's left to do is log into your existing Netflix account and start streaming as you normally would. From Netflix's perspective, you're just another user connecting from the country your VPN server is located in. Happy streaming!
How to Stream American Netflix from Different Countries
People living or working abroad often seek ways to watch Netflix from their home country. This includes both expats and foreign nationals.
However, one regional Netflix library seems to surpass others in terms of desirability: American Netflix.
Why is there such a high demand to access American Netflix using a VPN?
The explanation is quite straightforward: American Netflix boasts the most extensive video library of all Netflix regions.
Other Netflix libraries globally only offer a fraction of the content that US Netflix does. For instance, UK Netflix provides just about one-third of the content available in the American Netflix media library!
A VPN remains one of the best privacy tools to circumvent geo blocks and access websites and other content from across the world.
Whether you're an expat residing in Europe, Asia, or South America, or simply an American traveling and working overseas, you can enjoy the best of what American Netflix has to offer, no matter where you're located.
The process to unblock American Netflix is easy and follows the steps outlined in this guide.
To watch American Netflix from abroad, you simply need to follow these steps. Any of our recommended Netflix VPNs can grant you complete access to American Netflix.
Just pick one of our suggested VPNs, then connect to a VPN server location in the US for full access.
Do you need a US payment method to subscribe to American Netflix?
The answer is no.
You can access American Netflix from anywhere worldwide, even if you purchased your Netflix subscription in another country like France or Japan.
All you need is a US IP address, which you can get by connecting to a US VPN server. This will unblock American Netflix, no matter which Netflix region you originally subscribed to.
The unblocked content includes everything from the newest TV shows to ultra HD movies, thus transforming your browser extensions into portals for the richest video streaming services.
Understanding Why Netflix Blocks or Bans VPN Users
Netflix's notorious VPN ban came into effect officially in early 2016. Following the preliminary announcement in January 2016, Netflix embarked on a series of steps to block VPN and smart DNS services further.
By January 2017, a substantial number of VPNs that previously worked with Netflix found themselves unable to access the service.
Netflix's relentless efforts to block VPNs and thereby prevent paying customers from accessing content seem somewhat ludicrous. After all, why should customers who have already paid for a service be restricted from using it?
The answer to why Netflix must block VPNs lies in the pressure from major copyright holders. These entities sought to limit access to their licensed content further.
This restriction is typically implemented to charge consumers more for streaming the same movie in different regions.
This trend aligns with the growing internet restrictions we are witnessing, with gatekeepers increasingly blocking access to content, media, websites, and so forth.
Fortunately, a few VPN services continue to invest significant resources into unblocking Netflix.
These providers, often considered the best Netflix VPNs, are dedicated to ensuring customers can bypass these restrictions.
On the other hand, many others have completely thrown in the towel. We see similar restrictions being implemented with bans on account sharing.
However, it's important to carefully select your VPN provider. While a free VPN may sound appealing, these often do not have the resources to circumvent Netflix's measures.
Instead, opt for a Netflix VPN that offers a 30 day money back guarantee, so you can test its capabilities.
A VPN that works in the US, UK, Canada, Australia, and New Zealand is ideal for unblocking a vast array of Netflix content.
By opting to use a VPN, you can continue to enjoy your favorite shows, regardless of your location.
Picking the Fastest VPN for Netflix Streaming in 2023
For the year 2023, the top-ranking fastest VPN for streaming Netflix is NordVPN. Through my tests, NordVPN consistently delivered top-notch speeds using the NordLynx protocol (which includes WireGuard), achieving approximately 445 Mbps.
Trailing not too far behind is Surfshark, which managed around 400 Mbps in my trials.
To experience the fastest VPN speeds while streaming Netflix, your best bet is NordVPN or Surfshark. Connect to a proximate server utilizing the WireGuard protocol for the best results.
All our top four Netflix VPN recommendations are equipped to support WireGuard. Nevertheless, NordVPN takes the lead in terms of speed and offers the most extensive range of Netflix libraries to select from.
We factored in VPN speed as a critical consideration when compiling the list of the best VPN services for Netflix. Let's delve deeper into why speed is so vital.
What Speed Requirements Does a VPN Need to Stream Netflix Efficiently?
Here are some essential benchmarks for streaming speed and quality:
500 Kbps = Minimum quality
1,500 Kbps [1.5 Mbps] = Normal quality (less than 480p)
3,000 Kbps [3 Mbps] = SD quality (480p or better)
5,000 Kbps [5 Mbps] = HD quality (720p or better)
25,000 Kbps [25 Mbps] = Ultra HD quality (1080p or better)
To optimize speed and ensure reliability, it is advisable to connect to the closest possible VPN server.
For instance, if you are in the UK aiming to stream American Netflix, a VPN server in New York would be a better choice than one in Los Angeles.
This reduces latency and should enhance overall performance.
The effectiveness of this can vary depending on your VPN provider, and it may be useful to experiment with different server locations.
If you ever encounter speed issues with your VPN, you can always consult with your VPN's support department or opt for a faster VPN service.
This ensures your VPN technology continues to work with Netflix, whether on a mobile device or other platforms, to deliver seamless access to Netflix libraries around the globe.
Conclusion
After trying out numerous VPNs, I've discovered that ExpressVPN, NordVPN, Surfshark, ProtonVPN, and CyberGhost are the top choices for streaming Netflix without restrictions.
Each VPN offers unique features and benefits, ensuring a smooth and enjoyable Netflix experience.
By using one of these VPNs, you can unlock the full potential of Netflix and explore the world of entertainment at your fingertips. Happy streaming!