7.2
6 simultaneous connections

Unblocks Netflix

Super-fast servers

Zero-loggs policy
Visit NordVPN website
NordVPN is one of the best online security providers on the market, a top player in the industry that has brought forth extreme quality and excellence in the past. It's based in Panama, outside the 14-Eyes, where there are no data-retention laws. An excellent jurisdiction, to be sure.
As such, their zero-logging policy can safely be said to be crystal clear and absolutely trustworthy. But we'll talk about this in a few moments.
Features:
6 simultaneous connections
Supports torrenting
Unlocks Netflix
Kill-switch
Obfuscated servers
30-day money-back guarantee
Double VPN
Onion over VPN
CyberSec – avoids ads and protects against malware, phishing attacks, and other threats
Read the following review to find out more details about this astounding VPN.
7.0

Speed
Being one of the top VPNs on the market, speed is one of the biggest advantages of NordVPN. For the purpose of this review, we have tested a few servers just to make sure the results are pertinent and conclusive.
This was the benchmark testing speed:
Ping – 6ms
Download speed – 86.59 Mbps
Upload speed – 68.07
US, Chicago server:
Ping – 138ms
Download speed – 33.85 Mbps
Upload speed – 25.28 Mbps

The sharp drop in speed was quite big, to say the least, but the distance between the server itself and the testing location was also quite large.
UK, London server:
Ping – 50ms
Download speed – 26.19 Mbps
Upload speed – 30.34 Mbps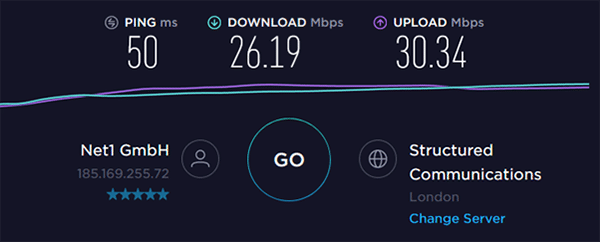 Australia, Sidney server:
Ping – 341ms
Download speed – 4.75 Mbps
Upload speed – 2.38 Mbps

Germany, Berlin server:
Ping – 41ms
Download speed – 80.98 Mbps
Upload speed – 81.44 Mbps

This is one of the lowest drops in speed we have ever seen when testing VPNs. Germany seems to be a hotspot for the fastest NordVPN servers.
Netherlands server:
Ping – 38ms
Download speed – 71.79 Mbps
Upload speed – 64.89 Mbps
The conclusion is fairly simple – depending on your IPS-provided internet speed and distance from the server, NordVPN can be your best friend or your worst enemy. Some servers are incredibly fast while some fall short of what you'd expect.
I wouldn't suggest using the Australian server anytime in the future if you want to stream movies in HD or 4K. In general, though, these speeds will allow you to stream videos and watch Netflix.
The VPN app will automatically select the fastest server in a certain area of your choosing, and there's also an option for torrenting use. It will automatically search for the fastest servers which you can use for downloading purposes.
In this case, Germany seems to take the top spot. There's a barely noticeable drop in speed.
7.0

Locations
NordVPN has a total of 5148 servers located in 60 countries. That's quite a powerful infrastructure they have here.
To be more precise, they have 2363 servers in Europe, out of which the UK, the Netherlands, Germany, France, Sweden, and Italy have Obfuscation capabilities. They can also be doubly encrypted using the DoubleVPN feature, and you can also use Tor with them.
In the Asia Pacific region, NordVPN boasts exactly 485 servers in Australia, Japan, Singapore, Hong Kong, New Zealand, South Korea, Taiwan, Malaysia, Thailand, Indonesia, and Vietnam.
The Americas – 2219 servers, most of them being in the US (1756). Other locations are Canada (406 servers), Brazil (20 servers), Argentina (19 servers), Costa Rica (12 servers), Chile (4 servers), and Mexico with 2 servers.
As for Africa, the Middle East, and India, they have 70 servers in total – 19 in South Africa, 15 in India, 14 in Turkey, 11 in Israel, 8 in the United Arab Emirates, and 3 in Egypt.
With so many servers in IP addresses at your disposal, many of which have Obfuscated capabilities, you'll literally soar through the cyber-skies with unlimited freedom. Access Netflix from anywhere in the world, and avoid any geo-locking mechanisms you come across.
NordVPN is king in this category.
8.0

Privacy
NordVPN has no equals in terms of privacy, security systems and encryption protocols in the VPN industry. It's simply the best of the best. Excellence at its purest.
First off, its jurisdiction will satisfy even the craziest privacy purists out there. Based in Panama, NordVPN is completely outside the 14-Eyes Surveillance Alliance's radius. This means that its no-logging policy is true and indisputable.
Here's what they're saying about this in the Terms of Service section:
"NordPVN guarantees a strict no-logs policy for NordVPN Services, meaning that the NordVPN Service is provided by an automated process, and your activities while using it are not monitored, recorded, logged, stored or passed to any third party. We do not store connection timestamps, session information, user bandwidth, traffic logs, IP addresses or other data."
There you go, the blunt, naked truth is out there. The only things they do retain are the username and the timestamps of the last session status while it is active. This data will be eliminated in 15 minutes after the connection is terminated though.
As for the specific user data you have to disclose in order to use their services, the ToS is very specific on this as well: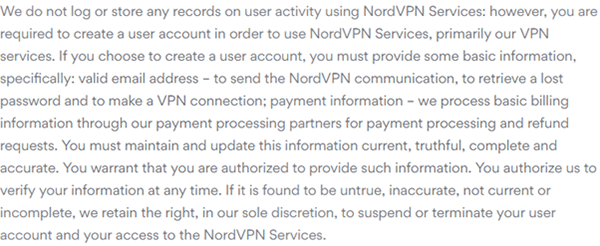 Where encryption is concerned, NordVPN uses the AES-256-bit protocol, the standards security measure used by government agencies and cybersecurity companies when they want to secure their data.
The official NordVPN website says that "AES with 256-bit keys is absolute overkill. To break it, you would need to build supercomputers – which cannot yet be built – that would work on the decryption for billions of years."
Literally speaking, humanity doesn't possess the technology to break this encryption protocol. And it's going to be some time before it does. At the moment, NordVPN's encryption can be called impregnable and 100% secure.
The security protocols are IKEv2/IPsec and OpenVPN. The former is based on a wide array of cryptographic algorithms and keys which, again, are impregnable and impossible to crack. Not unless the hacker's willing to wait out the Big Crunch, that is.
As for OpenVPN, you are given two ports:
TCP – more security, less speed
UDP – less security, more speed
Don't take this the wrong way, less security doesn't mean in any way that you're in danger. NordVPN uses the AES-256-GCM encryption algorithm along with a 2048-bit DH key on both ports. In plain language – impregnable security.
Other security features that you should know about are:
CyberSec – blocks ads, malware, phishing attacks, and secures your browser
DoubleVPN – You get double the encryption for double the protection. If one layer of impregnable defense wasn't enough, don't worry. You can add another one to get double the assurances.
Dedicated IPs – self-explanatory feature. You get your own IPs which are much safer than the ordinary ones.
Onion over VPN – use the Tor browser with the VPN, making for a security soup of almighty power. Deadly poison for anyone who wants to attack you, and a perfect shield for you
DNS leak protection
Obfuscated servers – cloaking technology that hides the VPN traces so that it becomes undetectable to anyone tracking your traffic. This is useful when connecting from restrictive locations
6.0

Ease of Use
NordVPN has one of the simplest and easiest to use apps in the industry. The downloading and installation process goes on smoothly, and in a few seconds, you'll have access to their mainframe.
It's also compatible with the following platforms: Windows, Android, macOS, iOS, iPhone, iPad, Android TV, and Linux. A plethora of routers are listed on the official website, so you can check it out there.
As for the browser extensions, Chrome and Firefox are the best ones.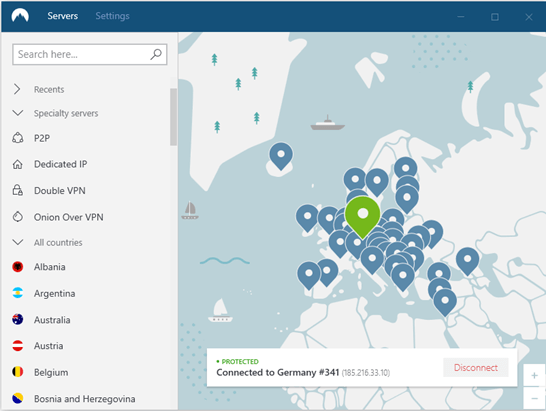 This is the General and Advanced Settings tabs: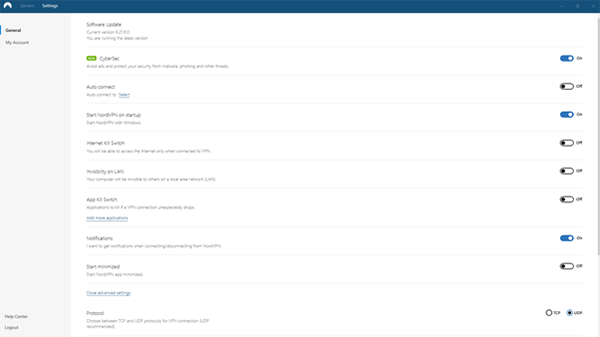 As for the Android app which we tested, everything is up to par with the standards as well. The downloading process takes about 20 seconds, while the installation takes no time at all. Literally.
This is how the interface looks on an Android phone: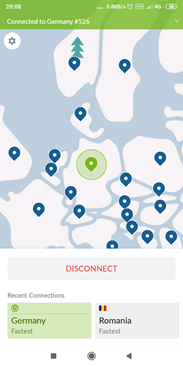 You can read the ToS and the privacy policy as well, while working your way through the settings, changing what seems alright. The kill-switch is turned off by default.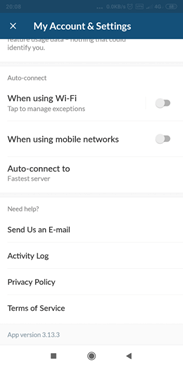 Both the VPN apps (Windows and Android) are extremely responsive, easy to use, and intuitive. There's nothing complicated about them, not the features, not the settings, nothing.
The style is minimalistic and straightforward, making for a modernist interface that's very pleasing to the eyes.
8.0

Support
You can contact the customer support by email at [email protected] or by using the live chat feature. This one is available 24/7, all week long.
It doesn't matter whether you're having problems connecting to a server or if you have questions related to their services, using the live chat will get you your answers right away.
For any technical difficulties, you might want to try the FAQ section.
These are the top 5 questions that users ask most of the times:
The four categories shown on the website are very detailed and well-documented, but if you still can't find a solution to your issue, then don't hesitate to contact the live chat.
As for how fast they'll reply, I personally tested things out. And barely did 20 seconds pass when I got my answer. Here's how it all went down.
There's really nothing bad I can say about this kind of customer support. It's responsive, straightforward, and you'll easily find a solution to your problem in a matter of seconds.
They also offer a 30-day money-back guarantee. The 30-day part is cuttingly precise though since it'll often be the very last day that you'll get your refund. As for guarantees, they offer quite a lot of them on the official website.
Yes, they do honor their word. Countless users and professional reviewers can confirm this.
7.0

Pricing
To begin with, NordVPN offers a 7-day free trial period where you can test the waters to see if you like their services or not. You have access to all of their features, servers, and the full capabilities of the VPN.
Whether you go with the free trial or subscribe directly, you'll have to sign up with an email address, your postal code, and your banking information. By using credit cards, you'll be asked for the information on your card (name, card number, CVV code, etc.) These will not be shared with any third parties, and they will be kept under strict security.
These are the price packages at the time of the writing:
Currently, the most advantageous plan on offer is the 3-year plan with 75% discount. Making the monetary conversions, for only $3.49 per month, this package is yours. This means a total of $125.64 every 3 years.
As for the payment options, NordVPN offers quite a lot:
Credit Cards
Sofort
Amazon pay
Crypto Currencies
Alipay
UnionPay
To conclude this review, we are definitely recommending NordVPN for general use. It provides excellent services, fast speeds, incredible encryption protocols, and security features.
The customer support is very responsive and prompt, while the VPN app itself is very easy to use.
We're eagerly waiting for your input with your personal experience after using NordVPN, and if you have any questions, we'd be glad to answer any of them as best we can.
Take care, and remember. Using VPNs when going online is the least you can do to protect your identity when countless dangers lurk everywhere. Malware, phishing attacks, man-in-the-middle assaults, hackers searching for easy targets, there are too many risks that you shouldn't take.
Author, creative writer, and tech-geek. Bogdan has followed his passion for the digital world ever since he got his hands of his first pc. After years of accumulating knowledge and experience, the good Samaritan in him whispered him one day about the virtue of sharing that knowledge with those who needed it. It was 2014 when that idea would grow into a life-defining passion. One that keeps driving him to this day.