The pro-Russian hacker group Phoenix, claims to have successfully breached Romania's National Agency of Public Employees (ANFP), allegedly gaining access to very sensitive information on public officials, politicians, and state apparatus.
Highlights:
Phoenix ransomware group claims to have breached the ANFP and accessed its full system
Hackers allegedly possess reports of state bodies, companies, politicians, and data on public employees
ANFP internal systems are reportedly disabled at the moment
The authenticity of the breach is yet to be verified; ANFP has not disclosed any details on the alleged hack
So far, only the hackers are claiming that the breach took place; there is no third-party information to corroborate their claims
Phoenix ransomware collective has a history of targeting hospitals as well as healthcare organizations
The Russian hacker group Phoenix claims to have breached the National Agency of Public Employees (ANFP) of Romania, gaining access to a number of sensitive and non-public data.
UPDATE: In a statement to the publication Profit.ro, Romanian authorities denied any attack or data breach.

A government representative commented:

"So far there are no indications that ANFP systems have been
compromised. ANFP's security systems have not reported any successful
cyber-attacks, and the status of the systems is constantly checked".
The Phoenix hackers have claimed that they managed to access several different types of internal data, such as reports of state bodies, company data, information on politicians and public employees, as well as information on state structures of Romania.
It is not certain at this moment what this alleged data actually contains. No samples of any kind have been provided, and so far, it's only the hackers themselves who claim that they possess these files.
This is what the hackers announced late 22 March: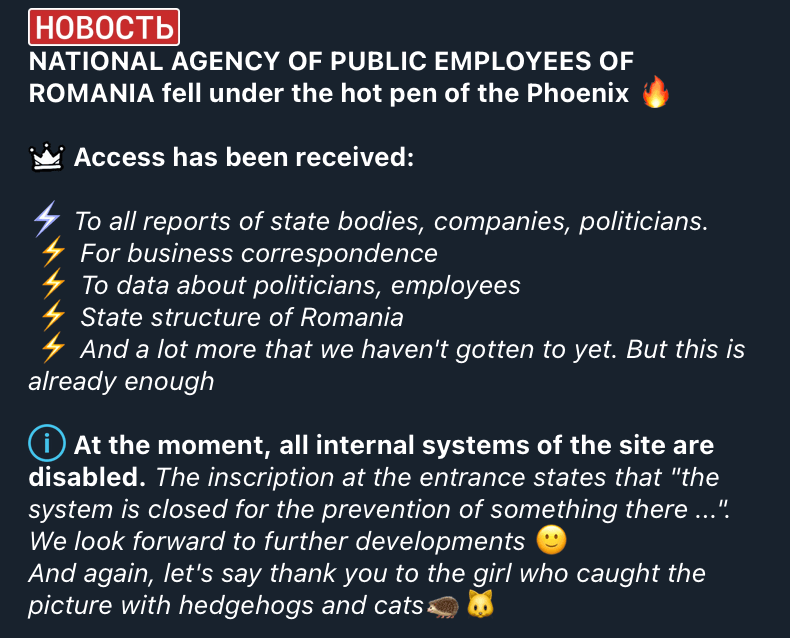 They also claimed that all internal systems of ANFP are currently disabled, and logging into their system shows an inscription stating, "the system is closed for the prevention of something there…."
The public-facing website of the ANFP appears to be functional and working normally at the writing of this article on 23 March.
There appears to be no public statement about this alleged breach anywhere on the ANFP website nor on any government-operated social media profiles.
If the breach is authentic, sensitive information about Romania's public employees, politicians, and state structures may be exposed, leading to potential identity theft, fraud, or targeted attacks on the affected individuals.
Additionally, this breach could severely impact Romania's public administration, national security, and international reputation.
However, until publicly confirmed by Romanian authorities or corroborated by sample data released by the hackers, the authenticity of this alleged breach is still uncertain.
The above being said, Phoenix has in the past carried out several successful attacks and has not so far made any false claims about its victims.