Is it Even Legal to Use Kodi?
It is legal to use Kodi; however, you can get into trouble using third-party add-ons. This is because these add-ons partly offer links to pirated content, and this infringes copyrights.
This issue has attracted negative publicity against Kodi, as various governments and copyright agencies are against copyright infringement.
Due to reason, most third-party add-ons are blocked by ISPs. Furthermore, manufacturers of various pre-loaded Kodi boxes have also been sued.
Additionally, several Kodi users have received DCMA warnings for streaming copyrighted content illegally via third-party add-ons.
All these cases demand the use of a good VPN option to keep your activities secure and private. A VPN will also help you access geo-restricted content while giving you fast speeds to stream HD content.
I recommend ExpressVPN if you want to use Kodi with third-party add-ons.
How to Install Kodi on Any Device and Platform
Kodi is compatible with multiple home devices, including your smartphone, smart TV, Android TV, Firestick, PC, and more.
Subsequently, you can install Kodi on various platforms, like Windows, Android, iOS, macOS, tvOS, Raspberry Pi, and Linux.
This guide gives you a simplified step-by-step guide on installing Kodi on various devices and platforms.
How to Install Kodi on Android Devices
Kodi offers an Android app available on Google Play Store. Unlike other platforms, the installation procedure doesn't require Sideloading but a simple search, click and download process.
Here's how you can install Kodi on your Android device:
Open Play Store.
On the search bar, type Kodi.
Select the top Kodi result (Kodi foundation) and click install.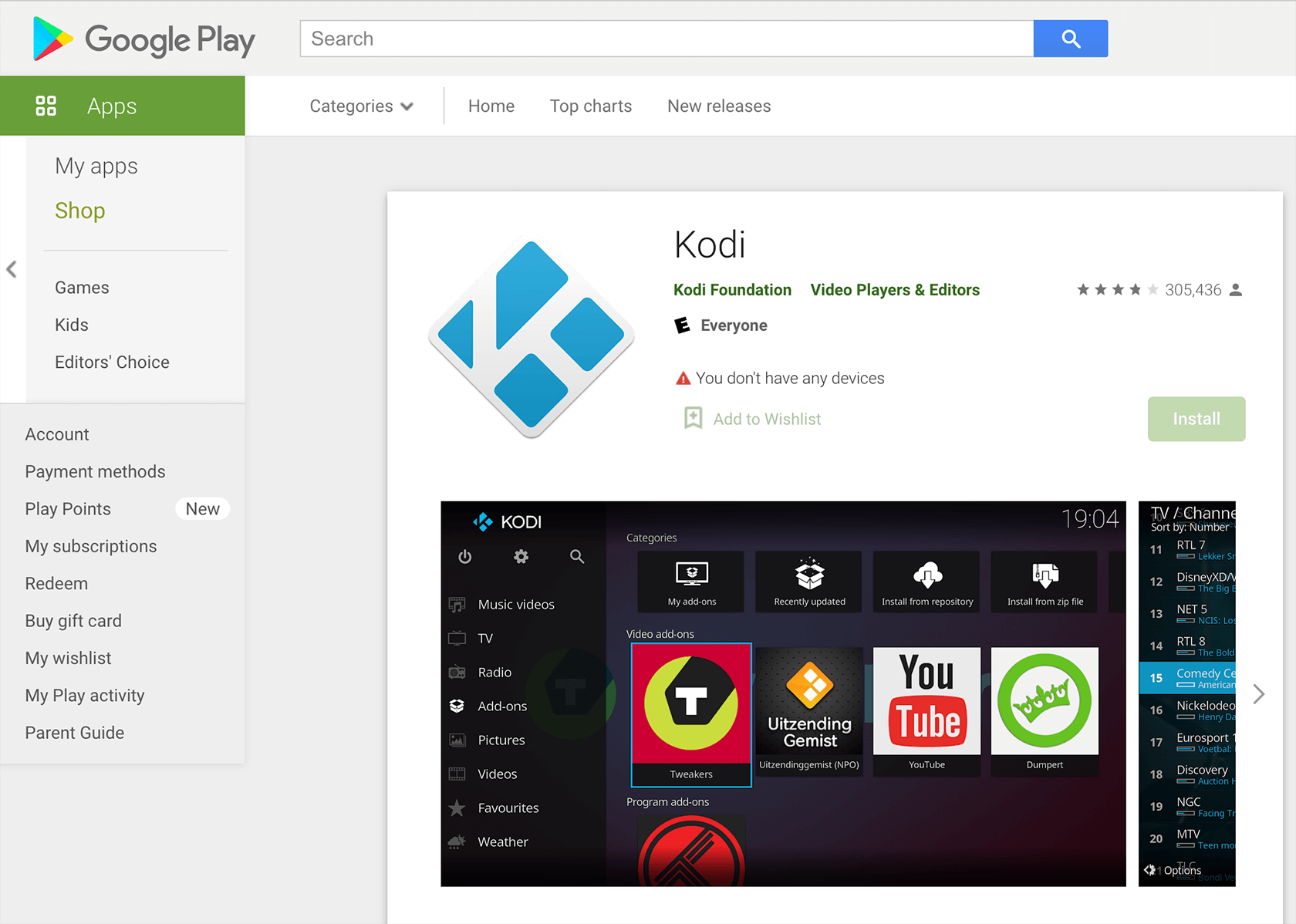 This action will download and install the app automatically. Open when finished to use Kodi.
How to Install Kodi on Fire TV Stick and Fire TV
Amazon's Fire TV Stick is a popular Android-based device plugged into your TV via an HDMI port. Firestick is similar to Fire TV, bar for a few physical features. Thankfully, these devices share the same installation procedure.
Note that the Amazon store doesn't have the official Kodi app yet. Therefore, you have to sideload the APK file and do a manual install. But first, you must ensure your Fire TV Stick/ Fire TV device has permission to install third-party apps.
Here's how (I used the Fire TV Stick 4K with the latest update):
1. On the Firestick home screen, navigate to Settings and select My Fire TV.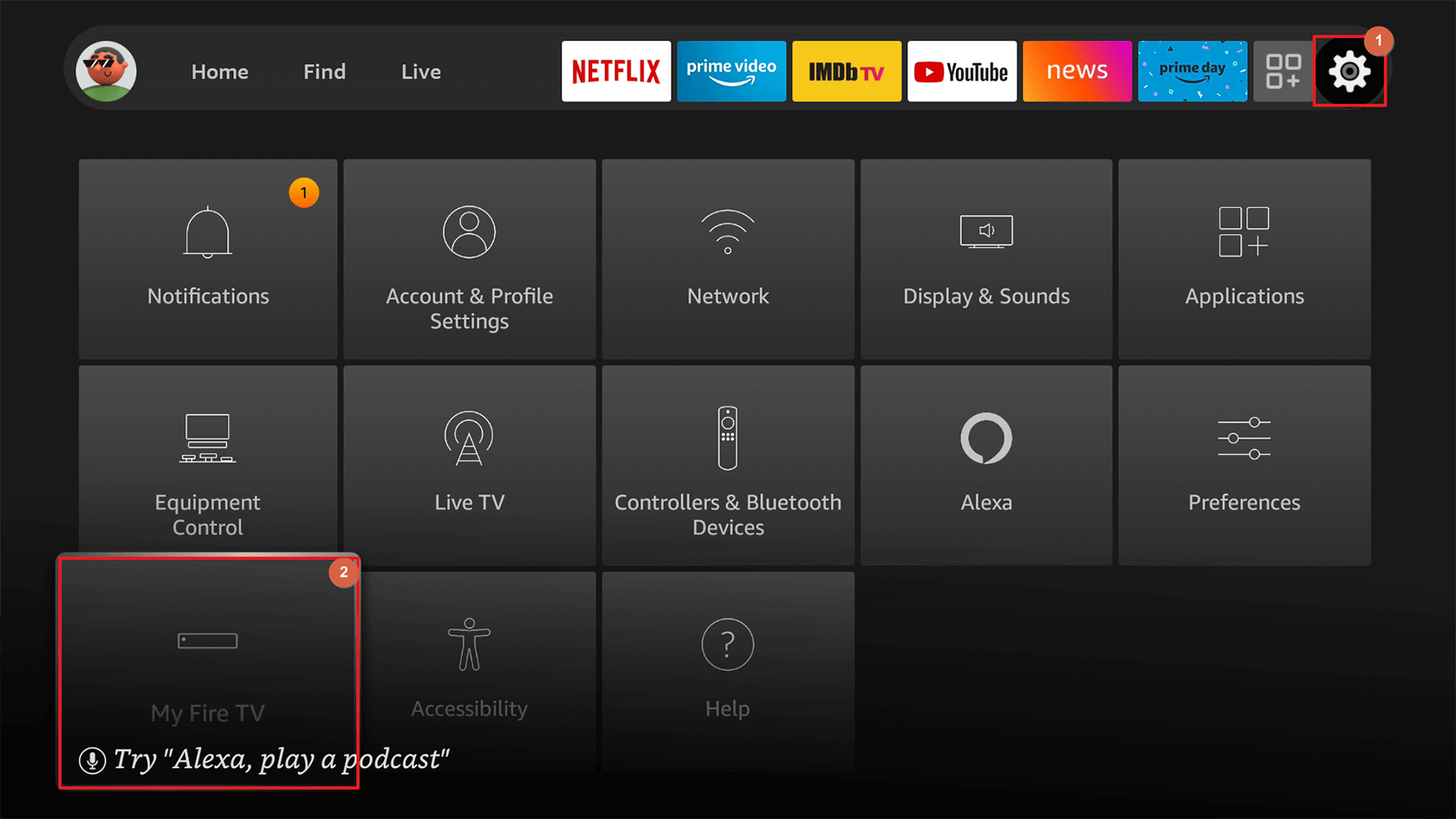 2. Go to Developer options.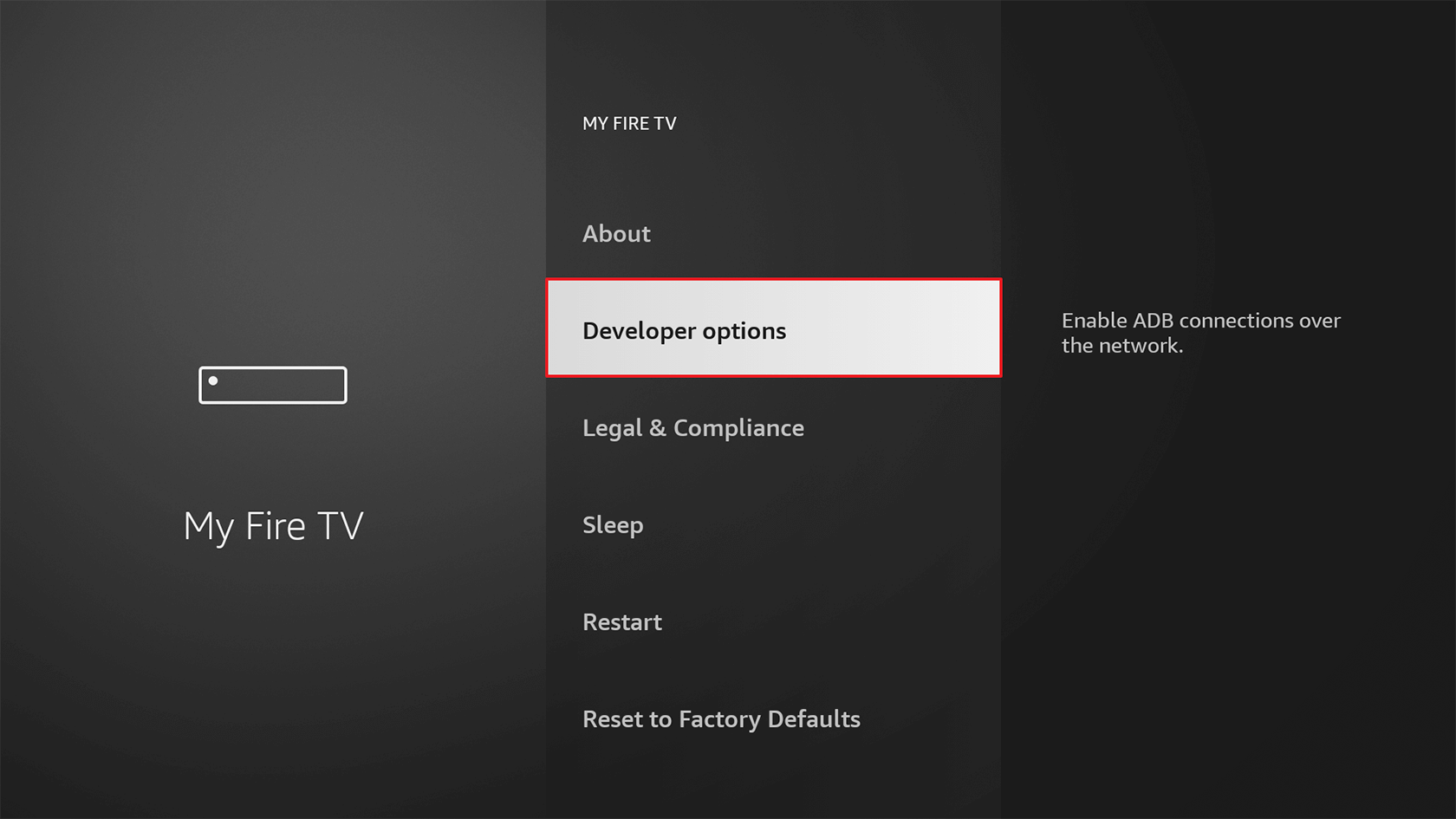 3. Enable ADB debugging and also "Allow apps from Unknown Sources."
Since Firestick runs on a fork of Android, we'll download a regular Kodi APK file. To download the file, you must have a Downloader app readily available on the Amazon store. If you don't have it:
1. Go back to the home screen, under Find, select Search and type "Downloader".
2. Click on the first-choice orange app named Downloader.

3. Click "Get" to download and install Downloader into your Firestick.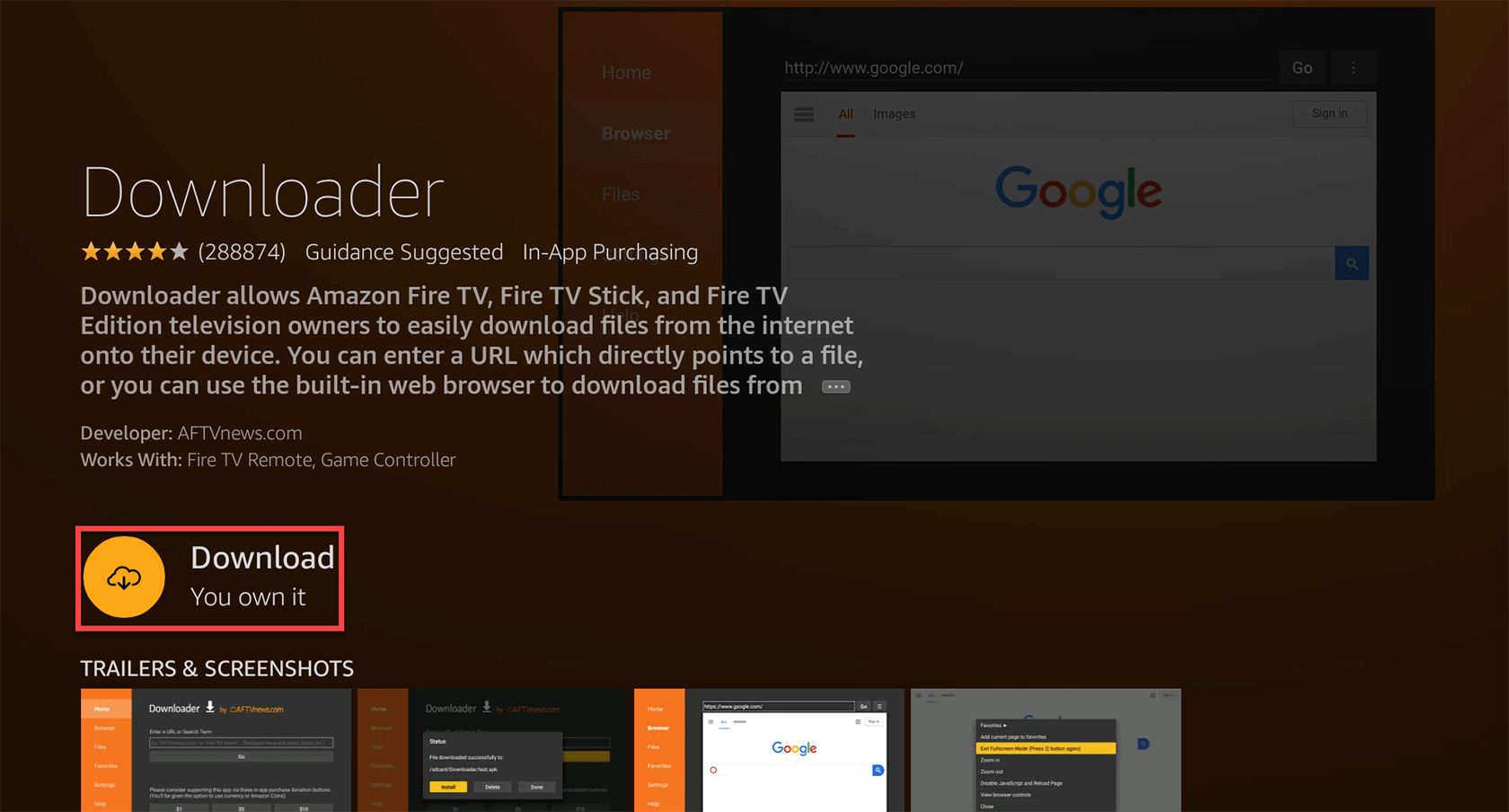 After the installation, open the app and download and install the Kodi app.
Therefore, on the Downloader app:
1. Navigate to the URL field of the app, and type this link: http://www.kodi.tv/download and click "Go".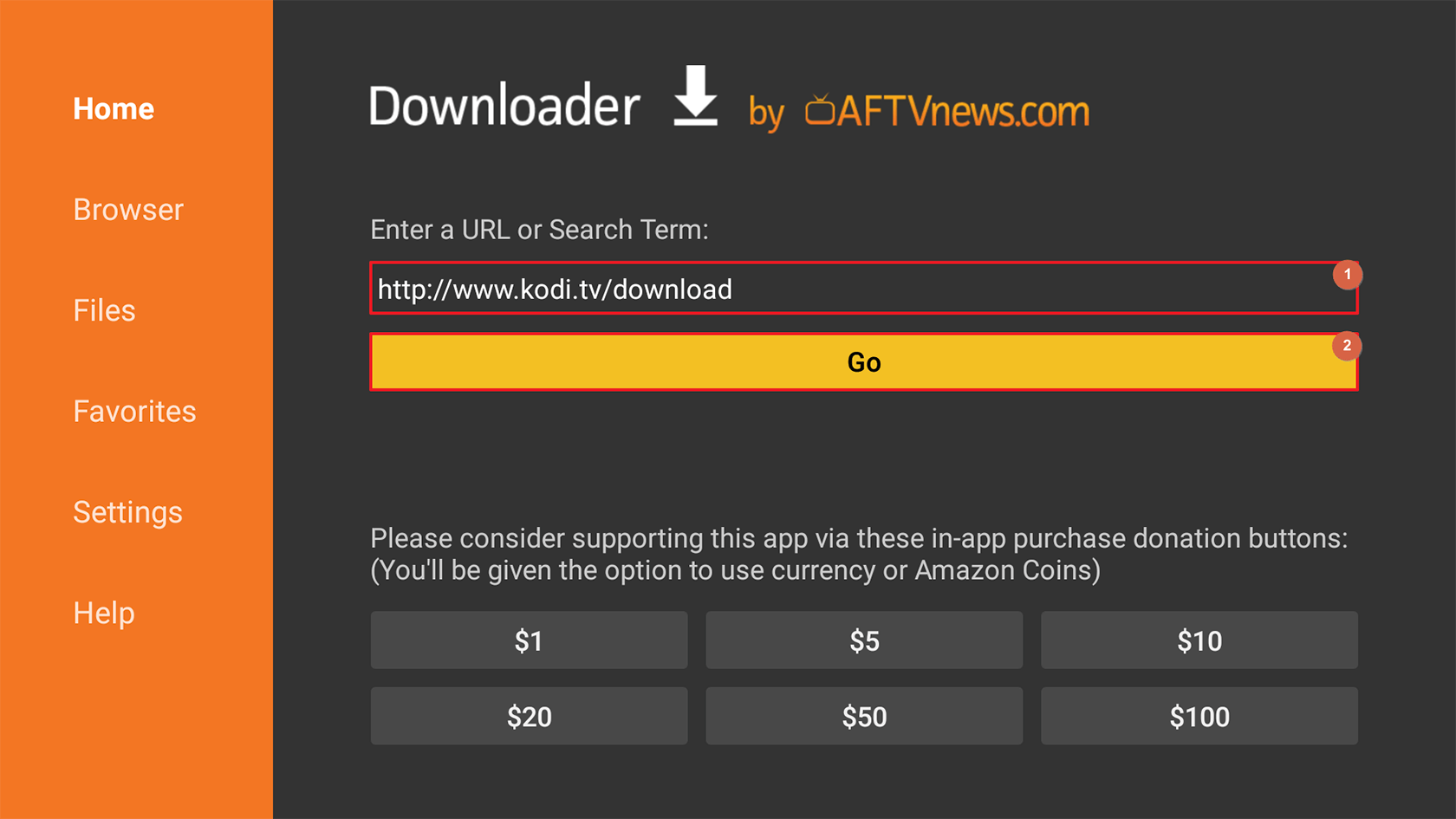 2. You'll see the official Kodi website on the screen. Scroll and select the Android option.
3. Next, you'll see multiple download options. I recommend the "ARMV7A (32BIT)" option as it works well than the 64Bit version.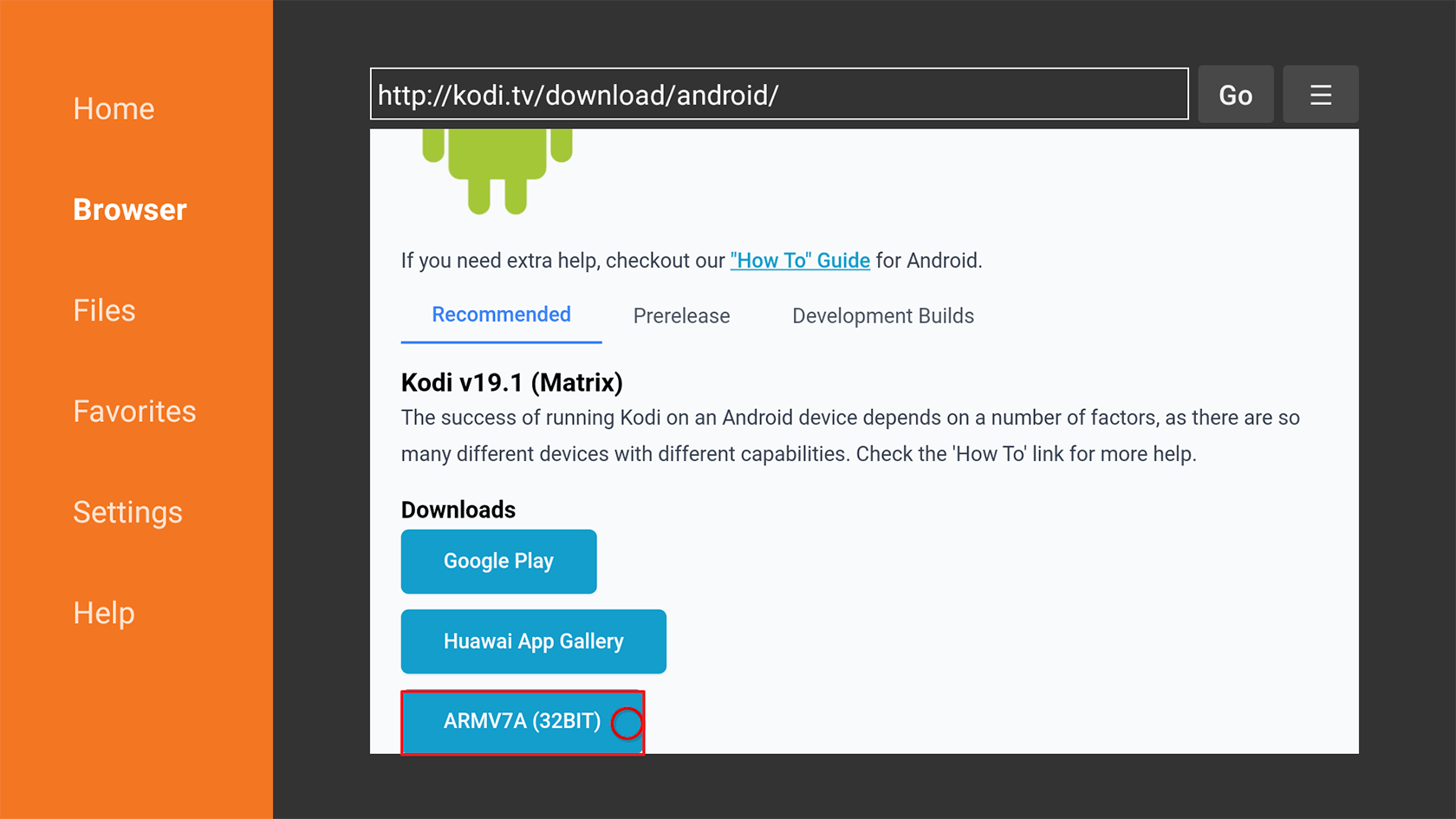 The download process takes a few seconds to finish, and installation will begin. Once it's done, open Kodi and customize it to your liking. You might be prompted to delete the APK file afterward.
How to install Kodi on Windows PC
Windows users get two options on how to install Kodi. First, you can choose to download the Kodi app instantly from the Microsoft store. Alternatively, you can also opt for the offline app from the official Kodi website. This guide covers both download options.
To download directly from the Microsoft Store:
1. To download directly from the Microsoft Store:

2. On the search bar, type Kodi.

3. Select the top Kodi result and click "Get".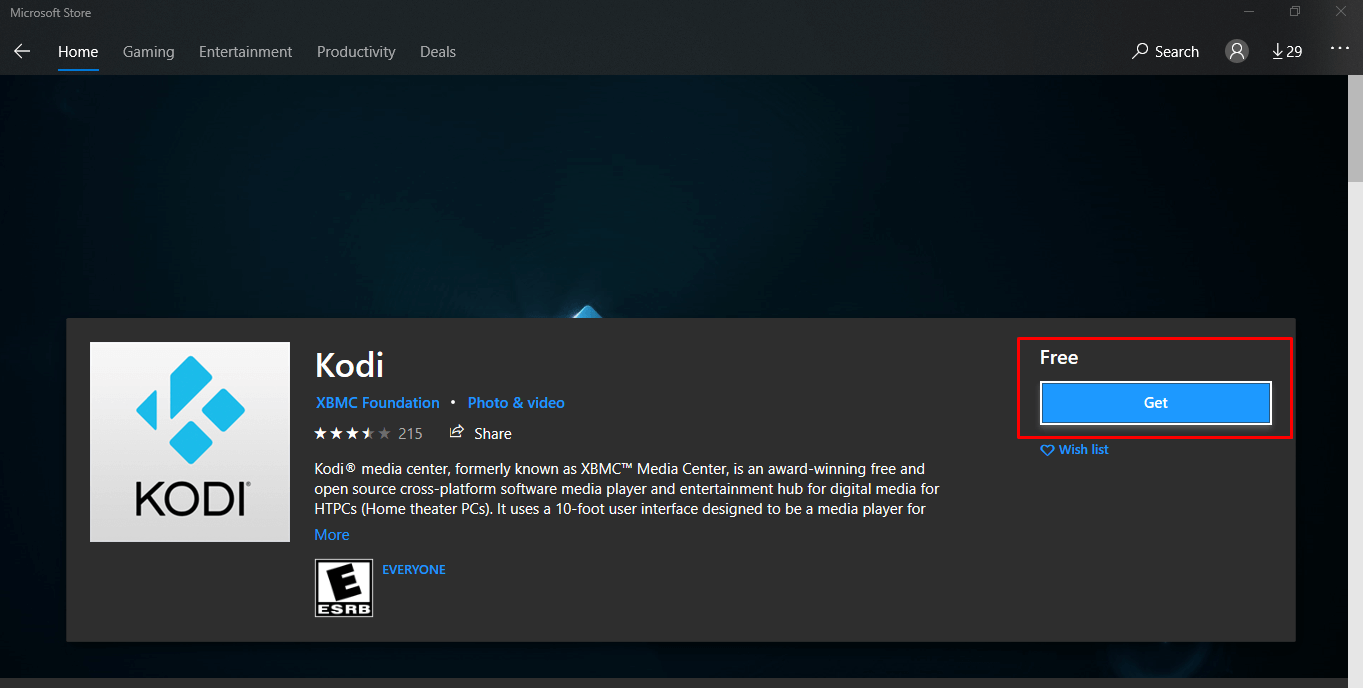 4. The app will automatically download and install.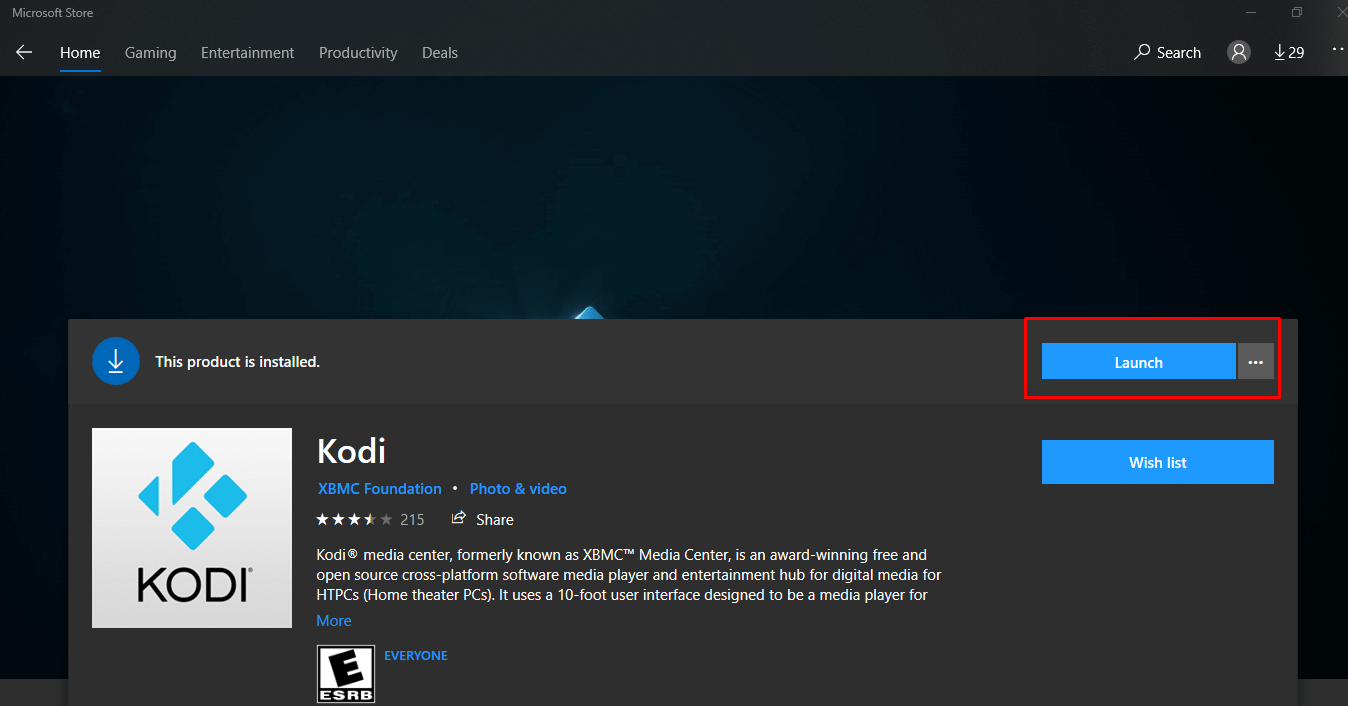 Once the installation procedure is done, click "Launch" to open the app.
If you prefer downloading the app from the website, here's how you can do it:
1. Navigate to the official Kodi website download page and select Windows.
2. Download the correct version of your PC, whether 32-bit or 64-bit, and proceed to installation.

If you don't know the version of your PC's operating system, here's how to check it:
On your PC's keyboard, click the Windows start button and "R" simultaneously.
You'll see a pop-up search bar on the screen. Type "dxdiag" and tap "OK".

Moments later, you'll see a screen pop-up that displays information about your PC, including the version of your operating system.
How to Install Kodi on macOS
The procedure is pretty much similar to that of a Windows PC. However, Kodi gives a macOS app that is only compatible with Macs running OS X 10.13 or higher. To install Kodi on your Mac:
On your Safari browser, navigate to: https://kodi.tv/download/macos to download
Click the "Download" button to start. Safari will automatically mount the DMF file.
How to Install Kodi on iOS
Unfortunately, Kodi is not available on the iOS App Store. To install the streaming app, you need a third-party app like TweakBox. Subsequently, you can't download TweakBox directly from the App Store.
Thankfully, here is a guide on how you can get it: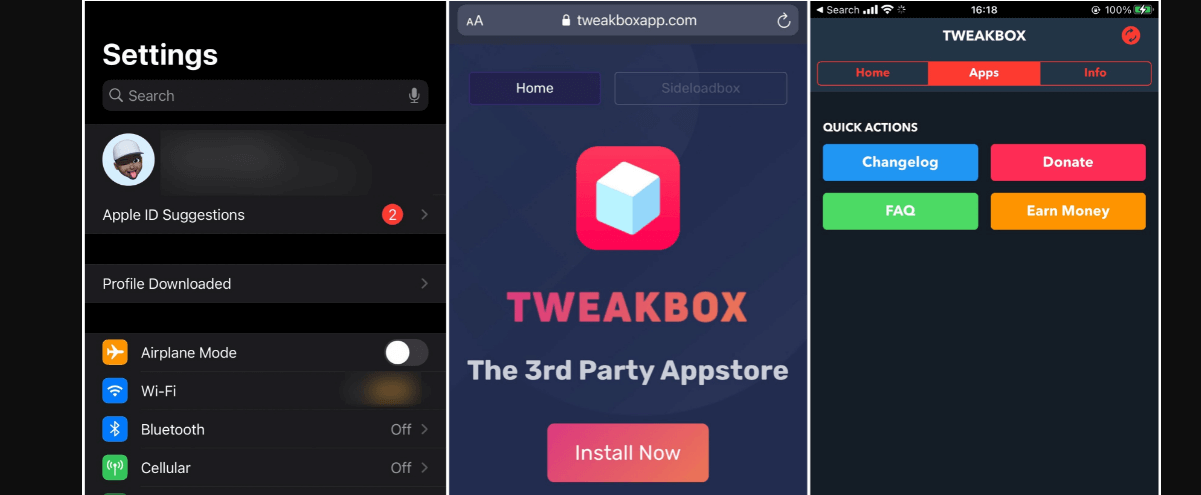 On your iPhone/iPad, visit https://www.tweakboxapp.com/
Follow the on-screen wizard to download the app profile. You might be required to allow specific permissions to download.
Once the TweakBox profile has been downloaded, visit your iPhone settings page, and you'll see the just downloaded profile at the top of the page.
Click open and follow the on-screen instructions to finish.
Visit the home page of your phone and search for TweakBox to start the process of installing Kodi on your iPhone. Next, navigate to the Apps tab, search for Kodi, and click install.
How to Install Kodi on Apple TV
The process of installing Kodi on Apple TV is somewhat lengthy. But with enough practice, the whole procedure becomes more straightforward. In this guide, I used Apple TV4.
Note that the Apple TV 4K lacks a USB-C. As such, you'll have to use Xcode on macOS with a wireless connection if you're to sideload Kodi onto the Apple TV box.
To get macOS 0n your Windows PC, I recommend installing a virtual machine. Alternatively, refer to Hackintosh for more.
On the downside, this method dictates that you re-install Kodi every seven days if you use a free Apple development account.
Before we get started, confirm you have the following requirements beforehand:
Apple TV4 running on tvOS 9 or higher.
Windows PC running Windows 7 or higher.
USB-C cable to connect Apple TV4 to your PC.
Download Kodi .deb file for tvOS from: https://kodi.tv/download/tvos
Install the latest version of iTunes.
Cydia Impactor program that you can use to sideload Kodi on your Apple TV4.
Of importance, the Cydia Impactor only accepts the .ipa format of Kodi. As such, you'll have to convert the .deb to .ipa. Here's how you can convert the .deb file to .ipa format:
Download the 7-zip software and install it on your Windows PC.
Download the official .deb file for tvOS from https://kodi.tv/download/tvos
Save the .deb file in a separate folder and right-click to extract the files.
Open the extracted files folder and select "data.tar", and right-click to extract with 7-zip.

Once you have the data folder, open and navigate to the Application folder and locate a folder named "Kodi.app"

Next, create a new folder and name it Payload (ensure the name has a capital "P" letter).
Drag the "Kodi.app" folder and drop it into the Payload folder.
Right-click on the Payload folder, select 7-zip and then select the "Add to archive" option.

Once the new window pops up, ensure that the archive format is in zip format before naming the file Kodi.app and click OK.
If you've followed every step to this point, we can now install Kodi on Apple TV. Here are the simple steps to follow:
Ensure your Apple TV4 is connected to a power supply and turned on before we proceed.
Connect your Apple TV4 with your computer using the USB-C and ensure it's turned on. If you notice a pop-up from iTunes or other programs, close them.
Extract the Impactor zip file on your Windows PC and open the Impactor.exe file. Don't opt for the "Run as Administrator" for Cydia Impactor.

Wait for your Apple TV4 device to detect the Cydia Impactor before dragging and dropping the Kodi.app file into the Impactor.

Next, Cydia Impactor will prompt you to enter your Apple ID. Please type a valid Apple ID and click "OK". This action will prompt Cydia Impactor to begin installing Kodi on your Apple TV4.
Once the installation is complete, navigate the Kodi app on the main screen of Apple TV4 and open it to customize.
You'll have to repeat this process every seven days if you're using a free Apple dev account. Hence keep the .ipa file on your Windows PC.
How to Install Kodi Smart TVs and TV Boxes
Many Smart TVs and TV Boxes run on Android and support Google Play Store services. Therefore, installing Kodi on these platforms is pretty straightforward:
Turn on your Smart TV or TV Box and connect it to an internet connection.
On the Smart TV section, look for the Play Store icon and launch it.
Search for Kodi and click install.
Note that you can also refer to the process of installing Kodi on Android devices if you're stuck somewhere on the Play Store.
If your Smart TV doesn't use Android, such as Lg (Web OS) and Samsung, you will need to use an Android TV box or Fire TV Stick.
Wrap Up
This guide gives detailed steps to install Kodi on any compatible home device. Remember that Kodi requires a constant internet connection to work. Moreover, Kodi is legal home-theatre software, but its third-party add-ons often compromise it.
Moreover, privacy and security should be prioritized while using the internet. Therefore, I recommend that you connect to a stable and reliable VPN when using Kodi.
As said in the beginning, you can get into legal issues if you use Kodi for watching copyrighted content.
I personally recommend ExpressVPN, as it will hide your internet activity and is also very fast, which will ensure you won't have any buffering issues.
You can find our VPN reviews here: VPN Reviews
Frequently Asked Questions
Some people found answers to these questions helpful
Is Kodi legal?
Yes, Kodi is a legal home entertainment software in many regions worldwide. However, most of its third-party add-ons aren't.
---
Do I need a VPN when using Kodi?
Yes, connecting to a stable and reliable VPN is highly recommended before using Kodi. A high number of Kodi's third-party add-ons provide links to pirated content, which is considered illegal in many regions around the globe. To avoid receiving a DCMA warning and possible penalties, use a VPN. A good VPN gives you online anonymity and gains access to geo-restricted content.
---
Is Kodi a free software?
Yes, Kodi doesn't require any subscription fee. However, you'll need to pay for the online protection service if you use premium VPNs.
---
Do I need other apps after installing Kodi?
After installing Kodi, you need to install add-ons. Add-ons help you stream different content such as TV shows, movies, etc.
---