How Does Netflix Even Know Where I'm Located?
Netflix can see from which country you're accessing it (all websites have the ability to do this). All Netflix has to do is check your public IP address.
Then it will give you tailored content according to the country it thinks you're a resident of. These checks are pretty annoying for Americans who've signed up for the full service but can't get access when abroad.
It also affects people who don't live in the U.S. and have to make do with access to less choice of content.
How Can I Access American Netflix Abroad?
Being abroad usually means being out and about to explore, but you still may want to catch an episode or two of your favorite American series at the end of a long day! Sadly, you might have to make other plans if Netflix geo-blocked that series.
Or, it might be the case that the registration country of your IP address isn't the same as the country you're in. This, too, can prevent accessing Netflix.
Fortunately, there's a workaround. To access Netflix flicks available in the U.S. while outside the country, you need to switch your current IP address to an American-registered IP address.
Sound complicated? Well, it's quite easy. It would help if you get a trusted VPN (short for Virtual Private Network) that has VPN servers in the U.S. and works with Netflix (not all do).
But what's a VPN app in the first place? It's a super-secure network that makes it seem like the device you're using it on is somewhere else in the world — any site other than where it is! So you and your device could be in Bali, for example, and a VPN would make it seem like you're both in the U.S. (or somewhere else of your choosing).
A VPN can unblock Netflix and allows you to access Netflix libraries by making it look like you are in the USA, for example, even if you aren't.
How do virtual private networks do this? By encoding the data, you send and receive through the internet and re-routing it away from your normal ISP to a remote VPN server. This is how a VPN can bypass geo-content filtering.
Netflix vs VPN Services
Can VPNs unblock Netflix?
Netflix tries hard to prevent VPN users from viewing their content, and they're generally pretty good at that.
They can detect where you're located by tracking your public IP address. And in the same way, they can block IP addresses they know belong to VPN services.
VPN (Virtual Private Network) companies know that a big part of their user base wants something that works with any Netflix library, so they have to renew their IP addresses to become unblocked.
Then Netflix finds those IPs and blocks them again, and this game of cat and mouse continues ad infinitum.
Boasting many servers with hundreds or thousands of IP addresses, bigger VPN companies have a clear edge over the smaller ones.
With the best Netflix VPN providers, you can get back to watching your favorite shows in no time. A dedicated support staff is on hand to help you whenever Netflix blocks the IP address you're using.
One word of caution: Using a VPN or Proxy isn't allowed by Netflix's Terms of Use. They discourage VPN use, as they believe doing so won't offer the best Netflix experience. Fortunately, even if you're found to be using a VPN, your Netflix account won't be affected.
Netflix region-blocked content is also not available using a free VPN.
Unblocking Netflix is easiest with a VPN.
Streaming Netflix with a Netflix VPN is also the best choice due to its speed. You will need fast speeds to watch HD and 4k movies. Only premium and paid VPNs have the necessary infrastructure to allow this.
And lastly, besides Netflix unblocking, a VPN can also unblock other streaming sites such as Amazon Prime Video, Hulu, BBC iPlayer, HBO Max, and Disney Plus.
Check out our related guides on unblocking Hulu and watching BBC iPlayer in the US for more info. Our article dedicated to VPNs for Disney Plus will tell you how you can access Disney Plus in countries where this service is unavailable.
Additionally, if you are an ITV fan in the US, our guide on how to watch ITV in the USA will help you gain access to this service.
A good Netflix VPN such as ExpressVPN is also available on various devices such as Apple TV, Android, smart TV, and more.
ExpressVPN also works with Netflix Australia and it can allow you to access Japanese Netflix.
What's the Best VPN to Use With Netflix?
Different VPN services specialize in delivering other various to their users. Some won't have too many servers or IP addresses on hand because these VPNs focus primarily on ultra-secure internet connectivity.
By contrast, others have thousands of IP addresses. Because of their high-speed servers optimized for streaming, those IPs stay fresh enough to keep ahead of Netflix.
Netflix VPN ban
The Netflix ban on VPNs means that very few will work reliably and can help you unblock Netflix. Netflix can detect some VPN traffic and restrict it.
In this technological battle, VPN servers that work today may be blocked tomorrow. You need a VPN service that continually adds new servers and locations to stay one step ahead.
The best VPNs need no technical know-how. Practically anyone can set them up and learn to use them. ExpressVPN is our favourite. It has great features and is one of the most affordable options, with plans costing from just $8.32 a month.
Moreover, ExpressVPN's servers provide fast, throttle-free access to Netflix streaming. ExpressVPN can reliably unblock Netflix. But if you see an error, visit ExpressVPN online support. There's a team dedicated to getting Netflix users back online.
After you've nailed down the right VPN for your Netflix needs, sign up for a plan. If you choose ExpressVPN, toward the bottom of this page, you'll find easy instructions to help you get started.
Then, download the software. The process is smooth and should take you no longer than a few minutes.!
Most VPNs that don't work with Netflix are free VPNs. This is because these VPN apps don't usually update their servers and replace their banned IPs. These also don't work with HD streaming. As such, a free VPN is not recommended for unblocking Netflix.
How to Fix a Netflix Proxy Error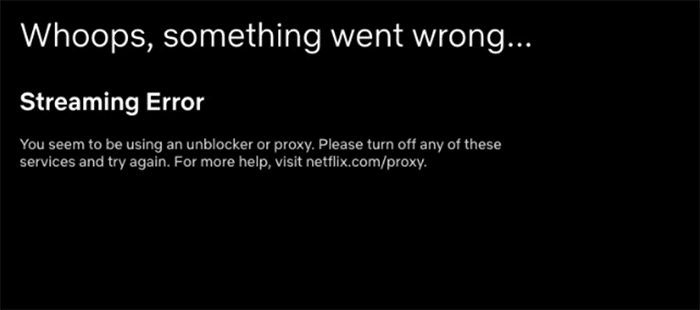 Look familiar? This happens when Netflix detects that you're using an IP address from a VPN service.
You might use a VPN — with no intention of unblocking Netflix and other streaming services. In that case, disconnect and refresh the page, and you should be able to access your country's Netflix catalog.
If you're connected to a VPN to unblock Netflix, you'll need to disconnect and choose a different server. It might take several attempts before you find one that works.
You might have a problem if none of the available servers work. Go to the VPN provider's website and get in touch with support to see if they can do anything to help.
With ExpressVPN, you can quickly message a live chat support agent on their website to ask which server to select. Every ExpressVPN subscription comes with a 30-day money-back guarantee, so you can try it risk-free.
You should note that sometimes, Netflix may detect a blocked IP address when you're not using a VPN at all.
This situation is called a false positive and can usually be sorted by switching off your router and waiting 30 seconds before trying again. You may also need to clear your cookies, too.
Using ExpressVPN With Netflix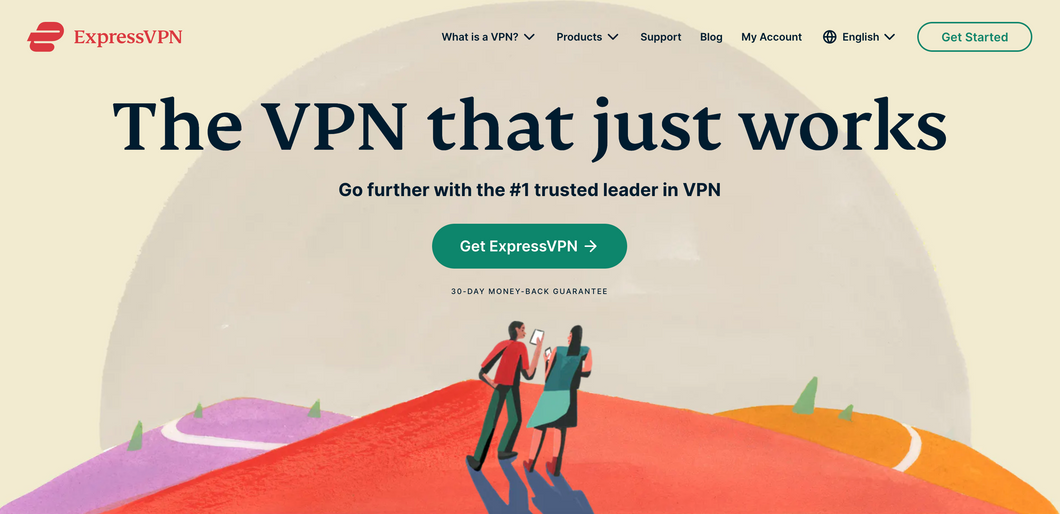 ExpressVPN is one of the very best VPN services available today. They have top-notch customer support, so anytime a server stops working with Netflix, you can be sure they'll get it up and running again quickly.
VPNs will reduce your internet speed by some amount, but ExpressVPN has some of the fastest servers out there, and users rarely notice any difference from their normal connection speeds.
This service makes streaming HD content a joyful experience. For optimal results, select the U.S. server closest to your actual location.
ExpressVPN has options to watch Netflix in all of the following ways:
Using a laptop/desktop with the ExpressVPN app available for Windows, Mac, and Linux
Using a smartphone/tablet with the ExpressVPN apps for iOS and Android
Using an Apple TV or a Fire TV Stick streaming media console
They have servers in 32 locations around the U.S. that provide a trouble-free connection to Netflix.
Using a Smart DNS Service
What is a Smart DNS, and how does it work?
A DNS (domain name system) translates domain names to respective internet protocol (IP) addresses. DNS addresses are usually assigned by ISPs (Internet Service Providers). In conjunction with IP addresses, they help identify your geo-location.
A Smart DNS service replaces your default DNS with that of another server. Most Smart DNS providers combine proxy and DNS to provide an efficient service.
A Smart DNS redirects your queries through its servers. It doesn't change your IP address nor encrypt your internet traffic. Nonetheless, some providers may encrypt the DNS queries.
How a Smart DNS unblocks American Netflix
By routing your DNS queries to an American server, the Smart DNS proxy changes your geo-location. Hence, Netflix will think that you are in America as your queries are serviced in America.
Smart DNS providers
You can get a Smart DNS from VPN providers or other providers who offer it as their main service. Common VPN providers with Smart DNS include ExpressVPN, Private Internet Access, and Surfshark, among others. Popular stand-alone Smart DNS providers have Unlocator, and UnblockUS, among others.
VPN providers may name their Smart DNS service different names. For instance, ExpressVPN calls its Smart DNS Media streamer.
How to choose the best Smart DNS provider?
There are free and premium Smart DNS providers. However, the free DNS addresses are not recommendable as they fail to work, and some may be slow. Also, the privacy and security of your DNS queries may be at risk.
Here is a checklist on what to consider when choosing a Smart DNS.
Scope of regions it can access: This ensures that you can unblock your desired content and can access Netflix in various countries such as America.
Websites it can unblock: Confirm whether it can unblock various websites, including Netflix. You can get this information from the provider's websites or through customer support.
How is a Smart DNS different from a VPN?
Here is a summary of the main differences:
| | | |
| --- | --- | --- |
| Aspect | Smart DNS | VPN |
| Encryption | It does not offer encryption | Offers encryption |
| Speed | Fast | Slow |
| Privacy | It does not offer privacy | May offer privacy |
| Firewalls | Cannot bypass firewalls | May bypass firewalls |
Let's take an in-depth look:
Encryption
A VPN secures your online traffic from prying eyes. This is done through various encryption protocols. A Smart DNS, on the other hand, doesn't offer encryption capabilities. However, some encrypt your DNS queries.
Speed
Smart DNS offers fast connection speeds than VPNs. This is because there's no encryption overhead in Smart DNS. Additionally, some providers use servers in proximity to the restricted content source. A Smart DNS is also faster than proxy servers.
Privacy
Smart DNS masks your DNS queries but does not hide your IP address. Hence, some websites might be able to probe your IP address. This will expose your digital identity. On the other hand, a VPN provider hides your IP address via its server's virtual IP address. This conceals your digital identity and geo-location.
Advantages of Smart DNS
Easy configuration.
Compatibility with most internet-capable devices.
Faster speeds.
Disadvantages of Smart DNS
No encryption, thereby less security.
It does not bypass firewalls.
It might fail to unblock some websites/services.
Using Proxy Servers
A proxy acts as a middleman. It forwards your browsing requests to the internet, and in the same manner, it returns the results from the internet to you.
Through this technique, a proxy hides your IP address. Websites you access will instead see the proxy servers' IP address.
How to unblock American Netflix using a Proxy server
To unblock American Netflix, you need to connect to a proxy server located in America. This way, the requests will appear like they are originating from America. Hence, you will be able to bypass the Netflix geo-restrictions.
HTTPS proxies are recommended, but you can throw SSL into the mix if you need encryption.
Advantages of proxy servers
Some are faster.
Bypasses restrictions without bans.
Can offer improved performance.
Disadvantages of proxy servers
Proxy servers log your activities.
Proxy servers can push malware and ads.
They are not compatible with other devices.
Comparison with other unblocking methods
Proxy servers are slower than the smart DNS but faster than VPNs.
Proxy servers are less secure than VPNs.
Unblocking Netflix with a proxy server often times does not work.
Troubleshooting Netflix Connection Problems
If for any reason you're having trouble installing the ExpressVPN app, you'll need to get your hands on the ExpressVPN Chrome extension or Firefox extension for your web browser.
But if that doesn't work and your network still isn't letting you access Netflix, don't be too surprised. It's common for Netflix to block some of the VPN IP addresses.
But don't dismay, because you can try connecting to different servers. Eventually, you'll find one that works!
If you still have trouble, go to the ExpressVPN website and navigate to the live chat facility to send a quick message to the support team. They'll let you know the best server to use so you access Netflix.
Netflix Unblocked: Final Thoughts...
Smart DNS comes in handy when bypassing geo-restrictions. It's affordable, fast, and easy to set up. However, keep in mind that your privacy is not secure.
Lack of encryption makes you prone to prying eyes such as hackers, the government, and other third-party entities.
Proxy servers may sometimes work or not with Netflix. You might also experience slow speeds. Your security and privacy can also be compromised. This is because proxy servers log personally-identifying information.
A reputable VPN is the best way to have Netflix unblocked from anywhere. VPNs also increase your online privacy and security.
Free VPNs are terrible if you want to get Netflix unblocked. Streaming Netflix won't work with them as their IPs are long banned. Their connection speed is also terrible.
Summary: In this article, I provide a guide on how to unblock Netflix from outside the US or access the US Netflix content library. You can do this by changing your device's IP address to a USA IP address using a VPN provider, Smart DNS, or proxy server. The best way to unblock Netflix is with a VPN due to its speed and infrastructure. However, not all VPNs work reliably with Netflix due to their efforts to prevent VPN users from viewing their content. The best VPNs have many servers and IP addresses and continually add new ones to stay ahead of Netflix. Follow these steps and you'll be able to unblock Netflix and access the US Netflix library with ease.
Frequently Asked Questions
Some people found answers to these questions helpful
Is Smart DNS better than VPN?
A Smart DNS is better than a VPN in connection speeds and doesn't get banned easily. VPNs tend to be slow due to the encryption overhead. Most services can also restrict VPN connections. Smart DNS and VPN will help you bypass geo-restrictions and accessing Netflix.
---
Is it illegal to use VPN for Netflix?
No. Bypassing restrictions to access content is not illegal unless explicitly stated. Furthermore, you will be just using a VPN to access a service that you have paid for. It is not like piracy.
---
Can Netflix ban you for using a VPN, Proxy, or Smart DNS?
No. Netflix will not ban your account for using various methods to bypass geo-restrictions. However, it can restrict the methods. This is why some Smart DNS, VPNs, and Proxy servers may not unblock Netflix.
---