ExpressVPN
pros
Excellent privacy and security

Blazing speeds

Up to 5 simultaneous connections

Reliable VPN app for Android
ExpressVPN is our top pick VPN for Android. This VPN offers an all-rounded VPN service for privacy, security, and performance. It also has an easy-to-use, simple Android app.
Servers
ExpressVPN has a server coverage of 160 locations across 94 countries. These servers are optimized to handle any online task you perform on your Android device.
You can access content from Netflix, HBO Australia, watch the BBC iPlayer from abroad, and other streaming services without buffering. You can also unblock restricted websites and social media.
ExpressVPN is also ideal if you are looking for a DAZN VPN.
Blazing speeds and unlimited bandwidth allow you to securely torrent content to your Android device.
You are also in luck if you have a powerful Android gaming smartphone. ExpressVPN servers offer DDoS protection and can lower your ping for an improved multiplayer experience.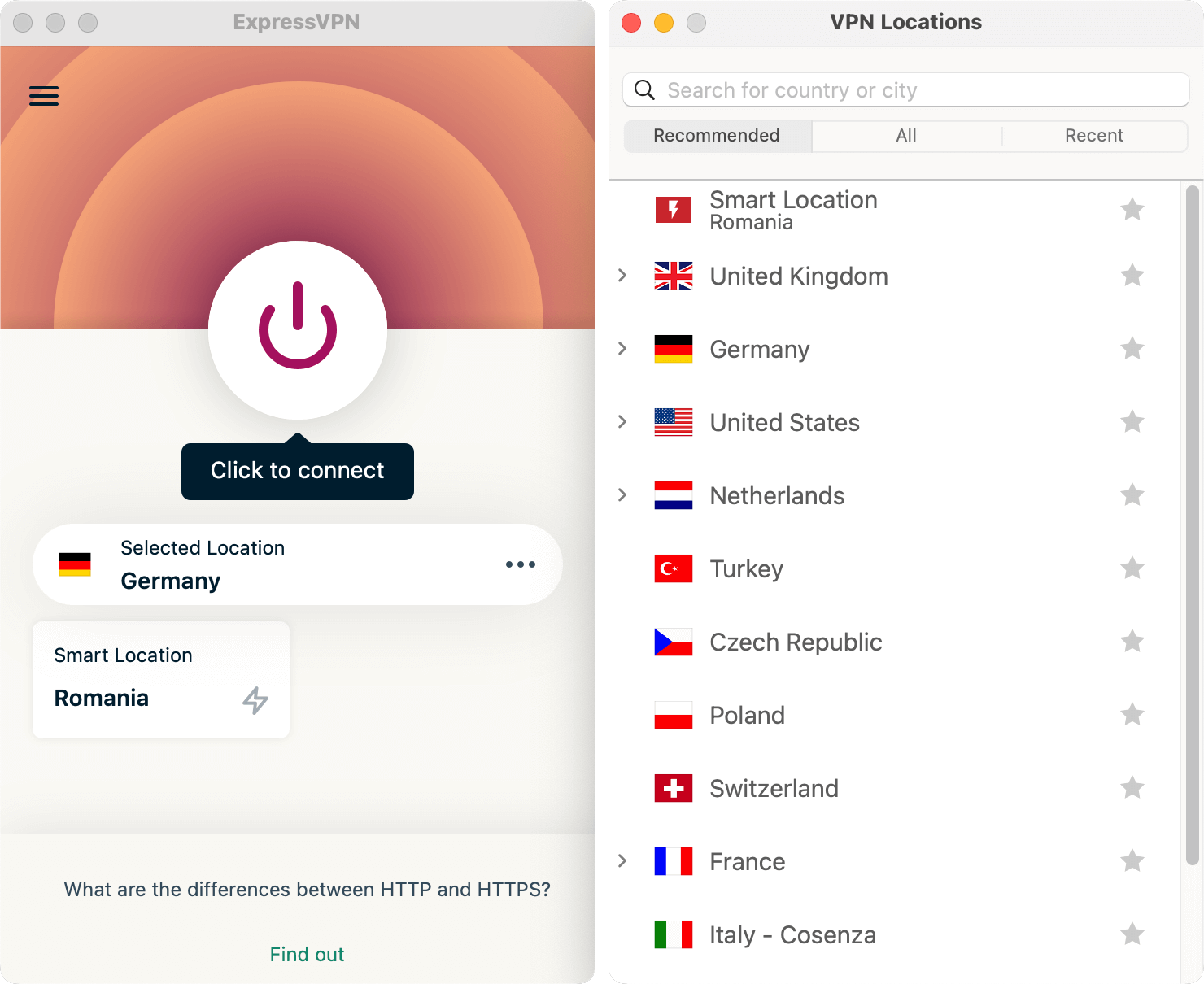 Privacy and Logging
All the online activities on your Android smartphone will always remain private. Not even ExpressVPN will know what you have been to.
ExpressVPN doesn't collect or store logs concerning your online and connection activities.
Furthermore, ExpressVPN relies on TrustedServer technology. This is an implementation of RAM-only servers.
Data is lost when there's no power, or a scheduled reboot is done. This ensures no one will get your information even if they seize the ExpressVPN servers.
ExpressVPN also enjoys the British Virgin Islands (BVI) jurisdiction. The BVI has no mandatory data retention laws. Also, it is not a member of the 5/9/14 Eyes Alliance.
Security and Protocols
ExpressVPN uses the best-in-class AES 256-bit encryption to protect all the incoming and outgoing traffic from your Android smartphone.
Its proprietary Lightway protocol offers faster speeds and excellent performance and doesn't drain your Android battery. ExpressVPN also provides the gold-standard OpenVPN protocol.
Other than encryption, ExpressVPN also implements advanced leak protection. Your DNS queries are always serviced in the ExpressVPN tunnel.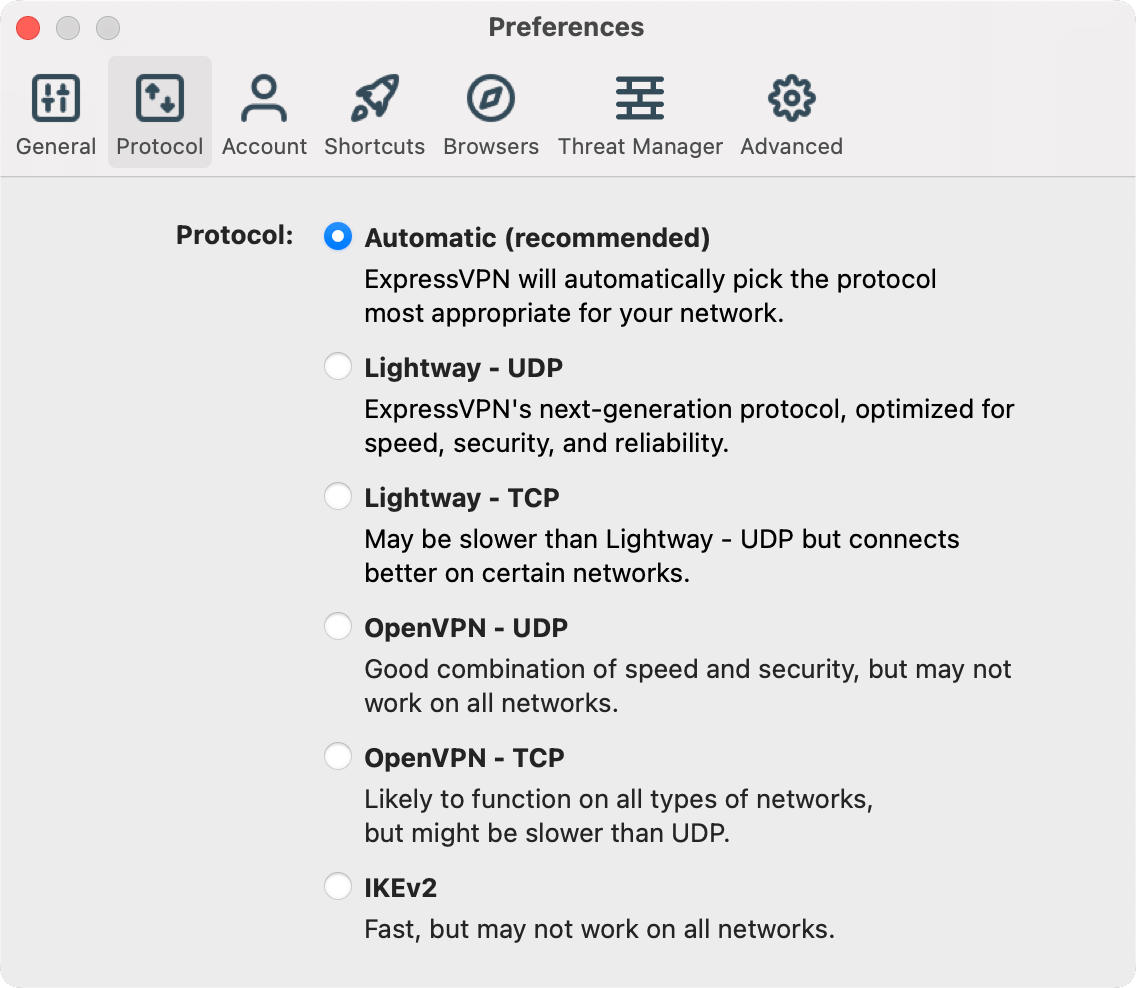 The Android App
ExpressVPN offers a secure and reliable Android VPN app compatible with Android 5.0 or later. The app is well-designed, easy to use and sports a user-friendly interface.
The app features a one-click connection via a smart location, a protection summary, shortcuts to launch apps from ExpressVPN when connected, and easy server switching.
You can also change protocols, use the split tunneling feature, and set your preferences. Generally, even novice users will appreciate the ExpressVPN Android app.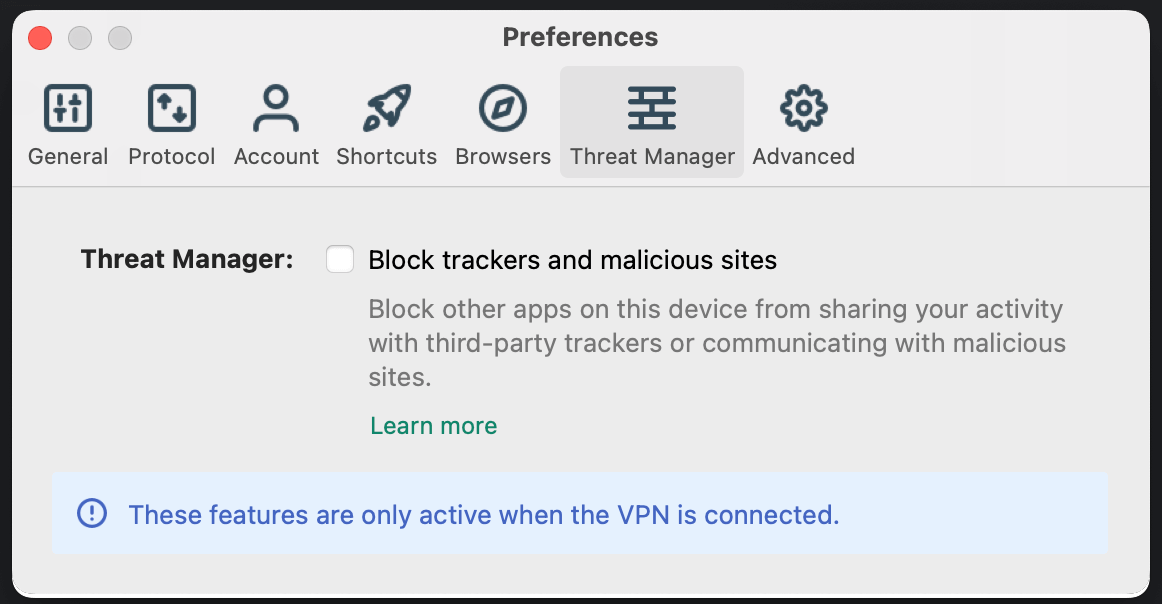 Pricing Plans
ExpressVPN is known for its expensive plans, and it is the same even for the Android VPN. You get the best value on the long-term plan. Here are the pricing plans
The monthly plan costs $12.95 per month.
The 6-months plan retails at $9.99 per month. This sums to $59.95 every six months.
The 1-year plan costs $8.32 per month. This amounts to $99.95 per year. This plan gives you a 35% discount.
ExpressVPN allows you to test drive the VPN service. It offers a 7-day free trial on Android, and you also enjoy a 30-day money-back guarantee.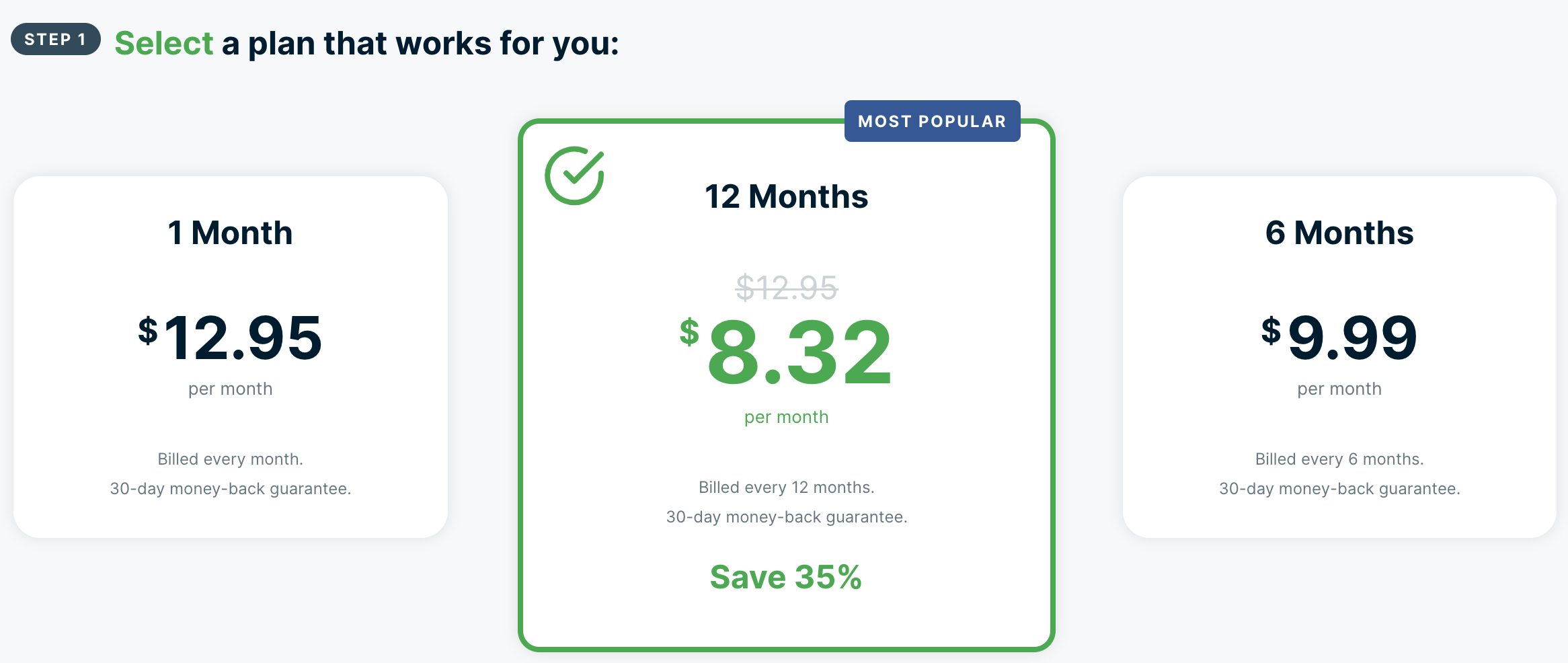 Customer Support
ExpressVPN offers 24-hour customer support. You can get help through a 24/7 live chat, the support center, or the email ticket system.
You can access the support through the website or the in-app help section of the Android VPN app. The support center provides guides, setup tutorials, and FAQs.
For quick results when talking to an agent, it is advisable to use live chat. The email ticket can take hours to get a response.
Private Internet Access (PIA) VPN
pros
Optimized streaming servers

Kill switch

Proven no-logs policy

Up to 10 simultaneous connections
Private Internet Access (PIA) is a top-notch, budget-friendly VPN for Android. It has a proven no-logs policy and is suitable for unblocking content from anywhere in the world.
Servers
Private Internet Access takes pride in its next-gen servers. These world-class servers in 84 countries deliver unmatched speeds coupled with unlimited bandwidth.
This makes PIA perfect for using it as a Disney+ VPN or as a BeIN Sports VPN.
Some of the servers are optimized for streaming. You can access any streaming service depending on the server location. Your content will never buffer on your Android device.
The Next-gen servers also allow P2P traffic. You can set your Android torrenting app to use the PIA proxy. Furthermore, you can use port forwarding on your Android smartphone.
Like desktop apps, you can use geo-located (virtual) servers on Android. You have the option to include or exclude them.
Privacy and Logging
Private Internet Access is based in the US. Despite this unfavorable jurisdiction, PIA VPN keeps a 100% no-usage logs policy. A policy that has been proven in court more than once.
PIA VPN also uses open-source apps, including the Android app. Anyone with tech skills can verify the code without relying on PIA VPN's word.
Security and Protocols
PIA VPN is among the few VPNs that offer excellent yet flexible encryptions. PIA allows you to use AES-128 or AES-256 encryption on the Android app.
Protocols offered include OpenVPN and WireGuard. WireGuard provides outstanding performance, and it works well on Android smartphones.
PIA allows you to use the in-app kill switch or the Android kill switch on Android 8.0 or later. You get leak protection and can enable aggressive IPv6 blocking for surety.
The MACE feature lets you surf the internet without ads, trackers, or landing on malicious sites. Thus, you get a clean web while saving your Android battery and bandwidth.
The Android App
The PIA VPN app is suitable for both beginners and advanced users. It offers many customizations, and you can tweak many settings. You can also use it on the go.
Each setting explains what it does, and you also get recommendations for other functionalities.
The Android app sports protocol settings, proxy settings, encryption settings, general settings, and application information.
The general settings offer a wide range of customizations, including network management. The app also provides per-app settings.
You will need to sideload the PIA VPN Android app to use the MACE feature. You can get it from the PIA website.
Pricing Plans
You can subscribe to PIA VPN via its three subscription plans. The monthly plan is expensive, and thus it is advisable to go with the long-term plan.
Here is an overview of the plans:
The monthly plan retails at $11.95 per month.
The 1-year plan goes for $3.33 per month. This sums to $39.95 per year.
The 3-year plan costs $2.03 per month. This amounts to $79.00 per 3 years. You get an 83% discount on this plan and three free additional months.
All the plans carry a 30-day money-back guarantee, offer up to 10 simultaneous connections, and a free email breach monitor.
Additionally, you get a 7-day free trial on Android and a free 1-year Boxcryptor license on long-term plans. Boxcryptor protects your cloud files.
Customer Support
You can use the contact support functionality on the Android App or the PIA support portal on the website.
Customer service is offered through a live chat, an email ticket system, and a knowledge base. PIA VPN's customer service is excellent and reliable; you can get it 24/7.
CyberGhost VPN
pros
Simple Android app

Streaming servers

45-day money-back guarantee

Up to 7 simultaneous connections
CyberGhost is a fully-featured VPN service for Android. It offers decent speeds, excellent security, and privacy, and the VPN app is suitable even for novice users.
Servers
CyberGhost boasts a fleet of 7800 plus servers spread across 91 countries. On Android, you get servers optimized for streaming and also torrenting.
As such, Cyberghost is perfect as an ESPN VPN and to watch Diney+ Hotstar in the USA.
The Android app makes it easy to know which server to use when streaming. The server list shows what content you can stream from each streaming server.
The servers offer the highest possible speeds that ensure your connection doesn't lag and your streaming doesn't buffer.
CyberGhost also offers unlimited bandwidth and unlimited server switches. If you come across a slow server, you can choose another one.
Privacy and Logging
CyberGhost ensures that all your digital data remains private at all times. Its strict no-log policy guarantees this privacy.
This VPN provider doesn't track, monitor, or profile anything you do while on your Android or other devices. Thus, your digital identity won't be compromised.
CyberGhost jurisdiction, Romania, backs up this no-log policy. Romania is outside the 5/9/14 Eyes Alliances and doesn't enforce data retention policies.
You can also access the No Spy servers for complete protection. These servers are managed by CyberGhost and engineered to offer ultimate security, privacy, and performance.
Security and Protocols
CyberGhost boost's your Android's online security by using military-grade AES 256-bit encryption to protect your data.
This state-of-the-art security relies on fast and secure protocols; OpenVPN and WireGuard. Additionally, all your Wi-Fi connections on your Android are encrypted by default.
CyberGhost offers four options that you can use to manage Wi-Fi security. They are; asked, protected, disabled protection, and ignored. You can also enable more delicate controls for Wi-Fi.
For a smooth surfing experience, CyberGhost offers a content blocker; It blocks domain ads, trackers, and malware.
The Android App
The CyberGhost VPN app for Android has a simple, minimalistic design. The interface is user-friendly, and navigation is easy.
The app offers a one-tap connection, easy access to the well-labeled server list, and many features.
You can quickly tweak settings on various categories such as general, VPN, Wi-Fi, and account. The VPN also offers a reliable split tunneling feature.
You also have the option to add and activate your dedicated IP address. To ensure privacy, CyberGhost uses the token system for dedicated IP.
Pricing Plans
CyberGhost offers four subscription plans and a 7-day free trial. The plans are as follows:
The monthly plan costs $12.99 per month.
The 1-year plan retails at $4.29 per month. This amounts to $51.48 every year.
The 2-year plan goes for $3.25 per month. This totals $78.00 every two years.
The 3-year plan costs $2.29 per month. This sums to $89.31 every 3 years, and you get 3 months for free.
The 2-year and 3-year plans are pocket-friendly with a better value. The long-term plans include free additions: Privacy Guard, ID Guard, Boxcryptor license, and access to No Spy.
They also carry a 45-day money-back guarantee. The monthly plan includes a free ID Guard and a 14-day money-back guarantee.
Customer Support
CyberGhost offers customer service right from the Android VPN app. You can access the article catalog and FAQs and report a problem.
Comprehensive support is offered through the website. You can access a live chat, an email ticket system, and a vast support center.
Surfshark VPN
pros
Excellent unblocking

Advanced security and privacy

Double VPN

Unlimited simultaneous connections
Surfshark VPN for android packs advanced security features and unmatched unblocking abilities, and you get unlimited simultaneous connections.
Servers
Surfshark has a network of 3200 plus high-speed servers in 65 countries. This is good coverage that ensures you can access worldwide content.
The abundance of servers makes it perfect to use as Stake VPN and DraftKings VPN.
On Android, Surfshark offers a server list with a speedometer. This feature shows you the latency and the server overload.
This ensures you can avoid congested servers and connect to fast servers. Nonetheless, the servers are optimized to offer speeds of up to 10Gbps.
Surfshark is also among the top VPNs that can unblock streaming services. You also get access to static IP addresses.
Privacy and Logging
Surfshark is a no-log VPN. It doesn't track, monitor, or collect information about your online activities or connections.
This VPN has a favorable British Virgin Islands (BVI) jurisdiction. The BVI doesn't force VPNs to retain user data. It's also outside the reach of the 5/6/14 Eyes Alliance.
To ensure no logs, Surfshark uses 100% RAM-only servers. These servers do not store any data since it's wiped during periodical reboots.
Additionally, Surfshark uses obfuscation to conceal your VPN traffic. Your VPN connection will always be private, even in countries with heavy censorship.
Security and Protocols
Surfshark uses industry-leading AES-256 encryption and lighter but secure encryption (ChaCha20Poly1305) to protect your data.
The lighter encryption allows for better speeds. On the Android app, Surfshark offers OpenVPN and the WireGuard protocols.
The multi-hop feature allows for a double VPN setup. You get double encryption, and this means impeccable privacy.
You also get leak protection, a kill switch, a clean web (blocks ads, malware, and trackers), and a white-lister (split tunneling for Surfshark).
Surfshark offers No Borders mode and Camouflage mode to bypass restrictions.
The Android App
The Surfshark Android VPN app is fully-featured, like desktop apps. The app sports an intuitive and user-friendly interface. Generally, the app is straightforward to use.
The default screen allows a quick connection to the nearest server. It also gives you access to server locations, features, and settings.
You can tweak various settings such as application, connectivity, and advanced. Other tabs include the account and help.
The app also allows you to override your GPS and set it to that of the server location.
Pricing Plans
Surfshark offers value-friendly plans subscription plans. They include:
A monthly plan that costs $12.95 per month.
A 12-months plan that goes for $3.99 per month. This amounts to $47.88 for the first 12 months.
A 24-months plan retails at $2.49 per month. This totals $59.76 for the first 24 months. You get a coupon worth 81% off.
To enjoy the 7-day free trial on Android, you need to select the 12-months plan. All the plans carry a 30-day money-back guarantee.
Customer Support
You can get help right from the Android app. On the help tab, the app offers you access to guides, the email ticket system, and your previous interactions with the agents.
The website offers a live chat, email, and a comprehensive knowledge base with more guides, tutorials, and tips.
How to Choose the Best VPN for Android
The Google Play Store and other Android App Stores have many VPN apps. However, most VPN apps are unreliable and will compromise your privacy.
Nonetheless, selecting the best VPN for Android doesn't always have to be hectic. Here are the aspects we use to choose the best VPN for Android.
Global server coverage
Excellent performance and fast speeds
Stellar security and privacy
Great compatibility with Android
24/7 customer support
Money-back guarantee
Why Do You Need a VPN for Android?
Your Android smartphone is a powerful palm-held computer that you use to carry out many online tasks.
If you are not on social media, you check your bank accounts, shop online, book tickets, and do many other productivity tasks, including working remotely.
Therefore, there's a need to protect your digital identity and online privacy. Here are the benefits of using the best VPN for Android.
Use public Wi-Fi securely
By using a VPN, hackers and public Wi-Fi providers won't be able to snoop and eavesdrop on your connections. Your data and online traffic will be safe and untampered.
Avoid ISP throttling
A VPN connection prevents your ISP from viewing and monitoring your online activities. Thus, your ISP won't know what to throttle and what traffic to reshape.
Additionally, you can use obfuscation to hide your VPN traffic. This is helpful if your ISP decides to throttle your VPN connection.
Bypass censorship and restrictions
An Android VPN will allow you to unblock geo-restricted content, such as websites and other services from around the globe.
You will also reclaim your digital freedom since the VPN keeps your identity private.
Torrent securely and privately
Torrenting without a VPN severely compromises your online privacy. This is because peers and other interested parties (ISPs and copyright enforcers) can see your IP address.
Avoid mass surveillance
ISPs and other government institutions are constantly monitoring what netizens are doing online. Use a VPN to avoid being a victim of mass surveillance.
Browse privately
Surfing the internet without a VPN allows websites to track your online activities. A VPN hides your IP address and lets you browse the internet anonymously and securely.
Get the best shopping deals
Using a VPN to change your geo-location can help you avoid price discrimination. In the right location, you will get lower prices and great deals.
Wrap Up
Privacy and security are essential for your Android smartphone. Our best VPN picks for Android offer excellent protection against your ISP, online hackers, and other prying eyes.
They also unblock streaming services such as Netflix, BBC iPlayer, and Prime Video. You can watch your favorites on your Android smartphone without buffering.
The VPNs are also compatible with other devices such as Windows, Macs, Linux, iOS, smart TVs, and routers.