Cheapest pro VPN

Unlimited devices

7 days free trial

Superb speed
Launched in 2018, Surfshark is one of the latest up-and-comers in the VPN market, with more than 1,700 servers in 160 locations across 63 countries.
The company is registered in the British Virgin Islands and maintains good standards. Surfshark is a great choice for amazing features on a small budget.
Summary
Compared with other VPN services, Surfshark is popular because of its vast range of impressive features, including MultiHop (double VPN), Whitelister (split tunneling), a kill switch, strong encryption, various protocols, simultaneous connections, and many more.
Surfshark maintains strong encryption methods, with AES-256-GCM cipher — the encryption method recommended by the U.S. government. The service also supports OpenVPN and IKEv2 protocols.
While Surfshark is feature-packed, easy to use, and very affordable, its speed and performance aren't quite up to par compared with, say, industry giants like ExpressVPN and NordVPN. Still, Surfshark maintains a higher download rate due to its ability to connect to an unlimited number of devices, and it's hard to beat the promotional price of $1.99 a month.
Pros:
Good zero-logging policy that's furthered by the great jurisdiction
Torrenting allowed. The default multi-hop server for torrenting activities is the one in Amsterdam
Unlocks Netflix
Cheap and affordable
Unlimited devices
CleanWeb feature – blocks malware, phishing attacks, adware
MultiHop feature
Functional kill-switch
Features
Whitelister
SurfShark's "Whitelister" is its handy split-tunneling feature. It lets some data go through an encrypted VPN tunnel, and other data bypass that tunnel entirely. This way, applications that don't require protection won't create overhead by unnecessarily taking up VPN bandwidth.
Remember, you can always choose exactly which applications and devices to protect. If you're concerned about safety, know that you're in full control.
Using Whitelister is straightforward. In the Whitelister settings, all you have to do is enable either "Route via VPN" or "Bypass VPN" depending on your requirements.
You'll be spoiled for choice when it comes to what you can do with SurfShark…
Whitelister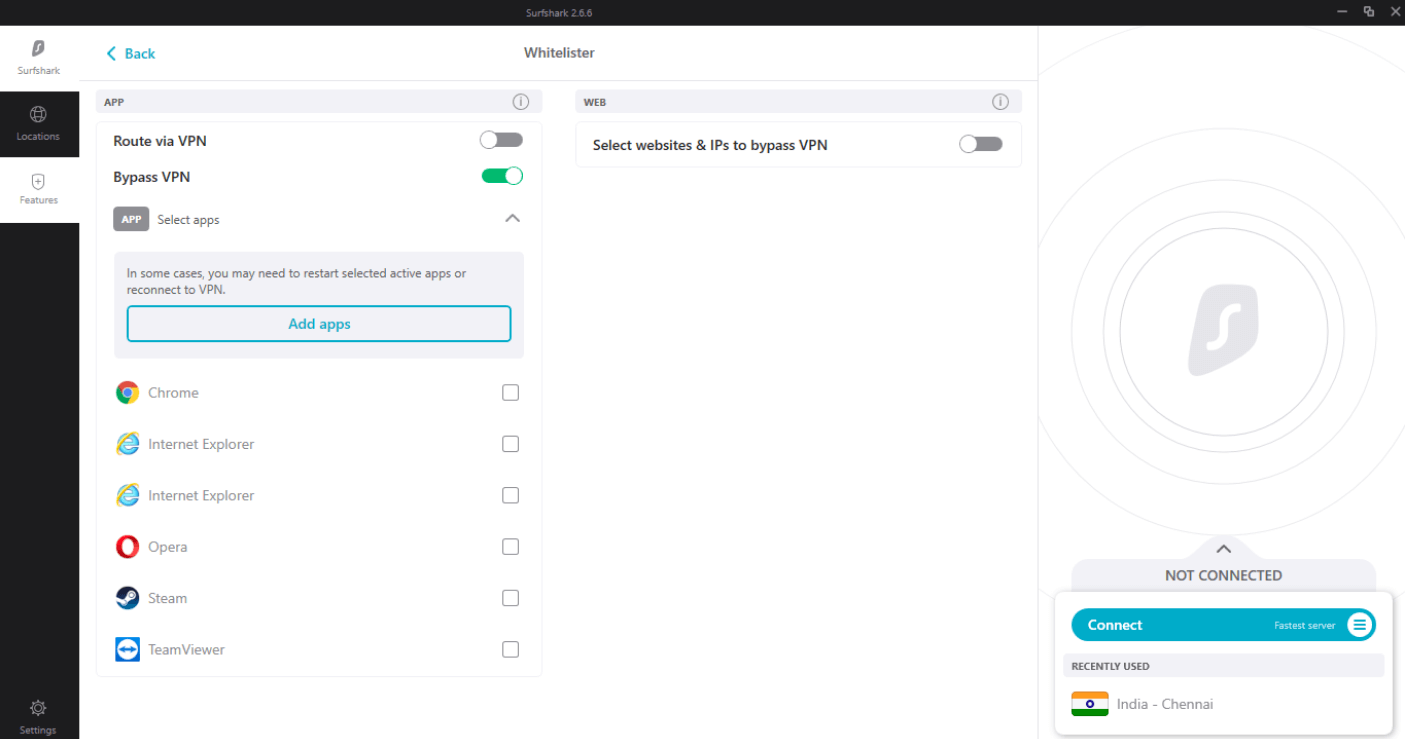 Kill Switch
If you've been following our VPN articles, you probably know what a kill switch does by now. When your VPN connection suddenly fails, it will disconnect you from the internet and make sure your data is safeguarded from unauthorized access.
To enable the kill switch in SurfShark, all you have to do is to go to settings and turn the kill switch on.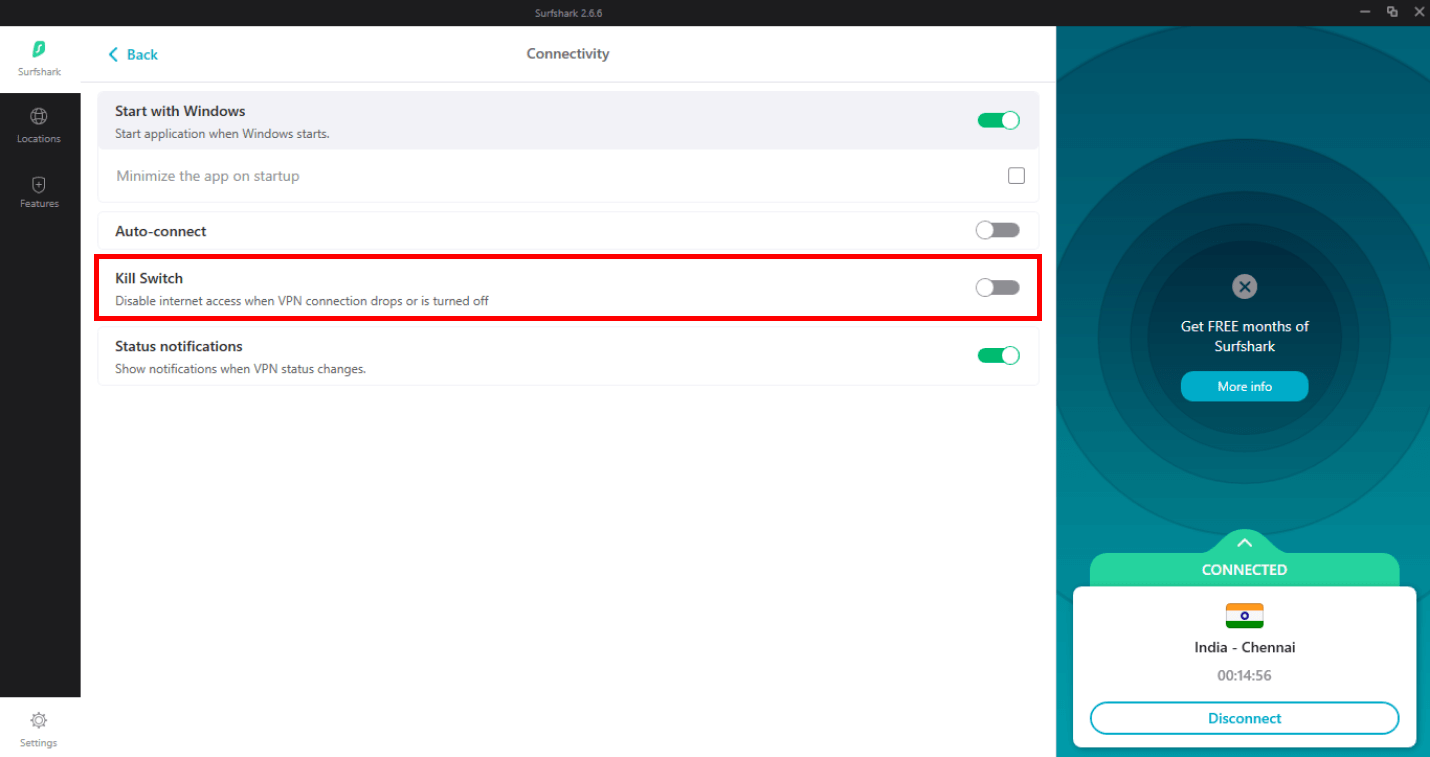 MultiHop
The MultiHop is Surfshark's double-VPN feature. It's ideal if you happen to be an activist and don't want your government tracking you, or a journalist with sources to protect. Most of you, however, are probably ordinary users who just want extra security and privacy while browsing certain things on the internet, and that's fine, too.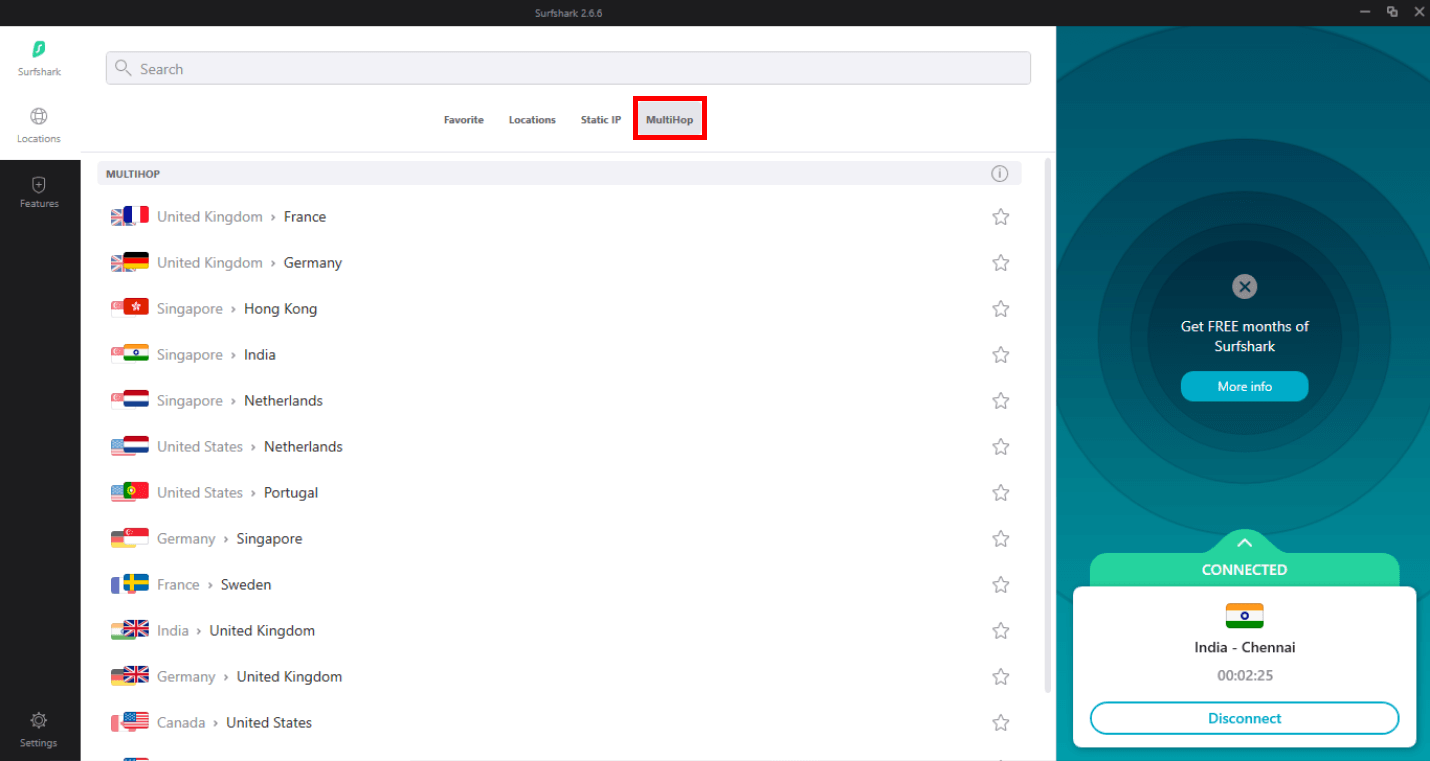 That said, MultiHop isn't necessary for daily internet usage. The VPN already provides enough security! Don't use MultiHop for handling P2P downloads or uploads either, as Surfshark will redirect you to servers specifically meant for that.
Additionally, MultiHop is usually a bad idea for streaming. It's normal for a single VPN to slow down your internet speed (because of encryption and other security measures). So just think what a double VPN would do to your streaming speed!
Simultaneous Connections
Some applications, like ExpressVPN, limit the number of devices you can connect the VPN to at the same time. By contrast, SurfShark lets you simultaneously connect to an unlimited number of devices! So, not only you but your family members, too, can enjoy the VPN's security features — at no extra charge.
CleanWeb or Adblock VPN
There are millions of websites out there wanting to infect you with malware. SurfShark continuously keeps track of all of them to make sure you don't become another victim.
This is where the optional CleanWeb feature comes into play, proving that Surfshark's services go beyond just online anonymity. With CleanWeb, you can block malware before it loads. You can also avoid phishing attempts!
And not only that, but CleanWeb also blocks ads that would otherwise slow your internet speed and consume mobile data (costing you extra) if you're on a mobile data plan.
The CleanWeb option is disabled automatically, so you have to enable it in the Features section.
On a first glance, SurfShark has the appearance of a predatory shark with apex instincts. Let's see how it behaves on closer analysis.