Launched in 2018, Surfshark is one of the latest up-and-comers in the VPN market, with more than 1,700 servers in 160 locations across 63 countries.
The company is registered in the British Virgin Islands and maintains good standards. Surfshark is a great choice for amazing features on a small budget.
Summary
Compared with other VPN services, Surfshark is popular because of its vast range of impressive features, including MultiHop (double VPN), Whitelister (split tunneling), a kill switch, strong encryption, various protocols, simultaneous connections, and many more.
Surfshark maintains strong encryption methods, with AES-256-GCM cipher — the encryption method recommended by the U.S. government. The service also supports OpenVPN and IKEv2 protocols.
While Surfshark is feature-packed, easy to use, and affordable, its speed and performance aren't quite up to par compared with industry giants like ExpressVPN and NordVPN.
Still, Surfshark maintains a higher download rate due to its ability to connect to an unlimited number of devices, and it's hard to beat the promotional price of $1.99 a month.
Pros:
Good zero-logging policy that's furthered by the great jurisdiction
Torrenting allowed. The default multi-hop server for torrenting activities is the one in Amsterdam
Unlocks Netflix
Cheap and affordable
Unlimited devices
CleanWeb feature – blocks malware, phishing attacks, adware
MultiHop feature
Functional kill-switch
Features
Whitelister
SurfShark's "Whitelister" is its handy split-tunneling feature. It lets some data go through an encrypted VPN tunnel, and other data bypass that tunnel entirely. This way, applications that don't require protection won't create overhead by unnecessarily taking up VPN bandwidth.
Remember, you can always choose exactly which applications and devices to protect. If you're concerned about safety, know you're in full control.
Using Whitelister is straightforward. In the Whitelister settings, you must enable either "Route via VPN" or "Bypass VPN," depending on your requirements.
You'll be spoiled for choice regarding what you can do with SurfShark…
Whitelister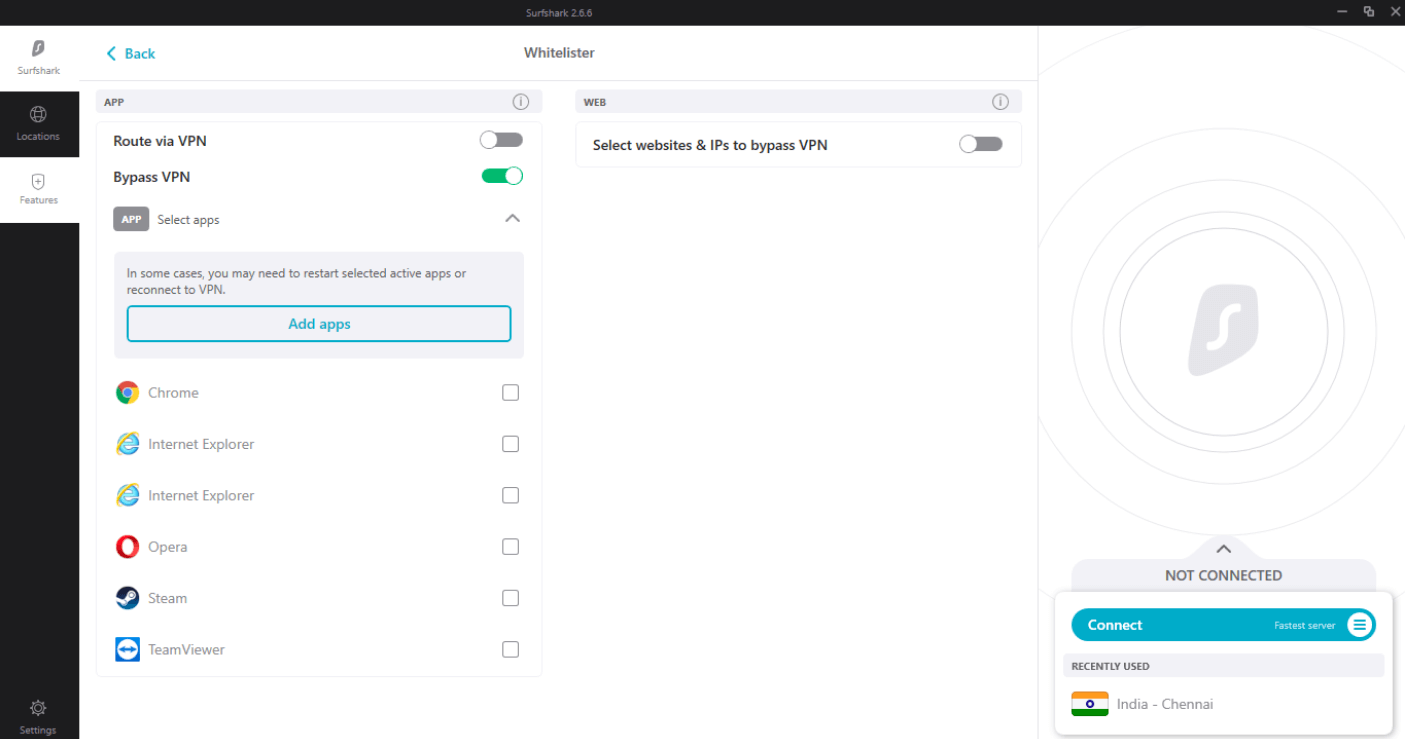 Kill Switch
If you've been following our VPN articles, you probably know what a kill switch does by now. When your VPN connection suddenly fails, it will disconnect you from the internet and ensure your data is safeguarded from unauthorized access.
To enable the VPN kill switch in SurfShark, you must go to settings and turn the kill switch on.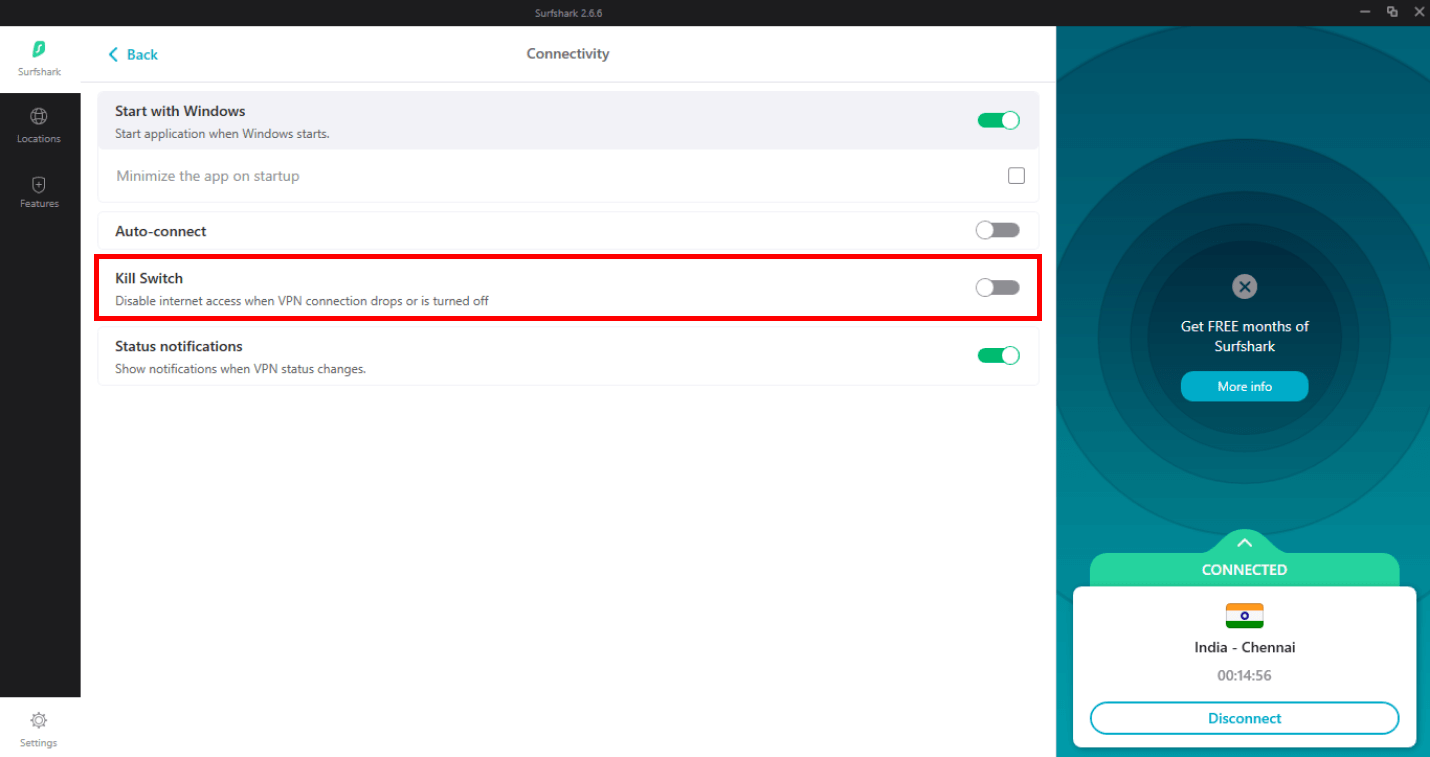 MultiHop
The MultiHop is Surfshark's double-VPN feature. It's ideal if you are an activist and don't want your government tracking you or journalists with sources to protect. Most of you are probably ordinary users who just want extra security and privacy while browsing certain things on the internet, and that's fine, too.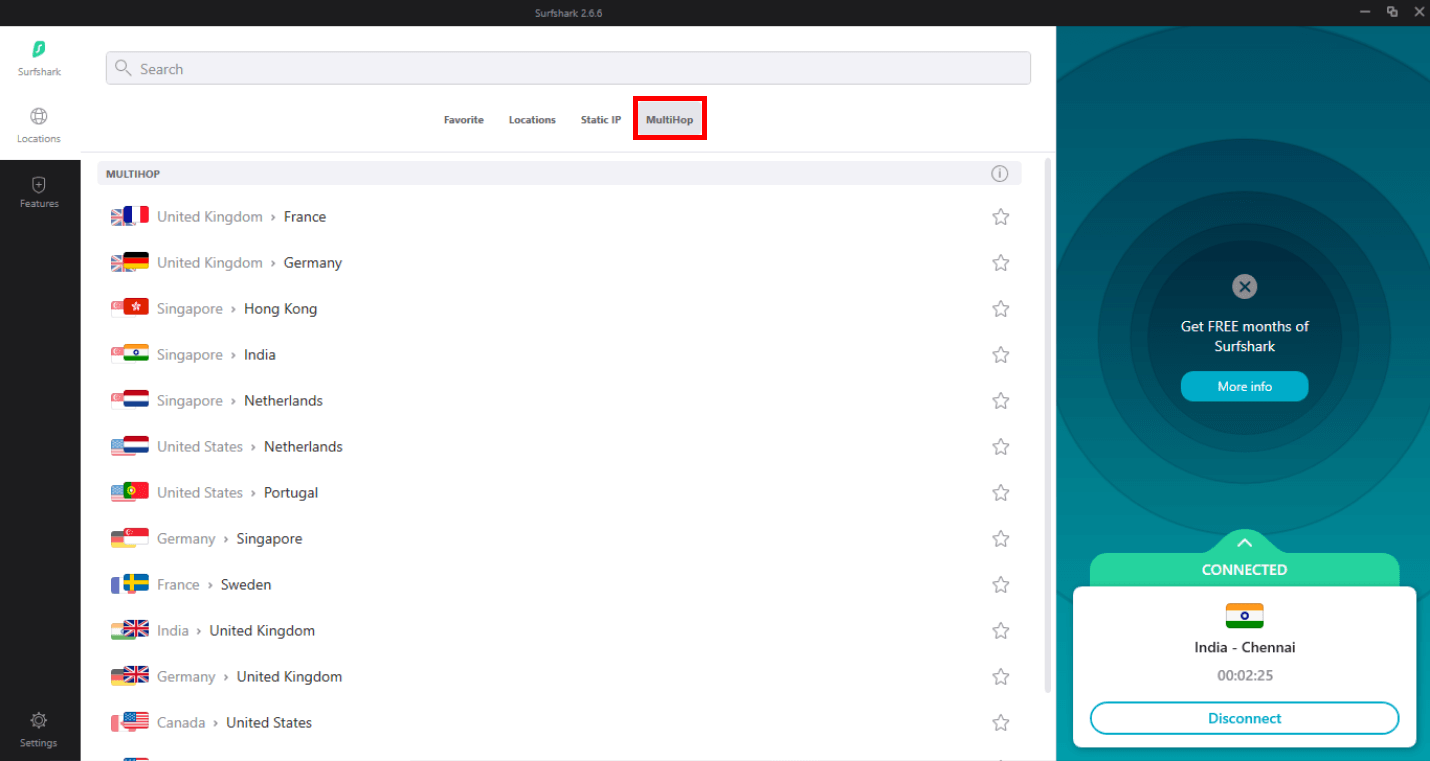 That said, MultiHop isn't necessary for daily internet usage. The VPN already provides enough security! Don't use MultiHop for handling P2P downloads or uploads, as Surfshark will redirect you to servers specifically meant for that.
Additionally, MultiHop is usually a bad idea for streaming. It's normal for a single VPN to slow down your internet speed (because of encryption and other security measures). So just think what a double VPN would do to your streaming speed!
Simultaneous Connections
Some applications, like ExpressVPN, limit the number of devices you can connect the VPN to simultaneously. By contrast, SurfShark lets you simultaneously connect to an unlimited number of devices! So, not only you but your family members, too, can enjoy the VPN's security features — at no extra charge.
CleanWeb or Adblock VPN
There are millions of websites out there wanting to infect you with malware. SurfShark continuously keeps track of them to ensure you don't become another victim.
With CleanWeb, you can block malware before it loads. You can also avoid phishing attempts! This is where the optional CleanWeb feature comes into play, proving that Surfshark's services go beyond just online anonymity.
And not only that, but CleanWeb also blocks ads that would otherwise slow your internet speed and consume mobile data (costing you extra) if you're on a mobile data plan.
The CleanWeb option is disabled automatically, so you have to enable it in the Features section.
At first glance, SurfShark looks like a predatory shark with apex instincts. Let's see how it behaves on closer analysis.
There are three subscription plans: 1 month, 12 months, and 24 months. They differ only in duration; no matter which plans you choose, you get the same features:
Ability to connect with an unlimited number of devices
Fast content delivery
No logs policy
Uncompromising security and privacy
24/7 customer service
High reliability
SurfShark offers a 7-day free trial (something no other top VPN offers at the moment!) and a 30-days money-back guarantee.
Available SurfShark packages:
1 month – $11.95/month
12 months – $5.99/month
24 months – $1.99/month (cheapest pro VPN available at the moment)
Currently, SurfShark is the cheapest premium VPN available anywhere. The $1.99/month option is the lowest price (by a large margin) you can get anywhere at the moment.
With more than 1700 servers in 63 countries, Surfshark is quite a matching contender for many fresh VPNs on the market. Even the older online security providers should look behind their backs for this newcomer.
They're based in the Virgin British Isles, an online paradise for privacy purists and VPNs. There are no data-retention laws to worry about, and it's outside the 14-Eyes Surveillance Alliance.
As such, no one will demand any user logs from them.
Here's a list of some of the servers Surfshark has:
The US (New York, Los Angeles, Chicago, Miami, Dallas, Phoenix, Las Vegas, Buffalo, San Francisco, etc.)
Germany
Turkey
Romania
South Africa
Spain
Sweden
Russia
Norway
Netherlands
Japan
India
Hong Kong
France
Canada
Australia
Argentina
They have a nice enough spread for everyone to enjoy their services and ensure top performance.
When shopping for a VPN, you want to know how fast you'd be able to surf the web. Well, I've got your back and did lots of testing for Surfshark.
Here's my default speed without the VPN: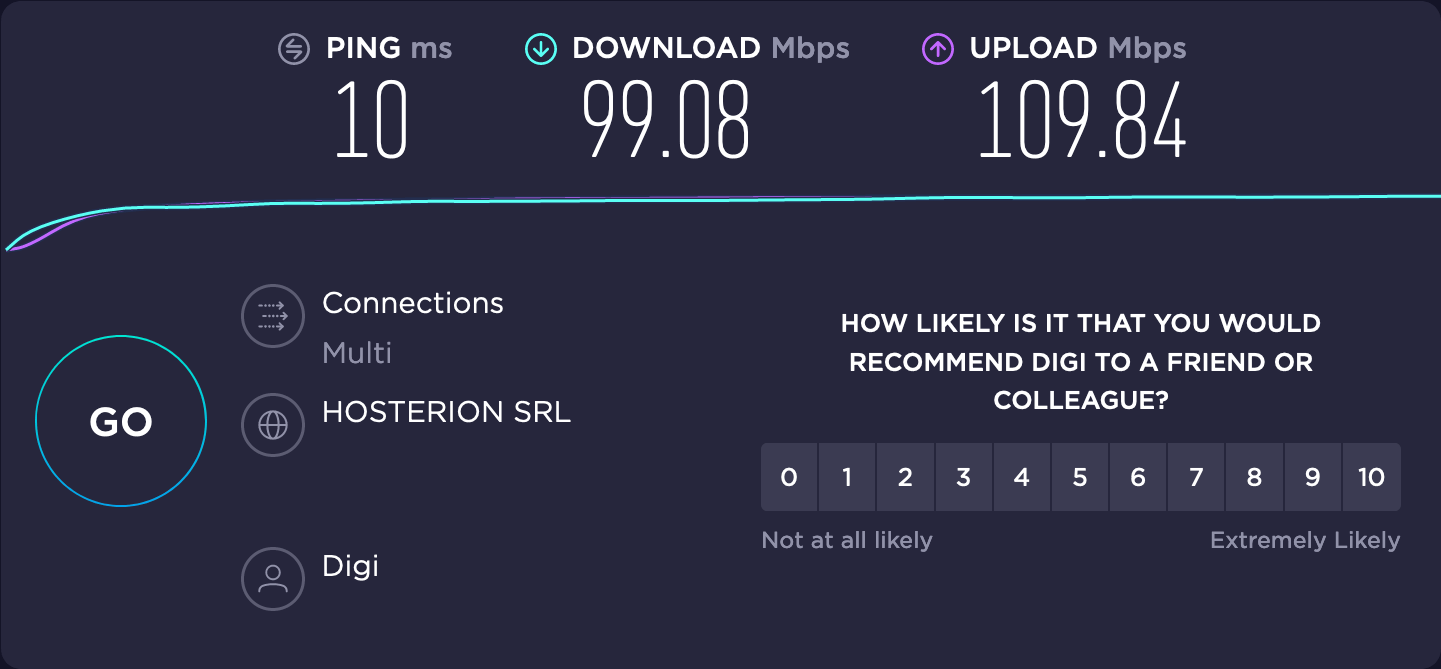 Ping – 10 ms
Download speed – 99.08 Mbps
Upload speed – 109.84 Mbps
And here are the figures for the fastest server according to my location: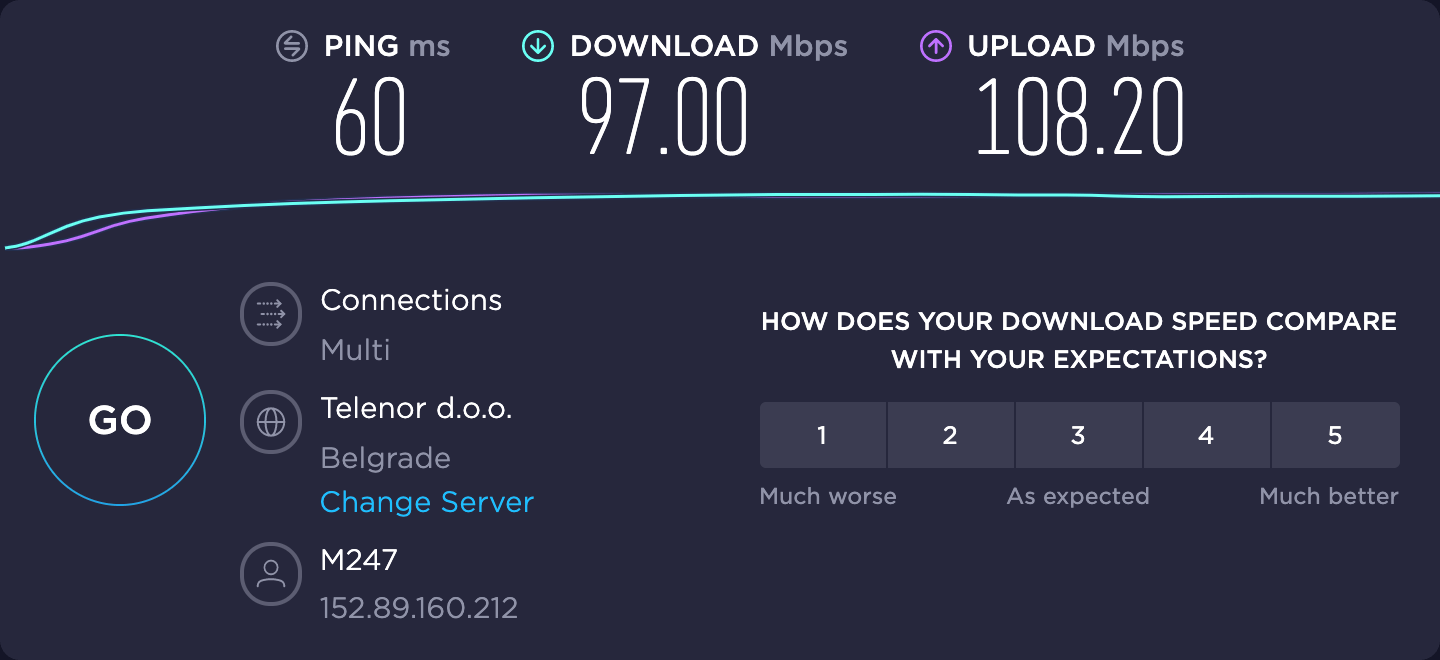 Ping – 60 ms
Download speed – 97 Mbps
Upload speed – 108.20 Mbps
Let's look at the speed when I connect to various other countries…
United States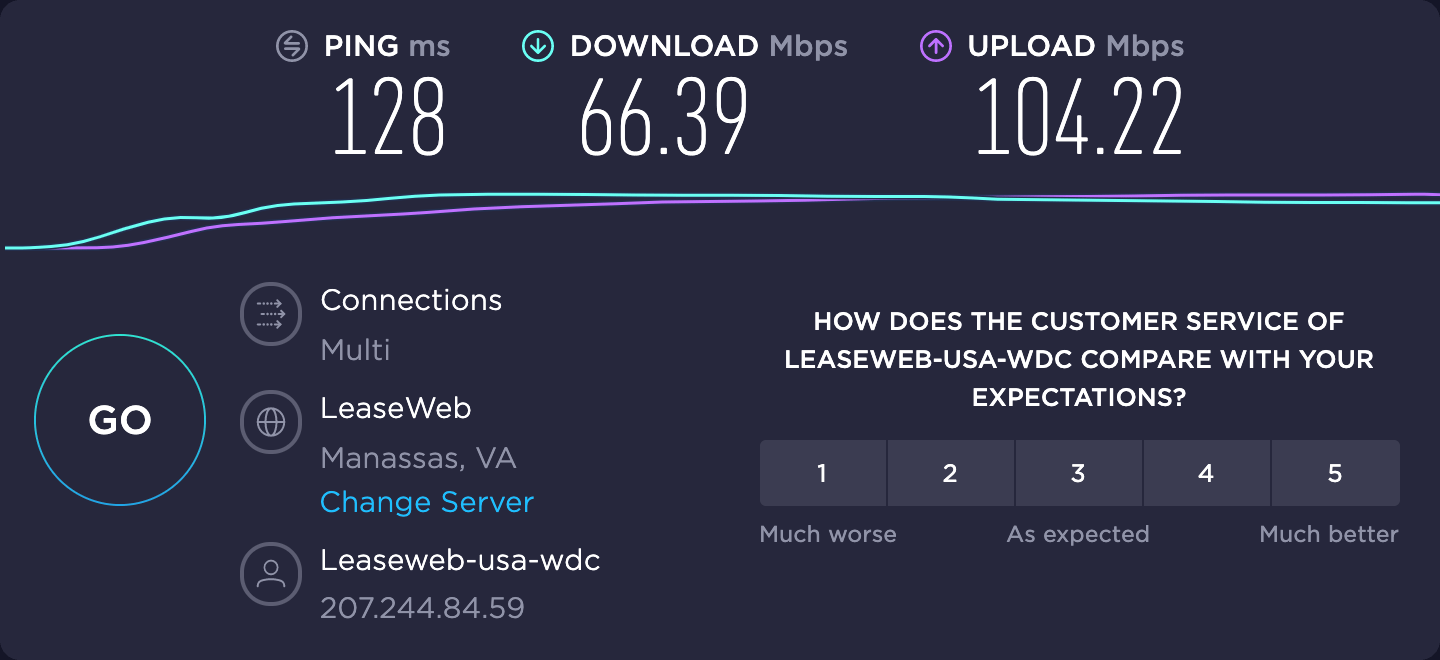 Ping – 128 ms
Download speed – 66.39 Mbps
Upload speed – 104.22 Mbps
Russia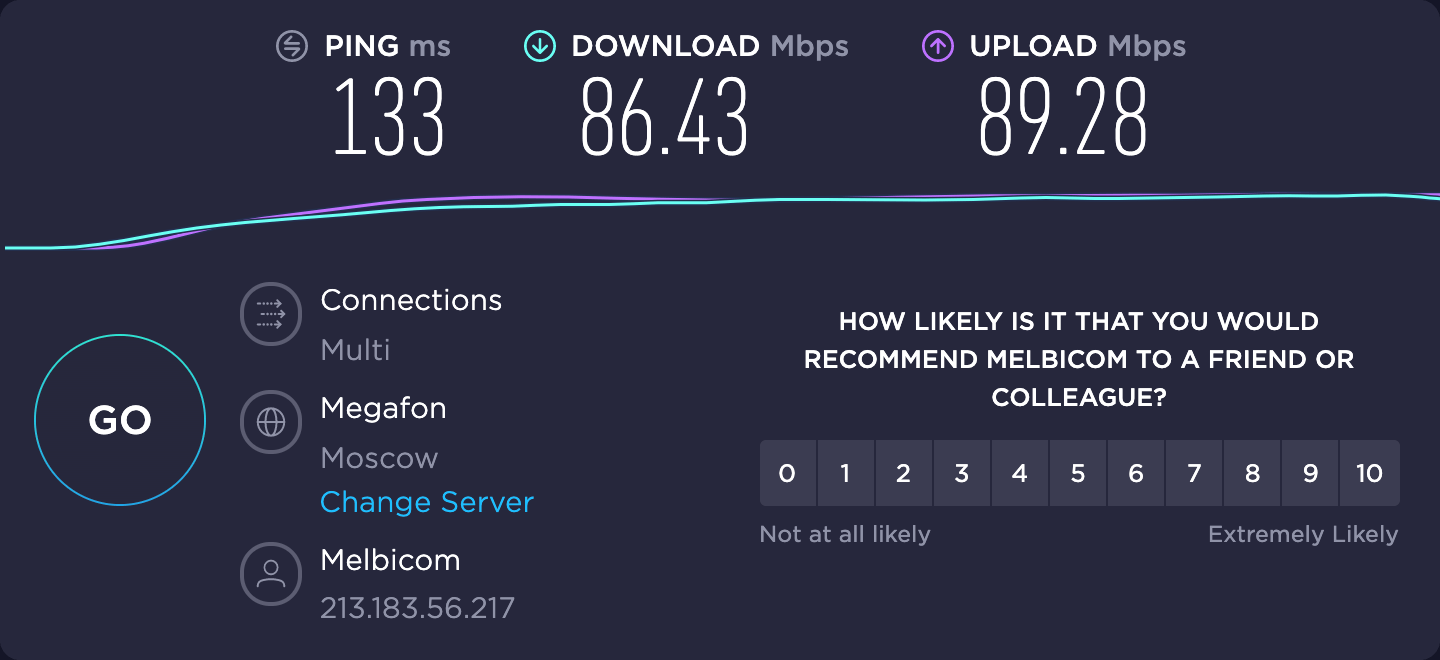 Ping – 133 ms
Download speed – 86.43 Mbps
Upload speed – 189.28 Mbps

United Kingdom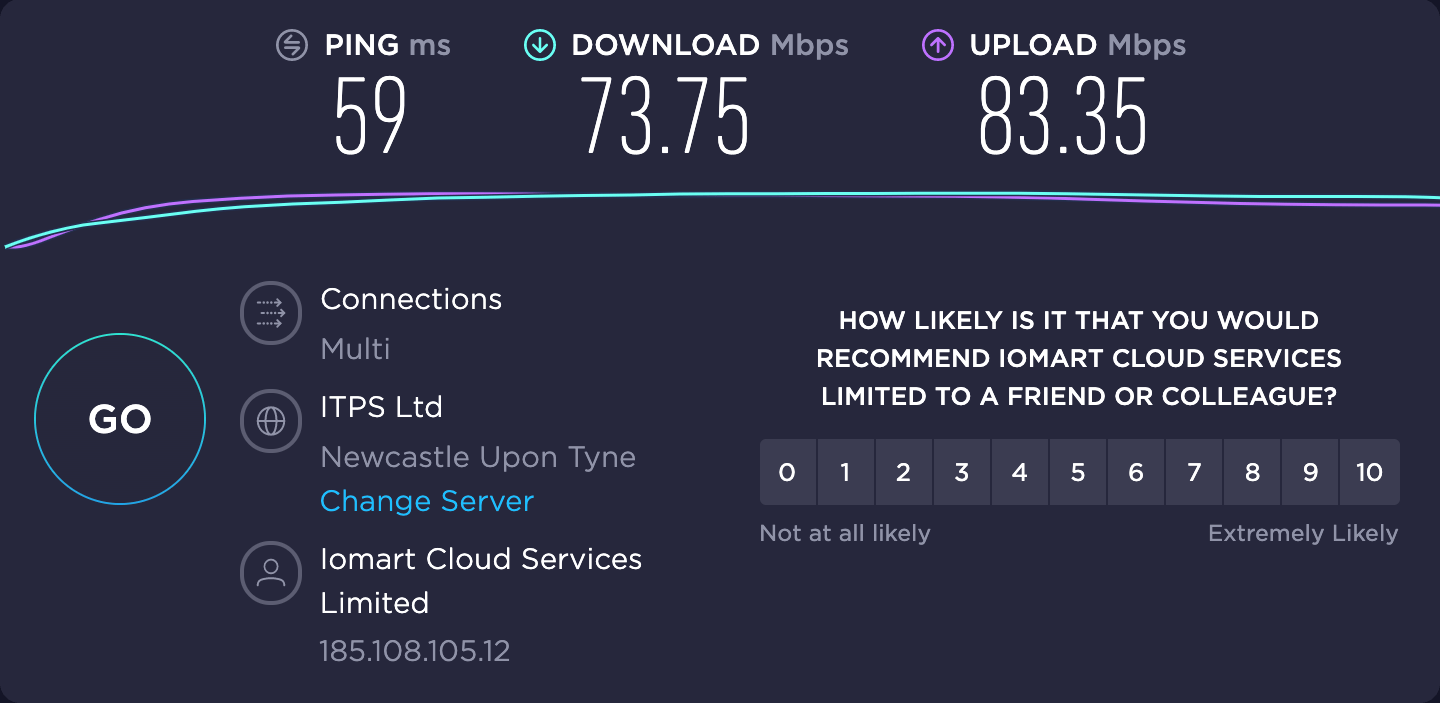 Ping – 59 ms
Download speed – 73.75 Mbps
Upload speed – 83.35 Mbps
Australia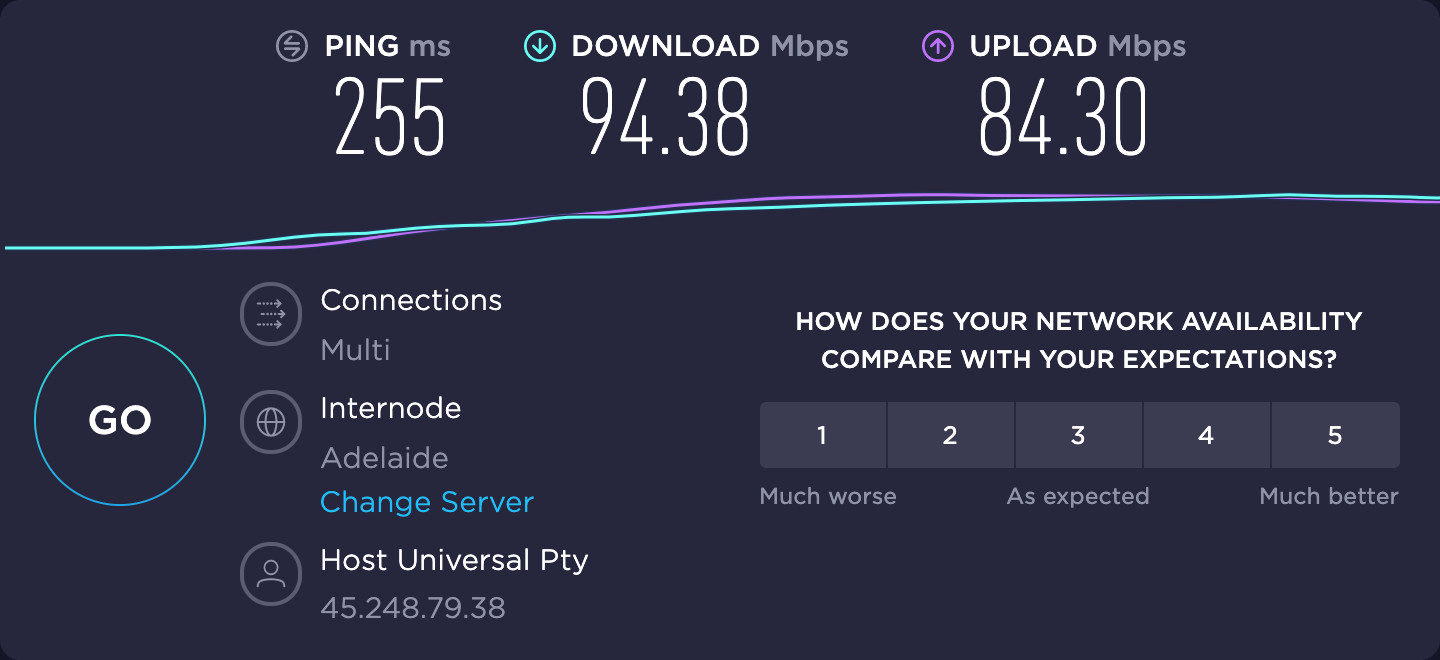 Ping – 255 ms
Download speed – 94.38 Mbps
Upload speed – 84.30 Mbps
Germany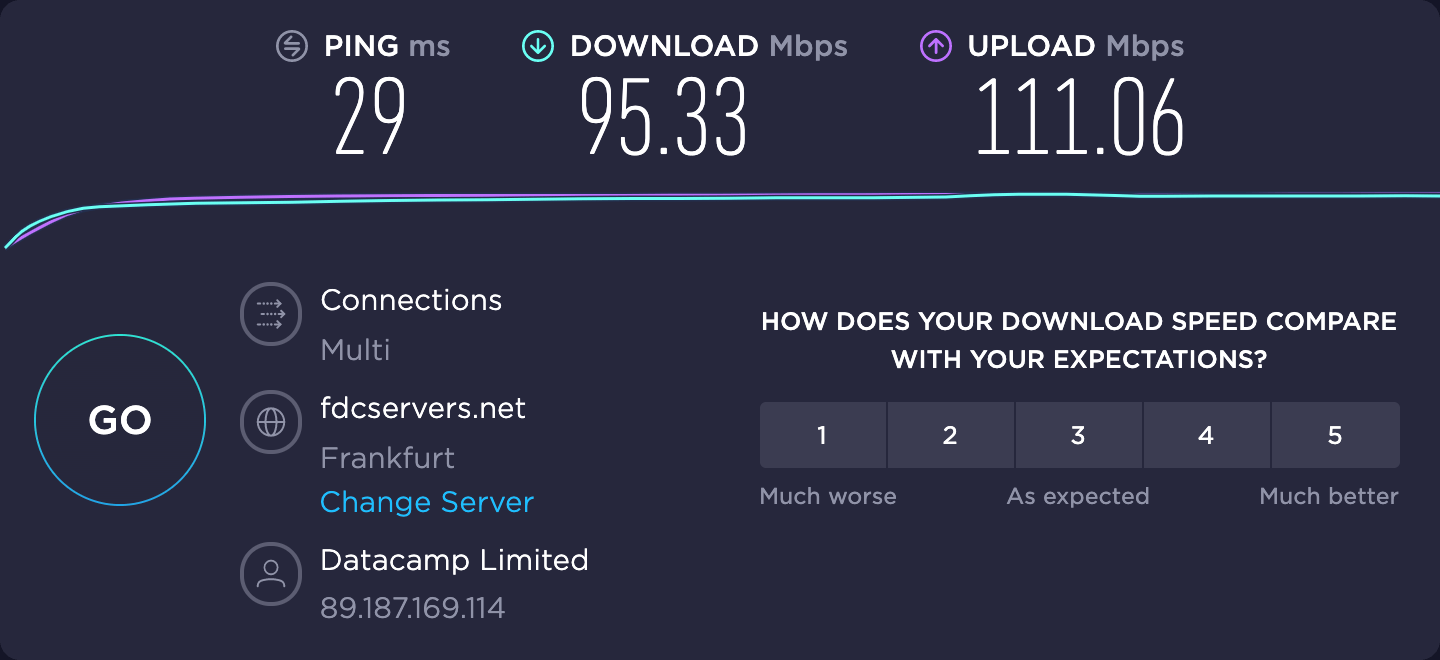 Ping – 29 ms
Download speed – 95.33 Mbps
Upload speed – 111.06 Mbps
As I mentioned, internet speed with a VPN is always slightly slower than without it. That's normal. But as you can see, SurfShark generally only reduces your normal internet speed by around 10% or so. Sometimes even less. This makes SurfShark excellent for streaming.
Under British Virgin Islands' standards, Surfshark implements a no-log policy. This means it doesn't collect any information regarding your IP address, browser history, bandwidth consumed, information about the session, network traffic, connection timestamps, and more. So your internet activity can't be traced!
Furthermore, Surfshark's RAM-only servers offer increased privacy, as the data and information are completely wiped clean when the server is turned off.
In some countries like the U.S., selling your information to third parties is legal. Not to mention, many ISPs leak that information to third parties. Remember, it's best to choose a VPN that doesn't log your information.
Encrychoosing
By using AES-256, Surfshark follo is bestws the best encryption practices. Even the U.S. government uses it, as it's impossible to decrypt any data encoded with AES-256.
Here's what enabling encryption can do:
Protect all your sensitive data and information, like login credentials, bank account information, and the private messages you send.
Hide from the government, ISPs, or other parties wanting to eavesdrop on your online activities.
The automatic communication between you (the VPN client) and a server is done using the Asymmetric Key Exchange. To achieve complete forward secrecy, the symmetric key exchange is enabled.
VPN protocols are critical for providing proper end-to-end encryption. There can be no VPN connections if not for the protocols, and in Surfshark, you can change them however you like, according to your needs. Let's check out some of the protocols available.
IKEv2
Internet Key Exchange version 2 (IKEv2) is a fast protocol famous among mobile VPN users. IKEv2 is efficient when trying to connect to the nearest server.
OpenVPN
The source code of OpenVPN is available for any security expert, and they can fix defects and improve them constantly. OpenVPN is ideal for connecting with long-distance servers and is popular among VPN desktop users.
Shadowsocks
Countries such as China are under heavy government censorship. The Shadowsocks protocol is specially designed to bypass the firewall in China (also known as the Great Firewall).
This protocol is unnecessary if you're not in a country whose government restricts the internet.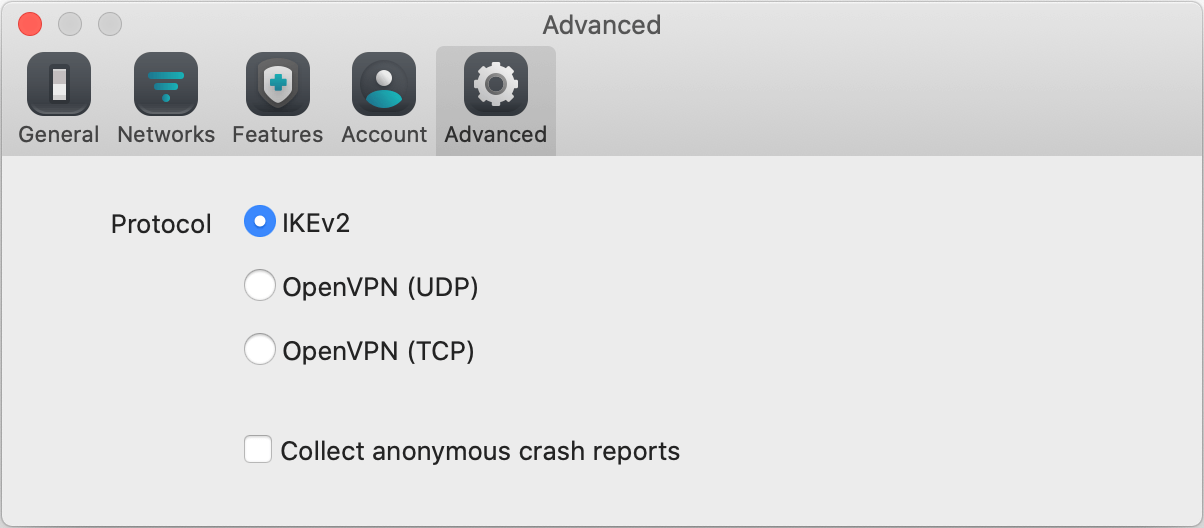 They have great live chat support if you have any questions or issues regarding SurfShark's service. Just provide your name and email address, and select a topic category (connection issues, general questions, or payments).
I tried out this support feature. After just a few minutes of wait time in the queue, I was greeted by a friendly and knowledgeable customer rep.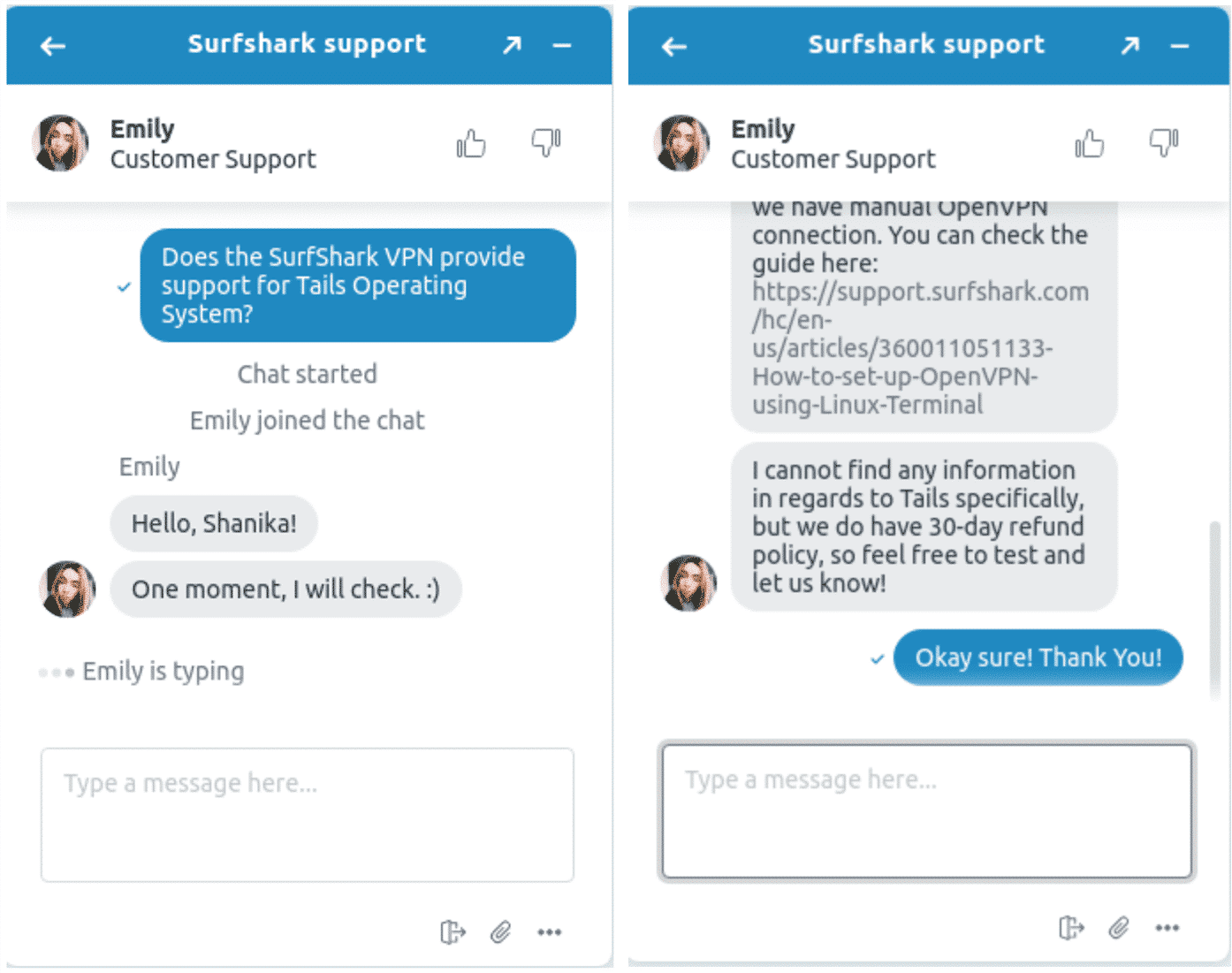 Apart from the live chat, you'll have access to the FAQ, some helpful guides, and a knowledge base in Surfshark's Help Center. If you don't find what you're looking for and don't feel like chatting with a live agent, you can always submit a request at https://support.surfshark.com/hc/en-us/requests/new.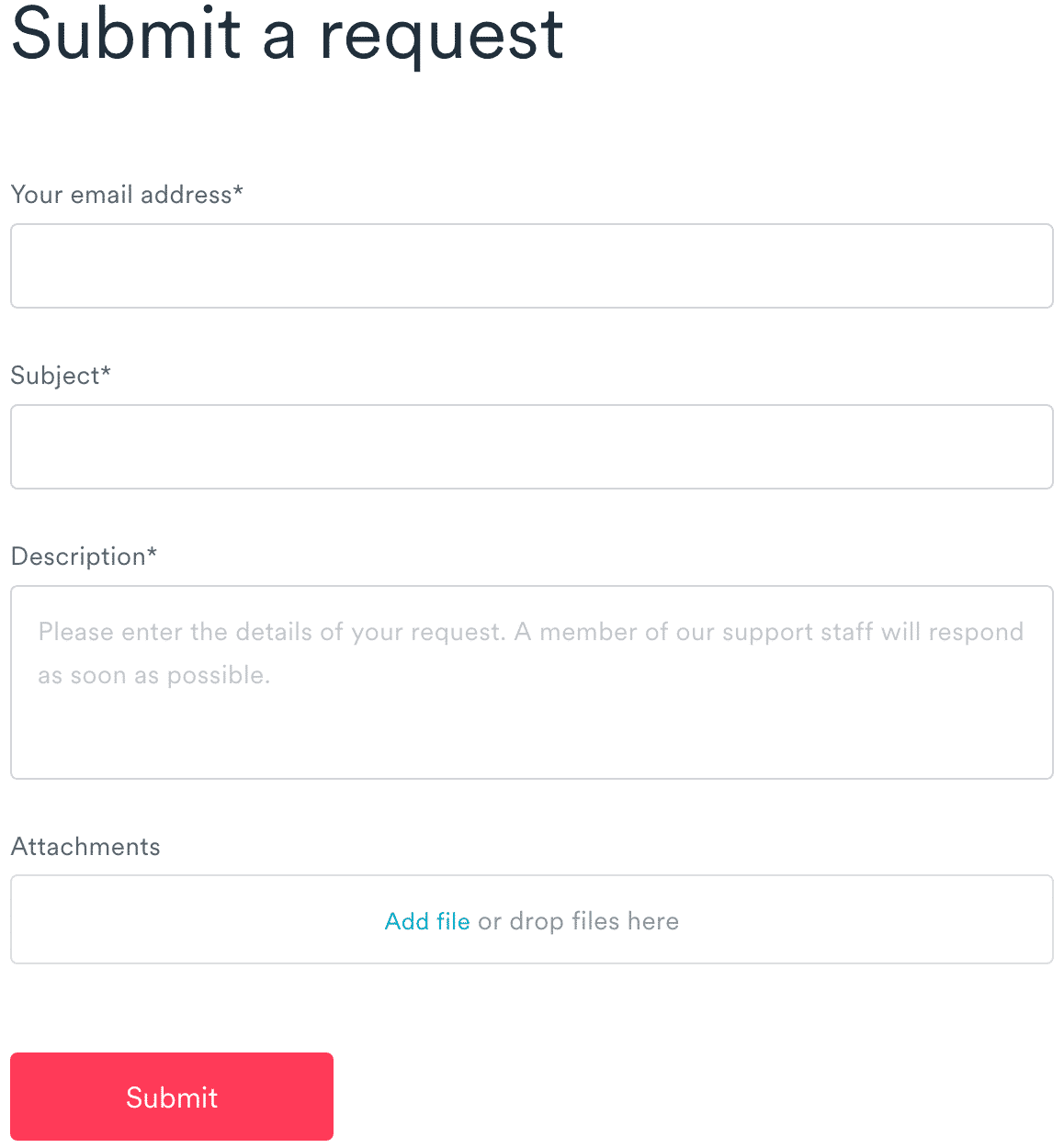 SurfShark's applications are fairly easy to use. I had to explore around a couple of times to find out how to activate some of the features, but once I got the hang of things, it was smooth sailing.
Let's explore some of the important interfaces in the desktop and mobile applications for Windows.
Desktop Application – Windows
The homepage is where you can quickly connect to the VPN. You can also easily navigate between four tabs: Favorite, Locations, Static IP, and MultiHop.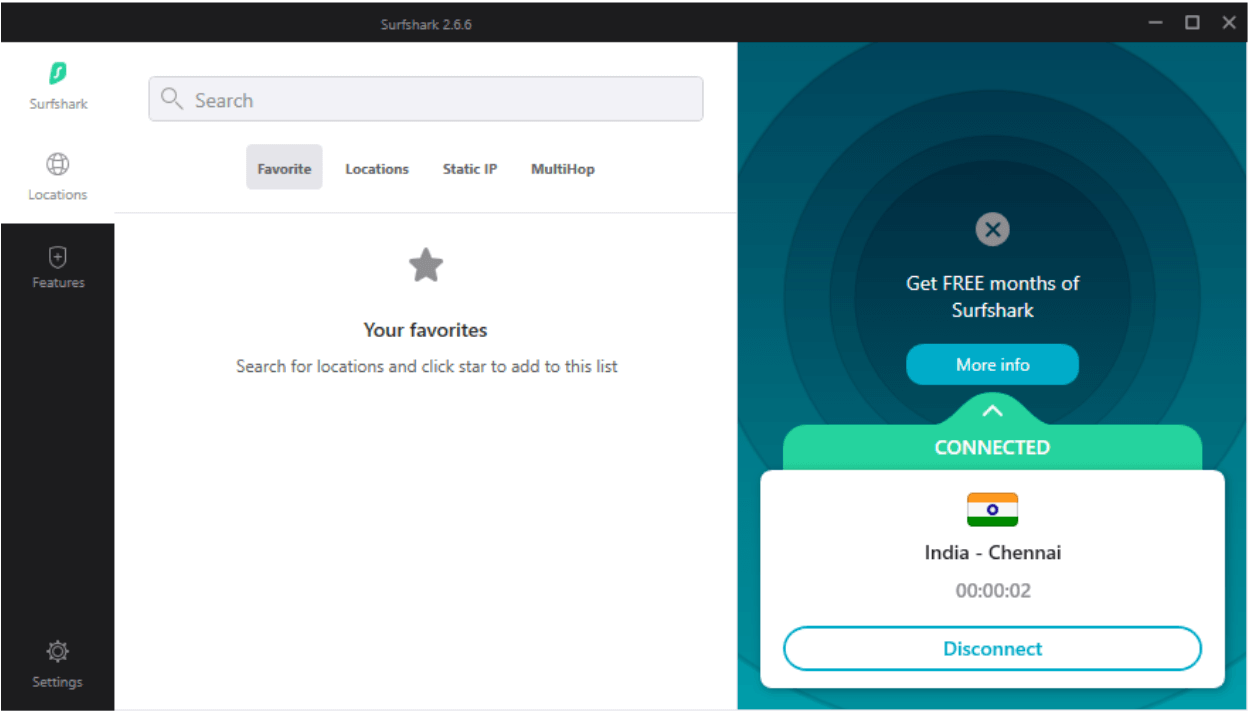 The countries under the Locations tab are listed alphabetically, though you'll have quick access to the fastest server and your nearest country.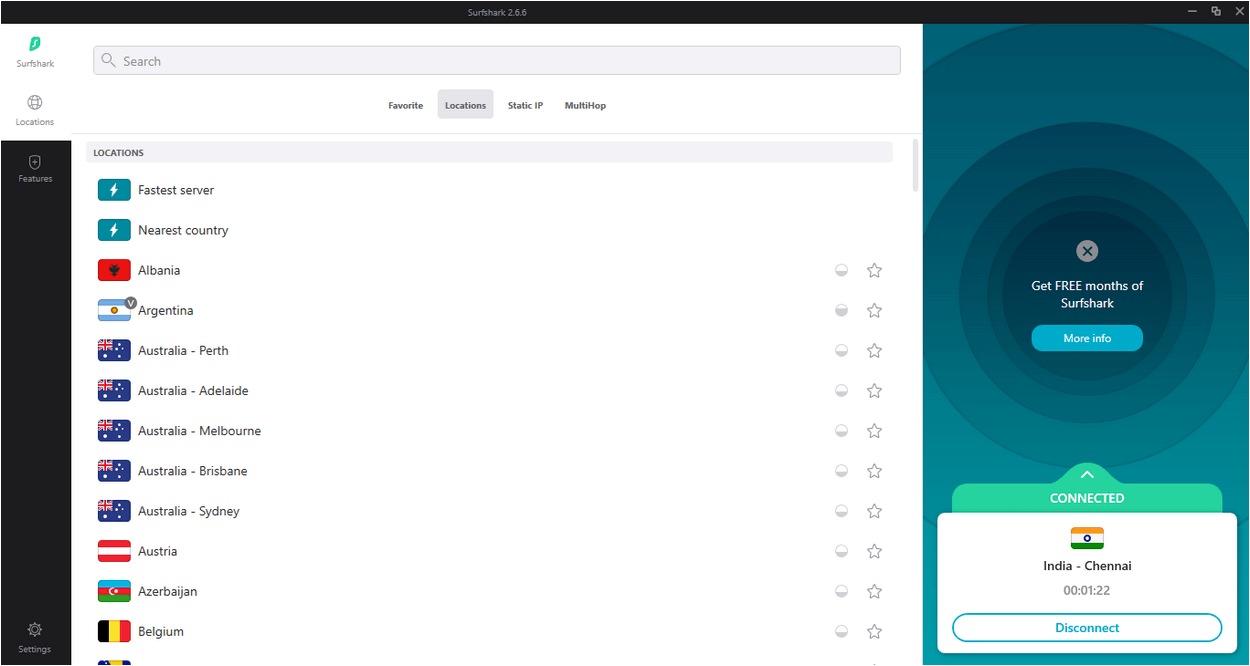 The Settings interface has options to log out, change your password, and alter your theme and language settings.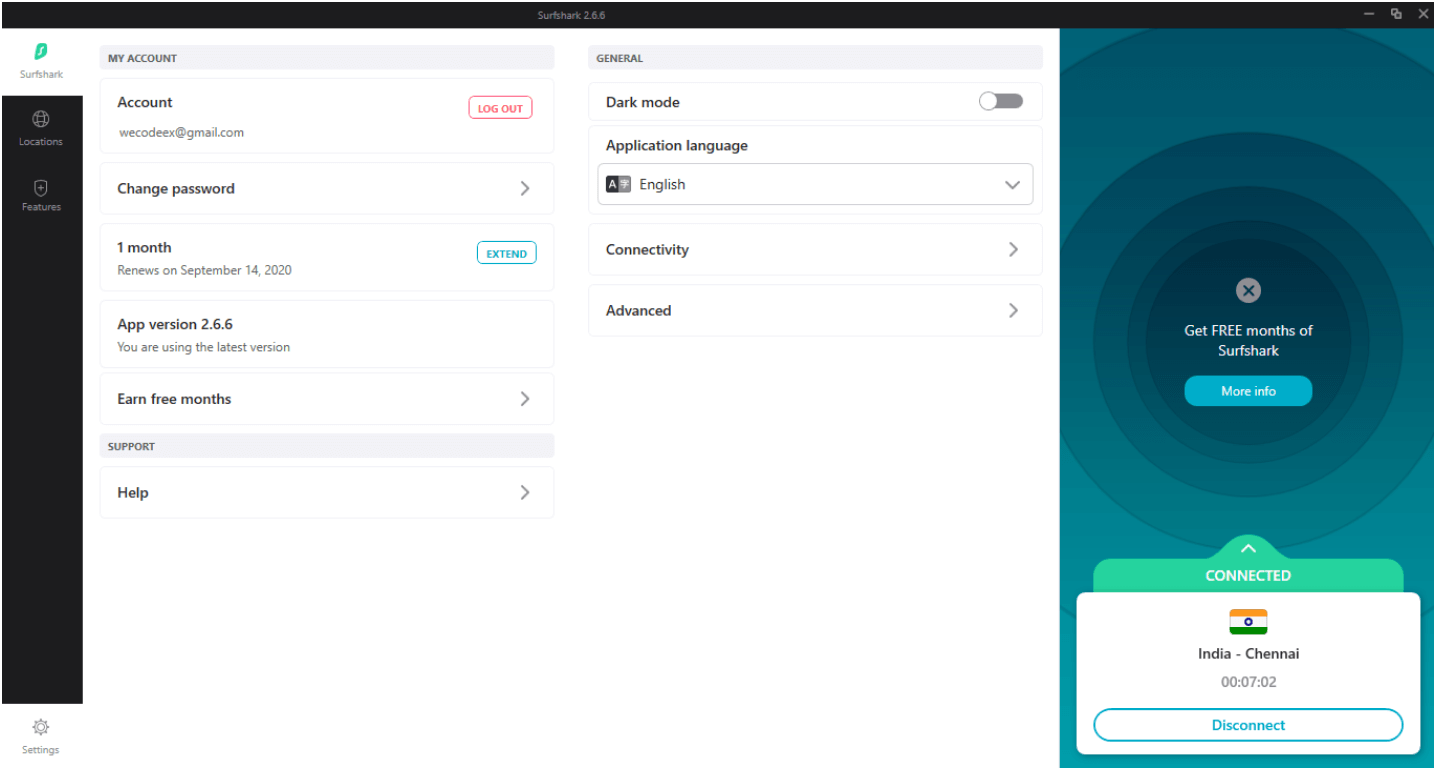 Mobile Application – Android
The initial interface allows you to connect to the VPN.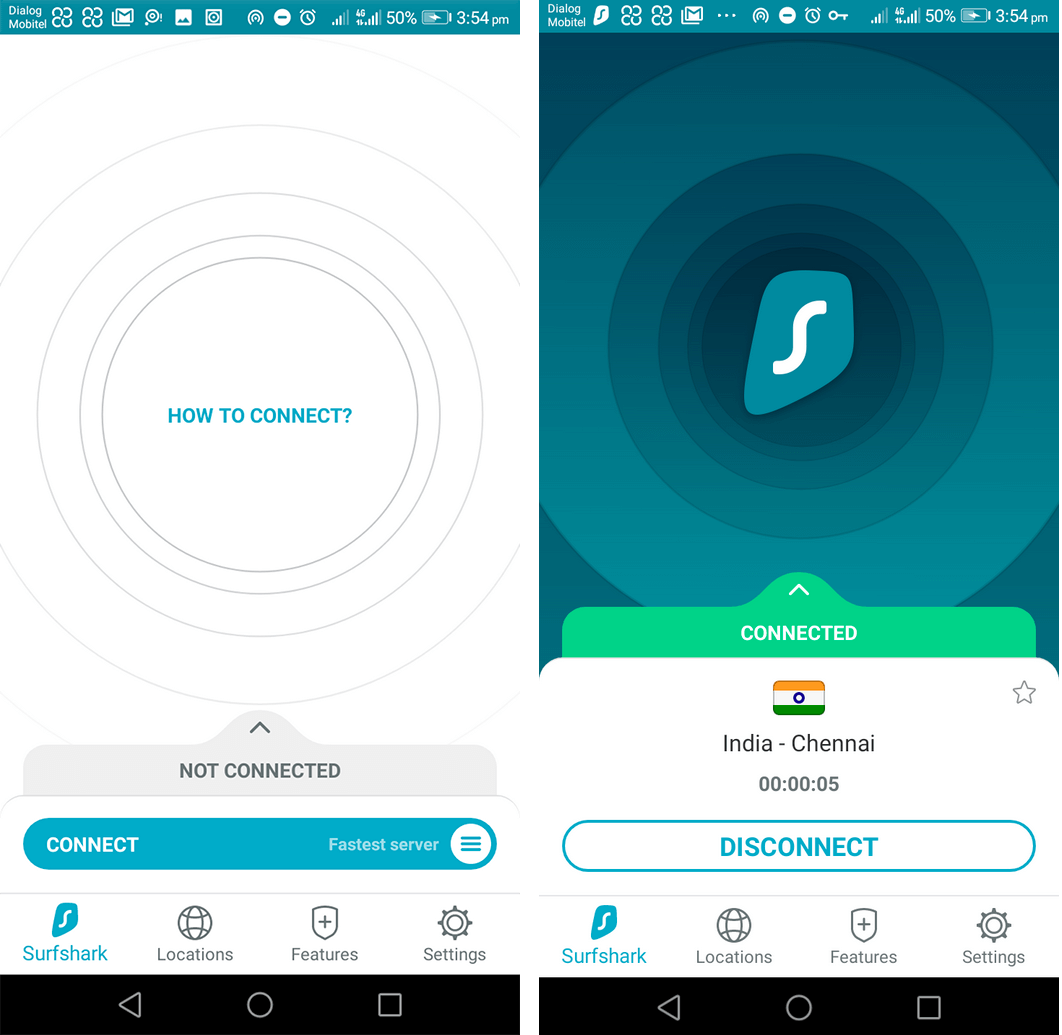 Surfshark is one of the best Android VPN providers around.
Locations and VPN Features interfaces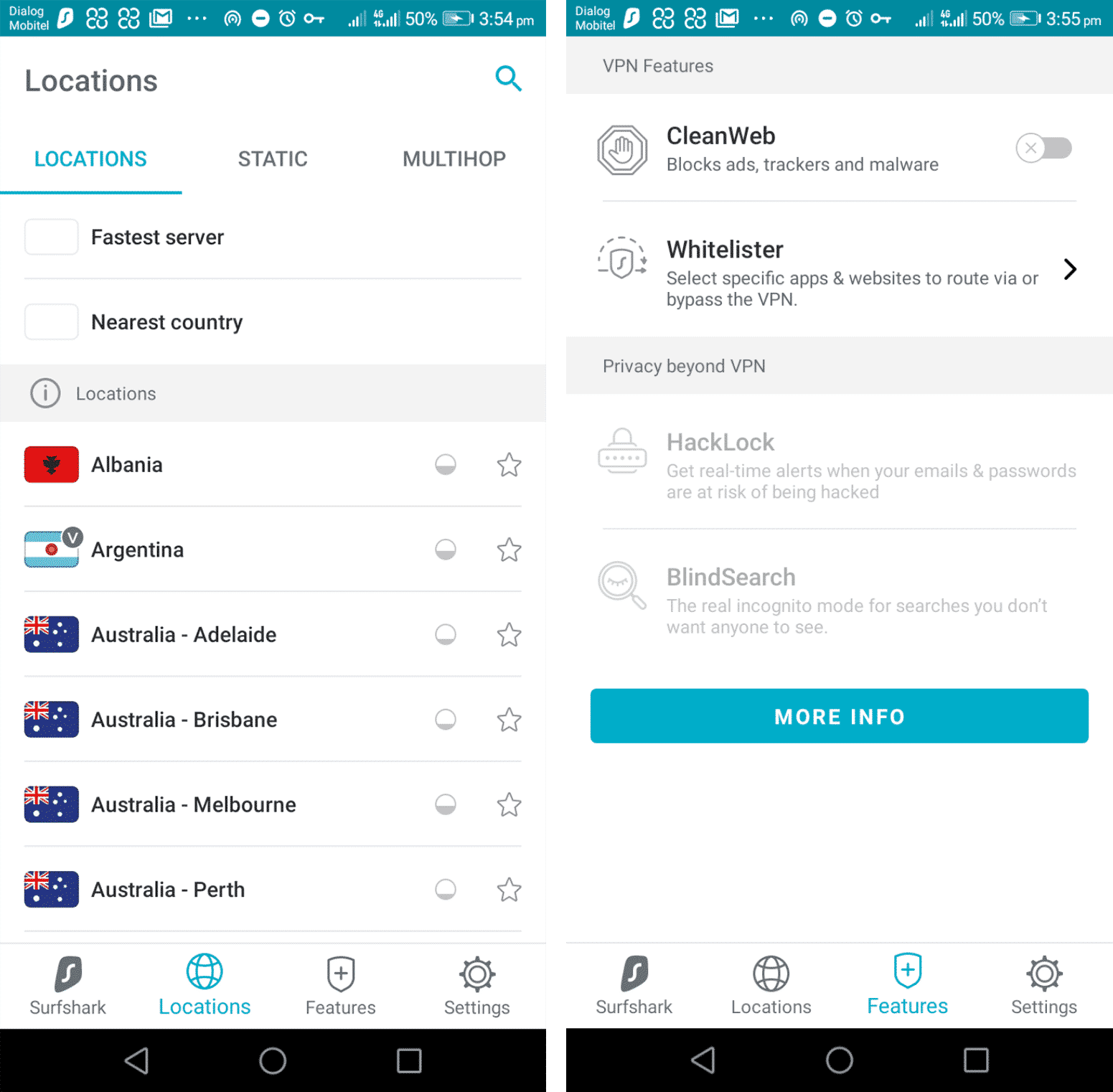 Settings and Advanced Settings interfaces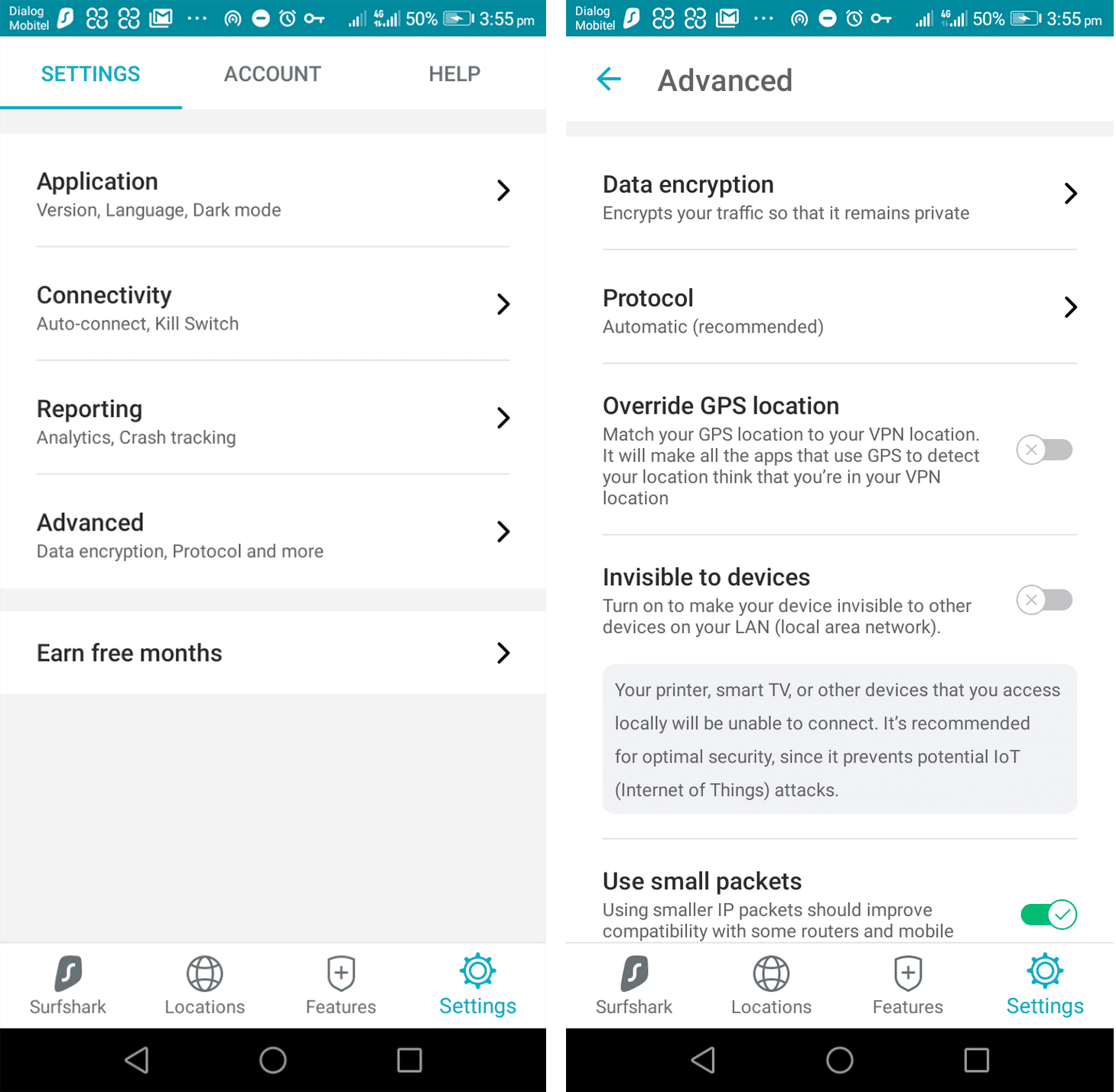 Connectivity Interface with Kill Switch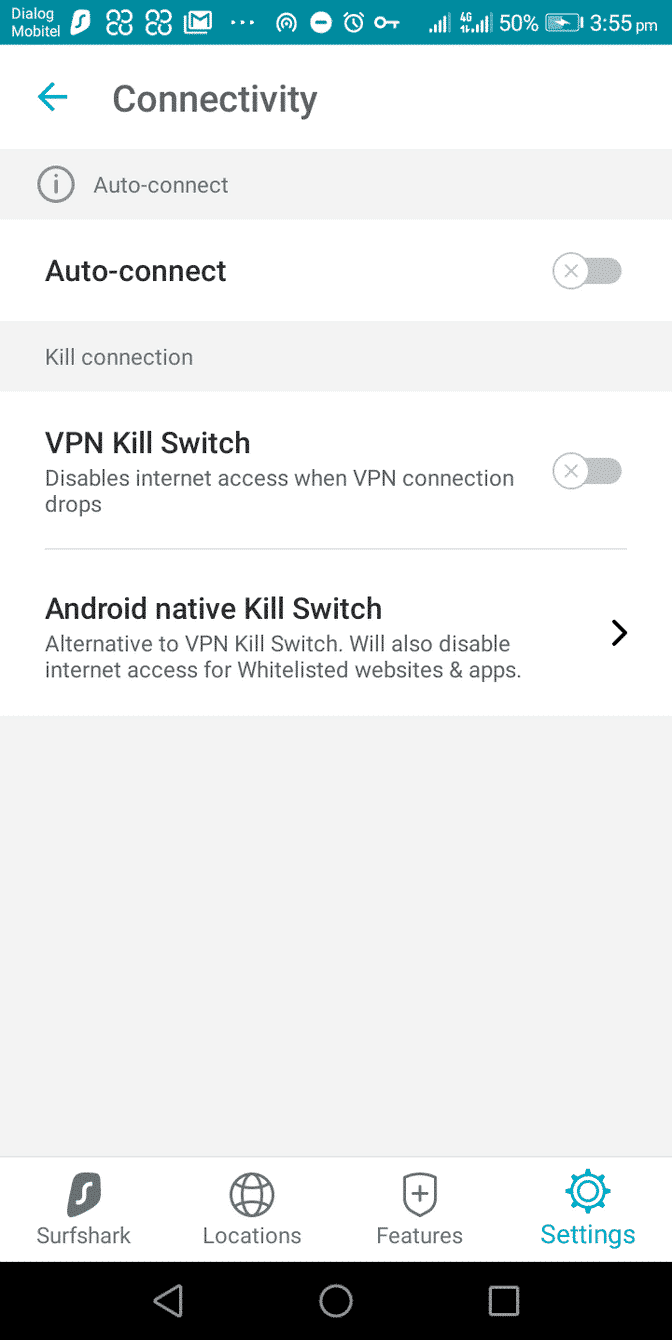 Getting Started
Are you settled on SurfShark? If so, you'll be happy to know that subscribing is a cinch. First, pick a plan based on your needs. As I mentioned, they offer the same features but differ only in duration.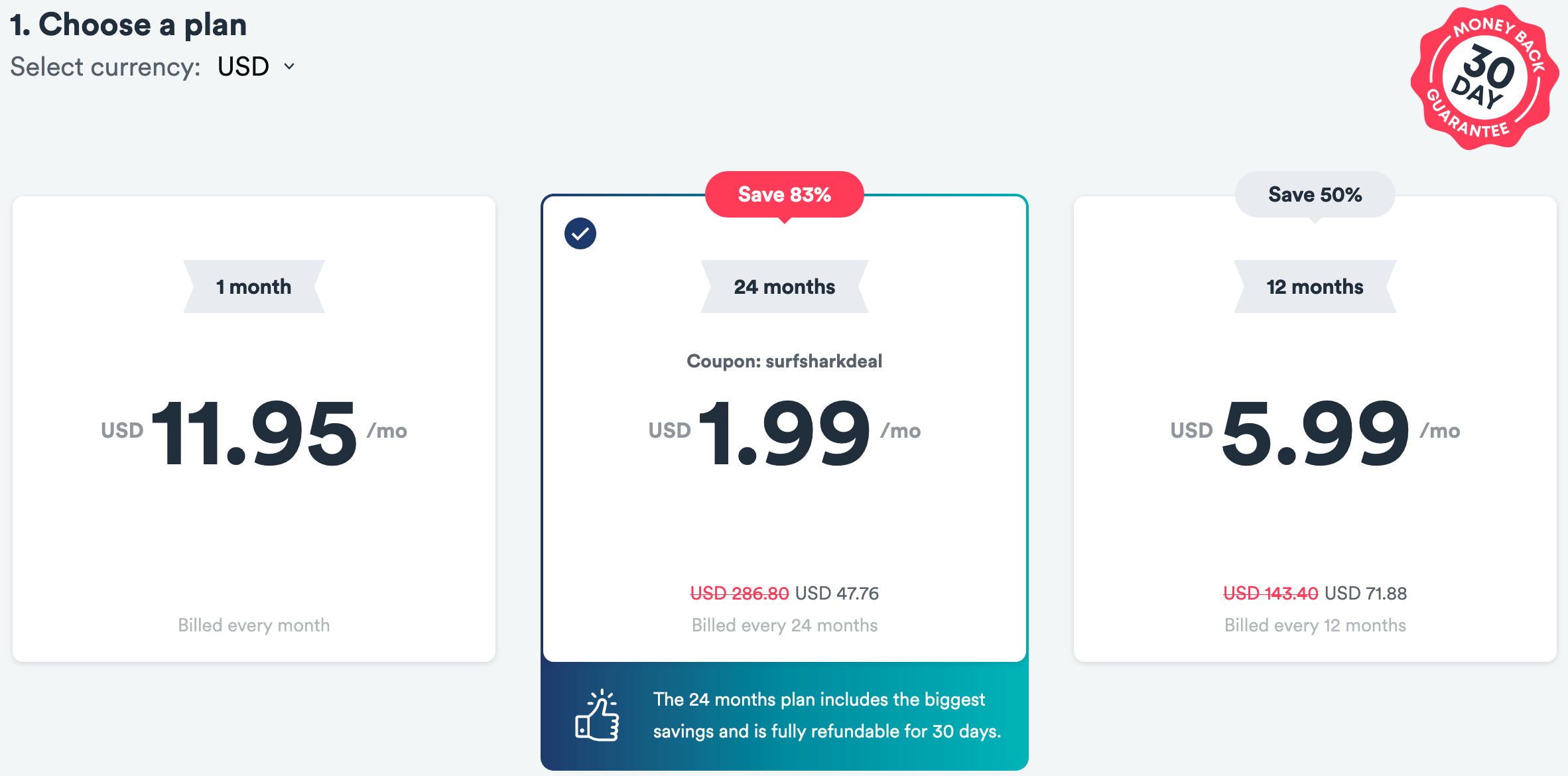 After you've selected your plan, submit your email to create an account. Don't worry; the email address won't be shared with other parties.

The next step is optional. If you like, you can activate additional features. For less than a buck a month, you can get HackLock (for immediate alerts if your email is hacked and released to other databases) and BlindSearch (for the ability to search privately with zero ads).

Not sure whether you need these features? Feel free to pass. You can always change your mind later.
Finally, choose your payment method. You've got quite a few options: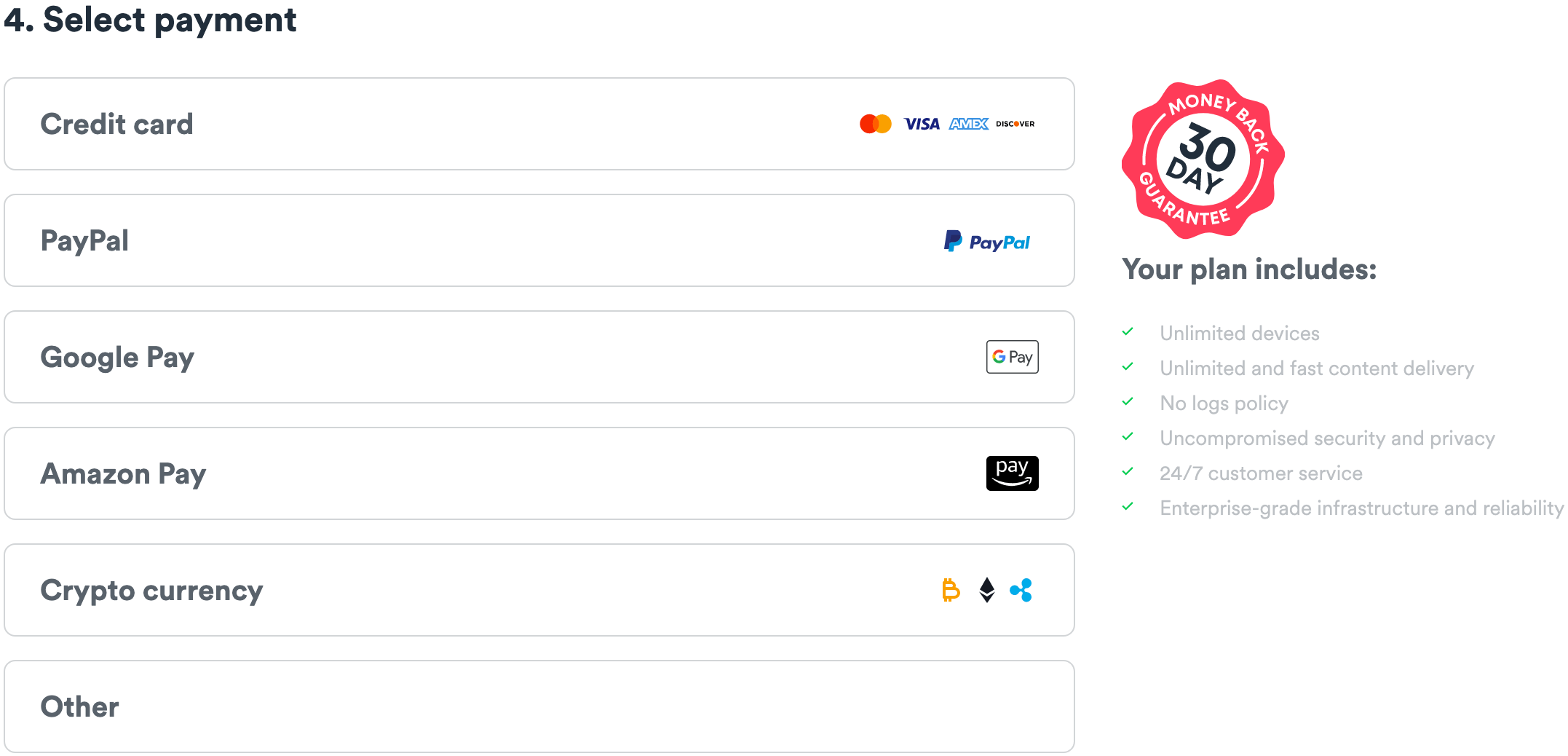 Get 7 days free trial from SurfShark.
Final Thoughts
SurfShark is promising. If you're looking for quality features at a low price, this VPN service is well worth considering.
Any comments or suggestions? Please leave them below!