Warning: Zero VPN seems to either be a botnet or is running malicious code on users' devices. You should not install Zero VPN on your device. You should instead choose a legitimate and proven VPN like ExpressVPN.
By forming a private network through a public internet connection, a Virtual Private Network (VPN) provides you online privacy to surf the internet. This is done by masking your IP address. Many VPN services are now available in the market for a price subscription and for free.
Zero VPN is a free online security provider available only for Android devices. s you the freedom to visit the websites and social media networks that are restricted and blocked in your region.
TNTAPP in the Netherlands developed the app. Zero VPN holds a lot of poor reviews compared to the rest of the market. The VPN is rated 4.1 stars. Let's discover the truth behind this by experiencing it on our own. Keep reading.
Pros:
No registration needed
No visible DNS leaks
Cons:
Privacy is at stake
No customer support
Many gray areas to doubt on
No updates over a year
No special features that stand out for the VIP version
Installation of Zero VPN
Zero VPN is compatible with Android, Windows, and Mac. It is disappointing that there is no IOS version available. Besides, you cannot install Zero VPN on Amazon Fire TV or a router.
When installing it on your phone, it is your usual routine to download it on Android. This is one of the application's ways of reducing the risk of forged apps downloaded from suspicious sites.
Yet, I could not find the VPN on my country's play store, So I had to download the .apk file separately to install it on my phone.
Once the app is downloaded, no registration or sign-up is required. You just have to select the server and a VPN port of your choice and tap "connect".
The signal strength of each server is shown beside. Even when it is set up, the app keeps showing a connection error when connected from my place in Sri Lanka.
Meanwhile, installing Zero VPN for your Windows or Mac PC requires some steps to be followed:
First, download an Android Emulator on the PC and install it following the guidelines. This can be either BlueStacks or Nox App Player. I prefer the BlueStacks emulator.
Then, download the apk file of Zero VPN for PC.
Right-click on the Zero VPN apk file you just downloaded and opened with the BlueStacks apk installer.
Now you can use Zero VPN on your PC.
Nevertheless, getting an emulator would consume too much space in your PC's RAM and slow down the whole process. All these efforts to use a simple VPN like this are pointless. Instead, there are many better Android VPNs out there with better features.
Zero VPN's speed can be described as average. We could see many users complain online about being unable to connect to the server from their location.
The average ping to a site is tested to be 210ms from various servers. This is enough to browse websites or play videos. However, users may suffer from lags when playing games and uploading large volumes of files.
For better speed, you must wait to try different servers depending on the number of users for the given server, as it changes often.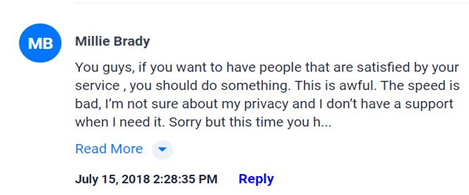 Higher the server locations, the faster the speed. But the number of users accessing the server also does matter.
In this case, Zero VPN holds only a limited number of servers compared to other VPNs. You can show your IP address from Paris to access French content if you are from the USA.
These servers are located across Canada, France, Germany, Netherlands, Japan, Singapore, South Korea, the United Kingdom, and the United States of America. Still, being a free app, it is justifiable to have only a handful of servers.
Nonetheless, One of the crucial disadvantages these server locations bring to Zero VPN is the geo-restrictions of streaming services like Amazon Prime, Netflix, and Hulu. Zero VPN is not your choice if you are after a VPN to stream Netflix uninterrupted.
If you're looking for a reliable VPN for streaming, check out our guide on the best Netflix VPNs to find a VPN that can bypass the geo-restrictions of these services and provide a smooth streaming experience.
This is because all those countries that Zero VPN serves have restricted copyright issues in some form or the other.
The only streaming service Zero VPN could bypass was Youtube, which is insignificant as even the simplest VPNs can crack it.
So, if you plan to bypass geo-filters, there are many better choices out there than Zero VPN.
VPNs are expected to be safe in encrypting the data while transferring online regarding encryption protocols. This is what a VPN is mainly sought for.
Even though Zero VPN does not want you to sign up with your information, the issue of privacy is a question mark.
First, during the installation process, the app requests access to many things like photos, media, and files. They even need the device history and call information! That is a red flag.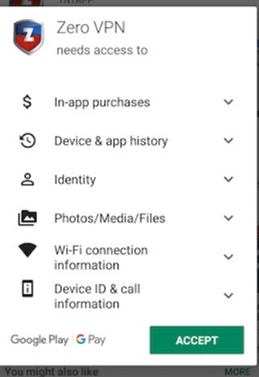 The VPN does not mention how the data transferred online is being managed. It is uncertain whether those data are collected, stockpiled, scrutinized, or sold for profit to marketing firms.
So, maybe this is how Zero VPN earns the revenue to continue with its services, and this is purely my speculation.
Moreover, VPNs that run under the Chinese government need to share information with their government disregarding the OpenVPN protocol.
Using Zero VPN in china raises the question of privacy among its users. But this doubt is not clarified by the company to date.
That being said, certain features that a standard VPN should have are unavailable on Zero VPN. These pieces of evidence further advocate the fact that your privacy is prone to risk by using this app.
No kill-switch: When your connection drops, your IP address, traffic, and information risk being exposed. This can lead to a copyright notice or being disconnected.
No multi-hop: A multi-hop VPN complements an additional layer of encryption and server to the regular VPN connection by linking two or more VPN servers. This will enhance security and privacy. When a multi-hop is absent, you are prone to be hacked.
No split tunneling: Split tunneling lets you send some of your internet traffic via an encrypted VPN while a tunnel routes the rest on an open network. This adds an extra security layer which is not available in zero VPN.
Positively speaking, we discovered no DNS leaks. This is encouraging to a certain extent. The application is also based on the OpenVPN protocol, known for its military-grade encryption in the community.
However, looking into both sides, we would say if you are looking for total anonymity and higher security while browsing or sharing online, Zero VPN is again not the option for you.
Data Logging Policy
Zero VPN assures that they do not log any important user data. The VIP package requires users to share their personal information to sign and verify the payments.
They state that this information is stored in their servers but not shared with other institutions.
However, the company's privacy policy states that they send data to third-party analytics for maintenance of the application and bug fixing.
They ensure that this does not include identifiable information about the particular user.
"Zero VPN does not collect, log, store, or share any identifiable personal information of Users. Zero VPN may collect the times when connected to our Service and the total amount of data transferred per day. Zero VPN stores this to deliver the best possible network experience to you."
Zero VPN prioritizes providing "zero" difficulty for the users.
Proving this, the VPN has a simple interface without many complications. The home page shows a map with active servers for the moment and your location and loads a set of VPN-supported versions of Chrome, Facebook, YouTube, Instagram, Pandora, etc. You do not have to be 'techy' to handle the application.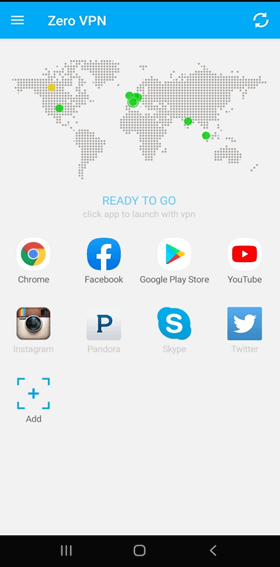 But let's face it. This UI design is a bit outdated compared to today's mobile app trend.
No registration or login is required. Therefore, you can start using the application as soon as you download it without exposing your details like your email id.
Another fact is the limitation on the multi-platform support that Zero VPN has, which further limits the number of users who at least want to try switching to it.
As mentioned above, the app is free of charge, promising unlimited bandwidth, which is limited. They also pop up ads frequently.
Even so, Zero VPN sneakily provides an in-app purchase that goes as VIP. This VIP package comes with unlimited session time, access to VIP servers, and zero ads which are nothing to be said as "special" to be delivered over a VIP package.
The price range is $2.99 per month and has bulk plans for three, six, and twelve months. It provides you with credit and debit card options for payment.
Moreover, Zero VPN does not guarantee money back. There aren't any options or policies available to request a refund.
Customer support is important when issues with connecting to a specific server, configuring the VPN, and even changing the security protocol arise.
Looking into the official website of zero VPN misses many details that a typical VPN site should have. Their website standard can understand the level and the quality of the VPN services.
There are no FAQs on the VPN's website. It also does not have live chat support. The help section on the menu has only four articles about setting up the application. Even the questions and problems in the Google Play Store are left unanswered.
Zero VPN has an email to reach out to if any support is required. Users comment that such email complaints receive no response. Due to this, the user support service of Zero VPN is rated 1 out of 10.
Bottom Line
Looking at all the above-discussed points, it is clear that Zero VPN holds more red flags than green ones. Though the app is free, putting your privacy at risk is not advisable. The geo-restriction issue on Netflix, poor customer support, and limited platform support make things even harder. Summarizing everything in a glance, Zero VPN wraps up the below features.
With my experience in using Zero VPN, I would say that the particular application leaves you with many doubts and fears. The app has so many areas it needs to improve on.
Zero VPN can be chosen if you are for some light entertainment and casual browsing without wondering about IP leaks and restrictions. But still, we would recommend you go for a more reliable VPN, as there are many other options widely available for free or with a minimal subscription fee. So why not them instead of the Zero VPN?