ExpressVPN: Unmatched Speeds for a Smooth Warzone Experience
pros
Exceptional speeds for lag-free Warzone gameplay

Extensive server network for optimal connections

Strong security features to protect your data

Split tunneling for prioritizing gaming traffic

24/7 customer support and 30-day money-back guarantee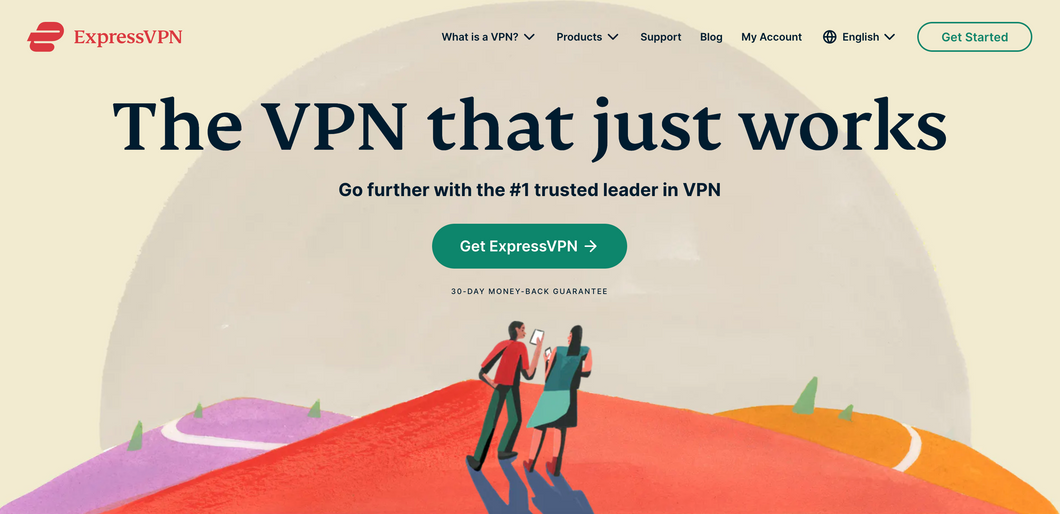 Blazing-Fast Connections
After putting ExpressVPN to the test, I discovered its lightning-fast speeds significantly improved my Call of Duty Warzone gaming sessions. It's the best Warzone VPN around according to my testing.
With over 3,000 servers in 94 countries, ExpressVPN provides low-latency connections no matter where you are, effectively reducing lag and ensuring a smoother gameplay experience.
Top-Notch Security Features
ExpressVPN's robust security features, such as AES 256-bit encryption and a strict no-logs policy, guarantee that your gaming sessions remain private and secure.
Additionally, the automatic kill switch, called Network Lock, ensures that your data remains protected even if the connection drops unexpectedly.
Optimized for Gaming
ExpressVPN's excellent performance and fast speeds are ideal for gaming, and my findings show that it can handle data-intensive tasks like streaming and downloading with ease.
The VPN's split tunneling feature allows you to choose which apps utilize the VPN connection, letting you prioritize Warzone traffic for a better gaming experience.
In summary, ExpressVPN's high-speed connections, reliable performance, and solid security features make it one of the best VPNs for Call of Duty Warzone players who want to enhance their gaming experience.
Private Internet Access (PIA): Reliable VPN with Dedicated Gaming Servers for Warzone
pros
Massive network of servers to ensure optimal connections

Dedicated gaming optimized servers to enhance your Warzone gameplay

Advanced security features to safeguard your online activities

Ability to bypass VPN blocks with obfuscated servers

24/7 customer support with a 30-day money-back guarantee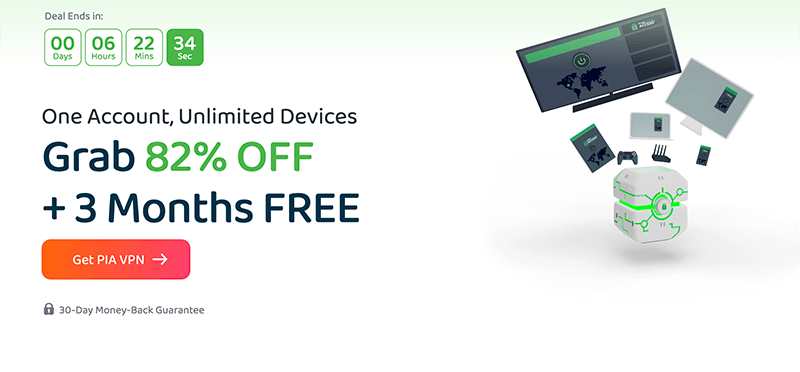 Strong, Stable Connections
Private Internet Access earns its reputation as a reliable VPN by providing top-tier speeds that dramatically enhance your Call of Duty Warzone gaming experience.
Its performance in testing has proven it to be one of the best Warzone VPNs available.
With a large network of servers of over 35,000 VPN servers across 78 VPN server locations, PIA guarantees low-latency connections wherever you may be.
This expansive network successfully reduces lag, providing a smoother, more satisfying gameplay experience.
Advanced Security Measures
Private Internet Access prioritizes your security while you play Warzone, utilizing strong AES 256-bit encryption and adhering to a stringent no-logs policy to ensure your lag free gaming sessions remain private and secure.
A unique feature of PIA is its robust DDoS protection, which provides an extra layer of safety from DDoS attacks often targeted at gamers.
This ensures uninterrupted gaming sessions, even when facing the most determined online threats.
Tailored for Gaming
PIA goes above and beyond for gamers with its dedicated gaming servers. These specialized servers optimize your internet connection for gaming, allowing you to access bot lobbies in Warzone with ease and play without any lag.
An added benefit is PIA's split tunneling feature, which lets you select which applications use the VPN connection, allowing you to prioritize Warzone traffic for a more efficient gaming experience.
Furthermore, unlike a free VPN, PIA's obfuscated servers and Smart DNS feature can bypass VPN blocks, making it easier to play Warzone in regions where access might be restricted or monitored.
To summarize, Private Internet Access's robust connections, dedicated gaming servers, advanced security measures, and ability to access Warzone bot lobbies make it an excellent choice for Warzone players looking to elevate their gaming experience.
NordVPN: Impenetrable Security and Vast Network for Call of Duty Warzone Gamers
pros
Robust security features, including double VPN and CyberSec

Wide server coverage for bypassing geo-restrictions

Fast speeds and stable connections for smooth gaming

Quick Connect feature for optimal server selection

24/7 customer support and 30-day money-back guarantee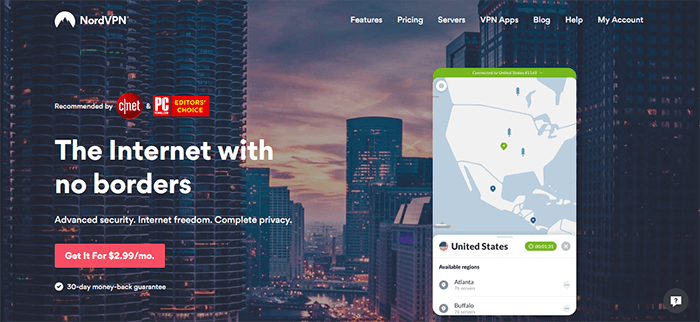 Advanced Security Features with Warzone VPN in Mind
NordVPN is a leading choice among gamers, particularly those who play Warzone, thanks to its robust security features and specialized Warzone VPN capabilities.
Upon testing this VPN, I was particularly impressed by the inclusion of double VPN and CyberSec technology.
The double VPN functionality adds an extra layer of security by routing your traffic through two servers for military-grade encryption.
This feature is crucial for Warzone players as it safeguards against DDoS attacks, which are a common concern in the gaming world.
Additionally, NordVPN's CyberSec technology provides a safer gaming environment by actively blocking ads and potentially malicious websites.
Extensive Server Coverage for Versatile Gaming and Access to Warzone Bot Lobbies
During my trial of NordVPN, I was amazed by the diversity of its servers. With over 5,400 servers across 59 countries, it provides the large server network necessary for bypassing geo-restrictions, enabling access to various Call of Duty Warzone servers worldwide.
This extensive coverage means you can connect to the optimal server for your gaming needs, potentially allowing you to play Warzone in less competitive bot lobbies.
Fast Speeds and Reliable Connections for Smooth Warzone Gameplay
NordVPN stands out for its fast speeds and reliable connections, both crucial components for an optimized gaming experience. These features significantly reduce lag, ensuring smooth and uninterrupted gameplay when you play Warzone.
Moreover, NordVPN offers the Quick Connect feature, which automatically selects the best server based on your location and the server load, minimizing latency and maximizing your Warzone performance.
Additional Features: OpenVPN, Automatic Kill Switch, and Router Support
NordVPN also stands out for its support of the OpenVPN, the automatic kill switch, and router support.
The OpenVPN protocol offers an ideal balance of speed and security, while the automatic kill switch ensures that your data remains protected even if your VPN drops unexpectedly.
Router support means that you can install NordVPN on your router, allowing all devices connected to your network to benefit from the VPN.
This is particularly useful for consoles, which often don't directly support VPNs.
In conclusion, with its strong security features, extensive server coverage, fast connections, and advanced capabilities like DDoS protection, OpenVPN protocol, and router support, NordVPN is an exceptional choice for Call of Duty Warzone players looking to enhance their gaming experience securely.
Surfshark: Affordable, High-Quality Security for Warzone Gamers
pros
Affordable pricing with unlimited device connections

CleanWeb feature for ad-free and malware-free gaming

Reliable speeds for lag-free gameplay

Strong security features to protect your privacy

24/7 customer support and a 30-day money-back guarantee
Cons
Speeds may vary across servers

Limited server coverage compared to some competitors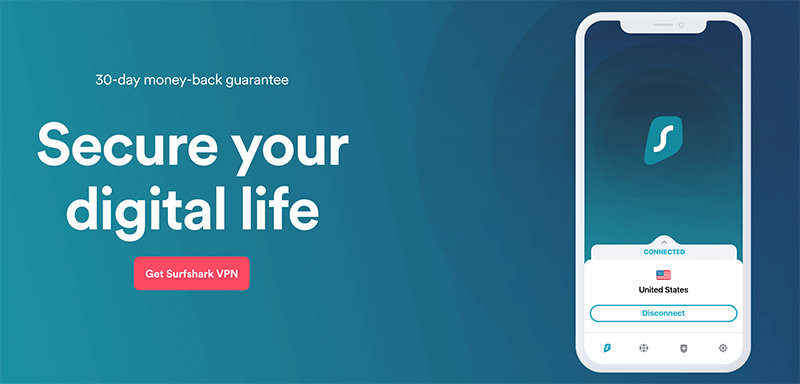 Affordable VPN Option for Gamers Accessing Bot Lobbies
Surfshark sets itself apart from other good VPN providers with its economical pricing and unlimited device connections.
This means you can secure all your gaming devices, including those you use for playing Warzone, without stretching your budget.
It allows you to find easy bot lobbies without spending a fortune, making it an attractive option for gamers seeking a cost-effective Warzone VPN solution.
CleanWeb Feature for Smooth Gameplay and Easy Bot Lobbies
When I tried out Surfshark, I was pleasantly surprised to find that its CleanWeb feature efficiently blocks ads and malware.
This ensures a smooth and uninterrupted Call of Duty Warzone experience, giving you the best possible conditions for dominating bot lobbies.
By eliminating potential distractions and threats, Surfshark lets you focus solely on playing Warzone, increasing your chances of winning against both human opponents and bots.
Reliable Speeds, Strong Security, and Large Server Network
My hands-on experience showed me that Surfshark not only offers reliable and superfast speeds but also provides a large server network and robust security features.
This includes AES-256 encryption, a no-logs policy, and a kill switch.
The AES-256 encryption means that your VPN encrypts all data that passes between your device and your Internet Service Provider, securing your connection within a VPN tunnel and protecting your data from prying eyes.
The no-logs policy ensures your online activities aren't stored, while the kill switch provides an extra layer of security by disconnecting your device from the internet if your VPN connection is lost.
Specialty Servers and Performance
Surfshark offers a variety of gaming servers, making it one of the best VPNs for Warzone.
These servers are designed to cater to specific needs, such as accessing easy bot lobbies or ensuring superfast speeds for smooth gaming.
This versatility significantly enhances your gaming experience, providing you with options to customize your gaming sessions according to your preferences.
In conclusion, Surfshark presents a budget-friendly Warzone VPN solution that doesn't compromise on performance.
Offering reliable speeds, robust security, a large server network, and specialty servers, it provides Warzone players with an exceptional value-for-money choice.
Whether you want to enjoy a relaxing game against bots or challenge yourself against other players, Surfshark's Virtual Private Network is the tool to help you achieve your gaming goals.
ProtonVPN: Prioritizing Privacy for Call of Duty Warzone Gamers
pros
Strong focus on privacy and security

Secure Core technology for enhanced privacy

Smooth connections for a smooth gaming experience

No-logs policy to protect your anonymity

Supports multiple platforms and devices
Cons
Not the fastest VPN available

Limited server coverage compared to some competitors

Free plan doesn't offer the best performance for gaming
Unwavering Commitment to Privacy
ProtonVPN's dedication to privacy ensures that your Warzone sessions remain anonymous, letting you play with peace of mind.
As a privacy-focused VPN, ProtonVPN is an ideal choice for gamers who prioritize security and anonymity.
Secure Core Technology for Enhanced Privacy
When I put ProtonVPN to the test, I found its Secure Core technology particularly impressive.
This feature routes your traffic through multiple servers, adding an extra layer of privacy to your gaming experience and making it even more difficult for third parties to track you.
Decent Speeds and Reliable Connections
After trying out ProtonVPN, I found that it offers decent speeds and stable connections, ensuring a smooth Warzone gaming experience.
While it may not be the fastest or one of the best Warzone VPN services on the market, it provides adequate performance for gamers who prioritize privacy.
In summary, ProtonVPN is a solid choice for Warzone gamers who prioritize privacy and security.
With features like Secure Core technology and a strong commitment to user privacy, ProtonVPN provides a reliable gaming experience for those who value anonymity.
CyberGhost: A User-Friendly and Adaptable VPN for Warzone Players
pros
User-friendly interface, ideal for VPN newcomers

Extensive network for optimal connections

Super fast speeds and good connections for a smooth gaming experience

Strong security features to protect your privacy

Ability to bypass geo-restrictions for versatile gaming
Cons
Inconsistent speeds on some servers

May not let you access streaming platforms

Shorter refund window compared to competitors
Effortless Navigation and Massive Server Network
CyberGhost's user-friendly interface simplifies the process of finding low-latency connections for Warzone, making it a breeze even for VPN beginners.
Its extensive serverlist ensures that you can find a suitable connection, reducing lag and enhancing your gaming experience.
High-Speed Connections for Lag-Free Gaming
When I tried CyberGhost, I discovered that its fast speeds and stable connections effectively minimized lag, providing a smooth and enjoyable Warzone experience.
The ability to maintain high-performance connections is crucial for online gaming, and CyberGhost delivers on that front. This will give you a competitive edge.
Robust Security Features and Geo-Restriction Bypassing
My investigation discovered that CyberGhost's strong security features, including AES 256-bit encryption and a strict no-logs policy, help keep your gaming sessions private and secure.
Additionally, its ability to bypass geo-restrictions means you can access Warzone servers in different regions, giving you a versatile gaming experience.
In conclusion, CyberGhost is a user-friendly and adaptable VPN option for Warzone players.
Its combination of a simple interface, extensive network, fast speeds, and strong security features makes it an excellent choice for enhancing your gaming experience and protecting your privacy.
How I Ranked the Best Warzone VPNs: A Comprehensive Evaluation
To ensure the most accurate and helpful ranking of the best VPNs for Warzone, I carried out an in-depth assessment of each VPN's capabilities and features.
Here's a closer look at the criteria used to create this list:
Speed and Performance
A key factor for any gaming VPN is its speed and performance. I conducted extensive speed tests on each VPN, examining their impact on download and upload speeds, as well as low ping times.
The best VPNs for Warzone should provide fast and stable connections to minimize lag and maintain a smooth gaming experience.
Servers and Geo-Restriction Bypassing
A VPN's server infrastructure plays a crucial role in accessing Warzone servers from different regions and bypassing geo-restrictions.
My evaluation included analyzing each VPN's server coverage and its ability to bypass regional restrictions, allowing you to expand your gaming horizons.
Security and Privacy
Maintaining your privacy and security while playing Warzone is essential.
My assessment of each VPN's security features included examining their VPN encryption standards, no-logs policy, and additional privacy tools like kill switches and DNS leak protection.
Ease of Use and Customer Support
A VPN should be user-friendly and easy to navigate, even for first-time users. I assessed each VPN's interface, setup process, and compatibility with various devices.
Additionally, I evaluated the quality of customer support, responsiveness, and the availability of helpful resources for troubleshooting.
Pricing and Value for Money
Lastly, I took into consideration the pricing and overall value each VPN offers. This included comparing subscription costs, free trial options, and money-back guarantees, ensuring that you get the best bang for your buck.
By taking into account my firsthand experience, conducting rigorous tests, and gathering feedback from fellow Warzone gamers, I was able to create this comprehensive and reliable ranking of the top VPNs for Warzone, helping you make an informed decision and elevate your gaming experience.
The Benefits of Using a VPN for Warzone: A Game Changer
There are numerous reasons to use a VPN while playing Warzone, and here are some of the key benefits that can elevate your gaming experience:
Reducing Lag and Improving Connection Stability
Lag can be a gamer's worst enemy, especially in fast-paced games like Warzone. A VPN can help reduce lag by connecting you to a server that's closer to the game server, minimizing latency, and providing a more stable connection.
This results in smoother gameplay and quicker response times, giving you the edge in intense battles.
Bypassing Geo-Restrictions and Accessing Different Regions
Some Warzone content, such as updates, promotions, or in-game events, might be limited to specific regions.
A VPN allows you to bypass these geo-restrictions by connecting to a server in the desired region, giving you access to exclusive content and an expanded gaming experience.
Finding Easier Lobbies and Improved Matchmaking
Using a VPN to connect to gaming servers in different regions can potentially help you find easier lobbies and improve matchmaking.
By accessing less competitive regions or playing during off-peak hours, you can increase your chances of facing less skilled opponents and enjoy a more relaxed gaming environment.
Do Free VPNs Work with Warzone?
While some free VPNs may work with Warzone, they often come with limitations, such as slower speeds, limited server options, and weaker security features.
I recommend investing in a reliable, paid VPN for the best Warzone experience.
Understanding bot lobbies and SBMM in the context of Warzone can help you improve your gaming experience and potentially increase your chances of winning matches.
A free VPN is not recommended in general, not just as a Warzone VPN, because it can compromise your security. All premium VPN providers listed on this page have been personally vetted by me for privacy and security.
Bot Lobbies and SBMM in Warzone: A Closer Look
Bot Lobbies Explained
Bot lobbies in Warzone are matches where a significant number of players are either less skilled or AI-controlled.
These lobbies are generally easier to win, as the opponents are not as competitive, allowing you to rack up more kills and victories.
However, it's important to note that Warzone doesn't have a dedicated mode with AI-controlled bots, and most bot lobbies consist of less-skilled human players.
SBMM (Skill-Based Matchmaking) Uncovered
Skill-Based Matchmaking (SBMM) is a system employed by Warzone that aims to create balanced matches by pairing players with similar skill levels.
This ensures that the game remains challenging and fair for everyone, as you're more likely to face opponents who have comparable skill and experience.
How a Quality VPN Can Help You Find Easier Lobbies
A VPN can potentially help you find easier lobbies in Warzone by connecting you to servers in regions with lower player density or skill levels.
When you connect to a VPN server in a different region, the game's matchmaking system may match you with players from that region, which could lead to less competitive lobbies.
This can be particularly useful if you're playing during off-peak hours in the region you're connecting to, as the player pool may be smaller and less skilled.
Keep in mind, however, that using a VPN to manipulate the matchmaking system might be against the game's terms of service, and it's essential to be aware of any potential risks or consequences associated with this practice.
In conclusion, while bot lobbies and SBMM are essential aspects of the Warzone gaming experience, using a VPN can potentially help you find easier lobbies and improve your overall gaming enjoyment.
Just be sure to understand the potential risks and play responsibly.
How to Install a Warzone VPN
Accessing Call of Duty Warzone using a VPN might initially seem a daunting task due to the plethora of technical terms involved.
However, using a Warzone VPN is relatively straightforward. This guide aims to demystify the process and help you install the best Warzone VPNs on your device for an enhanced gaming experience.
Installing a VPN on your Windows PC
If you're using a Windows PC to play Call of Duty Warzone, you have a straightforward path ahead.
The installation process is simple, and soon you will be ready to join bot lobbies. Here are the steps to install a VPN for Warzone on your Windows PC:
Subscribe to a great Warzone VPN. We recommend NordVPN due to its high speeds and expansive server network. This ensures a steady and robust internet connection, enhancing your gaming experience.
Download the VPN application from the provider's website. The download button is usually prominently placed on a thank you page or even the home page.
Locate and double-click the .exe file you just downloaded. It is typically found in the default "Downloads" folder of your PC.
Follow the installation prompts. You will be provided with explanatory instructions each time you need to click "Next" or "Finish."
Open the VPN application. If you aim to play Warzone in less crowded lobbies, select a country where the game isn't excessively popular.
Click "Connect."
Start playing Warzone and enjoy games without any risk.
Remember, using a VPN not only offers you access to gaming-optimized servers but also enhances your privacy and security while playing.
How to Install a Call of Duty Warzone VPN on Consoles
The process of VPN installation on gaming consoles is a tad more complicated than on a PC. Unless your PlayStation or Xbox is jailbroken, you can't directly install a VPN application on them.
To circumvent this, you either install the VPN on your router (a challenging process) or transform another device into a router (the more comfortable way).
Here are the steps to turn your PC into a virtual router for your console:
Connect your PC to the internet using a LAN cable.
Establish a connection with your preferred VPN. Once again, NordVPN comes highly recommended due to its reliability and speed.
Open the Command Prompt application on your PC. You can easily access it by typing "cmd" in the search bar.
Copy the following line: netsh wlan set hostednetwork mode=allow ssid=XXXXX key=YYYY. Replace "XXXXX" with your desired network name, and "YYYY" with your chosen password.
Paste this command into the Command Prompt window and hit Enter. This action sets up your new connection.
Now, type "netsh wlan start hostednetwork" in the Command Prompt window and press Enter.
Connect your console to this newly created network.
In conclusion, while the process of setting up an excellent Warzone VPN can initially seem complicated, it's fairly manageable once broken down into steps.
Enjoy a smoother, lag-free, and more secure Call of Duty Warzone experience with your VPN provider.
Discovering the Best VPN Locations for Warzone
To enhance your Warzone gaming experience, finding the optimal VPN server location is crucial.
The best VPN locations for Warzone will depend on your specific needs, including reducing latency, bypassing geo-restrictions, or locating easier lobbies.
Here's a list of recommended VPN locations for Warzone, based on factors like lower latency and potential for easier lobbies.
Keep in mind that this list is not exhaustive, and the best VPN location for you may vary depending on your specific needs and location.
United States (East Coast): Selecting an East Coast server, such as New York or Washington D.C., can provide lower latency for players located in North America, South America, or Europe.
United Kingdom: London servers can be a good choice for European players, offering relatively lower latency while accessing European Warzone servers.
Germany: Frankfurt is another popular choice for European players, providing a central location with potentially good connectivity.
Singapore: For players in Asia or Oceania, connecting to a Singapore server can help reduce latency while accessing Asian Warzone servers.
Australia: Sydney servers can be a good option for players in Oceania or Southeast Asia who want to play on Australian Warzone servers.
Brazil: São Paulo servers can be a great choice for South American players looking to minimize latency while playing on local servers.
Canada: Toronto or Montreal servers can offer low-latency connections for players located in North America.
Remember that the best Warzone VPN location for you may not be on this list, and it's always a good idea to experiment with different server locations to find the one that offers the best combination of low latency and desired gaming experience.
Also, note that using a VPN to manipulate the matchmaking system might be against the game's terms of service, so always be aware of any potential risks associated with this practice.
NoLag VPN for Warzone
NoLag VPN is a lesser-known VPN that claims to be optimized for gaming.
However, I recommend sticking to the well-established Warzone VPN list above, as they offer proven reliability, security, and performance.
Conclusion: The Best VPN for Warzone and Tips
Warzone is an exhilarating game. The adrenaline rush from clutching a round and outsmarting your opponents is unparalleled.
However, there are times when you desire a relaxed game in a laid-back lobby. That's precisely the kind of gaming experience a VPN can offer.
By connecting to a server in a region where Call of Duty: Warzone isn't as popular, you can enjoy matchmaking with bots or less advanced players.
ExpressVPN stands out as the best VPN for Warzone, promising a wealth of benefits.
Not only does it help you land in bot lobbies, but it also maintains a low ping, shields you from DDoS attacks, and opens up a world of geo-blocked content for you to enjoy.
But the choices don't end there.
Private Internet Access (PIA) is also a strong contender, with its dedicated gaming servers and extensive server network providing a stable and secure environment for Warzone mobile and PC players alike.
Both of these VPNs offer unlimited bandwidth, ensuring that your gaming sessions are not disrupted by slow speeds or lag.
And with a wide range of server locations available, you can always find a nearby server to connect to, reducing latency and ensuring the smoothest possible gameplay.
Whether you're looking for a relaxed game or a competitive challenge, using a VPN can significantly enhance your Warzone experience.
Choose the best VPN for Warzone that suits your needs, and get ready for a smoother, more enjoyable gaming journey.