ProtonMail Pricing Plans
ProtonMail service offers you four major pricing plans, each with a different option. ProtonMail pricing plans are as follows: free, plus, professional, and visionary.

ProtonMail Free version
ProtonMail offers the free account version to the public since privacy should be a fundamental human right. This plan is for you if you want to send and receive secure emails without incurring costs.
This package comes with 500MB of storage. This limits your usage and is only effective if you don't receive high-resolution videos or images and if you can constantly delete your emails to free up space.
The free package allocates you a maximum of 150 emails a day. The allocation is suitable for most users. If you find this insufficient, you can upgrade to the paid plans depending on your needs. Another limitation of this package is that it offers limited customer support compared to paid plans.
Despite the drawbacks of the free plan, it still offers secure email services. You should start with this free version before upgrading to the paid plans, especially when you don't know which one suits you.
In a nutshell, the free version gives you:
150 messages per day.
Limited customer support.
500 MB storage.
ProtonMail Plus
The plus plan offers secure email with advanced features at a reasonable cost. This Plus plan will only cost you $4 per month.
The benefits of this package include access to more storage, up to 5GB, and the ability to send a maximum of 1,000 messages per day. The plus package allows you to own up to 5 aliases and create your domain.
Instead of using protonmail.com, you can personalize your email address to use your custom domain. You can also use labels, custom Filters, and folders. This plan also gives you prioritized customer support.
In summary, ProtonMail Plus offers:
Priority customer support.
5GB storage.
Labels, custom Filters, and folders.
1,000 messages per day.
Domain customization.
5 email aliases.
Sending encrypted emails to non ProtonMail users.
ProtonMail Professional
The professional version is a perfect solution for you if you are running a business and need to improve email security. This package is available at $6.25 a month and has features suitable for organizations.
You can have a maximum of 5,000 users at once, with each user getting 5GB storage and 5 addresses.
The Professional plan lets you create a custom domain name for your organization and add accounts for your employees. Setting up is straightforward, and ProtonMail offers help to migrate your present email system to ProtonMail.
Get help by contacting them through [email protected].
Here is a summary of what this plan offers:
A custom email with your domain.
End-to-end encryption for all users.
Administrative controls.
Unlimited user support.
Flexible storage management.
Migration tools.
Advanced security controls.
Priority support.
Custom domain name.
Unlike other organizational emails, ProtonMail cannot be used for bulk emailing or sending unsolicited emails.
ProtonMail Visionary
This is the most expensive plan with extra features for you. It is suitable for anyone who requires more storage and more secure emails. It offers all the plus features with other special features. This plan will cost you $24 per month. Here is a highlight of what it offers:
20GB storage.
Up to 50 email aliases.
ProtonVPN.
Support for up to 10 domains.
No sending limits.
Multi-User Support (6 total).
Send encrypted messages to external recipients.
Labels, Custom Filters, and Folders.
Early access to new features.
Even though it has no sending limits, similar to the professional plan, you cannot use this plan for bulk emailing or sending spam.
Mail Features
ProtonCalendar
ProtonCalendar uses the zero-knowledge encryption technique. The encrypted ProtonCalendar allows you to keep various information safe regarding your events, participants, location, title, and description.
ProtonCalendar allows calendar sharing, invitations of anyone to an event, whether they are ProtonMail users, and provides sync to events found in the ProtonMail inbox. You can access ProtonCalendar using your smartphone.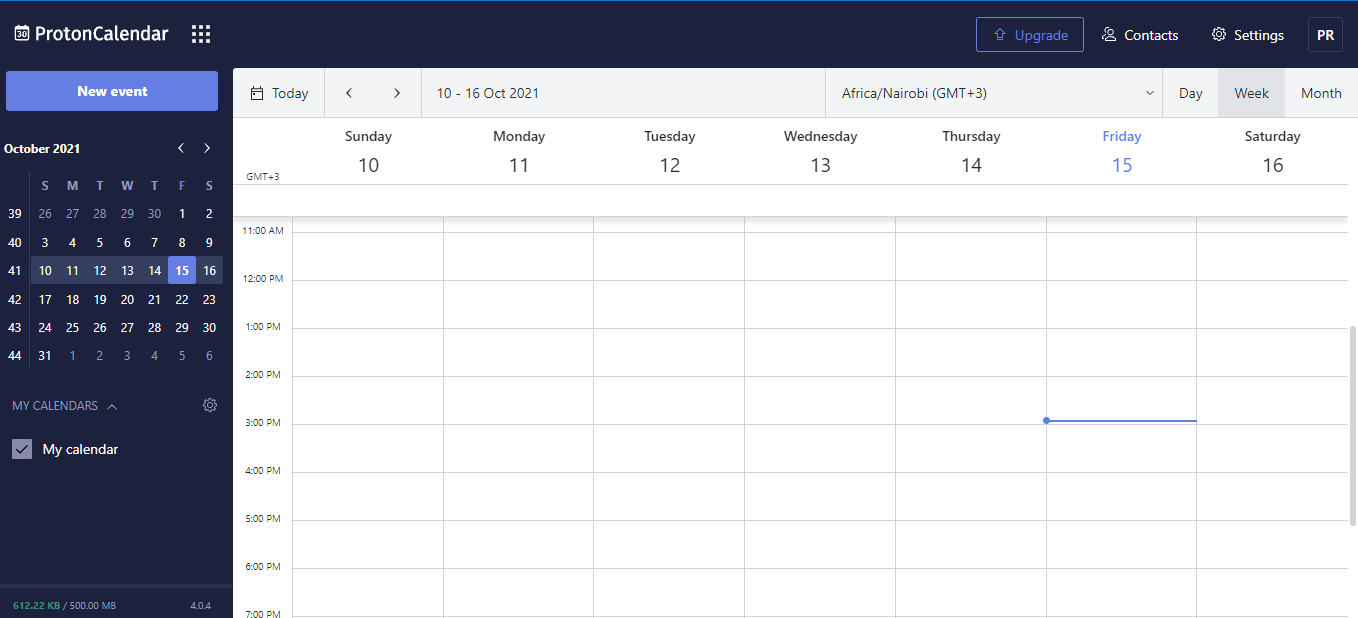 The first launch of the ProtonCalendar lets you import other existing events, which comes in handy if you have many repeating events, for example, weekly meetings or birthdays.
The calendar is available to all ProtonMail users, but customers who use premium plans gain access to more features, such as sharing calendar items outside the ProtonMail platform.
ProtonMail Bridge
ProtonMail Bridge is a premium feature that allows you to encrypt all emails leaving and entering your computer. After installing ProtonMail Bridge and configuring it, you can select your preferred email service to integrate with ProtonMail.
Such as Thunderbird, Outlook, and Apple Mail.
The bridge runs in the background and ensures that your emails are encrypted when sent over the internet and decrypted at the destination.
Connecting with non-ProtonMail users
ProtonMail gives you the liberty to send encrypted emails to other users who are not using the ProtonMail service.
The person receiving the message must know the shared passphrase you are using, communicated outside the system. The encrypted message has 28 days to expire automatically, but you can set a shorter time.
The recipient will receive a secure link that can only be accessed using the correct passphrase. You must know that this system works well only if the password is shared outside the ProtonMail system.
You may consider utilizing the secure messaging ProtonMail app.
You can also send unencrypted messages like regular mail to Outlook, Yahoo, Gmail, etc.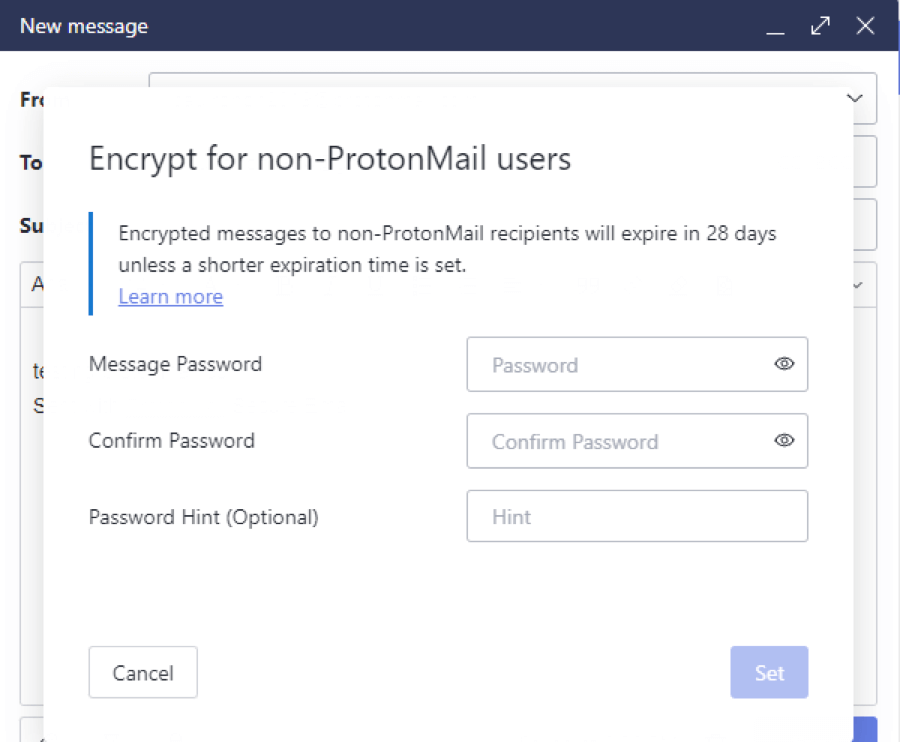 ProtonDrive
ProtonDrive is currently on the beta version. This is also a premium feature that offers a secure online file storage system. It guarantees total security from third parties.
ProtonDrive offers basic storage of 5GB. Nonetheless, you can access more storage at an extra cost of 1 dollar for every GB per month.
You can share the files uploaded to ProtonDrive by generating a link. You must secure the shared link with a password.
Otherwise, anyone can download your files by clicking the link. You can disable the link if you don't want to share anymore.
You can also set an expiration date of up to 90 days.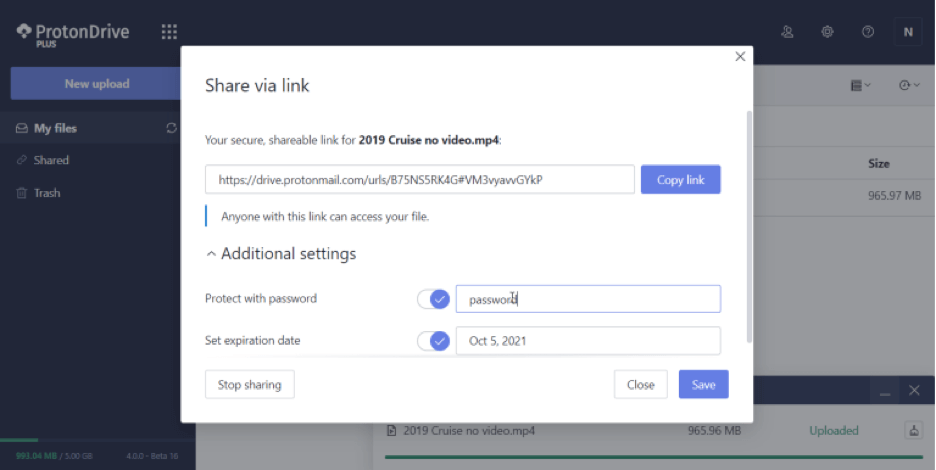 Numerous layouts and themes
Initially, ProtonMail had one layout option only. They had recently worked on the user interface (UI), a complete revamp that could not be changed when it was first launched.
The current version has templates for themes that allow you to choose your preferred theme, which is a significant milestone.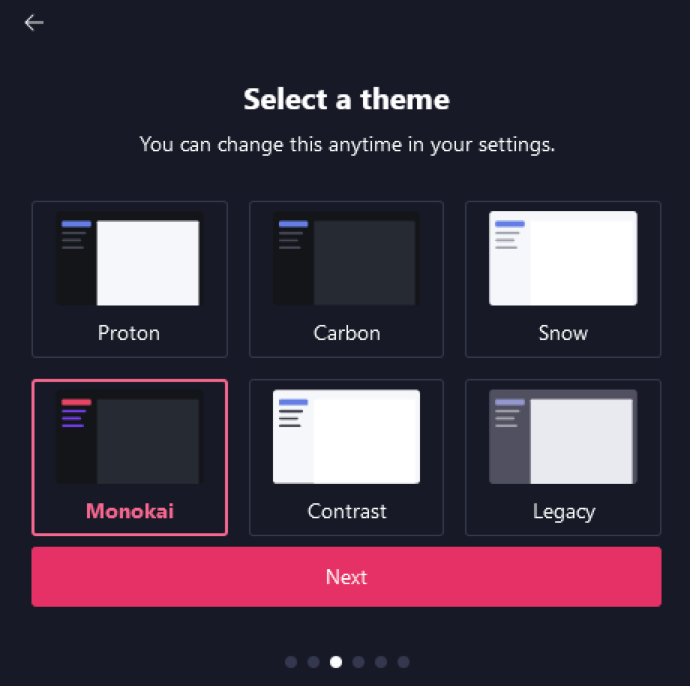 ProtonMail further gives you options to customize the layout. The layout applies to icon sizes, composers, and inboxes.
The layouts can be adjusted independently. If you wish to have a Gmail replica, you can customize it to suit your needs.
The addition to the UI has made ProtonMail the most convenient and customizable secure email service.
Prompt filters
Unlike other secure email providers, ProtonMail has radically revamped its search capabilities. ProtonMail allows you to search for specific keywords, dates, and inboxes and to check whether a message you sent was read or not.
This feature makes it more convenient as other secure email providers do not have this feature.
You should know that the email contents cannot be searched because they are encrypted with zero-knowledge encryption and stored on the server. Furthermore, they cannot be indexed and therefore cannot be searched.
Free ProtonVPN
When you sign up for the ProtonMail service, you also get free access to the ProtonVPN account, one of the best VPNs around. This VPN will improve your security and privacy while accessing services and content over the internet.
With the free VPN, your identity on the internet will be private because the ProtonVPN will mask your IP address using their servers.
ProtonMail and ProtonVPN will provide privacy when sending emails and browsing the internet, respectively. The pairing makes ProtonMail the best secure email service for you.
Self-destructing messages
ProtonMail gives you the option to set an optional expiry time when sending any emails from your ProtonMail account. These are called expiring emails.
This implies that the message you send will be deleted automatically from the recipient's inbox when the expiry date and time are due.
Self-destructing messages work for emails sent to ProtonMail users and users using other email providers. The messages will be removed, similar to what Snapchat does when the stipulated time elapses.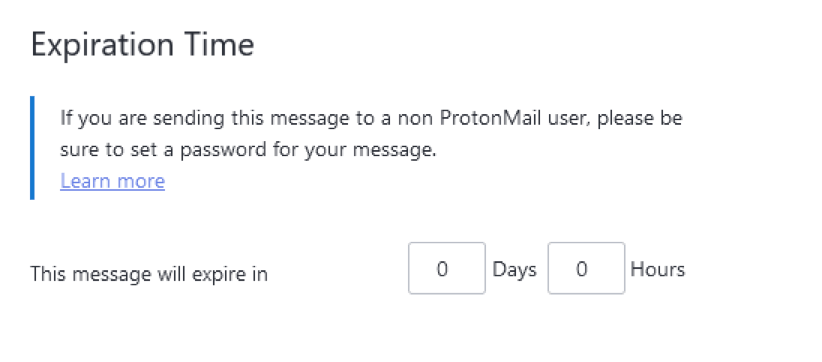 Migration tool
Jumping from one service provider can be hectic for you as it demands starting from scratch. This is a severe drawback because it might require copying and pasting contacts in the mailboxes, wasting time and resources.
ProtonMail has addressed this by developing and integrating a proprietary app that enables you to import and export your data from other email providers such as Yahoo, Outlook, or Gmail.
This feature is only available for lifetime, visionary, professional, or plus accounts.
Shorter domain addresses
If you are not satisfied with the protonmail.com domain, you have the liberty to shorten it. You can switch your domain name and keep receiving messages in your mailbox. You can shorten your domain to pm.me. For example, you can change your domain from [email protected] to [email protected].
Note that all users can receive the emails from pm.me, but only premium users can reply from pm.me.
ProtonMail Security and Privacy
Swiss Privacy
ProtonMail is a Swiss-based secure email service provider. Switzerland offers a favorable jurisdiction for providers and companies that take security and privacy seriously.
The Swiss have strong data protection laws which ensure the privacy of individuals and even companies.
Additionally, the Swiss are out of the reach of the US and EU influence. Only a Geneva court order can compel ProtonMail to give out user information, which is limited.
Two password mode
ProtonMail offers you privacy and security by ensuring your account is protected by two passwords. This is to facilitate end-to-end encryption. But you can also switch to a one-password mode.
With the two-password mode, the first password is used for your authentication during login to ensure your correct account is retrieved.
The server keeps the authentication password for verification. The second password is used to decrypt the mailbox and is only stored by the user.
Secure servers
For optimum security of your data, your emails are encrypted and stored on ProtonMail servers. These servers hosting your data use full disk encryption, thus, making it impossible even for ProtonMail employees to access your data.
Other multiple layers of encryption ensure your data is secure even if the hard disks are seized.
ProtonMail uses secure data centers which require biometric access. Also, your data never goes to the cloud. Concerning physical security, ProtonMail has its IT infrastructure residing 1,000 meters below a granite rock.
No personal details on registration
The ability to create a ProtonMail account without personal details is highly praised as a way to ensure privacy. However, human verification is required to avoid spammers and bots creating accounts.
ProtonMail will prompt you to verify you are human using ReCAPTCHA, email, or SMS.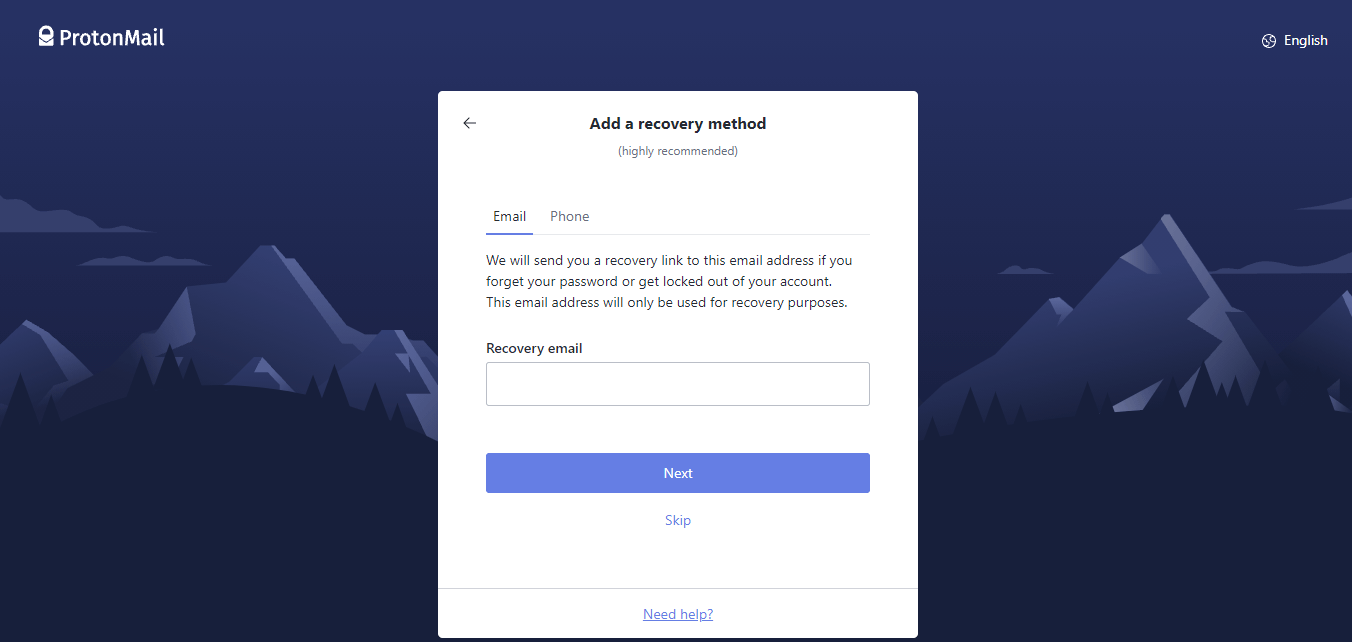 Two-factor authentication
ProtonMail has added a two-factor authentication (2FA) layer to improve privacy and security. This authentication will protect you in case attackers steal your password. However, with 2FA, they cannot gain access to your account without your phone.
Before adding this feature, you should always have access to your phone whenever you want to log in to your account. You must set up an authentication app on your phone for two-factor authentication; you can use Google Authenticator, FreeOTP, or Authy.
When configuring the two-factor authentication, you will use the unique codes generated from your authenticator app to sign in to your mailbox. Without the code, you will not gain access to your account.
End-to-end encryption
Your security is enhanced by end-to-end encryption on ProtonMail. End-to-end encryption ensures your data is encrypted throughout the communication process.
Such encryption allows only you and your recipient to access the information.
You can share end-to-end encrypted emails with the non-ProtonMail user by sending a secure link that will load an encrypted message on their end.
Your recipient will decrypt the message using a password you share with them outside ProtonMail.
Pretty Good Privacy (PGP)
ProtonMail has a plug-and-play PGP encryption that demands no technical expertise. You must enable PGP when communicating with other ProtonMail users.
Once you turn on your PGP, all your communications will be encrypted. You can also allow PGP while communicating with outside users.
PGP works by generating a pair of public and private keys in 2 pairs. When you send an email, you will exchange a public key with your intended recipient, which can be decrypted using their private key.
This will ensure that your message reaches your target recipient.
Finally, ProtonMail will never track your IP addresses. This will prevent any third party from linking you to an email account. With that, your emails are entirely private.
Ease of Use
Using ProtonMail is easy, and configuring it is straightforward. Setting up ProtonMail is simple; you only have to navigate to the sign-up page, choose your preferred plan and follow the instructions.
During sign-up, you don't have to provide personal details. You might only be required to provide a recovery email which is not mandatory.
ProtonMail interface is similar to other service providers like Gmail or Yahoo.
It functions like other email services with functions like creating new messages and accessing draft messages. You will get an alert in case of new emails.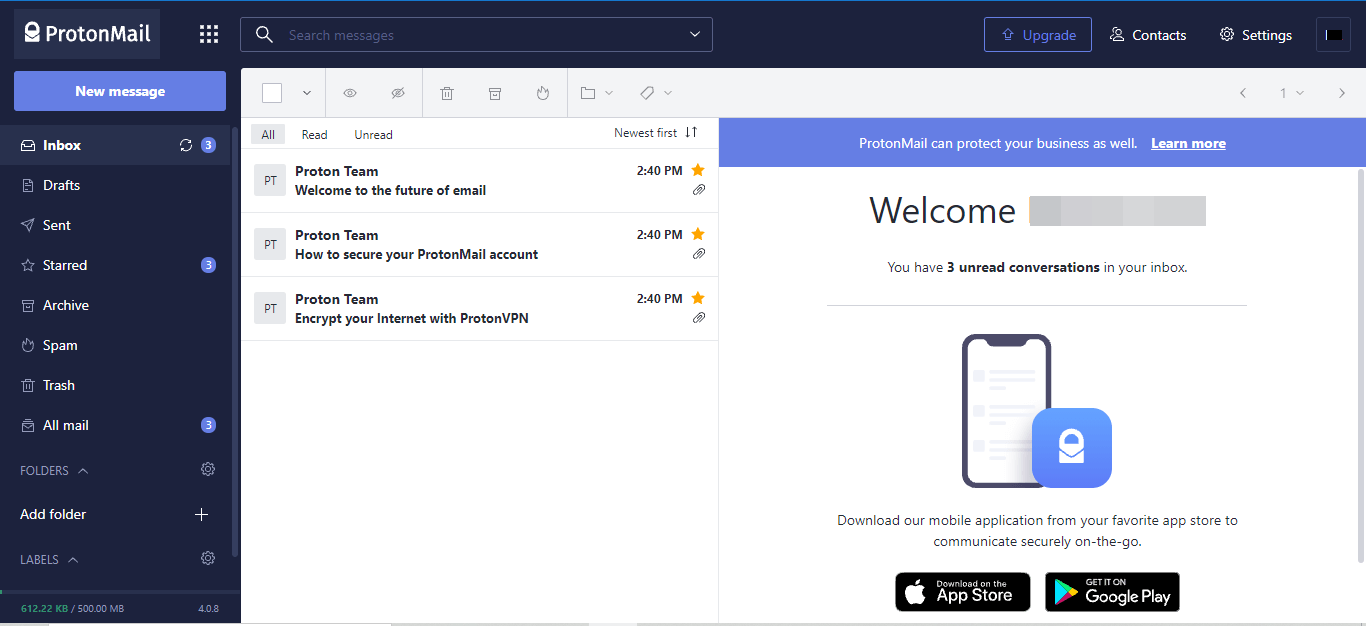 Despite the extra security layers, ProtonMail performs faster, unlike other email services. The upload and download speeds are pretty impressive.
Customer Support
ProtonMail offers different levels of customer support. The levels depend on your subscription package. Users on the free version receive a basic support level with access to FAQs.
They can also email [email protected] to get assistance on particular issues.
Paying customers receive better customer support according to their subscription plans.
Primarily they receive priority support. Requesting a call-back might take ages, which is inappropriate for solving urgent issues.
Wrap Up
If you are using mainstream email providers, your emails are not secure. ProtonMail offers more security and privacy to users.
ProtonMail is easy to use, offers end-to-end encryption, and guarantees the security and privacy of your emails.
It also has impressive features such as the encrypted ProtonCalendar, ProtonDrive, and a customizable, secure email interface.
If you value your privacy, go for ProtonMail and select a plan that works for you.
Let us know in the comment if you have any feedback about this ProtonMail review.