What is Usenet?
Usenet or 'Unix users' network' is an extensive collection of discussion groups consisting of articles and messages submitted by its worldwide users. This collection of articles contains different interests of users. They are commonly known as 'newsgroups'.
On Usenet, you can create your discussion topic or contribute to existing newsgroups you subscribe to and make that contribution available to all the subscribers of that newsgroup. Not only text content, but also you can post non-text content like media files in newsgroups.
The concept of Usenet closely resembles Bulletin Board System (BBS), and it paved the way for internet forums which are prevalent nowadays.
Usenet consists of servers connected to the internet and servers not part of the internet. At present, it uses Network News Transfer Protocol (NNTP) for data transmission and primarily for file sharing.
How Usenet evolved?
Usenet started even before the internet came into life. The idea for the Usenet first came to Jim Ellis and Truscott in 1979. They wanted to establish a system that enables people worldwide to post thoughts and share opinions about different topics.
As a result, the duo started Usenet in 1980 at the University of North Carolina at Chapel Hill and Duke University. Initially, Usenet was built on the ARPANET using Unix-to-Unix Copy (UUCP) Network protocol to transmit emails, files, and announcements.
Moderated and Unmoderated Newsgroups
Anyone who has access to Usenet can post any content. A moderated newsgroup is typically controlled by an administrator who monitors the posts and checks the content to see if they are appropriate.
An unmoderated newsgroup does not have such a monitoring process, and any user's posts will appear as-is. Newsgroups have a set of rules and objectives known as charters.
Also, newsgroups have Frequently Asked Questions (FAQs). You can use both FAQs and chartered to choose an appropriate newsgroup.
Usenet Topic Hierarchy
Usenet uses a hierarchical naming convention to identify each newsgroup uniquely.
In this naming system, every newsgroup has a unique name consisting of the newsgroup name at the top-level of its hierarchy and its topic name separated by a period. Take a look at the following example.
All the articles about every science topic belong to the 'sci.*' newsgroup, which is at the top of the hierarchy.
Then, articles mainly related to physics and biology subjects will belong to 'sci.phy' and 'sci.bio' newsgroups. Usenet's first newsgroup is said to be NET.general.
How Does Usenet Work?
Usenet News Servers
Usenet has a collection of distributed servers called news servers with a group of newsgroups. There is no dedicated centralized server on Usenet. News servers can communicate with other news servers and exchange articles. They use a flooding algorithm for this process. Articles get copied from one news server to another until the articles reach every server on the Usenet. Each newsgroup has a dedicated text file, often a large text file containing its messages and articles.
Usenet Newsreaders
Newsreaders act as clients that communicate with news servers. Most new mail clients have integrated newsreader software. For example, you can connect to newsgroups using an integrated newsreader software like Microsoft Outlook Express and Gmail or a standalone Usenet newsreader software which we will discuss later in this guide.
How Usenet updates new information?
When you connect to the newsreader:
The newsreader establishes a connection to the news server using NNTP.
Then, your newsreader will download the new messages from the newsgroups you have subscribed to. If you read articles or subscribe to a new newsgroup, the newsreader saves that information.
If you reply to a particular message, it will be sent to the news server.
The news server then saves your messages in its text file by appending them at the end of the file.
When the text file size reaches a certain length, the contents at the beginning of the files get removed and moved to its archive text file.
Next, the news server will send the updated information to other connecting news servers.
After receiving the file, each news server mainly compares that file with its current file related to a newsgroup. If there are changes in the file they received, they will add those changes to the existing file.
Then, it will send the updated file to the other news servers until all the news servers get the updated information.
Other subscribers will get your reply when they connect to the newsgroup.
The process repeats when they reply.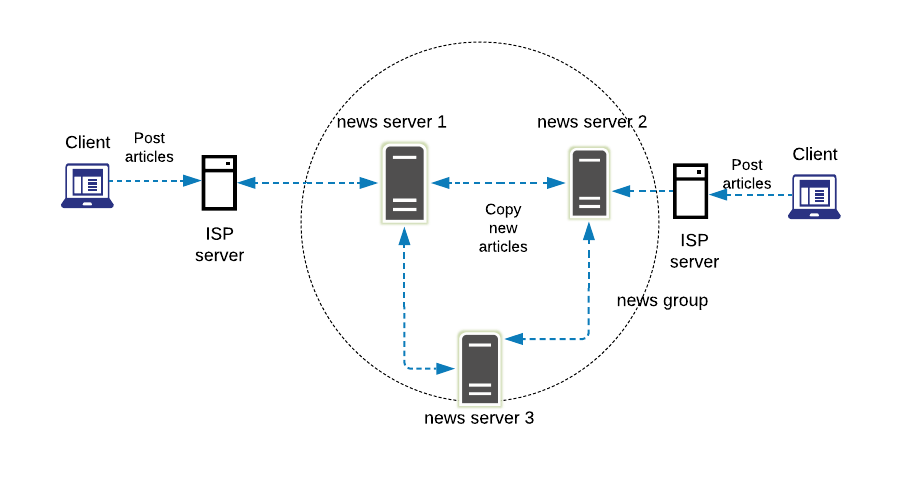 How Can you Access Usenet?
It is impossible to directly access the Usenet site like the way you typically access websites over the internet. At present, To access Usenet, you need to have access to the following three components or software.
Usenet Provider
Usenet Search Engine
Newsreader
1. Choose a Usenet Provider
The first and foremost thing is a subscription from a suitable Usenet Provider. There are a lot of Usenet Providers out there offering different features. Next, we will see the specific features you may need to consider when researching a good Usenet provider.
What are the features you have to consider when choosing a Usenet Provider?
Price
Look for different price plans they offer. Most Usenet providers' packages start from $10. Depending on the features they provide, it can be costly. Some may provide exclusive deals and limited-time offers for less than $10. Always look if the features you get with that package meet your needs. There are also free services, but they do not provide adequate retention and speed. Hence opt for a better-paid service.
Retention
Every text and binary file consumes space in Usenet servers. Because of this reason, many providers do not keep them forever. Instead, they expire older files after a certain period to save space. This period they keep the files is the retention period. Higher the retention period, the easier the finding of the content. Usually, a good provider has a higher retention period that spans thousands of days. Low-quality providers store only a handful of posts to reduce the storage costs.
Completion
There is a size limit for the content in Usenet servers. If the message is large, it will split into multiple parts. The completion is the ability to successfully retrieve all the elements that belonged to the post or message because all the parts need to be in one server to download successfully. If one part is missing, the file can be completely unreadable. Therefore, it is essential to look at when choosing a Usenet provider.
Simultaneous Connections
Simultaneous connections to the server provide the ability to download parts of a file in parallel for quicker download. It is often seen that the higher the links, the better. However, your internet connection should have a better speed, like 50-100Mbps, to benefit from it because most providers advertise that they offer more than 50 server connections, and some offer unlimited connections. But you won't be able to use more than ten connections from this if you do not have the proper bandwidth.
Download Speed
There are several things to consider when looking for the download speed. If the provider offers more simultaneous connections, the download speed will be higher if you have a better internet connection. Also, some provide tier-1 networks having servers in multiple locations. They usually offer higher bandwidth for faster download speed. Try to choose a provider with servers closer to your area for a better download experience.
Speed Throttling
In addition, most providers allow downloading only a certain amount of data per month. They may throttle your speed if you exceed the limit. But, some providers provide unlimited downloads.
Security
Look if they provide encryption such as SSL secured connections with 256-bit SSL encryption or TLS support that will securely download your data. In addition, some providers offer a VPN connection to browse anonymously to ensure your privacy. Check if the VPN connection logs your data. If they have a zero log policy, they now keep track of your login and access information.
Other Features
In addition to these essential features, you can check for features like if the provider offers 24/7 customer support, compatible devices, a free newsreader software with the subscription, and a free trial with the plans. Next, we will see top Usenet providers in the market and summarize and compare their features.
Best Usenet Providers
| | | | | | | | | |
| --- | --- | --- | --- | --- | --- | --- | --- | --- |
| Usenet Provider | Retention Period (days) | Includes Unlimited Download | SSL Simultaneous Connections | Free Trial | Free Newsreader with Search | News groups | Zero-log VPN? | Other |
| Newshosting | 4685 | Yes | 60 | Yes | Yes | 110,000+ | Yes | No Bitcoin payment support |
| Eweka | 4681+ | Yes | 50 | Yes | Yes | 125,000 | No | Customer support for four languages |
| Easynews | 4685+ binary retention | Yes | 60 | Yes | Yes | 110,000+ | Yes | Includes NZB search engine |
| Newsleecher | 2850 binary and 4150 for text | Some plans | 30 | Yes | Yes | 100,000+ | No | Integrated search and auto downloader |
| UsenetServer | 4685 | Yes | 20 | No | No | 110,000+ | Yes | 99.99% completeness worldwide server locations |
| GigaNews | 17+ years of text retention | Yes | 100 | Yes | No | 110,000+ | Yes | 100% completeness, 24*7 customer support |
| Usenet.Farm | 3000 | Yes | 50 | Yes | No | 110,000+ | No | Better user interface with dashboards |
| SuperNews | 3+years binary, 15+years text retention | Yes | 30 | Yes | No | 110,000+ | No | 24*7 customer support |
| TweakNews | 4200 | Yes | No | No | Yes | 110,000+ | Yes | 99.99% completion rate |
| AstraWeb | 4000 | Yes | 50 | No | No | Not specified | No | Unlimited subscription plans |
As you can see from the above list, some providers like EasyNews offer the complete package, including the NZB search engine and the newsreader software. Once you have chosen a provider that suits your requirements, subscribe to it and note down all the information below.
Username
Password
Server Address
Server SSL Ports
Server Ports
Connections
Then if the provider freely offers the newsreader, it will automatically download to your PC. Enter your username and password when installing the software.
2. Get a Usenet Search Engine
Usenet posts and articles are not easy to explore because of the way they are accessed and organized. A Usenet search engine known as NZB indexers is an index that ranks and presents related search topics. Some of these indexers are open to the public and require no registration, some need registration, and some sites require an invitation to register.
What are NZB files?
NZB files make downloading posts from the Usenet a more effortless experience. An NZB file developed by NewzBin is an XML file used to download posts from Usenet, similar to a torrent file. It contains metadata required to download a particular post. If you have the NZB file, you can import that to the Usenet client and download the post.
How to use the Usenet search engine to find NZB files?
After you have chosen the NZB search engine, enter the search. When you type the search term in the search engine, it will return related indexed articles. Then click the create button to download the NZB file to your PC.
Most newsreader software supports the NZB format so that you can use it to open the NZB file. Then NZB points the newsreader to the related files on the Usenet. Finally, it will load the message ids to the download queue of the newsreader. Next, discuss some of the best Usenet search engines and their prominent features.
Source: FileInfo
Best Usenet Search Engines
Usenet Search Engine
Features
Easynews

Integrated to Easynews Usenet provider
Search results include thumbnail previews and file details

NZBPanet

Currently, Free account registration is by Invite Only
Limited to 5 NZB downloads a day, but its VIP accounts provide full features
VIP accounts offer features like

Higher API hits
Unlimited NZB downloads
VIP only Forum
Advanced waitlist
Custom saved searches
Disable site adverts

NZBGeek

Provide a free subscription
Provide categories lie movies, audio, Tv, books, etc
Advanced searching criteria

GingaDaddy

Provide both free and VIP accounts
Indexed over one million NZBs
VIP accounts provide features like

More than one million indexes
VIP forum
Unlimited NZBs and APIs

Binsearch

Open to the public. Therefore no need for registration or pay for the service
Provides advanced search option
Lists over 3000 newsgroups

NZBFinder

Friendly User Interface
Has three subscription plans, including a free plan
Provides up to 20k API hits
Advanced Search
Spotweb access
This is how Binsearch looks like: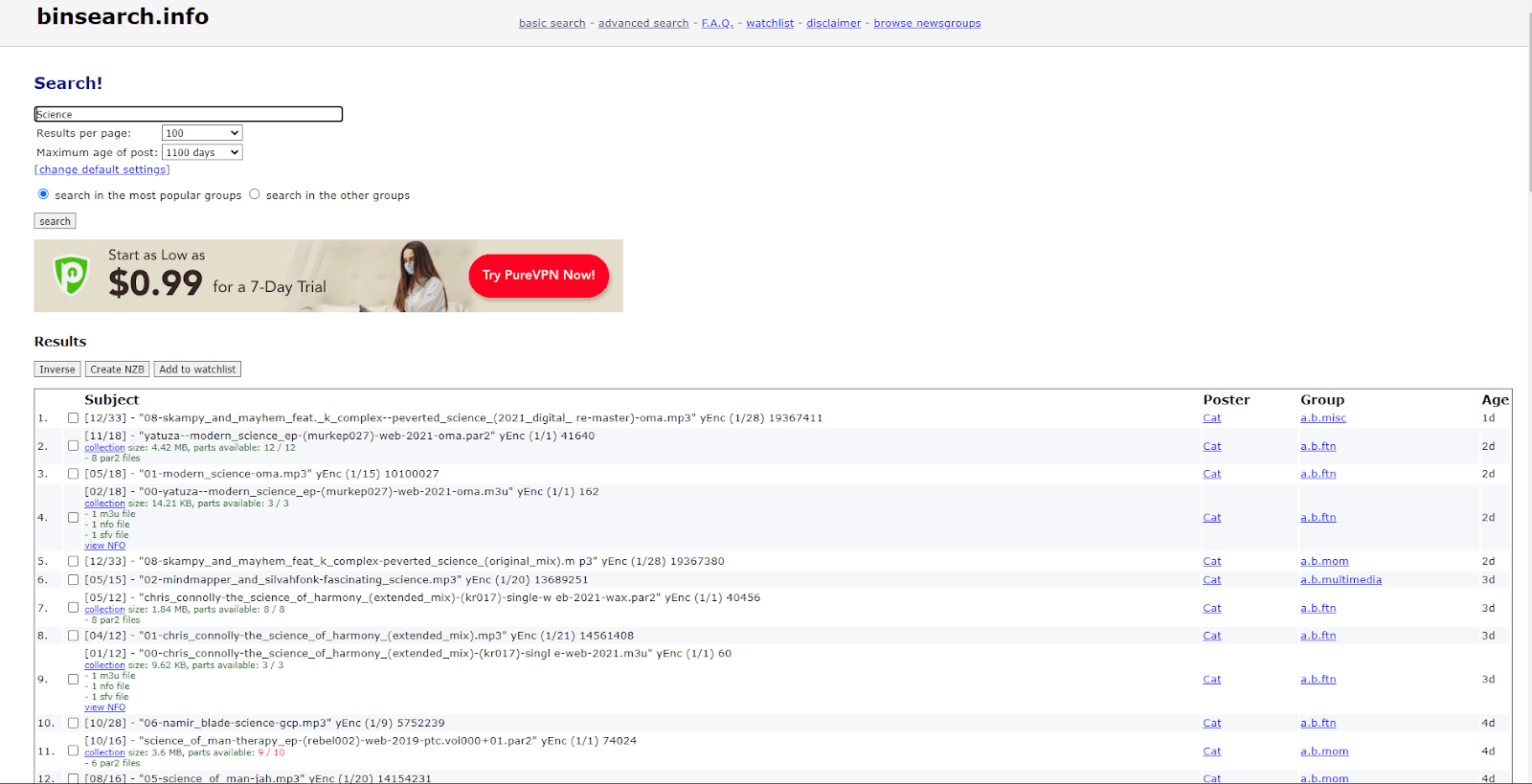 3. Choose a Usenet newsreader
As discussed above, Newsreaders are clients that communicate with news servers. They are used to access and view content on the Usenet and download the binary files. There are different types of newsreader software, such as web-based, open-source, commercial, and freeware.
Most Usenet providers offer a free newsreader with a subscription. If you want an all-in-one Usenet experience, you can use the Easynews Usenet provider. This section will identify the best Usenet newsreaders on the market.
Best Usenet newsreaders
Usenet Newsreader
Features
SABnzbd

Free and open source easy binary newsreader
Cross-platform support macOS, Linux, and iOS
Localization support for 16 languages
Can use it with Apps like Sonarr, SickChill, Radarr, Headphones, Lidarr, and many more

Newsbin Pro

Only for MS-Windows
Subscriptions include a free plan
Paid subscriptions provide unlimited internet searches
Search option for locally stored headers
Advanced Spam filtering
Automatically download files
Proxy Support
Friendly User Interface with a lot of valuable features

Newshostings' free newsreader

Available on Windows, Linux, and Mac Platforms
Zero-setup
PRovides automated search and downloads
Bulti-in and Unlimited search
File preview capability

Easynews' free newsreader

Search results provide thumbnail file previews with hover-over
Compatible with many devices
Speedy search results
Advanced search filters

Newsleechers' free newsreader

'Super Search' feature enables users to search articles through Usenet without downloading any headers
'Super Leech' feature allows accessing NZBs automatically

UsenetWire – TewakNews official newsreader

Accurate search results
File and Images previews
Auto Import NZBs
Download scheduler
Quick and easy setup
Example of a Usenet newsreader: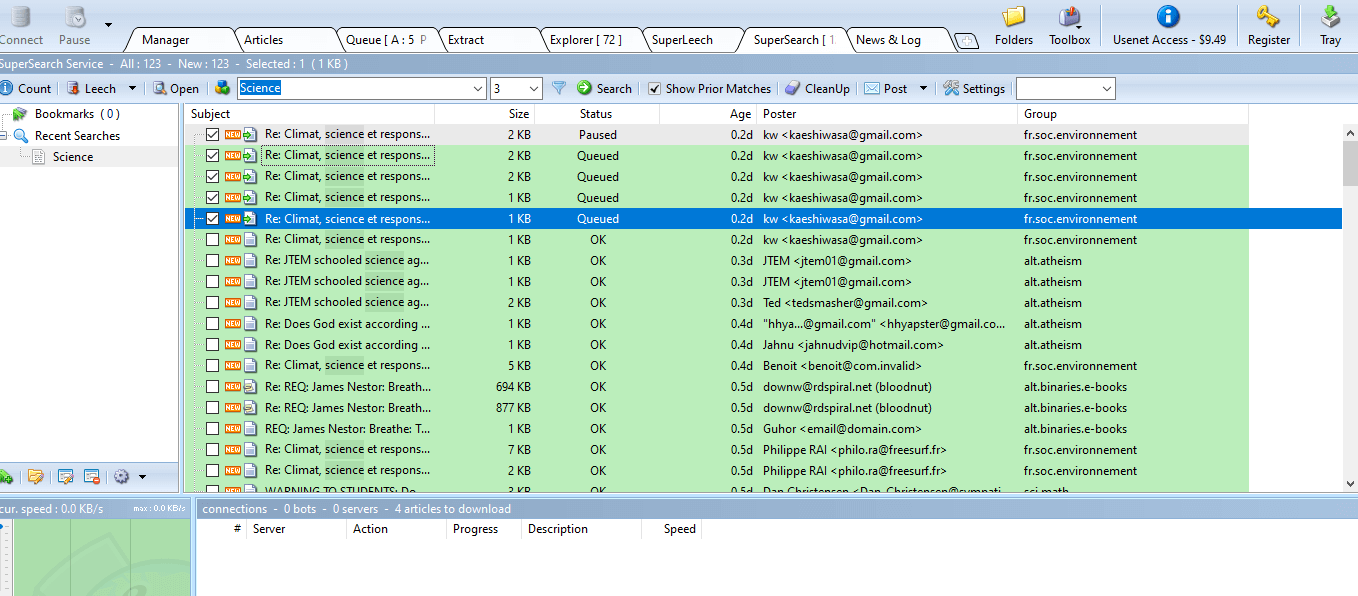 After choosing a newsreader:
Install the newsreader.
During the installation, add the Usenet provider's server details.
Then go to the Usenet search engine, search for the topic you want and download the NZB file.
Then go to the newsreader interface and upload the NZB file.
It will download the files to your computer in a compressed format.
Finally, when the NZB files download, unzip them and open the file using the newsreader software.
How to Create a New Newsgroup on Usenet?
Similar to accessing the newsgroups on Usenet, creating a new newsgroup is not a straightforward process. You must go through the following steps to make your new newsgroup alive.
Post a Request for Discussion (RFD) to the 'news.announce.newsgroups' and 'news.groups' newsgroup on Usenet. The actual discussion will happen on 'news.groups'. Since this is a moderated group, if you have difficulties in posting to it, you can mail the request to [email protected]. You can use a newsreader application to post this request.
During the discussion period, the name of the proposed group, if it is a moderated or unmoderated one, and its charter should be discussed and decided on by the newsgroup. After 30 days of the discussion period, you can take them out from the newsgroup to agree on these points and discuss via mail offline.
After deciding all these factors for the new newsgroup, a volunteer group known as the Usenet Volunteer Votetakers (UVV) votes on your proposal and decides whether to allow your new newsgroup. The voting period can last up to 31 days.
After the voting period, information about the vote results will appear in 'news.announce.newsgroups'.
Then, there will be a waiting period of 5 days during which anyone can correct any errors in the voting process.
When the waiting period is over, if there are more "Yes' or 'create' votes, the vote is successful, and the new newsgroup creation message will be sent.
If the vote is not successful, the proposed group will not create.
Why Should You Use a VPN with Usenet?
Many Usenet providers have built-in SSL encryption, which you think is enough for secure search and download. However, there are reports that old Usenet logs are available on Google.
Hence using one of the best VPNs, you can get an additional level of privacy and security for your Usenet experience.
VPN combined with SSL encryption will provide enough protection to protect user data and identity. Therefore, it is better to use a provider that offers a VPN add-on with the following features:
Strict no-logging policy
Military-grade Encryption
Reliable VPN with good reviews
Faster speed
Automating the Usenet Downloads
You can use Usenet to download your favorite movies and TV series. But you might not have enough time to check for new releases constantly.
It will be easier if you can automate the downloading process. There are several Usenet automation tools available that you can use for that purpose.
For example, the following tools automate downloading:
Sonarr — TV shows
Radarr — Movies
Sonarr and Radarr have a calendar where you can see upcoming movies and TV show episodes. They automatically handle failed downloads.
CouchPotato — This tool can be used to automate downloading movies. You can keep a list of what you want to download.
Using an automated tool is quick and easy. You have to download the software and specify configurations that include download applications and the Usenet provider.
Summary
The Usenet is like a hidden gem, a beneficial information-sharing method that still has retained its popularity. In this guide, you learned basic information about Usenet and its components.
This guide also includes a comparison of current Usenet providers, search engines, and newsreaders, which will be helpful for you in choosing the right service for your needs.
Frequently Asked Questions
Some people found answers to these questions helpful
Is Usenet still used today?
There are fewer users on Usenet than on the internet nowadays, but it is still in use. Despite the popularity of today's social media and online forums, Usenet newsgroups remain alive because of the secure private space it provides to share information. In addition, there are many Usenet providers, indexers, and newsreaders, which means there is still a demand.
---
Is Usenet safer than BitTorrent?
Many Usenet providers offer a Secure Socket Layer (SSL) connection to Usenet. In addition, some providers may provide you with a free zero-log VPN which would double the safety. On the other hand, BitTorrent requires you to download a separate VPN connection. Thus, while you can make both secure, using Usenet with a provider with SSL and VPN will be much safer than BitTorrent.
---
Is Usenet legal?
Usenet is entirely legal. Of course, you can use it to download copyrighted material, but it is not a recommended practice. Besides, some newsgroups on Usenet typically have their charter. Therefore, they will prohibit uploading illegal content.
---
Is Usenet the dark web?
Because of its private and secure access, some may think it is the dark web. But it is a misconception. It is neither the dark web nor part of it. Instead, it is a network that can share information transparently.
---
What is the difference between Usenet and the Internet?
Usenet is not the internet. It is a separate network that can be accessed using the internet. Primarily, Usenet is for file sharing. Servers in Usenet use the NNTP protocol to exchange data. On the other hand, the Internet is an interconnected computer network that communicates with TCP/IP, and there are many uses of the internet.
---