Step-By-Step Instructions on How to Use Netflix with a VPN
Step 1: Getting Started with a Netflix VPN
Pick a suitable VPN for Netflix. I recommend ExpressVPN. (Check the "How we Choose the Best VPNs for Netflix" section to learn how to pick the right VPN).
Select your preferred subscription – you will be required to create a VPN account and give out your payment details.
Download and install the correct VPN app for your device.
Log in to your VPN app and connect to a server – for instance, if you want to watch US Netflix, connect to a US server.
Verify if you have indeed connected to your selected server. For example, visit https://ipleak.net/ to confirm if your new IP address corresponds with the VPN server location.
Step 2: Use a VPN with Netflix on Various Devices
Depending on your device, you can stream shows through a web browser or the Netflix app when using a VPN with Netflix.
Turn off your device's location provision services such as GPS, to get better results.
Browser-based streaming
Clear Netflix cookies data on your browser. Go to https://www.netflix.com/clearcookies , or you can use the following methods on popular browsers:

Google Chrome: Click the Menu icon > Settings > Privacy and security > Site settings > View permissions and data stored across sites > Search "Netflix" and click Clear all data.

Microsoft Edge: Click the Menu icon, go to Settings > Cookies and site permissions > Manage and delete cookies and site data > See all cookies and site data > Search "Netflix," click Remove all shown.

Mozilla Firefox: Click the Menu icon > Settings > Privacy & Security > Manage Data under Cookies and Site Data, search "Netflix," click Remove All Shown, and click Save Changes.

Safari: Click the Safari menu > Preferences > Privacy > Manage Website Data > Netflix> Remove.

You can also use incognito/private browsing.

Log into your Netflix account and enjoy content from the selected VPN server location.

I recommend using a web browser for Netflix on a desktop/laptop platform because this method has a few complications and is easy to troubleshoot.

Netflix App Streaming

Clear the Netflix app cache. Depending on your device, you might have to reset your Netflix app, which will require you to log in again.
Launch the Netflix app. Try searching and streaming for a show available in the selected region.
At times, when using a VPN with the Netflix app, you might not see the changes immediately.
You might have to retry clearing cookies or force-stopping the app. Sometimes you will have to uninstall the app for the changes to reflect. To avoid this tedious process, use a browser.
Check out our guide on how to unblock Netflix for related information.
Why Do You Need a VPN for Streaming Netflix
Using a VPN with Netflix enhances your streaming experience in the following ways:
Secure Netflix streaming activity: A VPN provides hightened security and privacy, protecting your streaming traffic from prying eyes and other third parties.
Bypass ISP throttling: Most ISPs throttle bandwidth when users engage in activities such as streaming.

When using a VPN with Netflix, your streaming activities are hidden; thus, your ISP won't throttle your connection.

Sometimes, a VPN might improve your connection speed if your ISP is already throttling your connection.

Unblock Netflix on various networks: Some organizations, such as offices, schools, and other institutions, often block Netflix and other services on their networks.

By using a VPN, you will be able to bypass the Netflix blocks. If VPN traffic is also blocked, try to use scrambled or obfuscated mode on the VPN.

Bypass Netflix geo-restrictions: A Netflix VPN provides a vast server network that you can use to watch any Netflix catalog from any country.
Unblock Netflix on all your devices: Since premium VPNs are compatible with most devices, you can use a VPN for Netflix on virtually any device and watch various Netflix catalogs worldwide.
Netflix VPN Blocks and How to Bypass Them
Netflix offers content sourced from different studios and film providers. To show the content in various regions, Netflix acquires licenses and distribution agreements from the providers.
Depending on the agreements, some content is restricted to some regions while other content is distributed around the globe.
This is why some Netflix regions have massive catalogs with exciting content while other areas have more 'Netflix Originals' content instead.
To adhere to the licenses and distribution agreements, Netflix ensures that each region gets content accordingly by implementing geo-blocks.
The geo-blocks restrict what users can access depending on their geolocation. The geolocation information is readily accessible from the IP address you use to access Netflix.
Despite the geo-blocks, Netflix realized that users can still access various catalogs through a VPN. A VPN changes your IP address, fooling the geo-blocks to give you access to another region's Netflix content.
Since this violates the agreements, Netflix now maintains a system with stronger geo-blocks and VPN blocks.
Due to the nature of VPN's shared IP addresses, most VPN IPs are currently blocked. Nowadays, even reputable VPNs struggle to bypass Netflix-improved blocks.
Nonetheless, there are still some premium, reputable VPNs that you can use to bypass Netflix VPN blocks. These VPNs update their IP addresses regularly, optimizing their service for Netflix.
Best VPNs to Use with Netflix
To save you the hassle of combing through the VPN market, we have thoroughly tested and selected the VPNs that work seamlessly with Netflix.
Our top recommended best VPNs to use with Netflix include:
ExpressVPN.
Private Internet Access (PIA) VPN.
CyberGhost VPN.
ExpressVPN: Best Netflix Unblocking Ability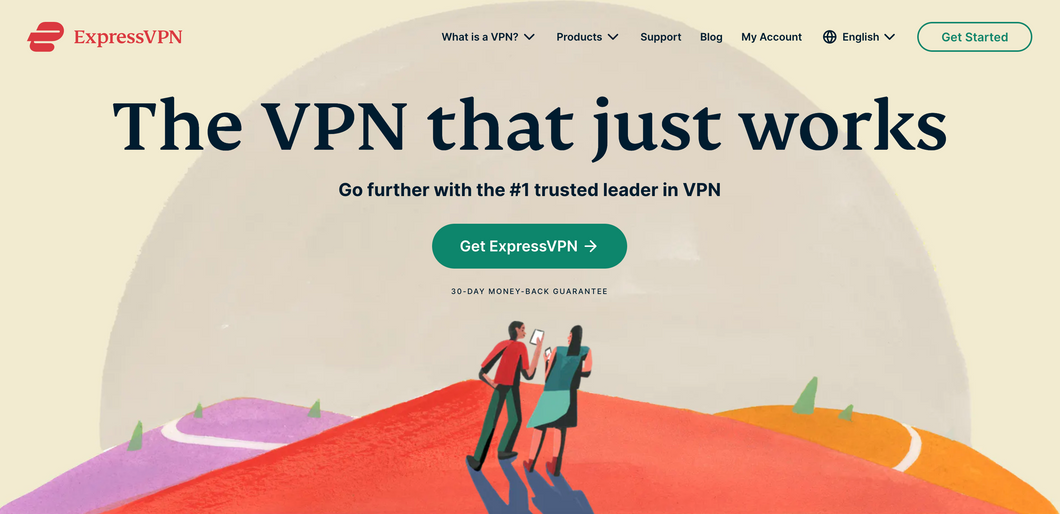 ExpressVPN is my go-to VPN to use with Netflix. It delivers unmatched unblocking abilities through its server locations in 94 countries. In addition, its servers are reliable, secure, and fast.
With its Lightway protocol, ExpressVPN offers lightning-fast connectivity suitable for streaming Netflix in HD without buffering. You also get unlimited bandwidth.
ExpressVPN lets you stream popular Netflix catalogs, including the US, UK, Canada, Japan, Australia, and other countries. Other than Netflix, you can use this VPN to stream Amazon Prime Video, Disney +, Hulu, HBO, and Paramount +, among others.
To keep your Netflix streaming activities private, ExpressVPN uses best-in-class encryption and doesn't store connection or activity logs.
ExpressVPN subscription plans carry a risk-free 30-day money-back guarantee. You can use this guarantee to test drive the VPN and its various servers.
You can connect up to 5 devices simultaneously on a single subscription. ExpressVPN is compatible with smartphones, PCs, streaming devices, consoles, and routers.
If you encounter any problems while using ExpressVPN with Netflix, contact its 24/7 customer support and get help immediately.
Private Internet Access (PIA) VPN: Best for Streaming US Netflix
PIA VPN is a privacy-focused VPN that you can also use with Netflix. Private Internet Access has world-class servers in 84 countries that deliver fast connectivity.
Its server network offers unlimited bandwidth, allowing streaming Netflix content in the highest possible quality.
This VPN service is suitable for unblocking Netflix catalogs that are in high demand. With a greater server concentration in North America, PIA can seamlessly stream Netflix US and Canada. It, however, struggles with other Netflix catalogs around the world.
Other than Netflix, you can also use PIA to watch other USA-based streaming services without buffering issues.
Although PIA is based in the US, you don't have to worry about privacy. It has proven its no log claim in court and never produced user logs.
PIA VPN now offers unlimited simultaneous connections on a single subscription. In addition, you can use its open-source VPN apps on computers, smartphones, and smart TVs.
CyberGhost VPN: Optimized Profile for Streaming Netflix
CyberGhost is another excellent VPN for streaming Netflix catalogs from all over the world. A portion of its large fleet of servers is optimized to offer access to top streaming services.
The streaming-optimized servers for Netflix offer the highest possible speeds, and you can stream content in UHD quality without buffering issues.
CyberGhost regularly updates the streaming servers to keep up with Netflix's campaign on VPN bans. With CyberGhost, you can stream Netflix with no interruptions.
CyberGhost is suitable for watching Netflix catalogs from the US, Canada, UK, Germany, France, Australia, Netherlands, and many others.
The streaming-optimized servers also work with BBC iPlayer, Amazon Prime, Hulu, Disney Plus, HBO, sporting events, and country-specific content.
CyberGhost allows you to stream Netflix on every device since its apps are compatible with PCs, smartphones, Smart TVs, streaming devices, and other platforms.
A single subscription offers a simultaneous connection of up to 7 devices. CyberGhost is a no-log VPN that uses strong encryptions to keep your Netflix streaming activities safe.
In addition, 24/7 customer support is available through live chat.
Free VPNs for Netflix
Free VPNs don't work with Netflix – the streaming giant has blocked almost all IP addresses associated with free VPN services.
If, by any chance, you come across a free VPN that works with Netflix, it won't be worth it in the long run. This is due to the many shortcomings and risks associated with free VPNs.
Streaming Netflix requires unlimited bandwidth and faster speeds. Free VPNs lack these aspects since they offer capped speeds and limited monthly bandwidth.
Moreover, free VPNs have a few server locations. Unfortunately, these server locations are not optimized for Netflix, and the VPNs don't update their IP addresses to avoid Netflix VPN bans.
The few server locations are always overloaded, so there's a lot of congestion. This translates to painfully slower speeds unsuited for even light internet browsing.
Besides being unable to work with Netflix, free VPNs don't have robust security and privacy. For example, most free VPNs log your online activities, and others lack features such as a kill switch.
Additionally, free VPNs are known for bombarding users with intrusive ads. These ads consume the already limited bandwidth and can be vectors for malware propagation.
If you want a free premium service, take advantage of the money-back guarantee from reputable premium VPN services that work with Netflix.
How we Choose the Best VPNs to Use with Netflix
The Netflix ban on VPNs has made it nearly impossible to get the right VPN that works with Netflix.
Nonetheless, we have a methodology that relies on specific VPN aspects, enabling us to pick the best VPNs to use with Netflix.
Here is an overview of what we look for when choosing a Netflix VPN:
Can Netflix Ban Your Account Because of VPN Usage?
Using a VPN to watch other Netflix catalogs is against Netflix's terms of service. You are supposed only to watch content associated with the region on your account.
Nonetheless, Netflix cannot ban your account if you use a VPN or any other privacy tool. Moreover, in the latest development, Netflix categorically allows using a VPN when streaming.
However, if the VPN IP addresses are blocked, you cannot watch any content. In addition, you will sometimes get interruptions if Netflix detects VPN usage, especially from multiple accounts.
Other times, instead of blocking the VPN connection, Netflix will allow you to access and stream Netflix Originals content and some TV shows and movies available worldwide. Netflix has global rights to this content.
How to Fix Your VPN if it is Not Working with Netflix
Using a VPN with Netflix is a cat-and-mouse game. Netflix has strengthened its campaign against VPNs; only a few can work with it.
These few VPNs regularly update their IP addresses to evade the Netflix block. Nonetheless, you might get the "Pardon the interruption" error when using these VPNs with Netflix.
If your VPN stops working with Netflix, there are some proven fixes you can use to get the VPN up and running.
These workarounds solve problems associated with VPNs that work with Netflix.
They include:
Turning off location services such as GPS.
Clearing Netflix cookies and data on your browser.
Clearing Netflix app cache.
Streaming Netflix via a web browser.
Restarting the Netflix app, VPN, or your device.
Connecting to another VPN server.
Changing your VPN connection protocol.
Testing whether your VPN is leaking.
Disabling IPv6 IP addresses on your system.
Opting for a dedicated IP address.
Contacting customer service.
Subscribing to another VPN that works with Netflix.
Wrap Up
Using a VPN with Netflix is the best way to get around geo-blocks and watch content from other catalogs. However, keep in mind that not all VPNs will achieve this task.
Due to the Netflix ban on VPNs, few reputable premium VPNs work with Netflix. So at times, you will only get limited access to shows and movies when using a VPN.
Frequently Asked Questions
Some people found answers to these questions helpful
Why is Netflix not working with my VPN?
This happens because Netflix has blocked all IP addresses associated with the VPN. Some fixes you can try include clearing your Netflix app cache and browser Netflix cookies or connecting to another VPN server.
---
How do I change my Netflix account country with a VPN?
Technically, you cannot change the country associated with your Netflix account unless you move to another country. However, you can watch Netflix content from other countries without changing the country on your Netflix account when using a VPN.
---
Why are some shows not available on Netflix?
Like other streaming services, Netflix acquires licenses and distribution agreements for its shows. Therefore, if some shows are unavailable on Netflix, it is likely that it doesn't have the rights to those shows. Some shows are also restricted to some geolocations.
---
How does Netflix know I'm using a VPN?
It is because of the VPN's shared IP addresses and information from other databases that contain blocked VPN IP addresses. Other times, the cookies and cache on your device hold persistent data that will conflict when you change your IP address using a VPN.
---
Is using a VPN with Netflix illegal?
No. A VPN is a privacy and security tool; there's nothing wrong if you want to protect your Netflix streaming activity from prying eyes. Nonetheless, using a VPN with Netflix goes against Netflix's terms of service.
---