Tips to Fix ExpressVPN Not Working with Netflix
ExpressVPN boasts unmatched Netflix unblocking capabilities. However, once in a while, this premium VPN service may fail to unblock Netflix.
When that happens, use the following tips to make ExpressVPN work again with Netflix.
1. Change the VPN Server Location/VPN protocol
In most instances, ExpressVPN fails to work with Netflix if the IP addresses of the selected server have been blocked.
Blocking VPN IP addresses is one of the effective techniques that Netflix uses to block VPN connections. To be reliable, ExpressVPN continually updates its IP addresses.
If ExpressVPN doesn't unblock your favorite Netflix library, connect to a different server location and try again.
Additionally, ExpressVPN recommends using the Lightway protocol. This protocol is fast and can bypass most VPN blocks implemented by various services such as Netflix.
This is how you change your location and server on ExpressVPN: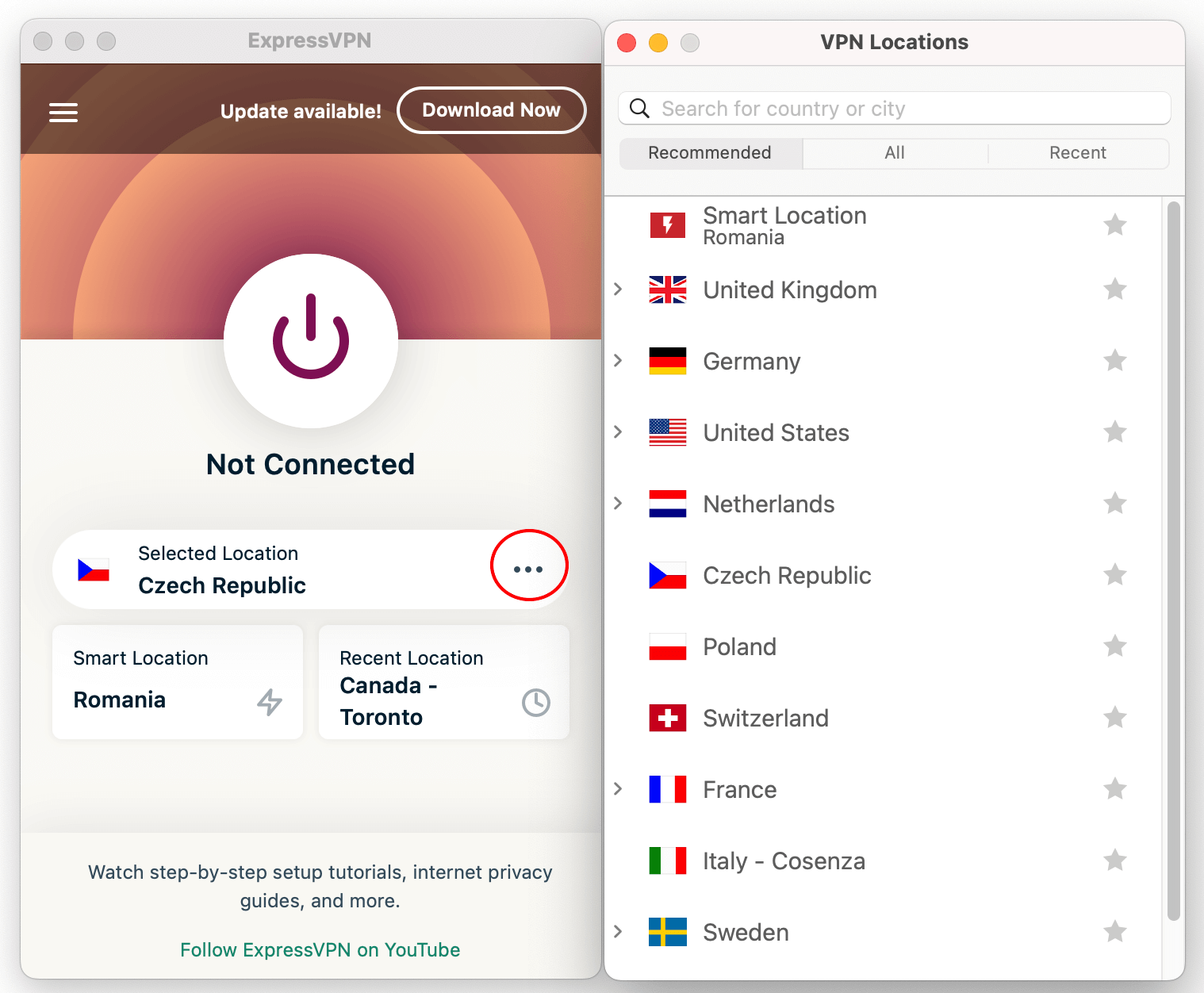 You will need to tap or click on the "three-dot" icon in the middle, which will then bring up the second window on the right listing all the available locations.
You may need to try several servers before you find one that works. This is normal. Just keep trying until one works.
To change the VPN protocol it uses, go to Settings in the menu and then click/tap on the "Protocols" option: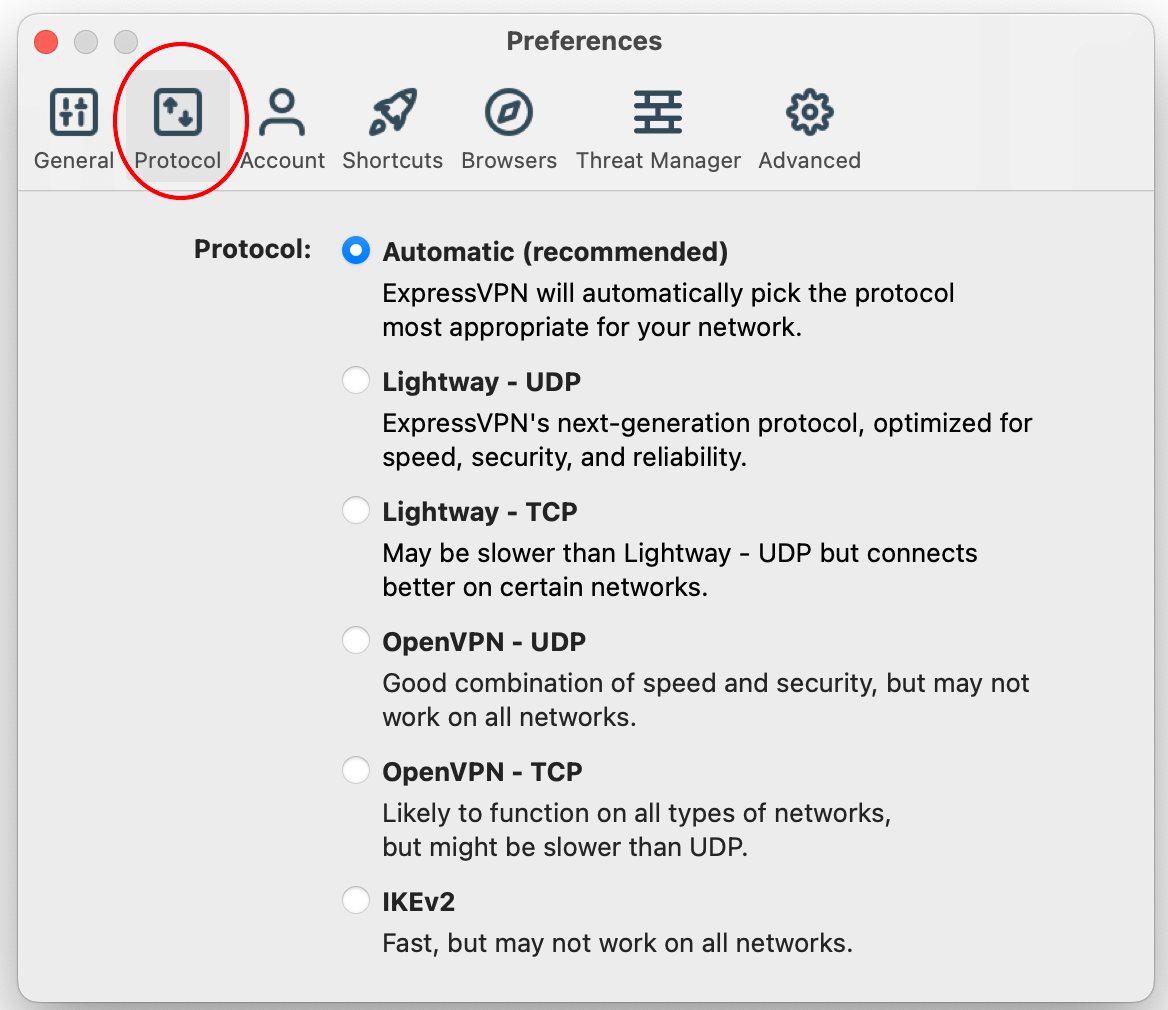 2. Ensure ExpressVPN Connection is not Leaking
ExpressVPN provides impeccable protection, and its built-in leak protection ensures that your connection doesn't leak.
Although rare with ExpressVPN, a leak might occur due to various reasons. When a leak occurs, your actual IP and DNS address will be used for your Netflix connection.
Thus, you won't be able to unblock Netflix content from your desired location. Instead, you might get the Netflix proxy error, Netflix originals, or content offered in your geo-location.
It is, therefore, best to check if your ExpressVPN connection is leaking before doing any online activity.
To check for leaks, proceed as follows:
Disconnect ExpressVPN, open your browser, and go to IP leak. Note your IP address, including the DNS address server locations.
Connect ExpressVPN, go to IP leak again, and check your IP address and DNS address server locations.
You will know your ExpressVPN connection leaks if you get the same results in both steps or the exact DNS locations but with a different IP address.
If you get the selected server location IP and DNS address, your ExpressVPN connection is not leaking.
Fixing a leaking VPN connection can be a hassle. Nonetheless, disable IPv6 addressing, update your VPN, and even restart your device. If the problem persists, contact customer care.
3. Use a Desktop Browser to Stream Netflix
ExpressVPN might not unblock Netflix if you use the Netflix app to watch content. The app might resolve your connection using the default ISP DNS servers.
When this occurs, Netflix will know that you are using a VPN and display the VPN, proxy, or unblocker error message.
Additionally, you need to clear the app cache to unblock Netflix while using the app. This endeavor can be challenging on Smart TVs that don't offer the option.
4. Clear Netflix Cookies Data on Your Browser
To unblock Netflix seamlessly on your browser, you must clear your browser's Netflix cookies data each time you change your ExpressVPN server location.
Netflix cookies on your browser keep data valuable data, such as Netflix library geo-location from your previous connection.
Changing your VPN server location might not unblock Netflix since the browser provides information on your previous Netflix library preference from the cookies.
This is why clearing your browser's Netflix cookies data is essential. Here is how to clear cookies data on popular browsers:
Cookies keep various information such as preferences and geo-location information. If you change your VPN locations regularly, your VPN might not be able to bypass Netflix VPN blocks at some point.
This is due to the Netflix cookies data. Clear your cookies before changing your VPN location to get the desired results.
Here is the recommended way of clearing your browser's Netflix cookies data.
Edge: Click the Menu icon, scroll to Settings > Cookies and site permissions > Manage and delete cookies and site data > See all cookies and site data > Type "Netflix," click Remove all shown.
Chrome: Click the Menu icon > Settings > Privacy and security > Site settings > View permissions and data stored across sites > search "Netflix" and click Clear all data.
Firefox: Click the Menu icon > Settings > Privacy & Security > Manage Data under Cookies and Site Data, search "Netflix," click Remove All Shown, and click Save Changes.
Safari: Click the Safari menu > Preferences > Privacy > Manage Website Data > Netflix.
Avoid the hassle of clearing Netflix cookies data every time you change your VPN server location by using incognito/private mode.
This is what it looks like on Firefox:
4. Use ExpressVPN MediaStreamer
The MediaStreamer is ExpressVPN's Smart DNS that you can use to unblock Netflix if ExpressVPN fails to work.
To use the MediaStreamer, ExpressVPN requires you to register your IP address. You can do this on your ExpressVPN account website.
Unlike the VPN connection, the MediaStreamer routers your DNS requests to a specified server location without changing your IP address or encrypting your traffic.
Even though the MediaStreamer has a high chance of unblocking Netflix, you will have to forgo privacy and security. Since there's no encryption, you get a faster connection.
Besides security and privacy, the other downside of the MediaStreamer is access to only one geo-location.
I recommend using the MediaStreamer on devices that you cannot install the VPN app.
Talk to ExpressVPN Customer Support
Customer support is the last resort that will help you solve troublesome ExpressVPN Netflix issues. ExpressVPN offers 24/7 user-friendly and expert support.
You can ask customer service about the best VPN server locations for various Netflix libraries and how to bypass Netflix VPN blocks if the above solutions don't work.