Why you should get a New Jersey IP address?
You may need to get a New Jersey IP address for several reasons. For example:
You may be based in another state (such as New York) and need access to a site that will not accept a New York state IP address;
You may be based outside New Jersey and seek to access a site that requires New Jersey-only IP addresses;
You may be based in New Jersey but need access to another New Jersey IP address. For example, in the past, New Jersey residents with New Jersey IP addresses living near the state border have been blocked from gambling sites due to geo-restrictions aimed at customers outside the state.
I'll consider three different mechanisms for getting a New Jersey IP address: Proxies, Tor, and VPN.
Using a Virtual Private Network to get a New Jersey IP address
VPN service providers operate VPNs: The service providers have a network of servers worldwide.
Once you are signed in to your VPN, your request will be mediated through one of these servers before reaching its destination website.
Your IP address is replaced by the IP address of that new server, and your traffic will look as if it comes from there.
Your internet service provider will also not be able to see what you are browsing online. They will, however, detect your VPN usage. You can circumvent this with VPN obfuscation.
Choosing a New Jersey IP address is easy with some of the best VPNs.
The advantages of using a VPN for New Jersey include:
It is much easier to choose the server location for your IP address;
, Unlike proxies, your activity is encrypted on its way to the VPN server, so your ISP cannot see your activity;
All traffic from your computer or device is encrypted. With Tor, only traffic going through the browser is encrypted. With a router VPN, you can even apply the VPN connection to all traffic that goes through your internet connection;
Tor exit nodes are identifiable and could lead to your activity being monitored;
As traffic is only directed through one server rather than multiple relay servers, a VPN app is usually much quicker than a Tor browser.
How to use a VPN to get a New Jersey IP address in five minutes
To get started right away, follow these instructions to get a New Jersey IP address in about five minutes (no installation needed):
Sign up at ExpressVPN;
Add the ExpressVPN extension to Chrome or install the App;
Open ExpressVPN and click on the USA, and you should see a dropdown menu with all the servers;
Connect to a New Jersey server (image below).
Your IP address is now based in New Jersey.
A VPN solution will also allow you to access geo-blocked Netflix content, BBC iPlayer, Hulu, HD streaming sites, and unblock websites not available in your region. A good paid VPN app will enhance security, offer DNS leak protection, and come with a Kill Switch.
ExpressVPN offers all of the above. It's a premium VPN software for fast speeds and streaming service access. It has NJ servers, is compatible with Android and iOS, and has a dedicated IP.
When it comes to accessing geo-blocked content on platforms like Netflix, BBC iPlayer, and Hulu, ExpressVPN stands out as one of the best VPNs for Netflix that offers fast speeds, secure connections, and compatibility with Android and iOS devices.
ExpressVPN is also an amazing choice if you are looking for some of the best VPNs for Android.
ExpressVPN is also a good Stake VPN.
It works with streaming platforms and comes with military-grade encryption. It has a fast connection speed, allowing you to play online poker and online casino in real time.
Limitations of VPNs in New Jersey
It is worth noting that a New Jersey VPN in itself may not give you access to various online gambling services available in New Jersey, such as Golden Nugget, Bet365, or Borgata.
These websites use a complex triangulation system, combining IP addresses with geolocation and other data, to determine where you are. This is intended to stop anyone out of New Jersey from online gambling in the state.
Suppose your PC or device is not specifically located in Garden State. The automatic location verification protocols will likely deny you access, even if you use a VPN provider.
Using a proxy server for a New Jersey IP address
A proxy server, commonly referred to simply as a 'proxy,' is a server that acts as an intermediary or 'middle point' between you and the web page that you seek to visit: It is the proxy server, not you directly, that accesses the destination web address.
A proxy adds anonymity to your internet behavior, as the destination site will not be informed of your actual IP address. Instead, it will see the IP address of the proxy server.
Different types of proxy depend on the 'protocol' – the set of rules for internet communication – employed. Key types include:
HTTP/S proxies. These proxies only affect activity on your web browser and do not affect other web communications;
SOCKS/SOCKS5 proxies. While HTTP proxies can only work with HTTP/HTTPS webpages, SOCKS5 proxies operate with any web traffic;
Smart DNS. This tool re-routes your geographical data through a server in the geographical area (such as New Jersey) that you seek. While this can give you access to geo-restricted content, it will not provide you with a different IP address.
Proxy servers can be accessed directly via proxy provider websites or browser extensions: Free and paid options are available.
To access a New Jersey IP address via a proxy, you will need to ensure that you seek out a proxy specifically based in New Jersey.
It must be emphasized that proxy servers do not generally provide encryption at the level of other solutions such as VPNs.
Using Tor to get a New Jersey IP address
Tor stands for 'The Onion Router. It is a mechanism that relays your traffic through multiple Tor servers. In Tor, each server acts as a relay, passing on your traffic to the following address before your request accesses your destination site via an 'exit node.'
The many different layers of servers through which your traffic is directed have similarities with onion layers, hence the name. Your original IP address is lost in the relaying between different servers, and only the exit node accesses your destination site, ensuring a certain level of anonymity.
Tor is usually accessed by downloading the Tor browser [see image below].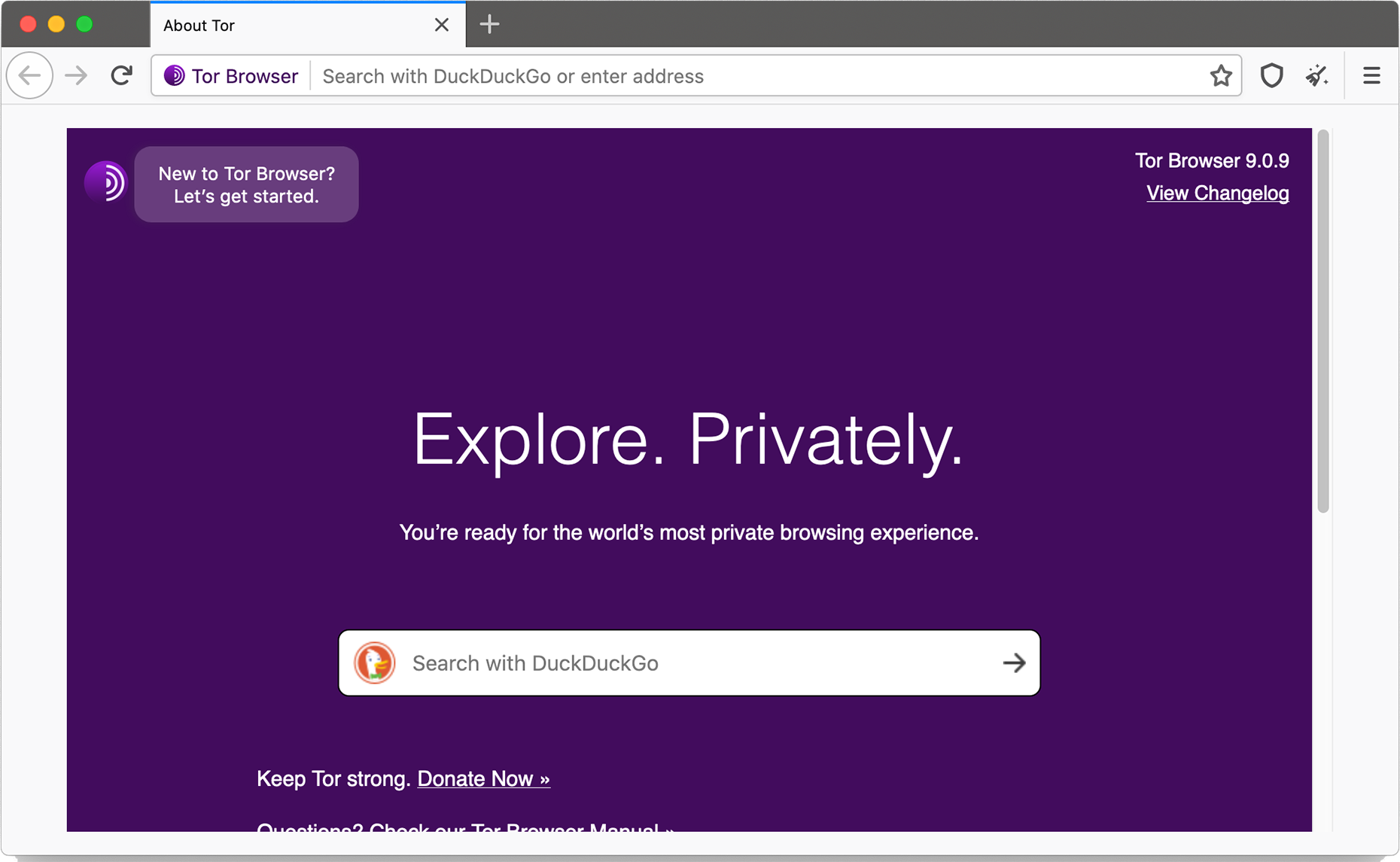 To ensure that you end up with a New Jersey IP address using Tor, you must configure the browser for an exit node based in New Jersey. This is not a straightforward process (you may need to manually verify several IP addresses before you can be sure it was based in New Jersey).
It is also worth pointing out that choosing a specific exit node may undermine the intended anonymity of Tor.
Note that it is sometimes reported that the use of Tor for illegal purposes means that this mechanism may be the target of increased attention from the authorities.
Conclusion
You could use several mechanisms to change your IP to a New Jersey IP address, including proxies and Tor. However, I recommend using a commercial VPN service.
This offers the highest level of privacy/anonymity and allows straightforward selection of a New Jersey-based IP address.
Frequently Asked Questions
Some people found answers to these questions helpful
Is a VPN legal in New Jersey?
Yes, it's legal to use a VPN in New Jersey. VPN usage is completely legal in the United States.
---
Does ExpressVPN have a server in New Jersey?
Yes, ExpressVPN does have New Jersey servers.
---
Does ExpressVPN have a server in New Jersey?
Yes, ExpressVPN has a New Jersey server.
---
Why do you need a VPN in New Jersey?
You might be a New Jersey resident who would want to unblock websites not available in the USA, such as ITV or BBC iPlayer. Or you might be someone from another US state wanting to use a New Jersey IP address.
---
Can you use a free VPN in New Jersey?
You can, but you shouldn't. A free VPN may steal your data and hijack your computer or smartphone to launch botnet attacks.
---