9.3
10 simultaneous connections

Excellent unblocking ability

Dedicated IP

Port forwarding

No-log VPN

31-Day money-back guarantee
Visit PureVPN website
PureVPN boasts an established VPN service dedicated to protecting your information over the internet. Thanks to the recent major overhaul, it now offers an improved service, faster speeds, reliable performance, and excellent security.
It is also privacy-conscious and has moved to the British Virgin Islands. PureVPN now offers complete privacy and doesn't log any compromising and identifying information.
Feature Highlights
10 simultaneous connections.
Excellent unblocking ability.
Dedicated IP; paid add-on.
Port forwarding; paid add-on.
AES 256-bit encryption.
Internet kill switch.
Split tunneling.
No-log VPN.
31-Day money-back guarantee.
Quick Summary
PureVPN is a competitive, budget-friendly VPN that meets all your online needs. It has an extensive server network that offers the fastest speeds. PureVPN is suitable for unblocking geo-restricted services such as Netflix and also works with torrents. This VPN service also provides port forwarding and dedicated IP addresses.
Its enterprise-grade encryption ensures impeccable security for your online traffic and connections. You can select various secure protocols, toggle the internet kill switch, use the improved split tunneling, leak protection, and other enhanced functionalities.
This privacy-centric VPN service now sports a no-log-certified policy. PureVPN is compatible with almost all computing devices and major platforms. Its redesigned native apps now offer reliable performance and excellent usability.
PureVPN also has great customer support, and its subscriptions carry a 31-day money-back guarantee.
Keep on reading to find out more about the improved PureVPN service!
9.5

Speed
PureVPN has improved its infrastructure and upped its speed performance. The VPN service now offers supercharged connections with minimum speed degradation. The improved speeds are due to doubling the server uplinks in top regions, from 10Gbps to 20Gbps.
To further enhance your performance, PureVPN offers unlimited bandwidth according to your base speed. Although a VPN's speed varies depending on multiple factors, PureVPN's connections speeds are always above or in range with other VPN competitors.
The speedy connections can stream up to 4K content without buffering or lags. PureVPN also offers impressive speeds for Torrenting/downloads.
9.5

Locations
The extensive PureVPN server network comprises 6500 plus servers, physical and virtual. The network covers 180 plus locations in 140 countries. The servers offer you ample access to a pool of 300,000 plus IP addresses.
The servers are self-engineered to provide seamless performance with the fastest speeds.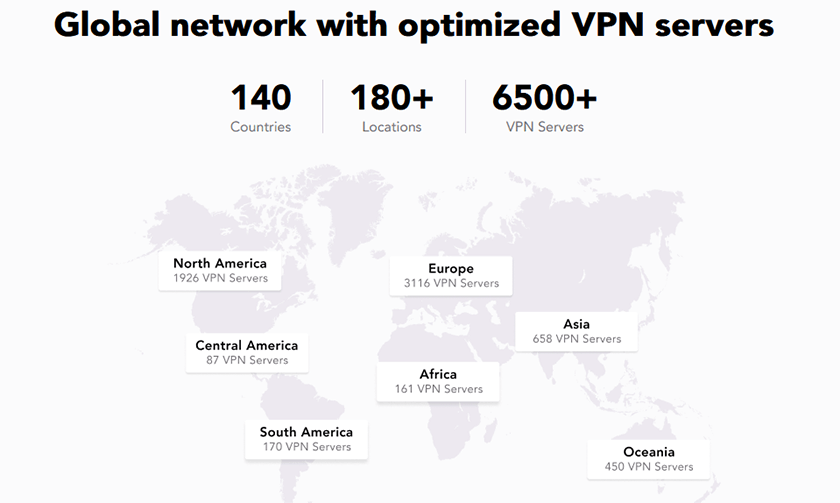 The servers also offer unlimited bandwidth with improved unlimited server switches. Server switching can help you solve unblocking issues and slow-speed connections.
PureVPN servers are optimized to offer a speedy, secure VPN connection suitable for speed-intensive tasks. You can use PureVPN for VoIP services, torrenting, and streaming content.
PureVPN's excellent unblocking abilities are reliable with Netflix, Disney Plus Hotstar, BBC iPlayer, HBO, Prime Video, Tubi TV, Peacock, Pluto TV, Sling, and other sporting events.
You can also bypass geo-restrictions and unblock other services such as YouTube and various websites.
With a massive VPN server list, your chances of unblocking content are very high. PureVPN also helps you avoid ISP throttling. You can also bypass Chinese censorship using a TCP listener software with PureVPN server configurations.
Features
Port Forwarding
PureVPN is among the few top-notch VPN services that offer port forwarding (formerly known as NAT Firewall). This feature helps you use an open port on your network to securely direct incoming online traffic to a specific device or service over the internet.
Port forwarding helps improve torrent upload speeds, your online multiplayer experience, and communication between programs. You can also use port forwarding to remotely access your security camera, configure your media servers, and even receive callbacks if you are a developer.
You can configure port forwarding from your PureVPN member/client area. You can block, open and define up to 15 custom rules. You can also set port forwarding rules on your dedicated VPN IP address. PureVPN allows port forwarding on all VPN locations.
Additionally, PureVPN allows you to pair port forwarding with DDoS protection. You will mitigate any DoS attacks and have a smooth, uninterrupted online gaming experience.
As a gaming VPN, PureVPN is compatible with WoW, CS: GO, Dota 2, CoD Warzone, PUBG, Fortnite, Minecraft, World of Tanks, Overwatch, and many more.
Dedicated IP
PureVPN offers a static dedicated IP address from seven regions; Australia, Canada, Germany, Singapore, Malta, the United Kingdom, and the United States.
Although a dedicated IP address doesn't offer you the security and privacy perks of a shared IP address, it has specific benefits.
A dedicated IP is essential for remote access, callbacks on systems and helps you bypass black lists (common with shared IP addresses). You may also get a stable and reliable connection.
9.0

Privacy
PureVPN recently relocated its operations to the British Virgin Islands (BVI) from Hong Kong. Although Hong Kong had been an excellent favorable jurisdiction for a VPN, things changed for the worse. Recent law implementations proved to be too intrusive and risky for VPN businesses.
The BVI offshore jurisdiction is even better for PureVPN. This jurisdiction doesn't legally require PureVPN to maintain user data and is also outside the reach of surveillance alliances.
Moreover, the BVI is not under the direct influence of the US and the EU nations. This helps PureVPN to enforce its new and improved no-log policy.
No-log policy
PureVPN kept some logs about its users in the past, but that's not the case anymore. The revamped PureVPN has improved its no-log policy to ensure zero logs about its subscribers.
The revised no-log policy states that:
"We (PureVPN) DO NOT keep any record of your browsing activities, connection logs, records of the VPN IPs assigned to you, your original IPs, your connection time, the history of your browsing, the sites you visited, your outgoing traffic, the content or data you accessed, or the DNS queries generated by you."
To ensure PureVPN keeps its word, it has implemented an Always-On audit structure, the only and first VPN to do that. With an Always-On audit structure, PureVPN can have unscheduled audits at any time.
This way, PureVPN is ready to prove its zero-log claim even when unprepared for audits.
The newly revised no-log policy has already been independently audited by KPMG, one of the Big4 auditing firms. KPMG concluded that PureVPN emphasizes on the privacy of its customers.
The VPN is true to its no-log claims and doesn't keep/monitor personally identifiable information (PII) that can compromise the privacy of its subscribers.
In its pro-privacy design, PureVPN manages its VPN infrastructure and uses its proprietary apps. This ensures that no identifying information regarding the use of the VPN gets to third parties.
Encryption and Protocols
PureVPN implements the AES-256-bit enterprise-grade encryption to ensure your online connection and traffic are safe. You can also choose protocols to use.
The protocols determine your connection speeds and incorporate algorithms for security. PureVPN offers OpenVPN (UDP/TCP), IPSec, and IKEv2 protocols.
These protocols offer the best performance; they yield fast speeds with excellent encryption. You also get HMAC SHA1/SHA384 hash authentication, RSA-2048 handshake encryption, and perfect forward secrecy when using OpenVPN.
This means that your connection and online traffic encryption is unbreakable.
PureVPN is also considering adding the WireGuard protocol (already in beta on Windows). This protocol is famous for its fastest speeds coupled with excellent security.
PureVPN has also improved its automatic protocol selection. It is now intelligent and adapts to your network connection.
To ensure flawless security, PureVPN has discontinued the use of PPTP, L2TP, and SSTP protocols. These protocols are obsolete and a security risk.
Apart from encryptions and protocols, PureVPN offers a kill switch, split tunneling, and leak protection against IPv6, DNS, and WebRTC leaks.
IPv6/DNS Leak Test
When connected to a VPN, everything, including your DNS queries, is supposed to be serviced by the VPN. But at times, this is not the case. Your DNS queries can be serviced by your ISP even when you are connected to a VPN.
This will, in turn, expose your public IP address on websites you visit. PureVPN has a private DNS that services your queries.
This ensures your connection is secure, private, and with no leaks. You can check for DNS leaks with the following quick steps:
Disconnect your VPN and note your actual IP address on the PureVPN leak test or IP leak test.
Connect to a PureVPN server and repeat the same test.
If you get a different IP address and different DNS servers, then your VPN connection is secure.
IPv6 leaks are common since not many services/platforms have entirely switched to IPv6. If your device supports IPv6 and the VPN doesn't, your IPv6 address will leak to the services you are accessing.
To prevent this, PureVPN blocks all IPv6 addresses and protects your IPv4 addresses. You can also check IPv6 leaks on PureVPN IPv6 Leak Test.
WebRTC Leak Test
Other than IPv6/DNS leaks, you should also be worried about WebRTC leaks. Web Real-Time Communication (WebRTC) allows you to make audio/video calls and some P2P functionalities from your browser. This technology relies on your public IP to establish the connection.
When a leak occurs, your public IP can be exposed to third parties and other websites. Once again, PureVPN keeps its word on protecting you against WebRTC leaks. You can test if you have WebRTC leaks using the PureVPN testing tool.
10.0

Ease of Use
The new PureVPN apps underwent a redesign overhaul. Although cosmetic, PureVPN has made the apps easy to use and improved how various functionalities work.
PureVPN also dropped and added some features to the new VPN apps. Overall, the latest apps sport a straightforward, clean, and easy-to-use interface.
The interface is streamlined across all the apps. Navigation has also been made easier. With fewer customizations and upfront features, even novice users can use the VPN service in no time.
PureVPN offers native apps for Windows, Mac, Linux (with graphical user interface), Android, iOS, Android TV, and Firestick.
There are also extensions for Chrome, Firefox, and Edge browsers. PureVPN offers a DD-WRT applet for compatible routers. This ensures you can securely connect other devices such as gaming consoles.
You can connect up to 10 devices simultaneously.
Windows
As with most programs, Windows gets the most features as compared with other platforms. The PureVPN Windows app sports a decluttered interface with easy-to-access features. The home screen hosts the connection button and the recommended location.
There's also a sidebar menu with buttons for home, locations, support, refer friend, account, and settings.
The location screen shows the recommended server, recent location, and favorite server. The server list highlights P2P compatible servers.
The settings button gives the option to configure the VPN app, toggle the kill switch, enable split tunneling, and change protocols.
The support screen provides access to FAQs, support ticket, and a live chat.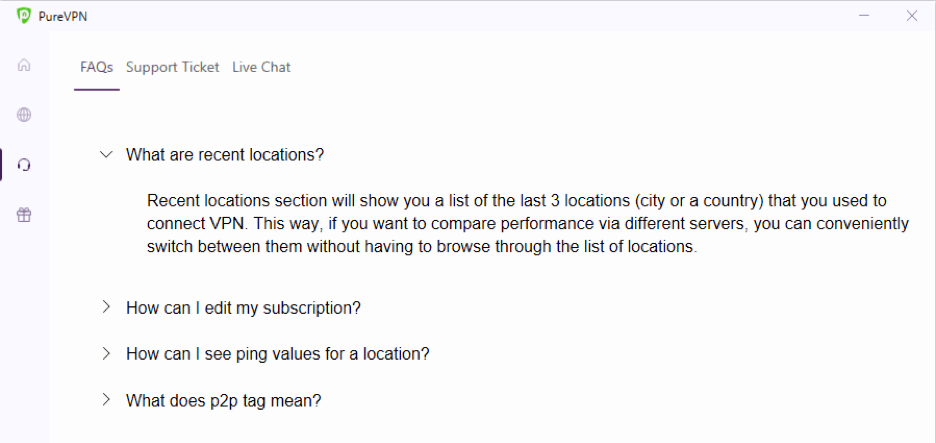 Mac
The Mac app also gives you the same VPN experience as the Windows app. With the streamlined interface, everything is similar. You get the sidebar menu with dashboard, locations, notifications, refer friend, support, and profile buttons.
To access setting such as protocol, you will need to click on the PureVPN icon on the top left of your screen and select the protocol option. You do the same process if you want to enable the kill switch.
Android
The Android app offers the compressed version of the desktop interface. At the center, there's a connect button for the recommended location. There's a server locations button on your top right, and on your top left, there's a menu button.
The menu button hosts tabs for the server locations, settings, account details, and other tabs. The settings tab gives access to protocols, split tunneling, and support.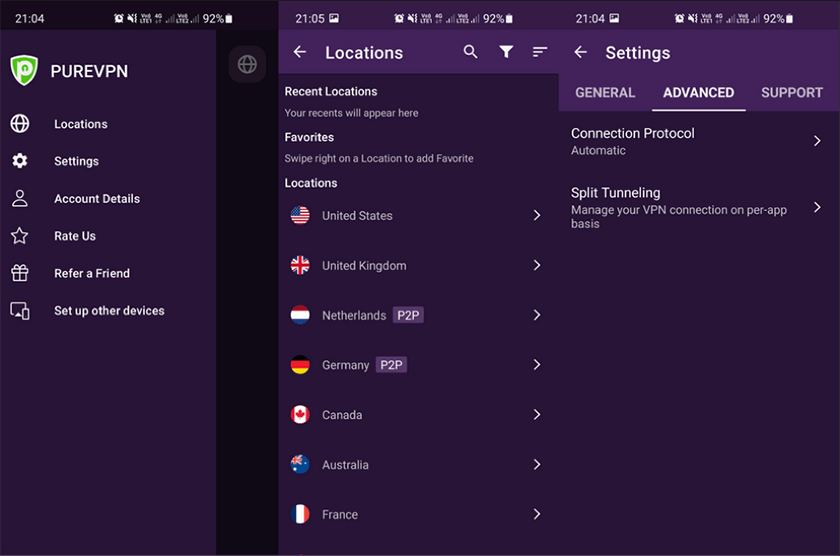 You can implement the kill switch natively from the Android setting on the VPN option. The setting is called Always-on.
iOS
The PureVPN iOS app is similar to the Android app. You get the same interface with the same buttons.
You will miss on as split tunneling, but you will have access to protocols. iOS gives you little features to tweak.
Browser Extensions
PureVPN offers proxy extensions for Chrome, Firefox, and Edge. They are great at bypassing geo-restrictions and unblocking content, especially streaming websites such as Netflix.
The browser proxy add-ons offer 75 locations in 57 countries. PureVPN has plans underway to increase this number to 94 locations in 76 countries.
Hence, you will get a supercharged PureVPN experience and access content from almost everywhere in the world. However, you should note that these are proxy extensions.
You will get incredible speeds but with no privacy or security. To protect your online traffic, you will need to use VPN apps.
8.0

Support
PureVPN offers extensive and comprehensive customer support. You can get help from the PureVPN website or in the apps.
The website support center offers FAQs, setup guides, troubleshooting tutorials, account and billing solutions, business VPN solutions, a learning center, a ticket system, and 24/7 live chat.

You can use the search bar in the website support center for quick results. You will need to type the primary word on what you are looking to solve. You can solve most issues without the need for a support agent. There's also a status and announcement section, and you can also submit ideas.
The ticket emails system is a bit slower and reserved for more technical issues. The live chat has a friendly, knowledgeable staff that offers solutions around the clock.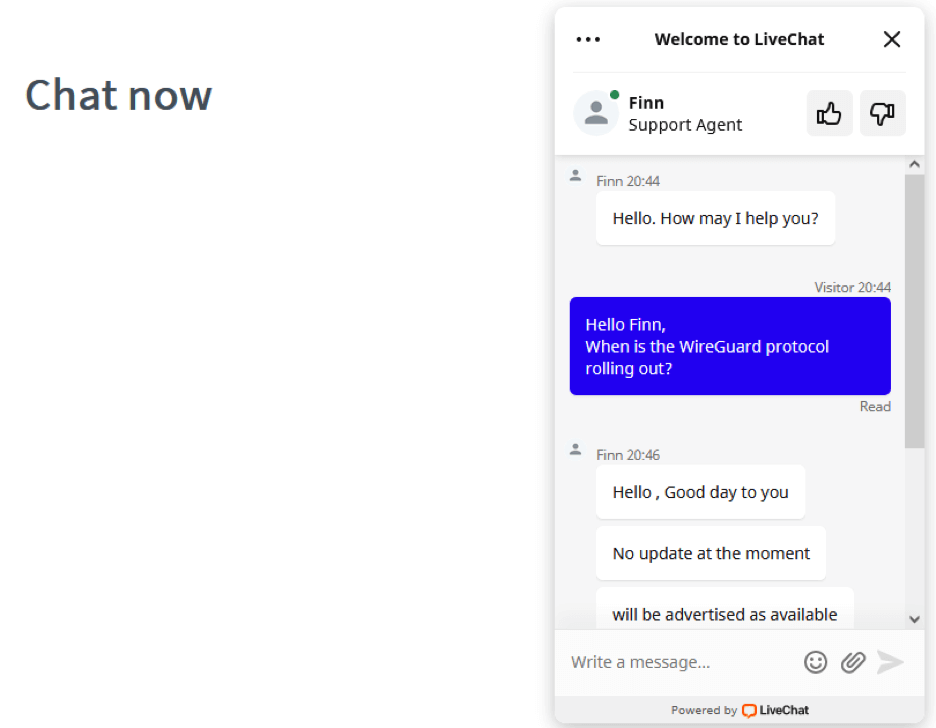 PureVPN has also introduced in-app troubleshooting. In-app troubleshooting provides you with solutions to common problems while using the app. If the solution is not satisfactory, you will then be redirected to a support agent.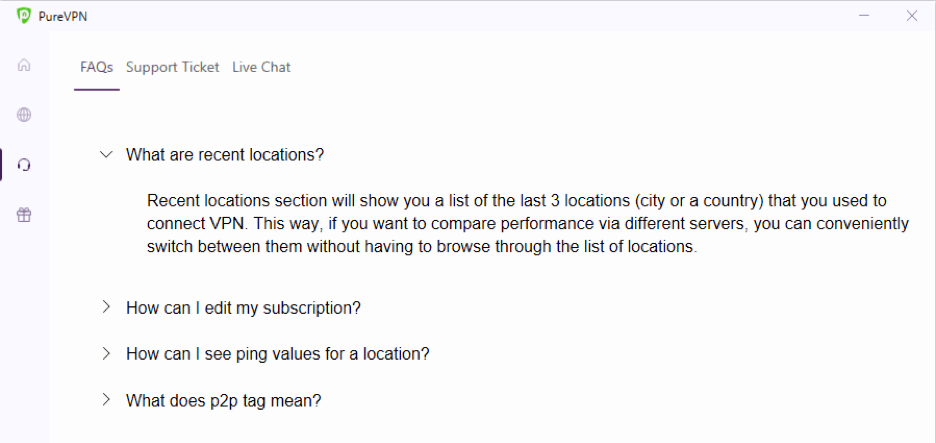 9.5

Pricing
PureVPN uses the standard VPN pricing model; three subscription plans with the same features. Among the three plans, the monthly subscription is expensive compared to the other two long-term subscription plans.
At the time of this review:
The monthly plan costs $10.95. This is cheaper than what other brands offer.
The 1-year plan goes for $3.74 per month. This price totals $44.88 annually.
The 2-year plan retails at $2.91 per month; this sums to $69.84 biennially.
As with other VPNs, the long-term plan is the cheapest since it carries the heaviest discount.
PureVPN also offers essential add-ons at an extra cost. If you pair them with the 2-year plan, you can get them at an affordable price. For instance, the Dedicated IP add-on will cost $1.50 monthly.
he Port Forwarding add-on will cost $0.50 monthly. You can also get Dedicated IP with Port forwarding at $1.75 monthly. DDoS Protection will cost $2.00.
Payment can be made through credit/debit card, Google Pay, and PayPal. You can also pay anonymously as PureVPN accepts cryptocurrencies such as Bitcoin. However, when you pay anonymously, you lose the refund option. On Android and iOS, PureVPN offers a 7-day trial period.
PureVPN subscriptions carry a 31-day money-back guarantee. You can use this guarantee to test the VPN service. If it doesn't meet your expectations, you can opt-out in the said period and get a refund.
In general, PureVPN offers an affordable, competitive VPN service.
Wrap up
PureVPN is an excellent VPN choice for protecting your online security and privacy. It is exceptionally effective in unblocking websites and bypassing geo-restrictions.
Recently, PureVPN underwent an overhaul which has dramatically improved its VPN service. PureVPN is now an authentic no-log certified VPN.
Other than being budget-friendly, PureVPN also gives you excellent value for your money.
Tech and Cybersecurity Expert Justin is a cybersecurity expert with over 5 years of experience that stretches across various technological realms. He is a valued expert in cybersecurity, Cord-cutting, Cryptocurrency, Smartphones, How-tos and other related fields. Justin has written authoritative content for multiple Cybersecurity websites and blogs on matters regarding privacy and security. He also does pen test on tech products such as smartphone applications and websites. When he is not writing, Justin spends most of his time on the latest tech trends and Android Studio. Justin is also a degree holder in Information Systems Technology and Master of Computer Applications (M.C.A.), University of Adelaide.