In this guide you will learn about Avast VPN and Firestick and why in 2021 you can't use these two together anymore.
Highlights:
Avast VPN is not a good solution for Firestick. It's extremely complicated to set them up together.
You will need to use a different VPN that does work with Firestick
In our periodic testing (last: September 2021) NordVPN performs best with Firestick.
Firestick is an excellent streaming device that works with most services. But to unlock its full potential, you need to use a VPN.
Unfortunately, Avast VPN doesn't have a native VPN app for Firestick. To use Avast VPN on Firestick, you need a workaround, which has proven to be a tedious process.
For instance, you need an Android phone with Google Play Store. You cannot download the installation file (APK) from the official Avast website.
It is also risky to trust third-party services that host APK files.
After you have installed Avast VPN on your phone, you need to transfer it to your Firestick. Another frustrating process involves the use of another app.
If you are successful, you will realize that Avast doesn't work well on your Firestick. This is because it was made for touchscreen devices and didn't support the Firestick remote.
Moreover, you cannot set up Avast VPN on your router and securely connect your Firestick.
Avast VPN doesn't have a router configuration. Nonetheless, you can avoid this tedious, frustrating, and time-consuming process with a VPN that works with Firestick.
Keep on reading to know the best VPN that works seamlessly with Firestick.
Avast VPN is no longer a viable option for Firestick users due to its complex setup process and lack of native app support. Instead, we recommend NordVPN as the best alternative for Firestick, as it offers a user-friendly native app, fast speeds, unlimited bandwidth, and a large server network. NordVPN enables users to bypass geo-restrictions, avoid ISP throttling, and maintain privacy and security while streaming content on Firestick.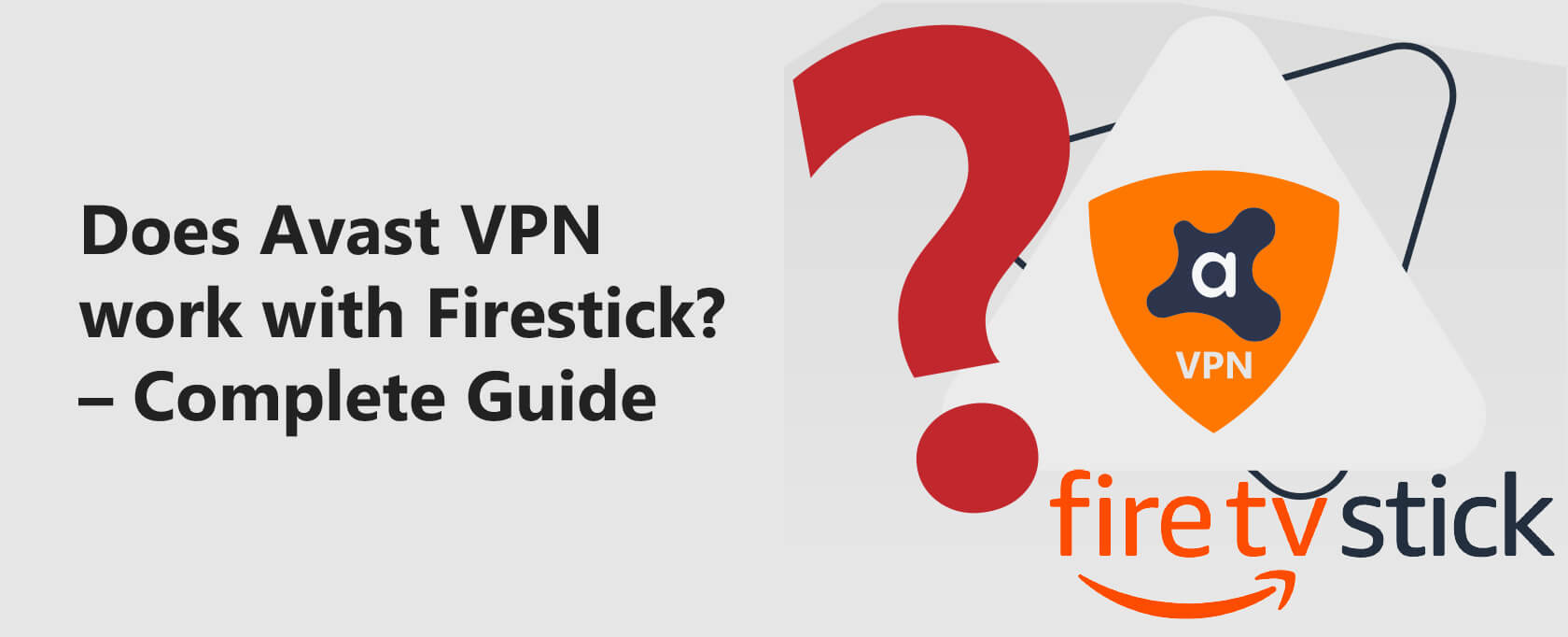 Why Do You Need a VPN for Firestick?
Privacy and security
You can use your Firestick to perform various online tasks such as streaming, browsing, social media, and even light gaming.
These tasks use the internet to transfer and receive information. Thus, it is best to protect your privacy and security over the internet; a VPN is the best tool for the job.
A VPN uses encryption to ensure your connection and data are safe.
Unblock streaming services
Most streaming services may not be accessible in your region.
And those that are available such as Netflix, Prime Video, Hulu, and Disney Plus, may use geo-restrictions on the content they offer.
To overcome these geo-restrictions and gain access to a wider range of content on streaming services like Netflix, consider choosing a reliable VPN for streaming Netflix from our recommended list to enjoy a seamless streaming experience.
Check out our guide on how to pick a Disney+ VPN or a Hulu VPN for more info.
Hence, you will only access a small library of movies and TV shows.
But with a VPN, you can access all streaming services and bypass geo-restrictions.
When you connect to a VPN server, the VPN server masks your IP address and assigns you its IP address.
With a new IP address, you also get to change your geolocation. This is how you bypass geo-restrictions.
Avoid ISP throttling
ISPs that offer their streaming services will throttle your connection to other streaming services.
Additionally, your connection will likely be throttled during peak hours if you perform speed-intensive tasks.
Throttling slows down your connection, and your movies will buffer a lot.
With a VPN's encryption, your ISP won't know your online tasks or the services you use to stream content.
Hence, they won't throttle your connection. If they block your VPN connection, you can bypass it and use obfuscation or VPN scrambling features.
NordVPN: The Best VPN for Firestick
NordVPN offers a fast, safe, reliable, and no-log VPN for your Firestick. It's one of the best VPNs around.
NordVPN has a user-friendly native app that works seamlessly with Firestick.
You can get the app and install it directly from the Amazon Firestick store. No tedious processes such as downloading it to your phone and transferring it.
The VPN service offers fast lightning speeds and unlimited bandwidth. These aspects are suitable for streaming content in the highest quality possible without buffering.
You also don't have to worry about security. NordVPN's state-of-the-art AES-256-bit encryption ensures you stream privately and avoid ISP throttling.
With a large server network of 5200 plus servers in 60 countries, you can unblock any website or service worldwide.
NordVPN also bypasses geo-restrictions with ease. You watch your favorite movies and TV shows from Netflix, Hulu, Zattoo, BBC, HBO, Disney Plus, Prime Video, sporting events, and even live TV.
Check out our guides on how to find a Zattoo VPN for more info. Our guide on how to watch Sky TV in the USA will also help you.
NordVPN also stops all ads, trackers, phishing attempts, and malware through its CyberSec feature.
For Firestick, you also get secure, fast VPN protocols (NordLynx and OpenVPN), LAN discovery, split tunneling, double VPN, obfuscation, P2P servers, Onion over VPN, and dedicated IP.
Apart from Firestick, NordVPN also offers native VPN apps for Android, Windows, Mac, iOS, Linux, Chromebook, Smart TVs, and browsers.
It is also compatible with gaming consoles and routers. You also get a Smart DNS.
NordVPN supports a simultaneous connection of up to 6 devices on a single subscription. Its subscriptions carry a 30-day money-back guarantee.
Wrap Up
NordVPN is an excellent VPN choice for Firestick. Besides offering an integrated app, you get unlimited bandwidth, a large server selection, stellar security and privacy, and many features.
Nord VPN also unblocks many streaming services; with it, geo-restrictions are a thing of the past. You can also get past VPN blocks through obfuscation.
Frequently Asked Questions
Some people found answers to these questions helpful
Can I use a free VPN on Firestick?
No, free VPNs are not recommended due to their various limitations. Since Firestick is primarily used for streaming, it requires unlimited bandwidth with fast speeds. Unfortunately, free VPN services offer limited bandwidth with speed caps. Additionally, they have very few servers that are not reliable for unblocking streaming services.
---
Will a VPN stop buffering on Firestick?
Yes, if your ISP is throttling your connection. A VPN encrypts your entire relationship and your online traffic. Your ISP won't know what you are doing, so they cannot throttle your connection. If they try to block it, use VPN obfuscation or scrambling.
---
Will a VPN work with Kodi on my Firestick?
Yes, NordVPN works well with Kodi and other apps on your Firestick. It would be best if you always used a VPN when streaming content from Kodi. This is because most providers in Kodi might share copyright content, and you might infringe copyrights without your knowledge.
---