DraftKings and Restrictions - And how to overcome them with a VPN for Draftkings
DraftKings provides you a platform to compete with other sports fanatics in online games with amazing cash prizes to be won.
However, as several sports enthusiasts enjoy the features of DraftKings service, others will face geographical and government restrictions. They will only access the website as a sportsbook.
If you live outside the USA and Canada, you will not access DraftKings.
Some states in the USA, including Montana, Arizona, and Hawaii, are also restricted because Daily Fantasy Sports (DFS) is illegal even though DraftKings is recognized as a game of skill rather than online gambling.
The good news is that the restrictions on DraftKings will not limit your access to the service.
If you live in states where DraftKings is restricted, you can use a Virtual Private Network (VPN) to bypass DraftKings' location restrictions and other state-level geolocation blocks.
A VPN for DraftKings - How they work and what they do...
You should use a VPN to access DraftKings if you travel to restricted areas. A VPN will allow you to participate in DraftKings contests by masking your IP address.
This makes you appear to be in a location where DraftKings is accessible and legal. It is important to note that some features of DraftKings will not work when using a VPN.
Concisely, a VPN routes your traffic via a VPN server. This makes your online traffic seem like it originates from the VPN server.
By looking at the VPN server's IP address and thus its geolocation, entities like DraftKings will think you are in a location where the game is allowed.
How to Use a VPN to Bypass DraftKings Restrictions
Follow the quick steps below to unblock DraftKings using a VPN:
Subscribe, download, and install a good VPN solution on your device.
Open the VPN app and connect to a DraftKings allowed location.
Go to DraftKings and participate in the day's contests.
How to select the best VPN for DraftKings
Servers in DraftKings supported regions: You should consider a VPN with a decent number of servers in areas where DraftKings is available. Thus, you can use the VPN and access DraftKings from anywhere in the world. The servers should be optimized for fast speeds and unlimited bandwidth.
Fast connection speeds: Sporting events and contests are time-critical. You can miss great rewards if your connection is slow and unreliable. Fast connections will help you gain unlimited and uninterrupted access to the DraftKings service and make fantasy sports more enjoyable.
Strict no-log policy: Before settling for a VPN to access DraftKings, it is crucial to consider their privacy policies. The VPN should not keep your online activities, connection time stamps, and browser history.
Impeccable security: The VPN should protect your online traffic and connection from prying eyes. The VPN should use strong encryption, secure and fast protocols, VPN kill switch, leak protection, and other privacy and security-enhancing features.
Compatible with multiple platforms: A VPN for DraftKings should support all major computing platforms. This will enable you to access DraftKings from different operating systems running on different devices. The VPN should also offer multiple simultaneous connections.
Money-back guarantee: You should be able to test the VPN before committing to a subscription plan. A refund guarantee or a free trial is the best way to determine if the VPN is suitable for DraftKings. If not, you can get your refund and cancel the subscription before the refund period elapses.
Best VPN for DraftKings - Solutions that work...
Here are the top 3 VPN providers for the best seamless experience with DraftKings:
ExpressVPN - A top choice to unblock any DraftKings location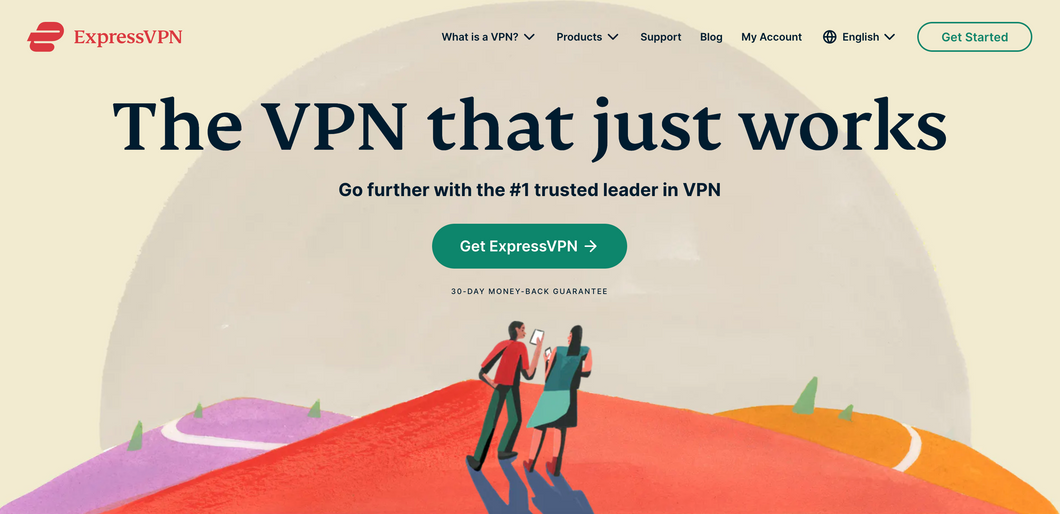 Unblock DraftKings with ExpressVPN
ExpressVPN is your go-to sportsbook VPN that secures your online identity, keeps your privacy intact, and offers no speed limits. ExpressVPN has 2450 plus servers spread across Canada and the USA.
This wide geographical coverage ensures you can access and unblock DraftKings service without geo-restrictions.
No-log Policy and Favorable Jurisdiction
ExpressVPN is also a no-log VPN with a favorable Panama jurisdiction. This jurisdiction doesn't have mandatory data retention laws, and ExpressVPN isn't obligated to collect your data.
This makes it easy for ExpressVPN to enforce the no-log policy.
Security and Privacy Features
ExpressVPN uses AES 256-bit encryption to secure your online connections.
Other securities and privacy features include a kill switch, leak protection, obfuscated servers, double VPN, onion over VPN, blocking ads, and split tunneling.
Fast Speeds and Unlimited Bandwidth
The servers are optimized for blazing speeds and unlimited bandwidth, and you can take advantage of the fast protocols.
Besides using the VPN for DraftKings, ExpressVPN is suitable for streaming, bypassing ISP throttling, and safely torrenting content.
Works with Popular Streaming Services
It also works with streaming services such as Netflix, Hulu, and Disney Plus.
If you're in need of a reliable VPN that works with Netflix along with other streaming services like Hulu and Disney Plus, ExpressVPN is an excellent choice due to its fast speeds, broad device compatibility, and guaranteed satisfaction with their money-back guarantee.
Compatibility and Money-Back Guarantee
ExpressVPN offers six simultaneous connections and is compatible with almost all computing devices. Its subscriptions carry a 30-day refund guarantee.
Surfshark - Overcomes any geo blocks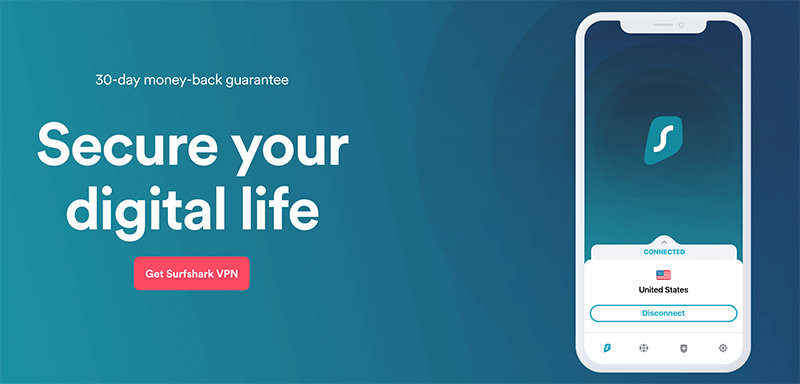 Access DraftKings with Surfshark
Surfshark is a budget-friendly and trustworthy VPN for accessing DraftKings services worldwide. Although it has a relatively smaller network – 600 plus servers across the USA and Canada – the servers are reliable for unblocking DraftKings without a hassle.
Privacy and Security
This VPN service protects your online privacy and always secures your connection. Surfshark uses impeccable AES-256-bit encryption together with fast VPN protocols.
Surfshark doesn't log your online activities or any data that can compromise your privacy. Its RAM-based VPN servers lose any connection information when a reboot is done.
Additional Features
Other nifty features include blocking ads, malware, trackers, phishing attempts, kill switch, leak protection, double VPN, camouflage and NoBorders mode, and split tunneling.
Compatibility and Unlimited Connections
Surfshark also allows you to connect unlimited devices simultaneously. It is compatible with major computing platforms.
Surfshark bypasses ISP throttling, and the servers offer gigabit connections for unlimited bandwidth.
Fast Speeds and Unlimited Bandwidth
Coupling it with fast speeds, this VPN service is also suitable for online gaming, streaming, and torrenting. Surfshark subscriptions also carry a 30-day money-back guarantee.
Private Internet Access - Optimal VPN for Draftkings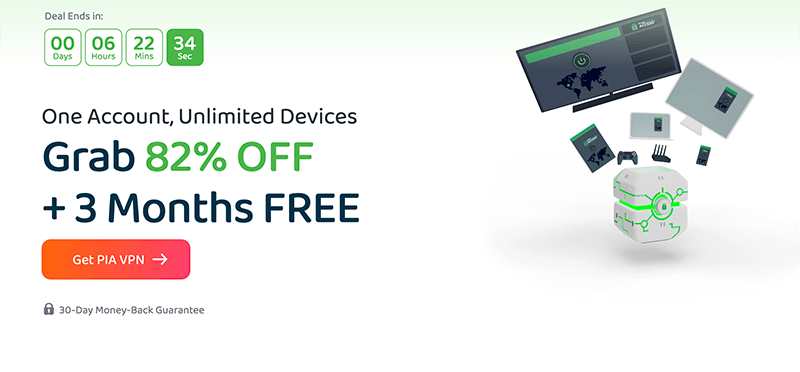 Another noteworthy addition to the roster of the best VPN for DraftKings is Private Internet Access (PIA).
Renowned for its dedication to privacy, PIA presents an effective solution to unblock DraftKings, whether you're interested in fantasy sports competitions or sports betting.
Geographical Coverage
Boasting over 3000 servers dispersed across the United States and Canada, PIA offers ample geographical coverage to facilitate a seamless DraftKings experience, free from location blocks.
This vast number of server locations ensures that you can access and play DraftKings with minimal latency and no geo-restrictions.
Privacy and Data Security
Privacy and data security are among PIA's standout features, underscored by its strict no-logs policy. As a VPN provider, PIA guarantees that it doesn't collect or log your online activities.
To further bolster your online safety, PIA utilizes robust AES 256-bit encryption to secure your connections, thereby keeping your online identity well-protected.
Security Measures
In addition to these, PIA comes equipped with a range of security measures, including a kill switch, leak protection, ad-blocking capability, and the much-praised split tunneling feature.
These tools serve to enhance your online safety, especially when using a DraftKings sportsbook VPN.
Simultaneous Connections
One of PIA's main selling points is its capacity to handle simultaneous connections across multiple devices, making it an ideal VPN for households with several DraftKings players.
Furthermore, its compatibility with major computing platforms, coupled with fast and stable connections, makes it a versatile VPN for DraftKings, streaming services like Netflix, and safe torrenting.
Money-Back Guarantee
As with the other best VPN apps for DraftKings mentioned above, PIA offers a risk-free 30-day money-back guarantee.
This allows users to give the service a thorough test run to ensure it suits their specific needs for accessing DraftKings sportsbook, amongst other online activities.
NordVPN - Best VPN for DraftKings when it comes to locations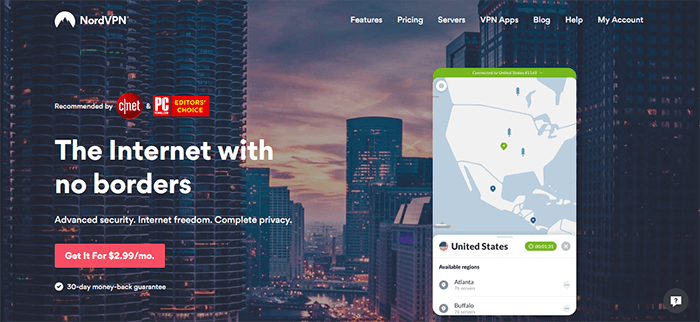 In the realm of the best VPNs for DraftKings, NordVPN holds a prominent position.
As one of the most recognized names in the VPN industry, NordVPN has proven its ability to bypass geo restrictions and provide access to a variety of services, including DraftKings Sportsbook.
Server Network
NordVPN boasts an extensive server network that spans across the United States.
With thousands of servers strategically located in various states, it ensures you can connect to DraftKings with a VPN, irrespective of your current location.
Such a widespread network of server locations also ensures optimal connection speeds, which is crucial when participating in live sports betting.
Privacy and Security
NordVPN stands by its strict no logs policy, guaranteeing that your activities online are not tracked or recorded.
In addition, the provider utilizes AES 256-bit encryption for its connections, providing top-tier security for your internet traffic and payment information.
This means you can use a VPN to place bets on DraftKings Sportsbook without worrying about your data being compromised.
NordLynx Technology
Furthermore, NordVPN's proprietary technology, known as NordLynx, combines the high-speed benefits of WireGuard protocol with the confidentiality of a double VPN connection.
This ensures that your connection remains ultra-fast and secure while you enjoy your DraftKings sportsbook VPN.
Simultaneous Connections
One key feature of NordVPN that makes it one of the best VPNs for DraftKings is its ability to support simultaneous connections on multiple devices.
This is particularly useful if you play on different devices or if multiple members of your household enjoy sports betting on DraftKings.
Money-Back Guarantee
Overall, if you are seeking a reliable, fast, and secure VPN to access DraftKings Sportsbook, NordVPN is a worthy candidate.
And if for any reason it doesn't meet your expectations, the service comes with a 30-day money-back guarantee, giving you peace of mind and an opportunity to explore its offerings without risk.
CyberGhost -
CyberGhost tops the list as the best VPN for DraftKings and beyond, providing absolute privacy, fast and trustworthy connections, and the power to regain your digital independence.
Its exceptional features allow you to use a VPN not only to play DraftKings in the United States but also for other online activities such as streaming popular services and safely torrenting content without the ISP slowing you down.
With over 1678 servers spread across Canada and the United States, CyberGhost empowers you to access DraftKings sportsbook from anywhere across the globe.
This strong network is also optimized to provide the fastest possible speeds with no limitations on bandwidth, helping you get past location blocks with ease.
In addition to being a no-log VPN, CyberGhost is not governed by the EU or US jurisdiction, meaning that DraftKings is available to you wherever you are.
CyberGhost employs sturdy encryptions to protect your digital information from unwanted scrutiny. You can also choose secure and speedy VPN protocols like OpenVPN, IKEv2, and WireGuard.
Supplementary security features include a kill switch, leak protection, and split tunneling, and you can adjust the VPN service to your liking through the smart rules.
CyberGhost comes with user-friendly native VPN apps that are compatible with major operating systems, routers, smart TVs, and gaming consoles.
It also supports the Google Play store, so you can download and use the VPN service directly from there.
Each CyberGhost subscription allows up to 7 devices to connect simultaneously using a single email address.
Plus, their long-term subscriptions come with a 45-day money-back guarantee, making them a truly risk-free choice for daily fantasy sports lovers.
Safe Practices for Unblocking DraftKings with a VPN
Due to gambling laws and online betting, DraftKings has various measures to deter malpractices.
If you are unblocking DraftKings, do it safely and don't heavily breach some policies. Here are some safe practices to consider:
Use a dedicated IP address: If your VPN provider doesn't unblock DraftKings, their IP address pools may be blacklisted. Most VPN providers use shared IP addresses to increase privacy. However, if you have a dedicated IP address, no one else will use it. You can get a dedicated IP address from NordVPN or CyberGhost.
Withdraw small amounts: When unblocking DraftKings away from your residence, it is recommended not to claim a large sum of your winnings. If you do, you will prompt DraftKings to ask for proof of residence and other related information. Wait until you get home to claim large winnings.
Deposit small amounts: Similar to withdrawing, depositing huge sums may trigger the proof of residence situation.
Turn off geo-location services or use a fake GPS: Even with a VPN changing your geo-location, your device's location services may undo all the VPN's work. You can use a fake GPS concurrently with the server location on your VPN. This will help you beat DraftKings' aggressive location tracking.
Enable leak protection and the kill switch: The VPN connection might temporarily drop or leak at times. This can expose your actual geo-location. Enabling these VPN features ensures your connection always stays in the VPN tunnel. Thus, you will be protected at all times.
Playing DraftKings with a VPN: Your Go-to Guide
DraftKings, despite its widespread popularity, is only available in a select few locations, including New York and New Jersey.
However, certain US states and countries ban access to this popular fantasy sports platform.
But fear not, with the use of VPNs for DraftKings, you can enjoy your favorite sportsbook VPN from anywhere, be it Nevada, Europe, Hawaii, Ontario, the Netherlands, or any other location around the world.
How to Play DraftKings Out of State or From Anywhere
Download a VPN: Select a VPN with numerous global servers. NordVPN, for instance, offers over 5500 servers in 60 countries, including more than 1970 servers in the US alone.
Launch the VPN app: Initiate the VPN app on the device you intend to use for accessing DraftKings.
Connect to a server: Connect your VPN account to a server in a location where DraftKings is unrestricted.
Start playing: Now, you can play DraftKings fantasy sports from anywhere, anytime!
DraftKings Not Working Even Though You're Using a VPN?
If you find yourself unable to access DraftKings despite using a VPN, there could be a few potential reasons behind this, such as:
Your real location has been detected.
Your VPN has been blocked.
You've connected to the wrong server.
You've spoofed your IP address to the wrong location.
To unblock DraftKings when your VPN is not working successfully, you can:
Try using a different browser.
Clear your stored cookies and wipe the cache.
Ensure you're on a server in a location that has access to DraftKings.
Ask the VPN support team for advice.
Switch to a recommended VPN.
Can You Use a Free VPN to Unblock DraftKings?
While free VPNs might be tempting, most of them, apart from ProtonVPN and Atlas VPN, lack the features and quality offered by paid VPNs.
Consequently, unblocking DraftKings with a free VPN might be challenging. Moreover, free VPNs tend to generate revenue through in-app advertisements and might even sell your data.
Paid VPNs offer superior features and services, making them a worthwhile investment for ardent DraftKings players.
If you're uncertain about spending money upfront, most paid VPNs offer a 30-day refund guarantee. This means you can effectively enjoy a month-long free trial and cancel your subscription plan if unsatisfied.
Top VPNs such as NordVPN and Surfshark offer attractive subscription plans. NordVPN provides a 7-day free trial when signing up on Android and later connecting it to any of your devices.
Post the free trial, you can subscribe for only $3.29 a month. Surfshark also offers a 7-day free trial and a subsequent subscription for as low as $2.30 per month.
Regardless of where you are, a top-tier VPN ensures you remain connected to DraftKings and never miss out on the action.
Wrap Up
Even with the strict DraftKings restrictions, a VPN is your best bet for accessing the service anywhere.
A VPN will easily bypass DraftKings VPN blocks and restrictions by using powerful encryption and changing your geolocation. However, take other precautions and ensure you don't compromise your privacy and geo-location.
Other than DraftKings, you can use our VPN picks for other betting sites. You can also unblock and stream from popular platforms such as Netflix.
Here is my guide on getting Netflix unblocked if you are interested in more about the above.
And that's it, now you know how to use a VPN to play DraftKings from anywhere!
Keep in mind my best VPN recommendations with the most VPN servers that will help you to bypass any DraftKings geo blocks, enabling you to access any fantasy sports leagues.
Frequently Asked Questions
Some people found answers to these questions helpful
Is using a VPN for DraftKings illegal?
A VPN is a tool for improving your online security and privacy over the internet. By doing so, a VPN can also help you bypass restrictions and access services such as DraftKings. In most regions, using a VPN is not illegal. However, familiarize yourself with the rule of law regarding VPN usage.
---
Can I use a free VPN for accessing DraftKings?
A free VPN may seem like a good option but don't be tempted to use it for DraftKings. Even with a few servers in the US and Canada, most free VPNs cannot gain access to the site. Additionally, they have slow speeds, which can make you miss big winnings.
---
Where is DraftKings considered illegal?
Since DraftKings can be used as a sportsbook, it is considered illegal in states where gambling is illegal. They include Virginia, Oregon, Rhode Island, Washington, Arkansas, Nevada, Wyoming, Arizona, South Dakota, and Montana. Some states also don't allow daily fantasy sports (DFS).
---
Can I register more than one DraftKings account?
According to DraftKings Terms of Use, users cannot open multiple accounts or operate more than one account. This prohibition ensures integrity and fair play in contests. It also helps DraftKings to comply with state laws and regulations.
---