Why You Might Want to Get a New York IP?
First of all, why would you look into getting a New York state IP address? There are several possibilities:
You may need to unblock a website which engages 'geo-blocking' and requires a New York state IP address, while you happen to be outside of the state;
You may live in New York but need access to another New York IP address. For example, using a VPN to mask an IP address is a common way to manage your internet privacy. However, at the same time, it is a requirement to access various government services (such as social security benefits) or banking institutions where individuals use a New York state IP address. Protecting anonymity may require accessing a distinct New York state IP address.
We explain the key mechanisms that might be used to access a New York state IP Address: Proxies, Tor, Home VPN services, and Premium VPN services.
How to Use a Proxy Server for a New York State IP Address
Proxy servers (or 'proxies') are a 'middleman' server that mediates between you and the webpage you seek to access. Using a proxy service is the proxy, rather than you, which accesses the eventual destination web address.
Using a proxy is an effective way of masking your internet activity: Only the IP address of the proxy is known.
Proxies vary by 'protocol.' The main types of protocols include:
HTTP/S proxies. This protocol means that the proxy only impacts your web browsing activity: Another internet activity is left unaffected;
SSL ('Secure Socket Layer') is HTTP with an additional layer of security added. The additional security certificates ensure that no one can intercept the information during transmission;
SOCKS/SOCKS5 proxies. This protocol applies extensively to all web traffic, whereas HTTP proxies will only operate in conjunction with HTTP/HTTPS webpages,
Aside from the security protocol used, proxies can be distinguished by the type of server used:
Data-center Proxies. These proxies are created in servers dedicated to the task. These servers tend to be fast, have a low 'ping' rate, and provide a relatively high level of anonymity;
Residential proxies. These are IP addresses used by individuals in their homes. Usually, the proxy service 'rents' these IP addresses off residential internet users.
To use a proxy server, you can either:
Access the server via the proxy provider website or
Use a browser extension.
While free and paid versions are available, many reports have better experiences with paid proxy provider services.
To receive a New York State IP address, you must seek a proxy in New York (such as a data center proxy server based there).
There are potential disadvantages to using a proxy:
The proxy service provider may be able to see and monitor your accessing of the proxy site;
Communications are usually not fully encrypted. In general, proxies only use SSL certificates. While these encrypt data that passes through the servers, hackers and cyber-criminals have become skilled at 'stripping' these certificates from your connection.
Getting a New York State IP Address via Tor
Tor refers to 'The Onion router.' It is a system that reroutes your internet traffic through multiple servers part of the Tor network.
Through Tor, your internet activity is passed through various servers that act as 'relays.' Eventually, your request passes through an 'exit node' and onto your desired destination.
To access Tor, you should download the Tor browser (as pictured below):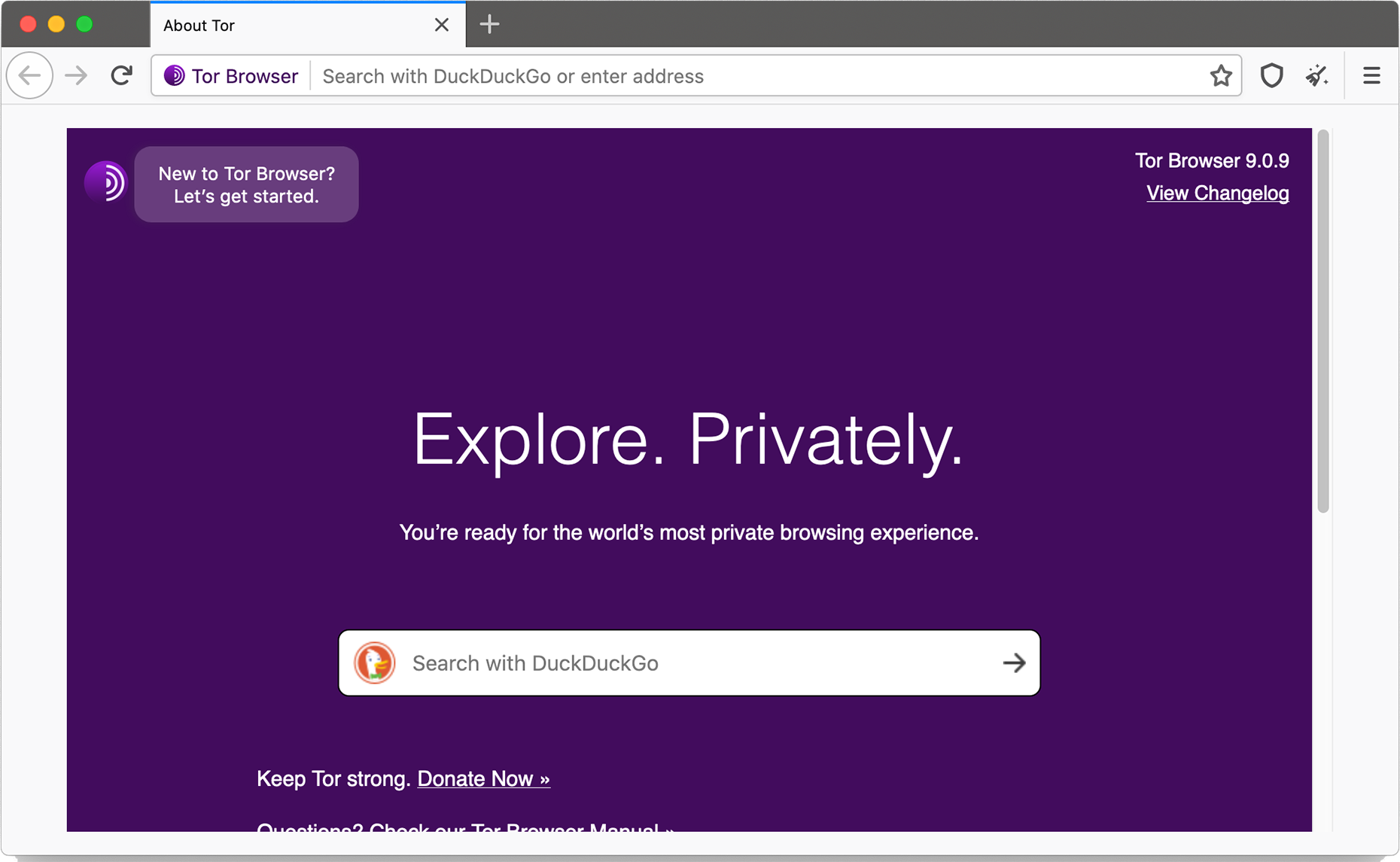 To end up with a New York state IP address , you must ensure that the browser is configured for an exit node based in New York state.
This is no easy task and may require manual verification of IP addresses to end up with an eventual New York state-based IP address.
Furthermore, choosing a specific exit node can provide visible traces of your activity and counteract any anonymity sought via Tor.
How to Use a Virtual Private Network to get a New York State IP Address
VPN service providers with a vast network of servers worldwide create VPNs. Once you are logged into the VPN, the request is mediated through one of those servers before it arrives at the destination website.
This means that your actual IP address is substituted for the new server IP address, and your traffic looks like it originated from there.
A high-quality VPN service makes choosing a New York state IP address straightforward.
The benefits of using a VPN include the following:
Full encryption, which secures the connection between your actual IP address and the VPN server of choice. This means the server cannot see where you have come from. This can be contrasted with a proxy server where that information is usually available to the service provider;
It can be applied across your internet connection. By contrast, proxy servers are usually only accessed via an application, such as a web browser;
Speed. A quality VPN is generally much faster than either a proxy server or Tor.
Establishing a New York state IP address with a home VPN
Rather than using a VPN service, you could also establish a New York state IP address by setting up your VPN. There are several ways this can be done:
Buy a router with a built-in VPN. Then, use the web application with the router to activate the VPN;
Create a dedicated VPN server at home on an old desktop or similar device. Windows has the built-in capability to host VPNs, or you could download a free third-party VPN server from the internet. The device will need to remain continuously on.
As well as requiring a decent amount of technical know-how to implement securely, the problem with these options is that you need a physical location in New York state to locate your home VPN server.
A word of warning on New York state IP addresses
New York state IP addresses have been prominent in the news in recent months: Accessing social security benefits to which New York state residents are entitled requires that individuals use a New York state IP address.
Otherwise, those individuals risk being blocked from accessing those benefits.
Therefore, it is important that any New York residents with a VPN service installed check that their VPN is set to a New York server before applying or carrying out any activity relating to their benefits.
Best VPNs for New York
Private Internet Access
Private Internet Access is a VPN provider with many servers in New York that have a fast connection speed, various browser extensions, and an app for iPhone and Android.
Private Internet Access can unblock websites and streaming services such as BBC iPlayer, Hulu, geo-blocked content, Amazon Prime Video, and Netflix.
For more information on the above, check out our related guides on how to watch the BBC iPlayer from the USA and how to get Netflix unblocked.
If you intend to use it for online banking, you can use its obfuscated servers. It also does not keep logs.
In our opinion, Private Internet Access has the fastest servers in New York. You can switch between multiple servers and IP addresses in the state if you need an IP for different purposes.
If you are looking for an Android VPN service, then Private Internet Access is an excellent choice.
It's also a great option for a Roobet VPN or Disney+ VPN. Check out my roundup on the best VPNs for Disney Plus for more tips.
ExpressVPN is one of the unsurpassed VPN providers in the market. It has 160 VPN server locations comprising more than 3000 VPN servers.
Among them, ExpressVPN offers some server locations in the US, including New York City. This ensures you can always get a New York IP address when you connect to ExpressVPN.
The servers are optimized for lightning speeds and unlimited bandwidth. You can stream from Netflix, Hulu, and other services with a New York IP address. You can also download content and browse the internet privately.
Security and privacy-wise, ExpressVPN encrypts your traffic using AES 256-bit encryption. The ever-rotating shared IP addresses increase your anonymity. Moreover, ExpressVPN has a strict no-log policy and uses RAM servers.
ExpressVPN provides you with a Network lock (kill switch), leak protection, split tunneling, and a Media streamer (Smart DNS).
You also get 24/7 up-and-running connections and are compatible with a wide range of computing platforms, including TVs and consoles. You can also use it on various supported routers.
ExpressVPN is also a You also get 24/7 customer support.good choice if you need a New Jersey VPN.
Surfshark is an impressive VPN provider with a global network of 3200 servers in 65 countries. It offers twice a dozen server locations in the US, including New York.
With a New York IP address, you can stream and download content, watch live sports, avoid price discrimination, browse throttle-free and increase your online privacy and security.
Surfshark servers offer unlimited bandwidth coupled with fast speeds. You won't experience any lags or buffering on any activity you undertake online.
The RAM-based VPN servers also ensure your online activities are private. This is reinforced with a no-log policy. Also, its jurisdiction (BVI) doesn't have mandatory data retention laws.
In terms of security, Surfshark uses industry-leading AES-256-GCM encryption to secure your traffic. You also get features such as a kill switch, split tunneling, leak protection, MultiHop (Double VPN), Camouflage and NoBorders Mode, and protection against ads, malware, trackers, and phishing attempts.
Surfshark offers unlimited simultaneous connections and unlimited bandwidth and supports most computing devices. You can protect all your devices hassle-free with 24/7 customer support.
SurfShark also works great if you need a VPN for Mac.
Cyberghost
Cyberghost is also a good choice for a New York VPN. Our speed tests show low latency, making it optimal for streaming.
It does not keep logs, which is a must if you intend to use it for online banking. It has iOS, iPad, and Android apps.
Cyberghost VPN is based in Romania, a country known for privacy-friendly internet laws. It's a good choice for remote access to New York and file sharing.
If you use their obfuscated servers, your internet service provider won't even know you are using a VPN.
Should You Use a Free VPN for New York?
Some free VPN providers have VPN servers in New York. The problem, however, is that most services you would need a New York VPN for have already banned these providers.
Using a free VPN for online banking is also an extremely bad idea. Many of these services will share or sell your internet data and VPN usage to third parties.
Reputable and known paid VPNs are the best solution if you want privacy features and security.
Another option that is not recommended is VPN Unlimited due to its very slow speeds.
Conclusion
Using a proxy server or Tor are not reliable mechanisms for getting a New York state IP address. In addition, neither option provides the security and anonymity through encryption that a VPN can provide.
While home-based VPN servers are a possibility, this is no use if you do not have a physical location in New York (or someone else in the state you can trust to host the server).
Therefore, to ensure that you have a reliable New York state IP address at all times, we recommend you use a premium VPN service.
Frequently Asked Questions
Some people found answers to these questions helpful
Can I get a permanent New York IP address?
Yes, if you opt for a dedicated IP address. It also might cost you a little more, depending on the provider. However, it will not increase your online privacy. Shared IP addresses have the advantage of increased privacy as they are rotated among many users.
---
Can I use an alternative US IP address?
Yes, unless you are specifically required to use a New York IP address. In some instances, you may be required to use a New York IP address to access the online content. You will need a general US IP address to bypass most US geo-restrictions.
---
Is using VPN legal in the USA?
Yes, a VPN is an acceptable way in the US to increase your online security and privacy over the internet. However, anything illegal without a VPN doesn't make it legal while using a VPN. Such activities can land you in trouble since they breach the terms of service/contract.
---
Can I be tracked if I use a VPN?
Yes, a VPN won't prevent you from being tracked if you are not privacy-aware. For instance, if you post discriminatory content on social media and your account is linked with all your personally identifying information, a VPN won't help you.
---
How can I get a good New York IP address without a VPN?
You can use a reputable proxy server. VPNs are the best way to get a New York IP address. You also get added advantages such as increased privacy and security. VPNs are also best known for bypassing censorship and geo-restrictions.
---